Table of contents
A checklist for starting a restaurant
Here are 10 steps you should take before you open a restaurant:
Define your restaurant concept.
Your restaurant concept should be woven into every aspect of your business, from the food itself to your style of customer service. Your concept should also be reflected in the name of your restaurant, the design of your collateral, and your decor.
Create a business plan for your restaurant.
Your business plan should lay out the foundation of your operations. Be sure to include an executive summary, company description, industry analysis, geographic analysis, target market analysis, food safety plan, sample menu, marketing plan, management strategy, and financial plan.
Research funding options for your restaurant.
Assess how much it will cost to open your restaurant, as well as operational costs, to determine how to fund your restaurant. There are a number of options to consider, from taking on an investor to applying for a small business loan. Be sure to calculate your break-even point and create a financial analysis as well, to get a better understanding of your predictive cash flow.
Obtain licenses and permits needed to open a restaurant.
Aside from the standard business licenses and permits needed to open up shop, there are other licenses you need to get if you run a restaurant, from a liquor license to food handler's permits that may vary state to state. Be sure to do your research on food safety regulations and create a list of standards you have to adhere to.
Register your business.
You need to register your business with the IRS to receive your Employer Identification Number, which you need to file taxes. (You can sign up for one here.) You might think about trademarking your restaurant's name, too (to stop people from copying you and capitalizing on your restaurant's success).
Select the right location.
A restaurant's location can make or break it. Visibility and foot traffic are two important factors to consider during the selection process for a commercial space. You also want to evaluate the size and interior shape to decide if it's the best fit for your restaurant floor plan.
Order restaurant equipment.
Restaurant equipment can get pricey so you want to be strategic when selecting what to buy or lease. List out everything that you absolutely need — which depends on your menu — versus what you want, from kitchen equipment to decor for the dining room. You can save money by buying some gently used items. Make decisions based on your budget and your financial analysis.
Hire the right staff.
Make a list of how much staff you need to run your front of house and back of house efficiently. Then get to hiring. While you're doing that, you should also decide if you want to process payroll yourself or use payroll software. Just keep in mind that restaurant payroll can get quite complex, especially with varying state/federal/local laws and regulations around wages and tips.
Create a menu.
Your menu is the centerpiece of your restaurant and should reflect your concept and brand. But it's also a marketing tool that can help convince new customers to try your restaurant. Your descriptions should be concise but appeal to your audience.
Create a marketing plan.
Before you open a restaurant, it's important to develop a marketing plan that drives awareness, brings in new customers, and creates a loyal following. Marketing tactics you might use include everything from social media to hosting a soft opening that drives hype.
Restaurant industry segments
Recognizing where a restaurant fits in the industry can help you understand the competitive landscape and better strategize your entry to market and your food costs when opening a restaurant. Establishments can be loosely broken down into various segments, from your basic fast food joint to a prestigious three-star Michelin dining experience:
Fast food restaurants, also called quick service restaurants (QSRs), specialize in quick preparation and casual service. Seating is limited since most customers order at the register and take their food to go.
Fast-casual establishments mirror fast food service since they do not often provide sit-down service, but they typically offer freshly prepared food with wholesome quality. As a result, their food prices tend to be higher than QSRs. Another differentiator from QSRs is that fast-casual places often provide nondisposable utensils and plates.
Casual dining offers a full-service, sit-down experience for customers at an affordable price. With a relaxed ambiance, consumers can come in, sit down, and enjoy a meal without breaking the bank.
Family dining follows a similar format to casual dining, but most establishments don't serve alcohol. Family dining usually offers breakfast, lunch, and dinner options, making them open for more hours.
Fine dining restaurants provide customers with an elegant and upscale dining experience. While these restaurants have higher price points, customer are paying for top-quality food and the best service the industry can provide.
An overview of restaurant safety and food handling
Before diving into the steps of starting a restaurant, it's important to understand the restaurant industry as a whole. Restaurant safety and food handling protocols are top priorities for the industry, so you should understand the ins and outs before you open a restaurant.
To keep guests safe and prevent food-borne illnesses, the restaurant industry is heavily regulated at city, state, and federal levels. Several federal agencies play a crucial role in the industry, some of which include:
The Food and Drug Administration (FDA)
The Centers for Disease Control and Prevention (CDC)
Food Safety and Inspection Services (FSIS)
City and state regulations vary depending on where you decide to open a restaurant. If you are considering multiple locations, each restaurant could have a different set of compliance obligations. Be sure to check out your restaurant state guidelines in addition to keeping up with federal agency recommendations and new educational resources published by these agencies.
There are several inspections a restaurant may be subject to in order to verify restaurant safety and operational compliance. An initial restaurant inspection may cover a variety of food safety protocols and grade a restaurant's ability in food handling, food storage, employee hygiene, and operational excellence. Subsequent inspections throughout the year are normal, so you'll want to come up with best practices for food safety and restaurant sanitation.
By familiarizing themselves with regulations, obtaining specific industry-related licenses, and adhering to the basic food safety procedures, restaurant owners can keep their reputation intact and customers out of harm's way.
The cost of starting a restaurant
Most people who consider opening a restaurant want to know, how much does it cost to open a restaurant? It seems like a simple question but the truth is there's no one-size-fits-all answer for how much it costs to start a restaurant. Restaurant start up costs are dependent on various factors including:
Size of the restaurant
Type of restaurant (see above)
Number of staff
Starting a restaurant is usually a spendy proposition, and incorrect forecasts and budgeting are a major reason why restaurants fail. Avoid these situations by learning what costs you can expect and how to keep costs low so you can forecast a realistic budget.
After long hours of computing numbers and hashing out prices, you may realize that you don't have the capital to front these costs initially. Don't worry, there are plenty of financing options restaurant owners can consider.
And remember, even if you don't need a loan to start your business, you may need a loan for future costs you can expect to pay, like purchasing inventory or new equipment, renovations, or hiring.
Taking payments from customers
Understanding the restaurant industry and mapping out a restaurant costs are the initial ingredients for success, and now it's time to focus on taking payments from customers.
Making your first sale is an exciting milestone when you first start a restaurant and it should be a seamless experience that first time, and every time after. To do that, you need to choose a payments processor and point-of-sale (POS) software.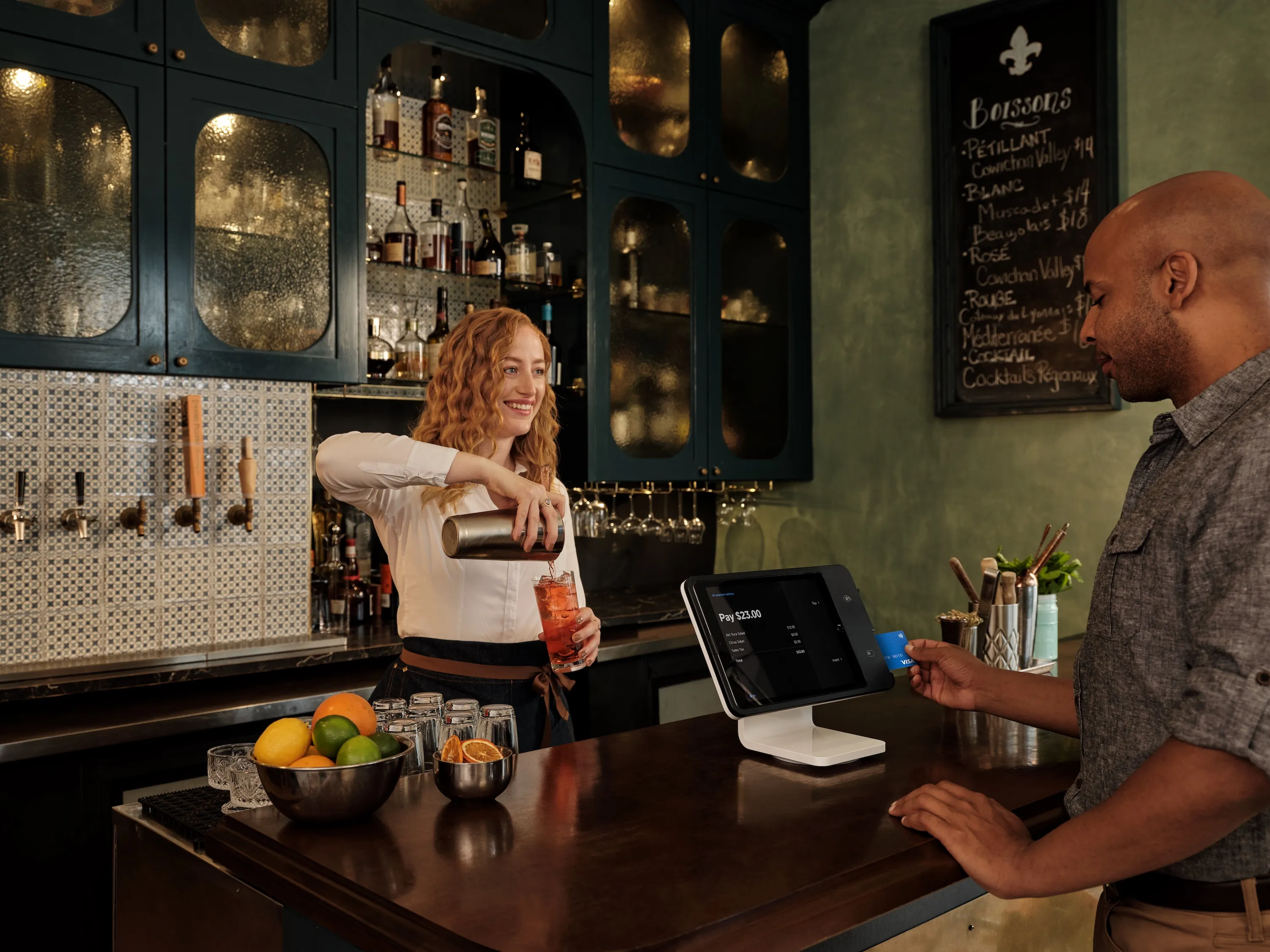 A payments processor handles credit and debit card transactions for your business. You want to look for a payments processor that accepts all major credit cards, has one consistent rate (with no hidden fees), and quick deposit times.
An intuitive point-of-sale system lets you get started taking payments quickly, and it can also grow with your restaurant (and help it grow). An integrated restaurant point of sale not only lets you accept all types of payments — including magstripe, EMV chip, and NFC (mobile payments) — but also it can help you run your entire restaurant more efficiently.
A restaurant POS system can help you with:
Inventory tracking to better forecast ingredients and supplies
Built-in tipping that substantially increases tip flow
Automatic tip reconciliation
Menu adjustments to include modifiers and other requests
Employee timecards that easily track hours worked
Data analytics that give you better insight to make decisions
Immediate customer insights and feedback
Multiple menu management
Customizable floor plans
Coursing and effective communication between servers and chefs.
Outdated, slow POS systems can really hurt your sales, so it's important to invest in capabilities that are quick for your customers, easy to use for your employees, and efficient for your restaurant overall. An integrated POS puts all your information — from sales and inventory to employee timecards — in one view, significantly improving organization and the ability to make better decisions.
Visit our Square for Restaurants POS Demo page to see how we make running a restaurant easier.
Building a brand for a restaurant
How can you compete with more established restaurants to capture consumers' attention and build loyalty? You need to build a brand.
Branding your business is an integral part of opening a restaurant, and it can play a major role in your future expansion and growth. Your brand is what distinguishes you from your competition. And it's what makes your restaurant stand out and can often be the deciding factor for diners in an environment with endless options.
Here's a crash course to get started branding your restaurant:
Start with positioning.
Evaluate your restaurant's product, placement, promotion, and price to determine where your restaurant sits among the competition and to identify your unique selling proposition for your target customers.
Define your concept and location.
Your concept and location should play into how you position your restaurant. From the type of food to the interior design and even the staff selection, your concept dictates many of these decisions moving forward. Neighborhood stereotypes, location accessibility, and local competitors are location factors that affect your positioning.
Craft a mission statement.
Your mission statement defines what you do, who you are, and why you're doing it. It should be your restaurant's north star and decisions should align with it to create a consistent experience.
Be consistent in the details.
You communicate your brand through every part of your business. So to create a clear and memorable brand, you need to look at every detail for consistency. That means looking at the visual elements of your restaurant — your name and logo, menus, decor, uniforms, etc. — and the written elements (or your brand voice) — your website and other marketing channels like social channels — to make sure they support your mission.
Once you've established your brand, you need to create awareness of it amongst prospective customers. Here are a few ways to get started:
Hold a soft opening.
The exclusivity of a soft opening intrigues a crowd and gets people talking about your restaurant, and building hype is important. Additionally, the soft opening gives your staff a practice run and helps you further hash out menu items and get feedback before anything is solidified. Brainstorm soft opening launch ideas that blow your competition out of the water and give you a leg up when it's time to open your doors.
Market your restaurant.
There are many channels you can use to market a restaurant. Traditional channels like TV tend to be pricey but reach a lot of people. Digital channels like social media, content marketing, and email are often low cost and do a better job of engaging (and building relationships with) prospective customers. You should test these channels to see what works for you (it may be a mix of both), but regardless of the media, you should use your brand visuals and voice in all your marketing.
Build a loyal following.
A customer loyalty program, in which you reward customers for repeat visits, can be a powerful tool. It can turn a first-time customer into a regular customer into a brand advocate. And advocates have huge value to your business because they tell their friends about your restaurant. And word of mouth is powerful: One study by Nielsen found that customers value referrals from friends and family more than any other type of marketing.
Restaurant trends to watch
Restaurant owners are responsible for staying ahead of trends in the restaurant industry, but that doesn't just entail the latest food fads. Technology helps restaurants provide the ultimate customer experience and is becoming a more prominent part of the industry. Here are a few emerging restaurant trends to take into consideration.
Immediate customer feedback
Incorporating feedback into the dining experience allows customers to rate their experience through their digital receipt, which gives your restaurant the real-time data needed for continuous improvement. Feedback is one of several customer engagement features that allow restaurant owners to get a better understanding of what their customers want.
Accepting mobile wallets
Mobile wallets like Apple Pay have become increasingly popular and are shaping the future of payments. Some of the key benefits of accepting mobile wallets include increased security, speed, and convenience.
Delivery services
To reach a wider customer base, many restaurants have begun exploring food delivery services. This taps into an entirely new market potential for your restaurant and can help your restaurant stay competitive with others using the services.
As the restaurant industry continues to explore automation, there's a spike in interest around tableside contact-free ordering. The QR codes allows diners to scan to order food and drinks as well as pay for their meal without interacting with a server.
How to build a successful restaurant: Tips from 3 restaurateurs
The million-dollar question every aspiring restaurant owner asks: Will my restaurant be successful?
Starting a restaurant is an intricate process that requires dedication and commitment, and questioning your decision to embark on this rigorous journey is completely normal. Here are three tips from experienced owners that you can use when first starting out.
Stay resilient
Tod Wilson, the owner of the prosperous Mr. Tod's Pie Factory in New Jersey, will be the first to tell you that this process isn't always easy. Tod was the first winner on Shark Tank in 2009, but he faced much adversity along the way when he was trying to get his business up and running. What advice does Tod offer about success? He stresses the need for resiliency. "Keep fighting. Every time I find myself in a tough position, I think about that. You have to just get up after you get knocked down," said Tod. "Whether it's a product recall, not getting an order in, or losing a new hire, you have to be able to bounce back."
Make a great first impression
The owner of Atlanta's Monday Night Brewing emphasizes the first-time experience for a customer. You essentially have one time to get it right and make an impression on a first-time customer. If guests have one bad experience, "odds are they'll never try it again."
Stay true to your brand
Young Han is the head of community outreach at Philz Coffee and believes you should "never forget why you started. Always circle back to that and stay true to your core."