Who Accepts Apple Pay? The Complete List of Stores, Restaurants, and More
Noticed people hovering their iPhones over credit card terminals to pay for things lately? They're using Apple Pay, Apple's mobile payments app. Apple Pay is an example of an NFC contactless payment, which means it's a way to pay for things with your mobile device.
NFC payments like Apple Pay are extremely secure because they're dynamically encrypted. Apple Pay has the added protection of Touch ID, Apple's fingerprint technology. NFC payments are also extremely convenient. They're processed super fast, taking just a few seconds as opposed to EMV chip card payments, which can take longer to process. It's no wonder more and more stores are accepting Apple Pay. In fact, Apple Pay is already accepted at over two million stores.
To see if a store, restaurant, gas station, or other business accepts Apple Pay, just look for the Apple Pay and NFC/tap and pay decals in store windows and on points of sale.
Apple Pay isn't just for brick-and-mortar businesses. You can also use Apple Pay in a growing number of apps to make secure purchases with a tap. If an app is set up for it, Apple Pay appears as one of the payment options when it's time to check out. Below is a snapshot of the various types of businesses and devices that could accept Apple Pay: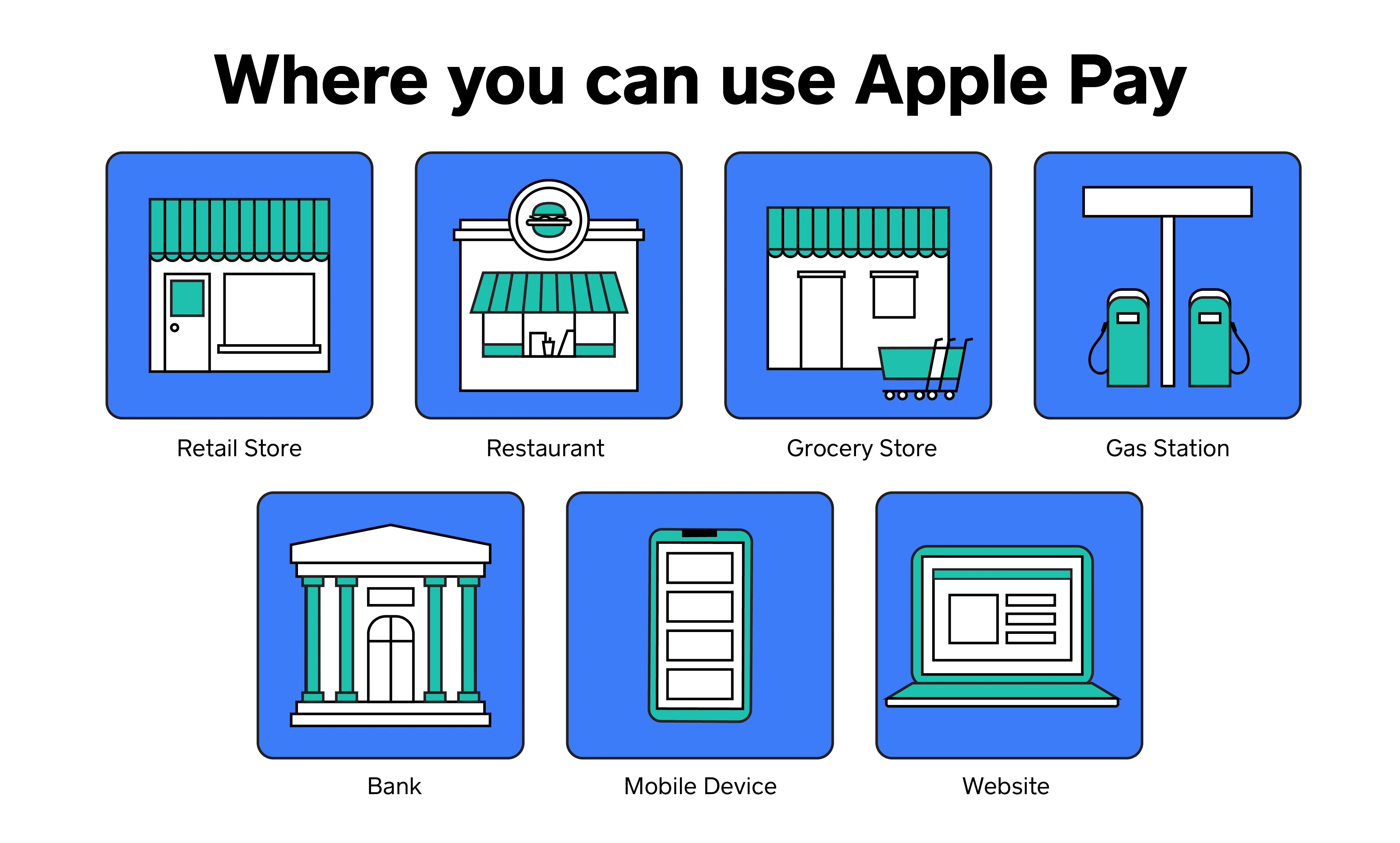 So what are the stores that take Apple Pay? They're all over the place. In fact, a slew of the country's largest retailers now accept Apple Pay. But Apple Pay isn't just for the big guys — with the Square contactless and chip reader (which retails for $49), businesses of any size can get set up to accept Apple Pay in no time. If you order online today, you'll receive your new reader in five to seven business days. If you order online today, you'll receive your new reader in five to seven business days. You can also take contactless payments from contactless cards, Apple Pay, and other digital wallets in person with just your iPhone.
Want to test out Apple Pay at a large retailer before you order your own Apple Pay reader? Below is a list of stores that accept Apple Pay, in alphabetical order:
Stores that accept Apple Pay:
Aeropostale
Adidas
American Eagle Outfitters
Anthropologie
Apple (of course)
B&H
Babies "R" Us
Barneys New York
Best Buy
BevMo!
Big Lots
BJ's
Bloomingdale's
Champs Sports
Crate and Barrel
Disney Store
Express
Foot Locker
Footaction
Forever 21
JCPenney
J.Crew
GameStop
House of Hoops
Kids Foot Locker
Kohl's
Lady Foot Locker
Lego
Levi's
Macy's
Old Navy
Office Depot
OfficeMax
Nike
Petco
Pep Boys
RadioShack
Run by Foot Locker
Sephora
Six:02
Sports Authority
Staples
T-Mobile
Toys "R" Us
Ulta Beauty
Unleashed by Petco
Urban Outfitters
Au Bon Pain
Baskin-Robbins
Chick-fil-A
Chili's
Coca-Cola vending
Dunkin' Donuts
El Pollo Loco
Firehouse Subs
Fuddruckers
Jamba Juice
Jersey Mike's Subs
Jimmy John's
Johnny Rockets
KFC
Luby's
McDonald's
Panera Bread
Peet's Coffee
Pizza Hut
Rubio's
Subway
White Castle
Grocery stores and drug stores that accept Apple Pay:
Acme Markets
Albertsons
ALDI
Bashas'
BI-LO
Cub Foods
Costco
CVS
Dan's Fresh Market
Davis Food & Drug
Dick's Fresh Market
Duane Reade
Farm Fresh Food & Pharmacy
FoodMaxx
Hannaford
Harveys Supermarket
Hornbacher's
Jewel-Osco
Lin's Fresh Market
Lucky
Maceys
Meijer
Raley's
Rite Aid
Save Mart Supermarkets
Schnucks
Shaws
Shop 'n Save
Shoppers Food & Pharmacy
Sprouts Farmers Market
Star Market
Stater Bros.
SuperValu
Trader Joe's
United Supermarkets
Walgreens
Wegmans
Whole Foods Market
Winn-Dixie
Gas stations that accept Apple Pay
Chevron
Chevron Extra Mile
Texaco
ExxonMobil (through the Speedpass+ app)
Entertainment and travel businesses that accept Apple Pay:
Carmike Cinemas
Golden State Warriors
JetBlue
Marriott
Orlando Magic
Phoenix Suns
Regal Cinemas
Renaissance Hotels
Walt Disney World
Banks that accept Apple Pay:
There's a staggering list of major credit and debit cards from top U.S. and Canadian banks that work with Apple Pay. If you're not sure if your bank lets you accept Apple Pay, take a look at Apple's official list.
Apps that accept Apple Pay:
Airbnb
Apple
B&H
Best Buy
Caviar
Chairish
Cole Haan
Delta
Disney Store
Dunkin' Donuts
Doordash
Etsy
Eventbrite
Fancy
Fandango
Groupon
Hautelook
Hotel Tonight
Houzz
Instacart
Jack Threads
Kickstarter
Levi's Stadium
Lyft
MLB.com
OpenTable
Panera Bread
Pinterest
Postmates
Priceline.com
RadPad
Sephora
Social Print Studio
Spring
Staples
Starbucks
StubHub
Target
Ticketmaster
Uber
Ulta Beauty
Accept Apple Pay at your business
Customers today are using Apple Pay as a quick, secure, convenient, and contactless way to pay. As contactless transactions are becoming more pervasive in customers' daily lives, offering a convenient and secure alternative to cash might not only engage with your loyal customers but attract new ones as well.