Table of contents
The percentage of cash payments has been on the decline for some time, and with lingering effects of the pandemic and increased availability of contactless payment options, wallets are being left at home entirely. With so many alternatives to cash, it can be confusing for a small business to know how to get started accepting credit card payments.
This article covers how to accept credit card payments and the methods you can use to get paid in person, online, and remotely.
Benefits of accepting credit card payments
According to the Square Future of Commerce report, 61% of surveyed retailers offered traditional credit card payment methods, and 47% offered touchless card payment options in 2022. Here are some reasons why you should accept credit card payments at your small business: 
Your customers might prefer paying by card. Credit card usage has steadily increased, and it was the most popular payment method in 2022, according to the Federal Reserve Bank of San Francisco.
Your customers will feel good about shopping with you. When customers see the logos of the major credit cards you accept, they see your business as more trustworthy and legitimate.
Your customers can pay however it is most convenient for them. Additionally, many customers look forward to earning rewards associated with paying via credit card, such as cash back or travel perks.
How to take credit card payments
Once you've decided to start accepting credit cards, you'll need to have a few things in place. First, it's important to understand the difference between a merchant account and a merchant services provider. 
A merchant account is opened directly with a bank or financial institution that allows you to accept payments by credit card. When a business accepts a credit card payment, the payment transactions and funds are held in the merchant account until the payment is verified and the funds are transferred to the business bank account. 
Alternatively, merchant service providers, like Square, manage the merchant account for you and handle the hardware, software, and financial services needed for a business to accept and process credit cards, debit cards, and other contactless payments. 
Next, you'll want to decide how to take credit card payments. Depending on the type of business you have, you may want to have more than one option to take credit card payments:
In person
Online or through payment links
Over the phone
Via invoice
Once you understand your needs for taking payments, you can choose a payment processing system that fits those needs. With a merchant account, you'll need to apply for the account and purchase your own hardware for accepting credit card payments. Additionally, fees can vary depending on the credit card issuer and even the type of card entry (swipe, tap, manual, etc.). Merchant services providers can be more cost-effective and easier to set up since they provide the hardware and handle the merchant account requirements.
Whether you've chosen to open a merchant account or go with a merchant services provider, you'll need to decide on the software and hardware you need to collect your customers' payment information. Depending on the type of small business you have, you may need software and/or hardware.
Software
Point-of-sale software: Point-of-sale (POS) software will help you track your inventory and sales history. A POS system can also include a card reader or the option to manually enter credit card information.
Virtual terminal: A virtual terminal, or computer POS, allows you to turn your laptop or desktop into a POS easily without the need to purchase any further equipment. This allows you to manually enter in your customers' credit card information to accept payments. Because it is hosted online, a virtual terminal can turn any computer into a credit card terminal, which means you can accept payments from anywhere at any time. This is a great solution for remote billing, taking payments over the phone, or when most of your day-to-day work is done at your computer or at a reception desk. Sometimes the best hardware is the hardware you already have. If the time comes when you want to add other accessories, like a barcode scanner or payment terminal, you can do so with ease. 
Hardware
EMV reader: If you've never accepted credit cards before or need to upgrade to a contactless or chip reader, you'll need an EMV chip card–enabled reader. With the liability shift that went into effect in 2015, businesses that aren't set up to accept chip cards could now be responsible for certain types of fraudulent transactions (whereas previously banks ate that cost). Protect yourself and your customers with an EMV reader.
Mobile credit card terminal: If you're a restaurant or salon owner or you work on the go, a mobile credit card terminal will allow you to take payments tableside or at the client's chair directly for easy checkout. This allows you to take payments and print receipts from anywhere while still knowing every sale is securely encrypted.
Countertop POS: Alternatively, if you would prefer to have payments taken at one permanent location within your business, you'll want to invest in a countertop solution that handles everything in one place.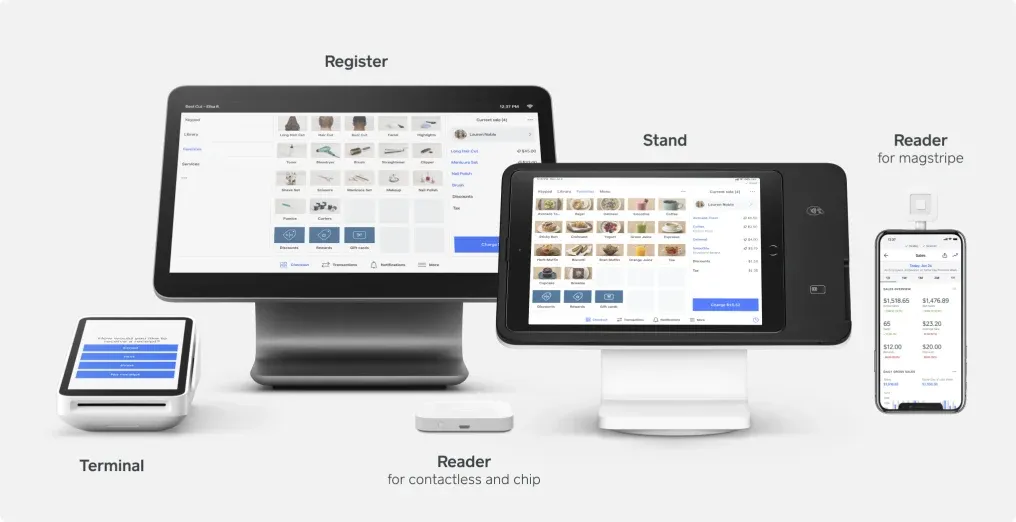 How to accept credit card payments online
If some or all of your sales are completed online, there are plenty of ways you can set up convenient credit card payment options for your customers. Small businesses, such as eCommerce shops or digital service providers, rely on completing their entire transaction without the need for in-person interaction. 
If you are looking to process credit card payments online, you'll want to consider these options:
Online checkout links: Create a checkout link for a specific product or service. These customizable payment links can be added to your email newsletters, text message marketing, and social media to easily accept credit card payments from multiple online channels. With a virtual terminal, you can send a payment link directly to a customer to easily collect payment.
Integrate with social media: Make Instagram, Facebook, and TikTok shoppable with "buy buttons" and shopping pages on your business profiles. You can create shoppable posts and set up purchasing experiences from within your social channels.
Online store: If you offer many products or services or are interested in moving your business online, consider setting up an online store. Square Online enables you to publish an eCommerce site with no coding required and drive more customers to your business. Or connect your Square account to an existing website to start accepting payments.
Invoices: Digital invoicing software allows you to send invoices, accept automatic payments, and track unpaid and paid projects from anywhere while streamlining your business operations.
Credit card processing fees
To process a sale, there are several types of fees and regulations that apply to each transaction. These fees are set by cardholder banks and credit card issuers, and it's important to know how they can impact your profits.
Interchange fees: Interchange fees are the fees charged by the cardholder's bank. These fees will vary greatly depending on the type of card being used by your customer. Your payment processor is required to give a percentage of the funds collected to the card issuer.
Assessment fees: Assessment fees are charged by the card associations, such as Mastercard or Visa, to process transactions through their payment networks. Again, your payment processor is required to give a percentage of the funds collected to these card associations.
Risk and PCI compliance: Lastly, risk and PCI compliance is a standard security measure all card-accepting businesses need to comply with to safely and securely accept, store, process, and transmit their customers' data during these transactions. Square complies with PCI standards, so there is no need for you to individually validate your compliance or pay associated annual fees when you process payments with Square.
While small business owners are often concerned with the costs of credit card processing, offering additional payment options to your customers can often lead to more transactions, which can offset the costs. As a small business owner, you should analyze if and how much credit card processing fees will eat into your profits and what you can do to offset them.
Now that you understand your options for taking credit card payments as a small business owner, you'll no longer have to miss out on those additional credit card transactions. With flat fees that you're aware of upfront with Square payment processing, you can look more professional and give your customers the payment and security options that they've been looking for.