By directly accepting online food and beverage orders for pickup and delivery instead of relying exclusively on third-party apps and marketplaces, business owners can improve their margins by avoiding high marketplace commissions, while also building stronger customer relationships. With Square Online, you can easily set up an online ordering page to take orders, and maintain a comprehensive view of your restaurant operations in your Square account.
Once your ordering page is live, making sure your customers (and future customers) know about it is the first step to growing your business through online ordering. Delivering a great customer experience will keep them coming back for more — online and in person.
This article covers key strategies and tips for driving food and beverage orders directly to your online ordering page.
Step 1: Announce your online ordering page
If you've just launched your new online ordering page, the first step is to make sure existing and new customers know about it, as they may be accustomed to navigating directly to a third-party marketplace app to place orders. Here's how to drive awareness of your direct ordering link.
Link to your ordering page from your business site
If you have a separate website for your business, link to your ordering page from that site so visitors can easily discover it. Use prominent messaging, like an "Order Online" button in your site's top navigation menu, to make your preferred ordering link as recognizable as possible.
Promote your ordering page on social media
Your Instagram, Facebook, TikTok, and other social channels are one of the digital touch points where current customers seek updates about your business, and also where potential customers keep an eye out for new local businesses to try.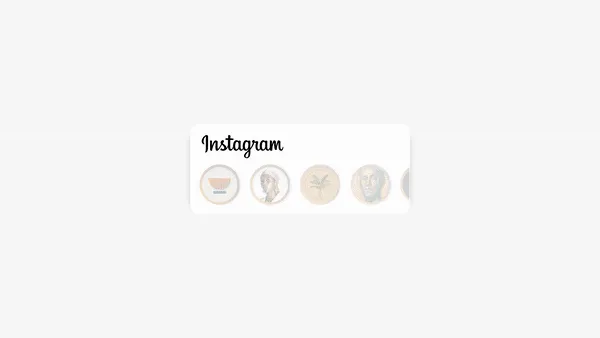 Make sure your ordering page is linked from the bio sections of your social media profiles for easy access. Create posts announcing your online ordering page as the best option for placing pickup and delivery orders. This is a great time to educate your customers: When they place orders directly from your ordering page instead of a third-party marketplace, they often save money and support your local business (since you save on marketplace commission fees!).
Free design tools like Canva are a great resource for quickly designing social media images using a wide range of prebuilt templates. If you offer delivery via your online ordering page, you can also use the Square social media toolkit to announce your delivery offering. 
Send an email or text message campaign
With Square, all customer data from online and in-person purchases lives in Customer Directory, allowing you to send tailored text and email campaigns through Square Marketing to build strong customer relationships. 
Send an email and/or text campaign to let your existing contacts know about your online ordering page, and why it's the preferred way to place pickup and delivery orders from you. Consider including a coupon that customers can use for their first online order. 
Point in-person customers to your online ordering page
You can also use your physical space and in-person transactions to highlight your new online ordering offering to dine-in customers and foot traffic by adding signage on your storefront, at your checkout station, or on tables. If you also accept pickup and delivery orders from third-party marketplaces, consider placing a sticker or insert in the bags so customers know they can order directly from your site next time.
Every Square Online ordering page comes with a custom QR code, found in Site Preferences, that can be downloaded and placed on print materials to streamline navigation to your ordering page. The Square ProShop also makes it easy to design and order print materials at competitive prices.
Lastly, you can add a message about your online ordering page to customer receipts by visiting the Account & Settings > Receipt section of your Square dashboard. You can add your ordering URL under Other Information and a message reminding customers to order online under Custom Text. 
Record a custom on-hold phone message
If customers regularly call your place of business, update your answering service or on-hold recording to let customers know they can order directly from your restaurant online.
Step 2: Maximize orders from Google and other search engines
Even if your business is a longstanding neighborhood institution, new customers are likely to discover you online. Hungry diners use Google Search and Maps to find what they want, when they want, using local search terms such as "vegan food near me," "restaurants good for kids near me," or whatever they happen to be craving. Even the more generic search "food near me" has steadily increased in popularity over the past five years. Here are some tips to ensure your business is discoverable in these high-intent search results. Add or claim your Google Business Profile
Your Google Business Profile is a free listing that appears in Google Search and Maps when users search for keywords that fit your business, and it's a crucial element in building and improving your local SEO strategy. Create or claim your Google Business Profile at google.com/business and ensure all your business details are up to date. If you are categorized as a food and drink business on both Square and Google, you offer pickup and delivery, and you meet a few other basic requirements, your Google Business Profile will display an Order Online button so customers can easily navigate from their Google search directly to your online ordering page to place an order. It's important to set your Square Online ordering page as your preferred pickup and delivery link to drive more direct orders. Learn more about using Order with Google and Square Online together.
Optimize your site for search traffic
In your online ordering page settings, it's important to make sure your site and item-level titles, descriptions, and metadata are optimized to match the keywords customers are searching for when seeking businesses like yours so you can rank high in search results. Follow the tips laid out in the Ultimate SEO Guide to help you optimize for the right keywords and more.
List your business on other directory sites
Listing sites are the driving force behind local SEO since search engines know they are some of the first places customers look for local information. Add your business on listing sites like Yelp and NextDoor, and create a Facebook business page to send additional location and relevance signals to search engines.
Step 3: Build a long-term marketing strategy that drives customer loyalty
Now that you've announced your online ordering page and linked it from all your digital and in-store placements to drive awareness, you have a variety of options to keep customers coming back to place direct orders from you. Many of these marketing strategies only require one-time setup and run in the background to help you continuously grow your orders.
Run seasonal, monthly, and automated email and text campaigns
Similar to the way you may have used Square Marketing to send an email or text campaign announcing your site, you'll want to consider sending campaigns that capitalize on seasonality to drive more orders. Is there a holiday, big sporting event, or other key seasonal moment coming up that aligns with your business? Remind customers to think of your business when planning their special day.
Another email strategy you may choose to pursue is a newsletter sent on a regular cadence, such as monthly. Here, you can keep your customers updated on your latest menu items, special offers, and more so your business is always top of mind.
Lastly, Square Marketing includes automated campaign options that you can set up once to deliver ongoing results. Automated emails and texts get sent to specific customers at the right time based on their past interactions with your business. For example, you can set up automated campaigns to welcome new customers, re-engage lapsed customers, wish customers a happy birthday, or remind them of an item they left in their cart.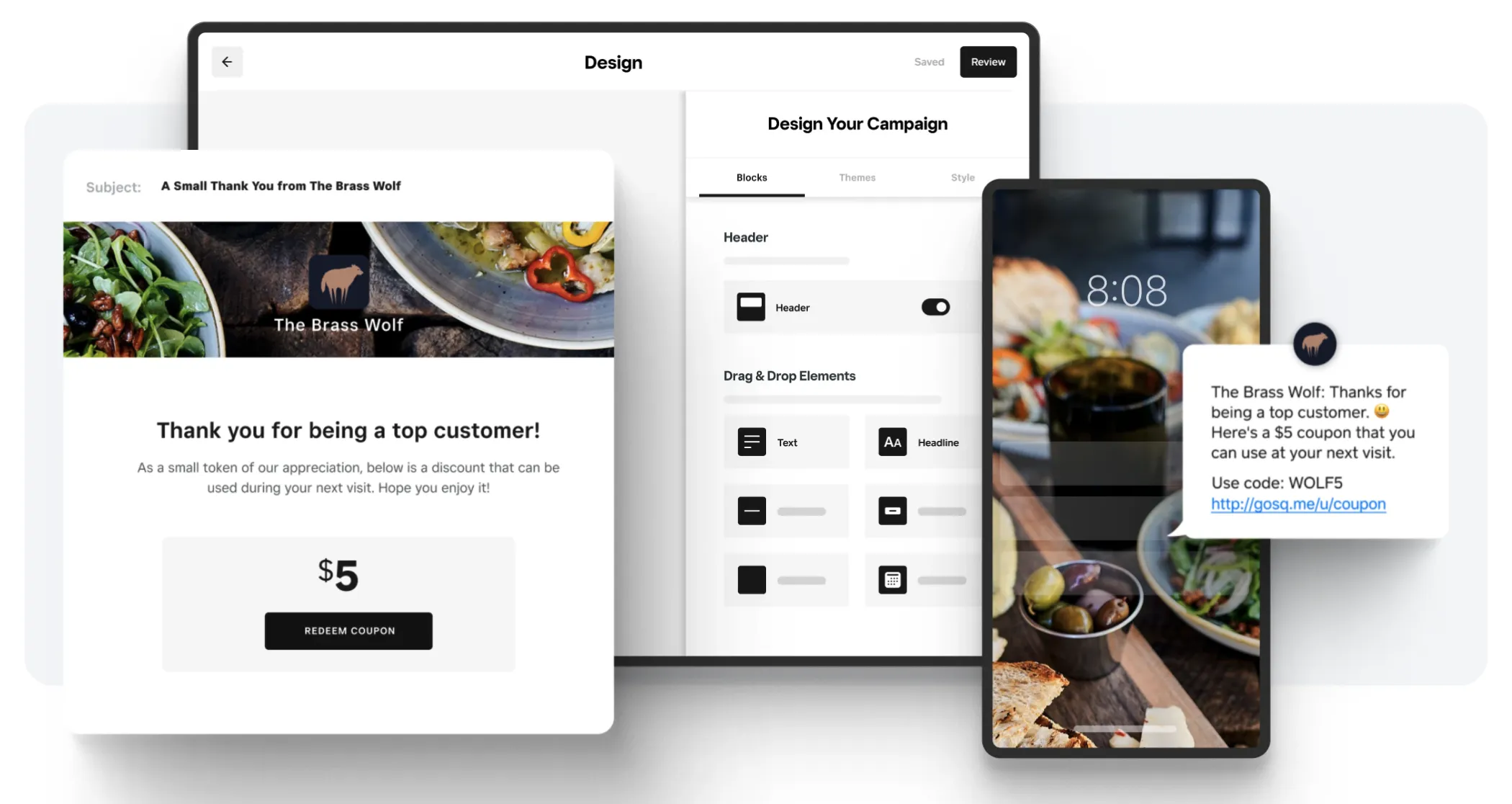 Customize your fee settings and run special offers
You save on high commission fees every time a customer orders directly from your Square Online site instead of a third-party marketplace, so consider offering lower fees to customers who place direct orders, or offering special discounts for orders placed on your site.
In your Pickup & Delivery settings, you can set up free delivery on orders over a certain dollar amount to incentivize larger orders, and in the Items » Coupons section of your Square Online dashboard, you can configure offers for first-time customers (using the "limit coupon per customer" setting) or set up discounts that are available to all customers for a limited time.
Make sure to use marketing channels such as email, text, and social media, and add pop-ups or banners to your ordering page to make customers aware of your offer.
Launch a loyalty program
With a loyalty program, customers can earn rewards on purchases (such as free items and discounts) that they can then use on future purchases both in-person and online, encouraging them to keep coming back. Loyalty programs can boost your business, and the cost of managing them is often less than the cost of acquiring new customers. In our annual Future of Restaurants report, we found that 41% of restaurants added or improved their loyalty and incentive programs while navigating the challenges of the coronavirus pandemic. Learn more about how to start a loyalty program and best practices for successful customer loyalty programs.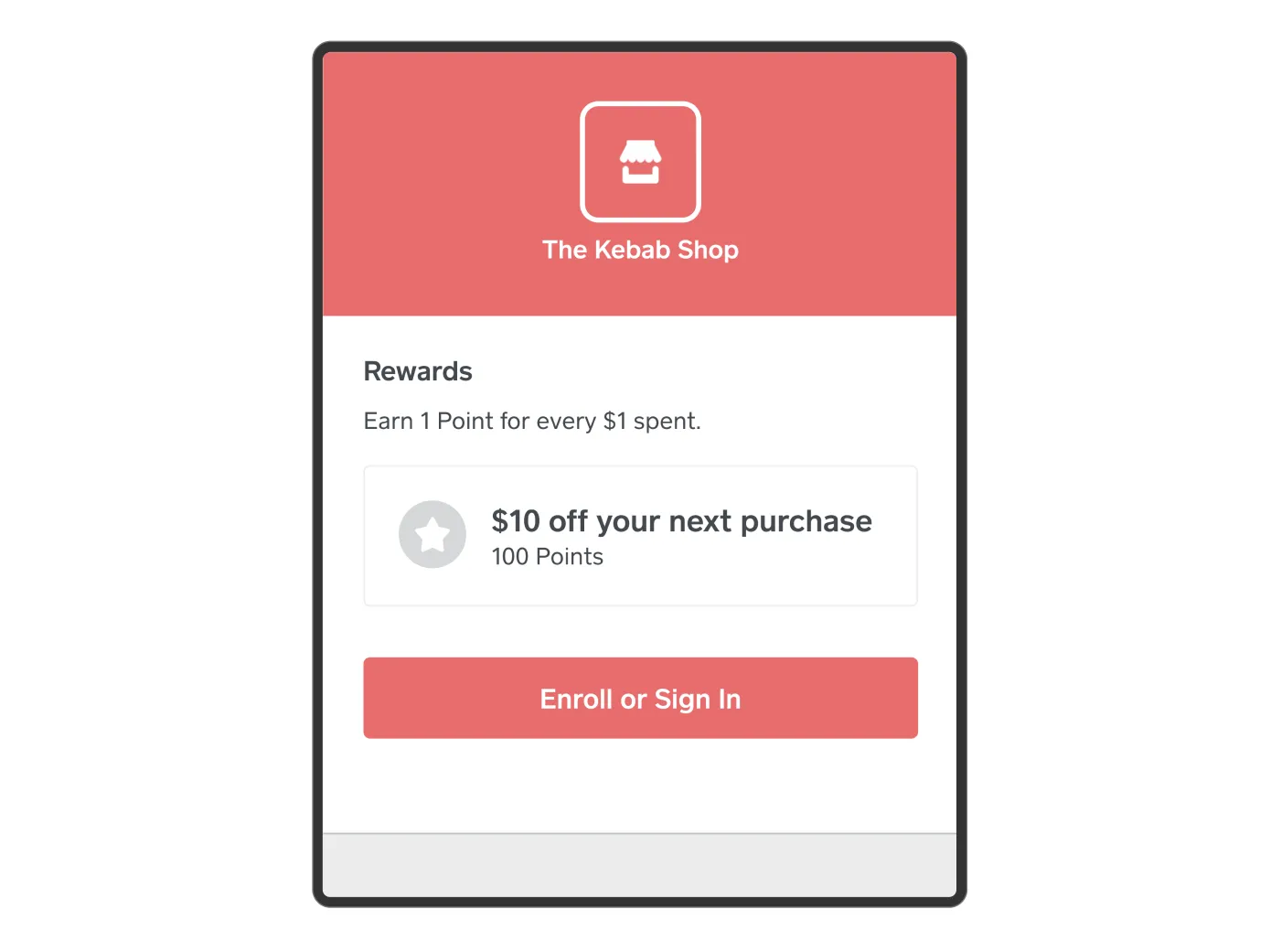 Giving customers the opportunity to order directly from you not only saves on fees from third-party delivery providers, it provides you with the chance to own your relationships with customers and tailor your business to their needs and wants. These rich connections with regulars are what make local businesses unique. It's simple to tap into your community and grow your revenue with a free online ordering page.