Table of contents
The idea of owning your salon has been in the back of your mind for a while, but now you want to make this into a reality. How can you start a salon business that is a cut above the rest?
A checklist for starting a salon
Here are eight steps you should take before you open a salon.
1. Define your salon concept.
Your salon concept should be woven into every aspect of your business, from the services offered to your style of customer service. Your concept should also be reflected in the name of your salon, your design, your decor, and your price range.
2. Create a business plan for your salon.
Your salon business plan should lay out the foundation of your operations. Be sure to include an executive summary, company description, industry analysis, geographic analysis, target market analysis, sample services, marketing plan, management strategy, and financial plan.
3. Register your business.
You need to register your business with the IRS to receive your Employer Identification Number, which you need to file taxes. (You can sign up for one here.) You might think about trademarking your salon's name, too (to stop people from copying you and capitalizing on your salon's success).
4. Select the right location.
A salon's location can make or break it. Visibility and foot traffic are two important factors to consider during the selection process for a commercial space. You also want to evaluate the size and interior shape to decide if it's the best fit for your business plan.
5. Order salon equipment.
Equipment can get pricey so you want to be strategic when selecting what to buy or lease. List out everything that you absolutely need versus what you want. You can save money by buying some gently used items. Make decisions based on your budget and your financial analysis.
6. Hire the right staff.
Make a list of how much staff you need to run your business efficiently. Then get to hiring. While you're doing that, you should also decide if you want to process payroll yourself or use payroll software.
7. Outline your offerings and services.
Your services are the centerpiece of your salon and should reflect your concept and brand. Service descriptions are a marketing tool that can help convince new customers to try your salon. Your descriptions should be concise but appeal to your audience.
8. Create a marketing plan.
Before you open a salon, it's important to develop a marketing plan that drives awareness, brings in new customers, and creates a loyal following. Marketing tactics you might use include everything from social media to hosting a soft opening that drives hype.
How to open a salon
1. Determine your costs to open a hair salon
Finances are top of mind when you open a salon. Your goal is to be profitable as quickly as possible, but salon startup costs could make you anxious.
Shake off those hesitations with a little bit of planning — establish your salon costs, forecast your revenue potential, and find your break-even point.
First, determine your fixed costs that incur on a monthly basis. Fixed costs are your salon's expenses that don't change with sales volume, and are typically non-negotiable (we call them fixed for a reason). Some of these include:
Insurance
Rent and lease agreement
Utilities
Equipment
Variable costs, on the other hand, are easier to manipulate, which can help you cut costs and save money. These are the costs of labor and materials that change with sales volume. Variable costs associated with opening a salon include:
Labor costs
Products and tools used by hair stylists
Shipping and delivery costs to replenish hair product
Advertising and marketing
After you determine your salon's expenses on a monthly basis, you should create a revenue forecast for your first year, and then determine your break-even point, which is where your revenue and expenses zero each other out.
Use this information — your expenses and projected revenue — to create a budget that keeps you on track and helps you avoid overspending.
2. Purchase salon equipment
You've just signed the papers and picked up the keys to your new salon space. One of the first things you need to do is fill your empty space.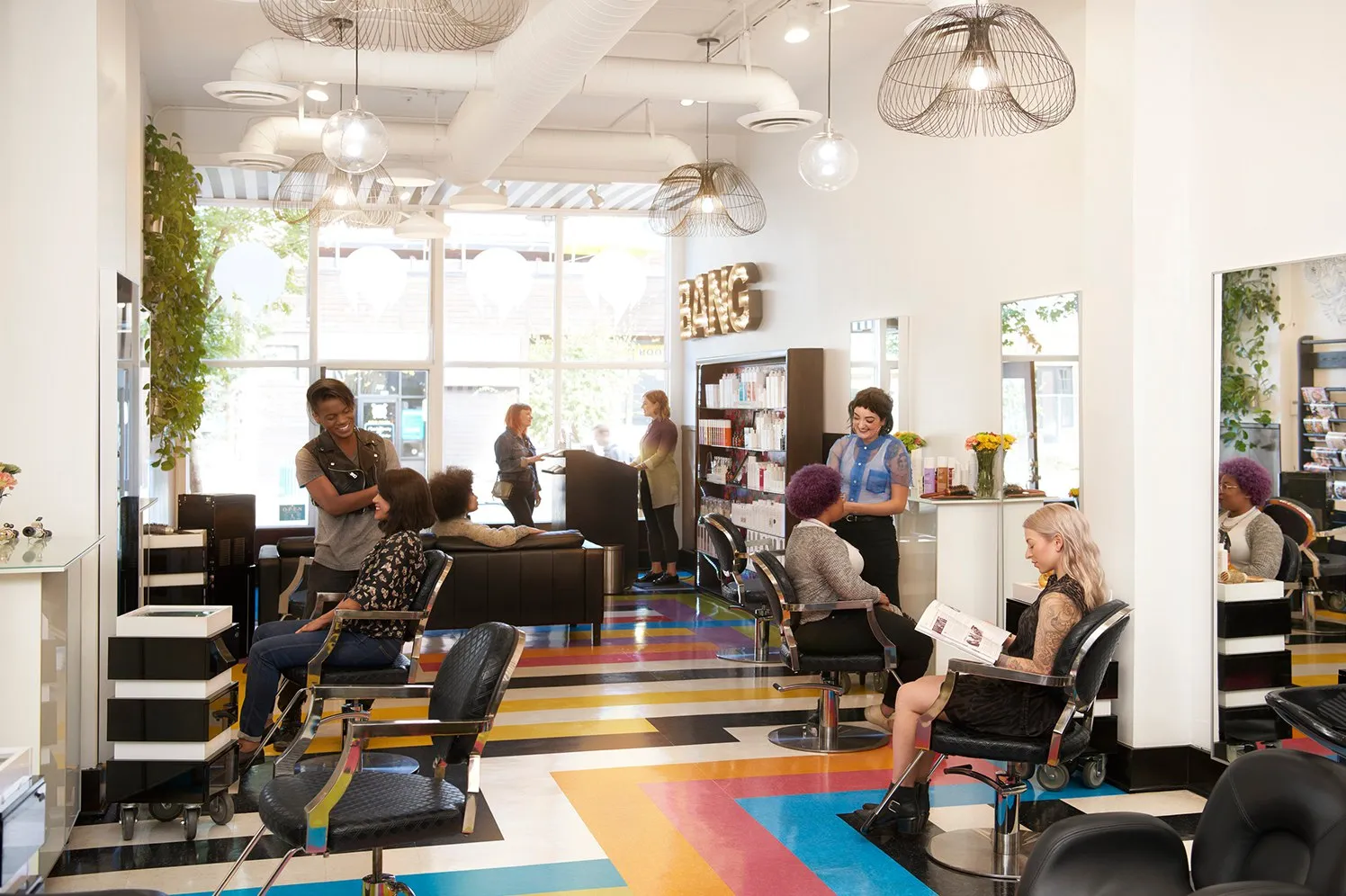 While it's easy to get wrapped up in buying equipment, furniture, and decor, you have to remember that these things come at a price (and it's often a high one).
Salon equipment makes up a large portion of your startup costs, and many owners tend to overspend. To keep costs reasonable for salon equipment, create a basic checklist of the materials needed for your salon. Every salon needs the following:
Salon stations that include a chair, mirror, and storage space for hair and styling products
Shampooing stations with a chair, shampoo bowl, and storage space for product
Drying stations for use during coloring services
The amount of equipment you need depends on the size of your salon and the number of employees you decide to hire. Most salons have one salon station per employee, but hair stylists with opposite working schedules may be able to share a station.
A small reception area is also necessary for most salons. You may want a seating area for clients waiting to see your stylists, as well as a front desk. Don't worry about staffing your front desk, though. You can set up an iPad POS stand for customers to check in and pay. You can also display promotional offers for your business at the front desk.
Pro tip: Most of the salon equipment and furniture can be bought at wholesale prices with your cosmetology license. It can be a great way to save money if you are buying in bulk.
3. Hire the right hair stylists
Hiring the right staff for your salon is essential; the quality of your staff's work makes or breaks your salon.
So before you start the interview process, create a list of what you are looking for in an ideal candidate. Here are some things to consider:
Skill set: The candidate's skill set and capacity to learn are both important to think about when interviewing. Think about the years of experience you want your stylists to have. Do you want each stylist to have proficiency in coloring? Or are you going to hire dedicated colorists?
Attitude: A candidate's attitude and work ethic determines their dependability, ability to work with others, and their overall customer service.
Personality: A candidate's personality should match the company culture you infuse in the salon. Whether you are aiming to be an upscale boutique or a family-focused shop, you want your company culture to be naturally instilled in your employees. Think about how you want to define your company culture and the traits that each employee should have.
Employee Identification Number
Before you hire anyone, make sure you have an Employee Identification Number (EIN) number, which is also known as a Federal Employer Identification Number, Federal Tax ID number, Federal Identification Number, or even a Federal EIN. This is a unique nine-digit number issued to businesses by the IRS for tax ID purposes. An EIN is like a Social Security number for a business.
Hiring process
When you start to hire, make sure you're following the correct procedures when hiring employees. You need to confirm their eligibility to work in the U.S., run the correct background check, obtain the correct workers comp insurance, and set up records for withholding taxes.
Once you've hired and onboarded your employees, you might feel like your job is done. Not so fast. The salon industry is competitive, and you often see hair stylists jump from one salon to the next.
In order to prevent employee turnover at your salon, you have to provide your employees with reasons to stay. Here are a few ways to boost employee engagement and retain staff:
Build strong relationships with your direct reports and encourage team bonding activities outside of working hours.
Outline a career path for employees and give your hair stylists an opportunity to advance.
Promote from within before you hire outside your salon; this encourages stylists to stay.
Offer competitive compensation compared to salons in the area.
Provide perks like flexible hours, commuter benefits, birthday recognition, and regular happy hours to keep your employees feeling valued.
Hair salon compensation models
You have a number of options for pay structures at your salon, including:
Booth renters
Independent contractors
Salaried employees
Employees with hourly pay
Hourly pay with flat-rate or tiered commission
Hourly pay with performance bonuses
Get a full breakdown of how these different setups work here.
4. Select your salon software
Once you have stocked your salon with supplies and hired stellar stylists, it's almost time to open your doors. But before you do, you want to make sure you have a way to accept payments and make money.
POS system
Let's start with taking payments. You want to look for a payments processor with clear pricing and no hidden fees. Your payments system should allow you to take whatever form of payment your clients want to use, including magstripe, EMV chip, and NFC (mobile payments like Apple Pay).
When you are assessing different payments processors, be sure to ask the following questions:
What is the setup process like?
You should look for a payments processing system that is easy to set up.
How fast will deposits hit your bank account after a transaction?
You want to get paid for your services quickly and not endure lagging processing time.
Is the payments processor secure?
A payments system should have security measures and be PCI compliant. Ask about chargeback protection and fraud detection to get a better sense of how protected you are.
But don't think of your payments processor in a silo. Ideally, you want your payments processor to be integrated with a point of sale that can help you run your entire business. A salon point of sale can integrate your payments system with other salon operations — like appointments, marketing, and team management — to make your day-to-day management more efficient.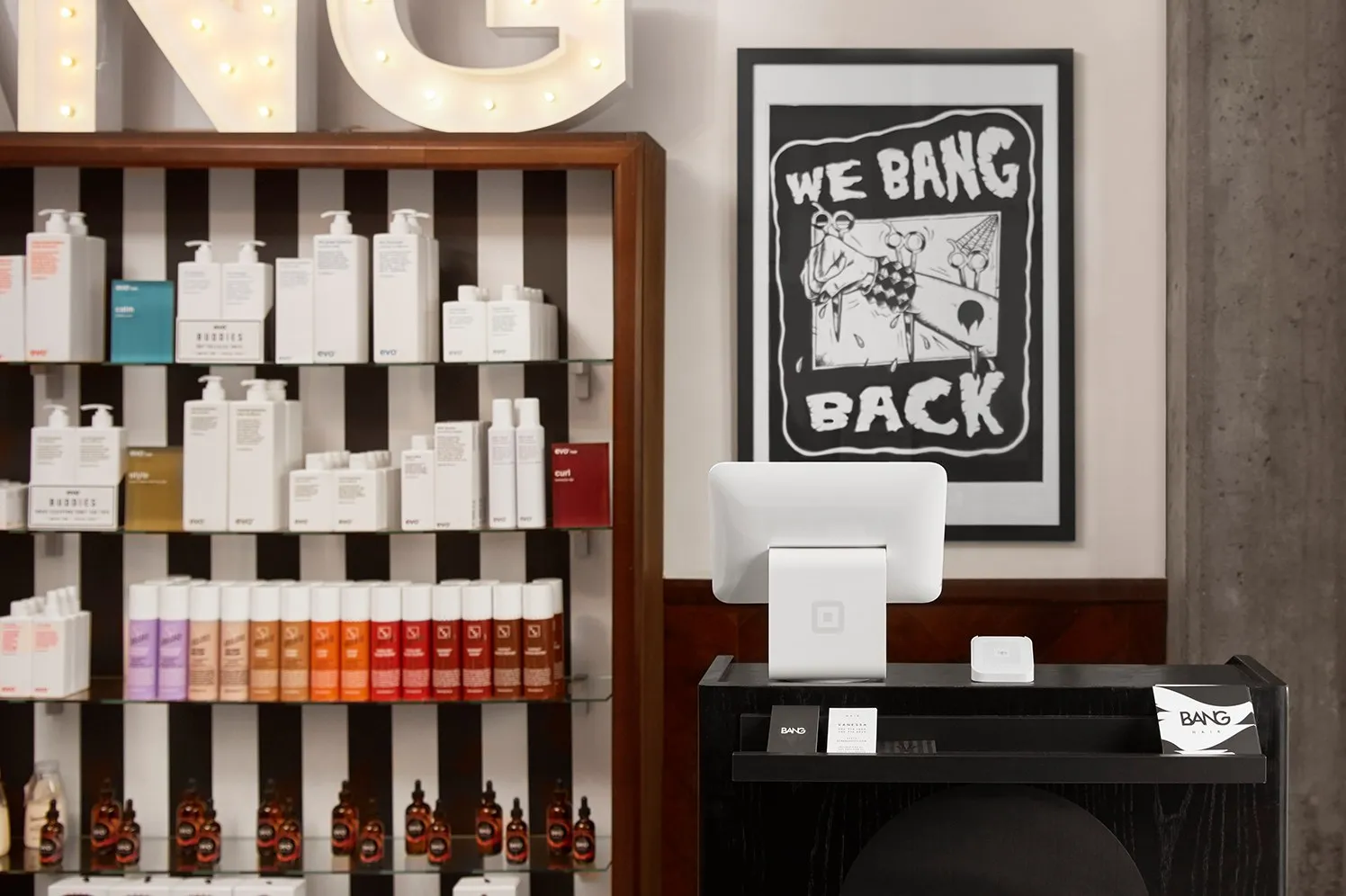 Scheduling software
In fact, the right salon POS system can actually act as a receptionist, which can aid to your salon scheduling strategy. By integrating your online scheduling tool with your POS, customers can access hair stylists' calendars and book appointments 24/7. In the appointments tool, you can create appointment notes on clients and customer information is saved in a customer directory that can be accessed in the POS system for a smoother checkout.
Additionally, you can access sales reports, customize discounts, and manage inventory in real time with the salon POS system. You can even use a POS to get direct feedback from customers through a private feedback channel.
All of these integrations can give you a more holistic view of your salon and help you manage your business easily and with efficiency.
5. Develop a salon marketing plan
Your marketing strategy gives you a clear understanding of your marketing priorities, and what the tactics to achieve your goals are. Setting goals and outlining how you plan to achieve them is the best way to grow your business. From doing your research to determining KPIs, here's how to get started with a marketing strategy.
Put together a promotion plan
Marketing online can be daunting, but there are several ways small business owners can connect more easily with their customers online if they're just starting out. Here are some resources:
You can also use the free booking app Square Go, which allows clients to discover, book and rebook with Square Appointments sellers easily. The app saves time by eliminating the traditional scheduling back and forth over the phone. It also sends booking reminders that have helped lead to a 23% increase in rebooking.
Salon Success Stories
Don't let the risk of failure impede your dream of opening a salon. It is important to acknowledge and plan for risk factors. But instead of harping on the hurdles that you may come across along the way, focus on the opportunity for major success.
Take some advice from Casey Nickole, owner of BANG in Seattle. She opened up her first salon with a simple dream of giving clients a place to express themselves and create a personal identity. Little did she know, her idea would become so much more. Today, BANG is a multimillion-dollar business with over forty employees across three locations.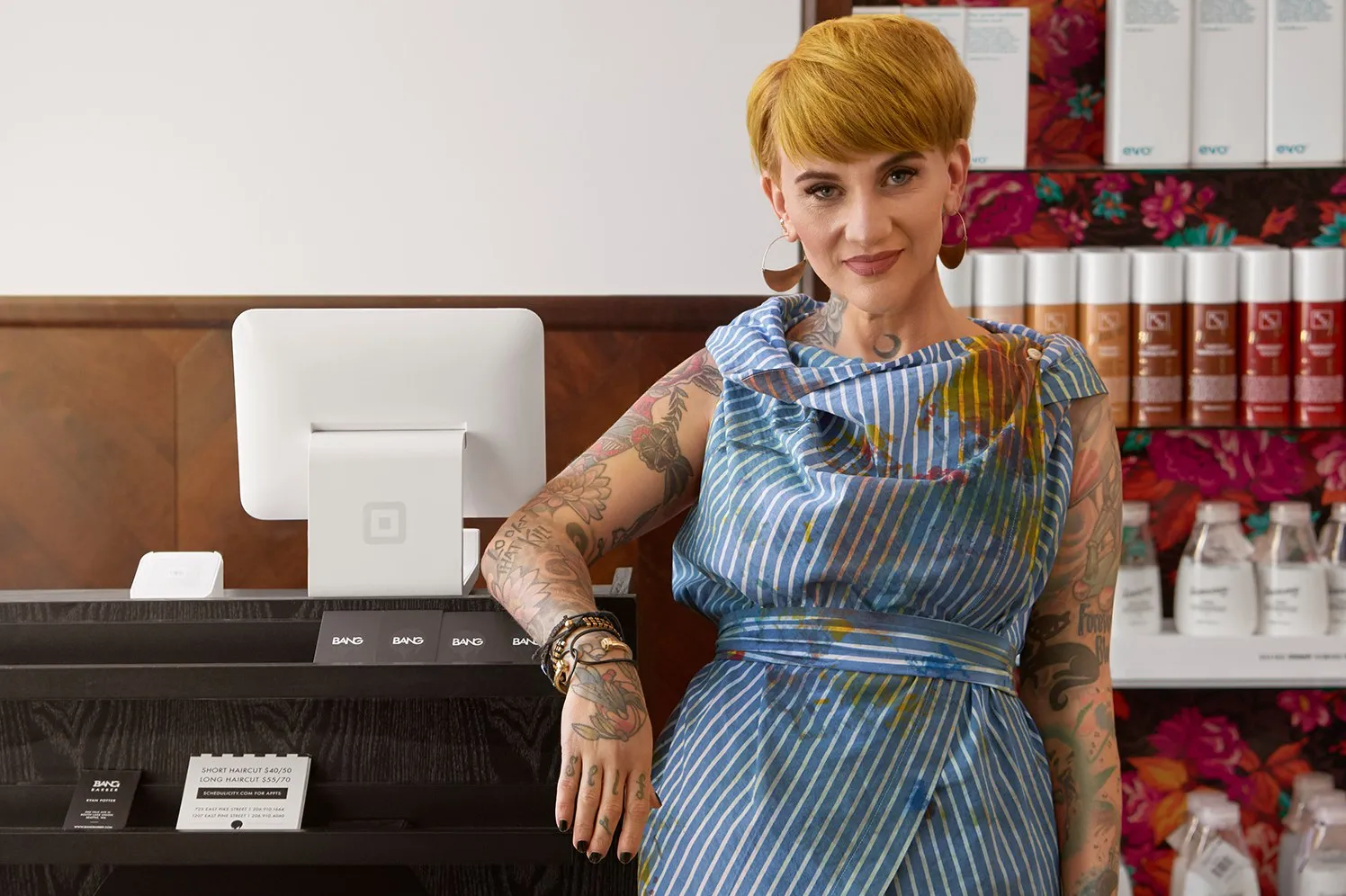 Going from $300,000 in year one to over $1 million in year two, Casey's success is evident, but she still had to persevere through obstacles. She found that BANG was devoting too much time to manual processes, which inhibited its growth.
By switching to an integrated system that managed payments, tracked inventory, ran payroll, provided CRM tools, and much more, Casey was able to have more flexibility, a better-informed staff, and improved client communication. She was able to manage appointments at different locations and track sales reports, which helped her strategize for growth and ultimately become successful.
If you're looking for more inspiration, Woody Lovell, owner of the Barbershop Club in Los Angeles, offers ten pieces of advice for fellow business owners. He focuses his shop on simplicity and humbleness, and stresses that business owners should "keep [their] integrity intact [and] stay small. Even though my profits don't say that I'm small, you get the small feel from my business."
FAQ
How much does it cost to start a salon business? Are salons profitable?
The startup costs and profitability for a salon business primarily depend on:
Size of the salon
Location
Licenses and permits
Business structure (chair rental vs. hiring employees)
Equipment
Operational costs
Marketing effectiveness
How to open a salon with no money?
Freelance first to grow your following
Limit your up-front costs
Build up savings
Recruit investors
Why do salon businesses fail?
Inadequate cash reserves. You need cash reserves for unexpected costs and fees that you may incur when you are opening a salon.
Lack of industry experience. Without expertise in the industry, you can struggle with day-to-day operations and forecasting for future growth. Many top-performing salon owners have been in the industry for many years.
Failure to keep up with trends. Salon trends change frequently, and sticking to your old ways can lead to a downturn in business. Promote continued education for your staff and encourage them to learn new skills and expand their services.
Failure to manage appointments. Salon owners who find it difficult managing walk-in appointments and reoccuring clients often have a hard time staying afloat. It is essential to warmly welcome walk-in customers without tarnishing relationships with existing clients and bogging down the scheduling system.
Competition. Because of the industry's saturation, competition is a top struggle for many salon owners. Owning a salon is a lucrative business that attracts a lot of entrepreneurs, so it is important to constantly assess neighboring salons and remain competitive with prices, services, and overall customer service.