Table of contents
It's no secret that customers want more. From the moment they step foot into your store to when they buy your products, creating a smooth, simple journey that offers everything they came for and more ensures they have a positive experience. Not only that, but it may entice them to become return customers. According to the 2023 Square Future of Commerce report, 57% of customers have purchased retail items at a local restaurant in the past year, and 41% have purchased offerings like premade frozen meals or online cooking classes. And this trend of diversifying revenue streams and evolving into a multihyphenate store is constantly growing. Square data shows that beyond retailers and restaurateurs blurring the lines, there are a number of other unique ways that businesses are approaching growth. 
Here are the top five ways businesses are diversifying revenue streams:
Subscriptions
Square data shows that in comparison to last year, 74% more sellers now offer subscriptions and total sales from subscriptions grew 136%. Giving customers the option to sign up for recurring products and services locks in future sales and provides a smoother shopping experience, making subscriptions a potential revenue driver for businesses. Offering subscriptions also makes it easier to plan ahead in terms of inventory. Square Subscriptions tracks the number of subscribers and manages it against inventory levels so that you can prepare for the months to come and never leave your customers hanging.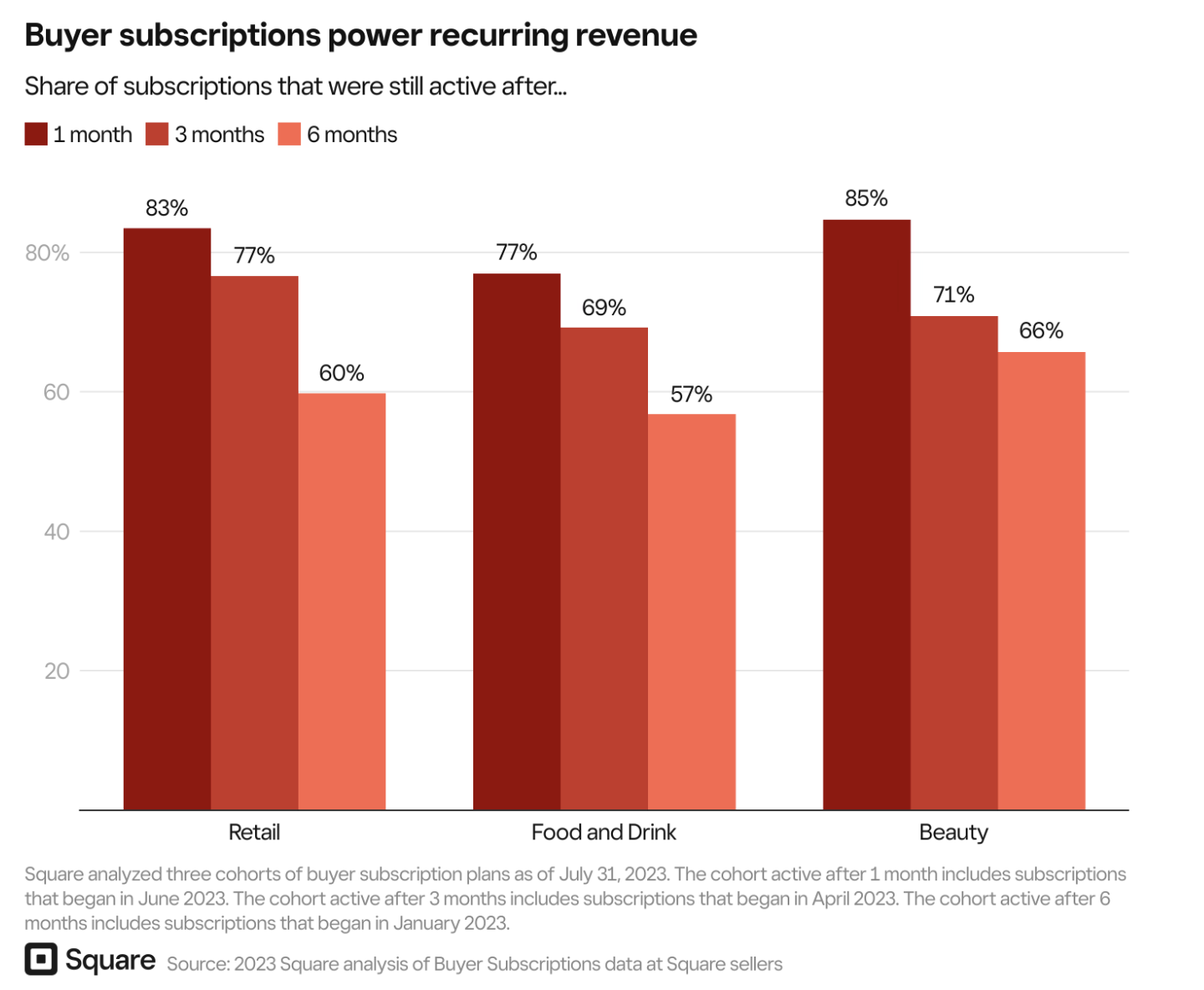 Since introducing our monthly dozen subscription box, both sales and customer satisfaction have soared. I foresee this evolving into a significant revenue pillar for my business, and I'm excited to expand options in response to growing demand. "

'Ashleigh

→

Owner of Ashleigh Bakes Daily in Durham, NC
Mixed-use experiences
For some customers, going to a favorite store and ending the shopping spree with a cup of tea or even a cocktail creates the perfect experience, and they want more of it. According to Square data, Square observed a 68% year-over-year (YoY) increase in retailers actively using Square for Restaurants to elevate the customer in-store experience by selling food and beverage items. Restaurant offerings work to keep customers in your retail store a little longer while also ensuring that shoppers have a reason to visit your store even if they don't necessarily want to shop. 
The Laya Center, for example, offers spa and beauty services while also providing a tea bar so that customers can indulge in multiple offerings or pick and choose what works best for them. 
We get people who are like, 'Can I just come to the tea bar?' And we're like, 'Yeah, come on in.' We're building relationships with these people and little by little educating them, and they become open to the other things that we offer.'"

'LaToyia

→

Founder, The Laya Center
Consider the opportunities available to expand your business. If you're a traditional retail store, think about offering standard beverages like soda, water, or even smoothies to keep your customers happy while they shop. If you're a spa, consider relaxing beverages like tea or a simple glass of champagne. Regardless of the route you take, be sure to have the necessary permits and tools to make your new revenue stream a success. 
Events and classes
Offering classes to customers opens up another revenue stream, but it also treats your business like an event. For customers looking for something new to do instead of grabbing a bite to eat or going shopping, this gives them an opportunity to interact with your brand in a new way. On the flip side, customers who are looking for an opportunity to learn a new skill can be introduced to your brand and potentially converted into regulars.
Retailers offering sales for tickets, events, and classes were up 10% in Q2 YoY and that number increased to 13% for restaurants. When planning your next (or first) event, think about what your customers love and what matters most to your brand. It's also important to think about the season and what's relevant in your industry. For retailers, crochet designs are growing in popularity and can be applicable year round, depending on your locale. Square Feedback can help you gauge what customers would like to see from your store, and apps available in the Square App Marketplace, such as Simple Tix, can help you plan and monetize your event. 
Branded product lines
For some businesses, diversifying revenue streams means leaning into their secret sauce — literally. Whether you're a restaurant with a crowd-pleasing jam or a salon with a one-of-a-kind hair oil, packaging your unique products for sale is another way to keep customers engaged with your brand after they leave your store. It also works as a word-of-mouth marketing tool. Imagine a customer sharing your hair oil with a friend and them dying to know where it's from. This not only raises brand awareness, but it sends new customers directly to your shop or site if they want to learn more.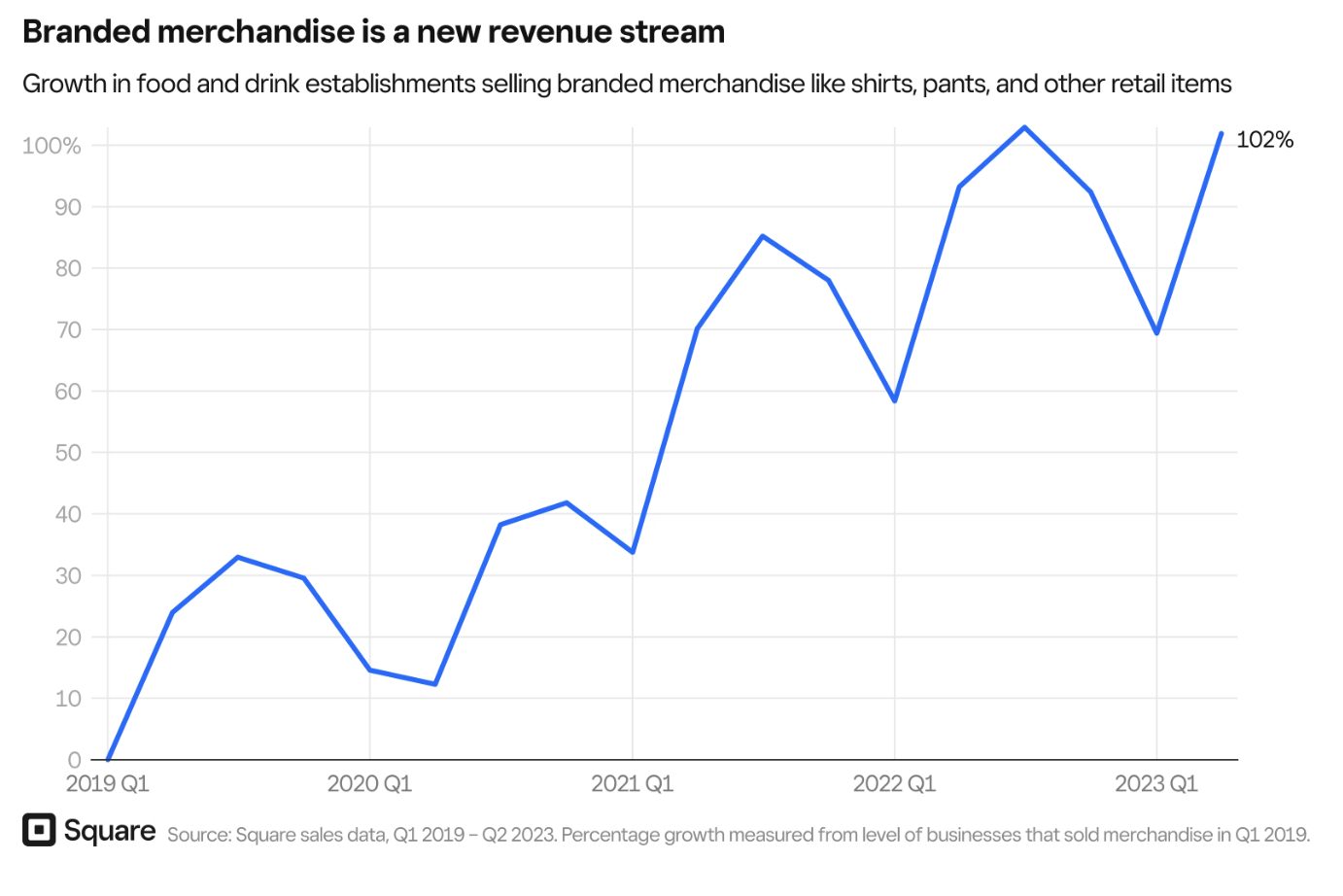 The beauty industry in particular has leaned heavily into branded merchandise, with 84% more sellers doing so when compared to Q2 2019–Q2 2023. In industries like food and beverage, businesses offering merchandise like shirts and hats have doubled. For businesses looking to sell branded merchandise, print-on-demand company Printful is partnering with Square for a limited time, offering an exclusive discount for Square sellers to help get your new venture off the ground. Whether you plan to sell shirts or home decor, Printful has options that allow you to grow your way with uniquely crafted merchandise.
Catering
For restaurants looking to ease into a new revenue stream, catering is a no-brainer. It prevents you from having to think of net new offerings and simply allows you to take what's been working on the road. Square data found a 10% increase in restaurants incorporating catering services into their offerings and a 5% increase in catering sales. While this option may seem easier at the onset, it's important to still approach it strategically. Be sure to build out your menu appropriately, keeping in mind labor costs and necessary shifts in supplier management, and prepare to accept payments a little differently. Square Invoices can help you send invoices, collect payments, and organize your transaction history with ease, leaving you more time to focus on managing and growing your catering options.
Regardless of the way you choose to diversify your revenue streams, remember to keep your overall business goals and customer preferences in mind. Approaching diversification properly can have a considerable impact on future growth and set your store up to successfully evolve into a multihyphenate business. Square has a suite of connected tools that can help you grow at your own pace. To learn more about Square tools, be sure to explore our ecosystem.