You activated your Square Point of Sale account and linked a bank account for your business. Now you've just finished your first day. So where's that money?
When your money lands in your bank account depends on how you've set up your transfers. By default, Square transfers your transactions using the next-business-day schedule.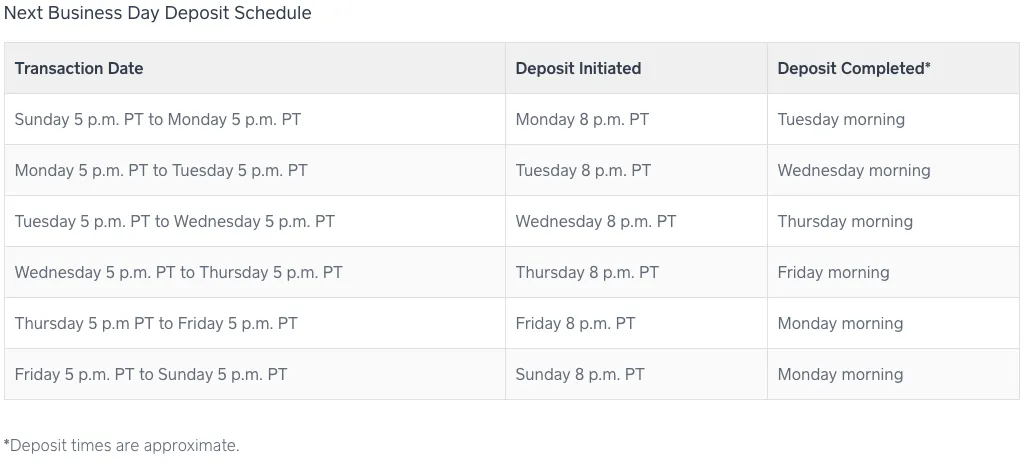 By default, next-business-day transfer sets your close of day at 5 p.m. PT/8 p.m. ET. But you can also customize your close of day to ensure that your full day's business activity is included in one transfer. This is great for businesses that run later into the night — like if you have a taxi or own a bar.
If you set your close of day before 5 p.m. PT/8 p.m. ET, your funds are transferred on the next business day. If you choose to set your close of day after 5 p.m., your money is transferred two business days later (weekends and holidays excluded).
If the next-business-day transfer schedule doesn't work for you, Square offers some even faster options:
Instant transfer allows you to move money to your bank account right away. You can instantly send up to $2,500* per transfer 24 hours a day, 7 days a week for a fee of one percent of the transfer amount per transfer. You can learn more about setting up instant transfer here.
Scheduled transfer lets you transfer money instantly to your account right after your close of day. You can assign each day's transfer to hit your account when it makes sense for your business. Customize the timing once and then the feature goes on autopilot, with a fee of one percent of the transfer amount per scheduled transfer.
Questions? Check out the scheduled and instant transfer FAQ here.
Let's say you've set up your transfers but still aren't sure when your money will be available in your bank account. You can track your money in the Sales > Transfers section of your Square Dashboard.
Just visit Sales > Transfers to view all your transfer details. From the Transfers view, you can download a full transfer history, see a full calendar of transfers, and identify which payments were included in each transfer.
For more information about Square's transfer reports, click here.
*Amounts may vary for new Square sellers.