Table of contents
Small businesses, from beauty salons to restaurants to retail stores, have a wide range of options for adding auxiliary revenue streams. New products or services can leverage existing assets to drive incremental, profitable sales, whether through existing channels or emerging platforms.
Before rolling out new lines of business, however, you need to test your ideas. Take a deliberate approach to testing, plan carefully, and analyze customer feedback. Then tap all of the tools at your disposal to promote your new business.
Many small businesses already launched auxiliary revenue streams during the pandemic, and a lot of those new lines of business may be here to stay. The Future of Beauty Report from Square, for example, found that 95% of salon, barbershop, and spa owners expect that some newly introduced  products and services will continue to be offered. The Square Future of Restaurants Report, meanwhile, found that 75% of restaurant owners said pandemic-inspired services and products will have staying power.
Testing new revenue ideas
Ian VanDam started eclectic St. Louis boutique Civil Alchemy with his mother, Kelley, curating products locally and around the world, focusing on categories they enjoy, like gardening, hiking, foraging, and cooking. Soon they were selling online, wholesaling apparel and other products, and making and selling their own brand of gin (called True Floral). During the pandemic they launched a flower subscription and a wine subscription. Now the family also owns two restaurants, the Annex and the Frisco Barroom.Based on this experience, Ian offers this advice for launching new revenue streams: "Find places with existing efficiencies, and ask yourself whether you are thoughtfully expanding your concept in a seamless way or whether you are throwing things at the wall, hoping things stick," he says. "A poorly developed Hail Mary in the business world can be costly and often not generate a return on investment after considering the time, energy, and money required to make it happen."You might want to create a business model canvas to help determine the viability of your new idea. This simple exercise covers several important considerations, such as what resources will be required. The U.S. Small Business Administration also offers tools that may help you evaluate the potential success of new revenue streams.
Examples of new business opportunities include:
Expanding a beauty care business with omnichannel retail, online tutorials, and other products and services
Almost all beauty care businesses (96%) offer products for retail sale, according to the Square Future of Beauty Report, but there may be opportunities to grow these revenues through new channels, such as social media- or text-based sales. Other opportunities to create new revenue streams include boxed curated home beauty kits, online tutorials, and virtual classes. More than half (52%) of beauty care business owners said they expect that both online tutorials and virtual classes will continue.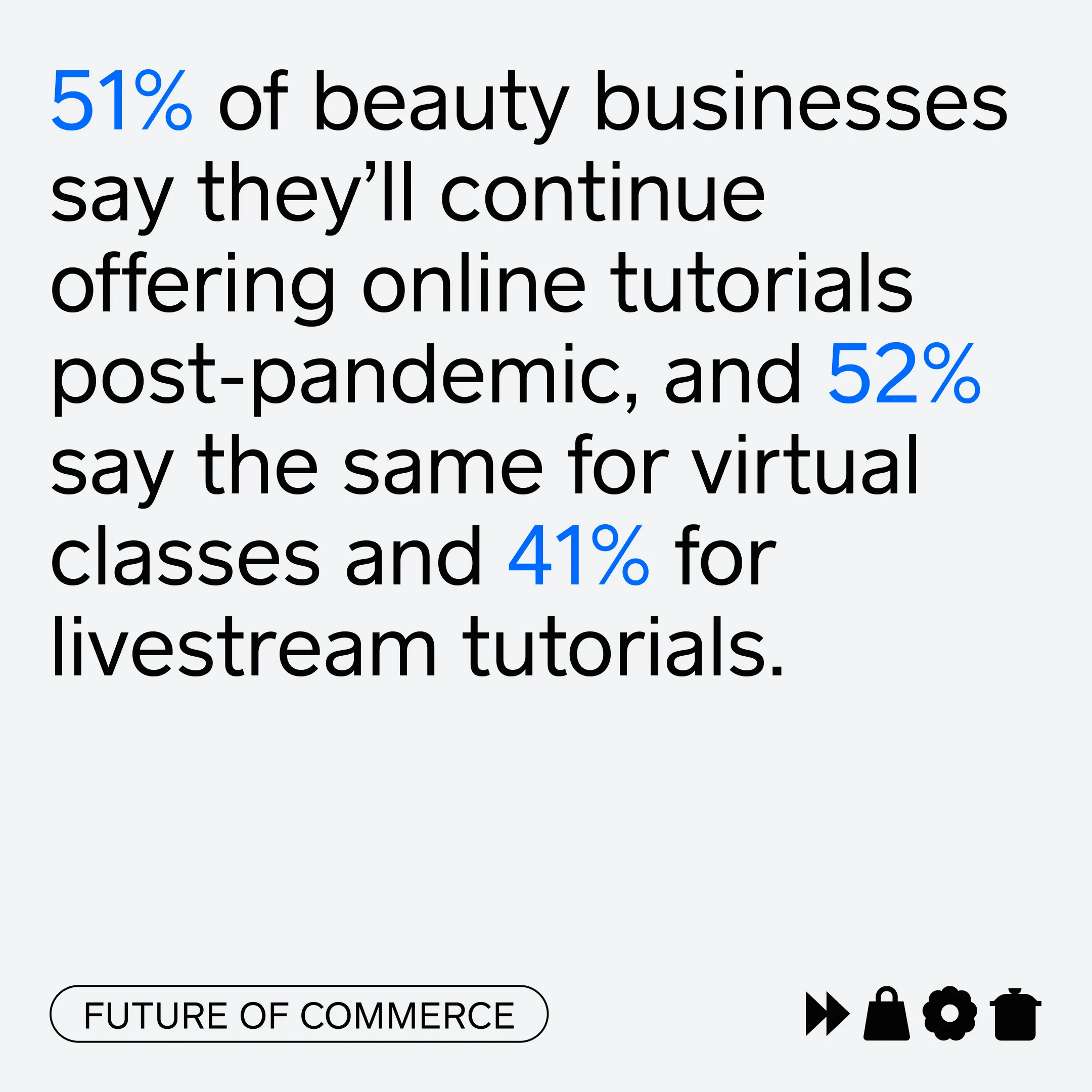 Expanding a restaurant business with subscriptions, retail products, and other offerings
Half (50%) of restaurant operators surveyed in the Future of Restaurants Report say they have added new services as a result of the pandemic. New services that are expected to have staying power, according to the report, include subscriptions and memberships, sales of retail products, meal or cocktail kits, virtual tastings, and online cooking classes. Restaurants with revenue streams outside of the core business say that an average of 17% of their revenue comes from those offerings.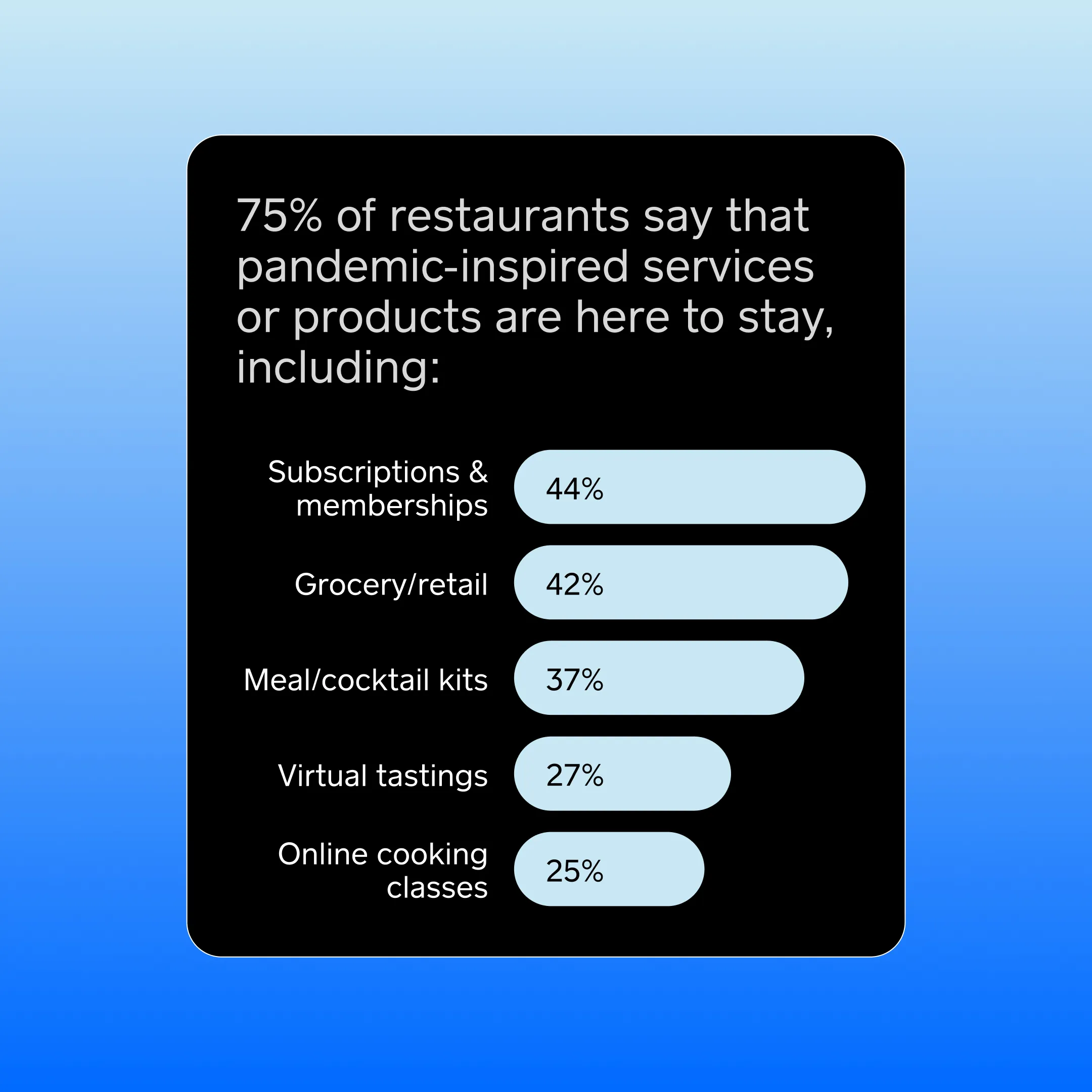 Expanding service-based businesses with omnichannel retail solutions
Service- or experience-based businesses can add retail components across multiple channels, from in-store brick-and-mortar displays to a growing range of digital platforms. Consumers now say that an average of 37% of all their monthly retail purchases are done online, according to the Square Future of Retail Report. Businesses can drive additional revenue by making it easy for customers to access your retail products via multiple touchpoints — in person or online, and via email, social platforms, and text messaging.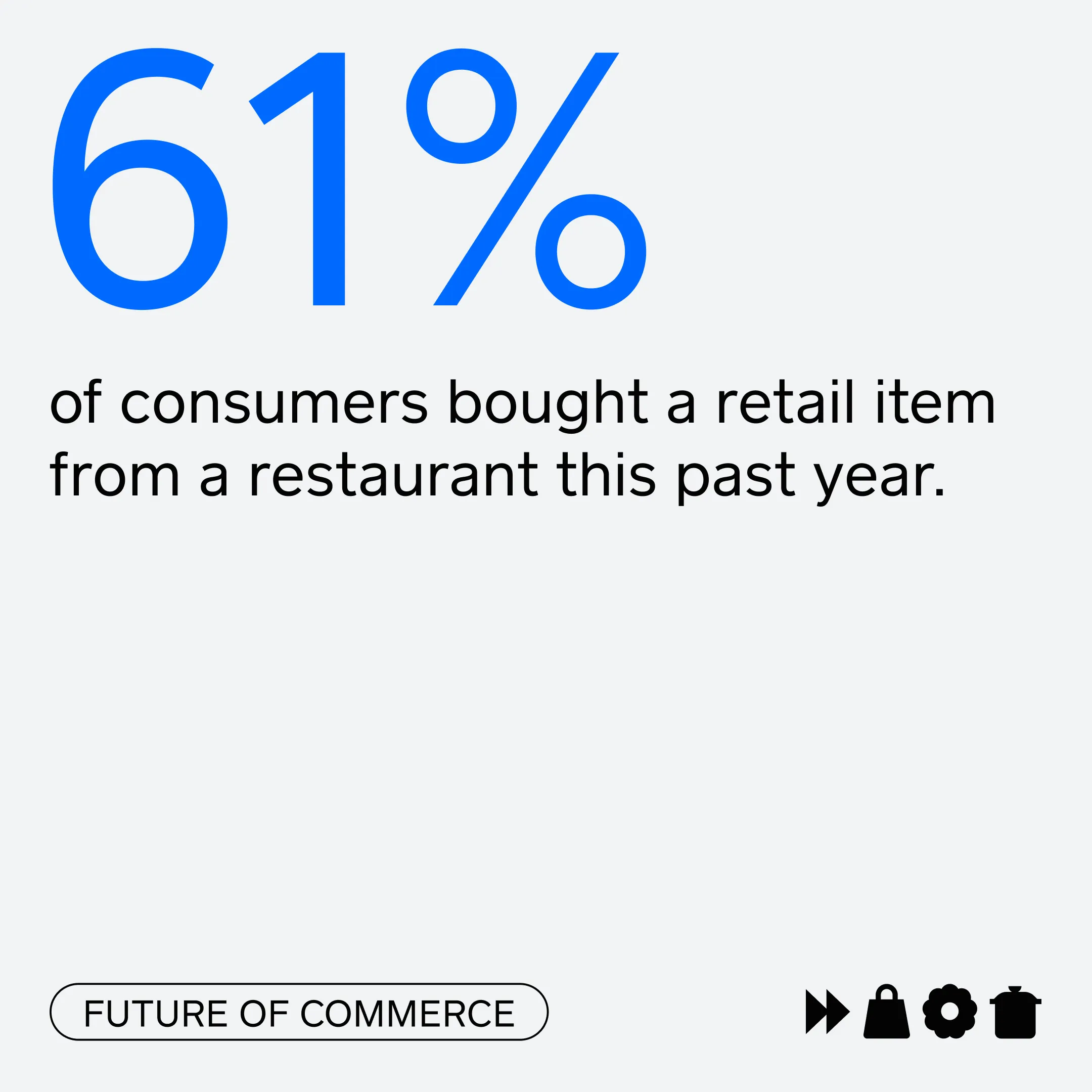 Marketing your new services
Consider a variety of options to promote your new revenue streams. Leverage your existing customer contact database, if appropriate, and consider segmenting your customers to create an email list of those most likely to be interested in the new product or service.In order to encourage customers to try your new products or services, consider offering discounts through existing loyalty programs and exclusive deals to your best customers. Attract new customers with discounted prices for first-time buyers, and consider using both traditional and digital marketing channels, including social media and newsletters. Generate buzz for your new products or services with event-based marketing, and create ambassadors with branded merchandise.The pandemic has opened the door for small businesses to expand into new revenue streams, both in the brick-and-mortar and digital environments."We're seeing that the defined, straight, vertical lines of your retail business versus your restaurant versus your services business are all blurring," says David Rusenko, head of Square eCommerce. "You're seeing restaurants selling groceries or retail businesses selling services like online cooking classes. I think this blending of verticals is a really big trend, and it's going to turn a lot of businesses into multi-hyphenates."It's clear that adding new revenue streams is a trend that's here to stay. Optimizing the potential of these auxiliary businesses requires small business owners to have the right tools and the right partners.Square offers an ecosystem of tools to help small business owners execute and promote new revenue streams. Easily create subscriptions and memberships, strengthen your omnichannel presence, create virtual and in-person events, and more, to better engage your customers with a diverse range of channels, platforms, and services.