Table of contents
Regardless of what you may have heard, email is far from dead. In fact, email marketing has seen an increase in engagement over the last few years. Targeted email marketing can be an extremely effective way to reach your customers and drive sales, but not without a commitment to the best practices for email marketing.
99% of people check their email every day, and 73% of millennials actually prefer email communication when receiving marketing materials. Email marketing isn't going anywhere, but it's time that you keep up with the trends. Here are our 12 best practices for email marketing that will get you results.
When to send email marketing campaigns
1. Analyze your data to find the timing that is best for your business
With email marketing software, you can get insight into your open rate (how many people opened your email), click-through rate (how many people clicked on your CTA within the email), and even how many individuals purchased items as a result of your email send.
Determining the best day and time for you to send those emails can have a big impact on these metrics, so be sure to monitor your results to determine what works best for your business. It's important to test different send times and analyze the data to spot trends before identifying the best time to send marketing emails to your audience.
2. Best day to send email marketing campaigns
Engagement with your campaign can vary depending on the day you choose to press send. We dug into email marketing trends across businesses using Square Marketing and found that most campaigns are sent on Wednesdays. However, on average, Mondays have the best open rate and Fridays have the worst. Consider sending your campaign earlier in the week to drive more engagement and increase your chances of standing out in the inbox.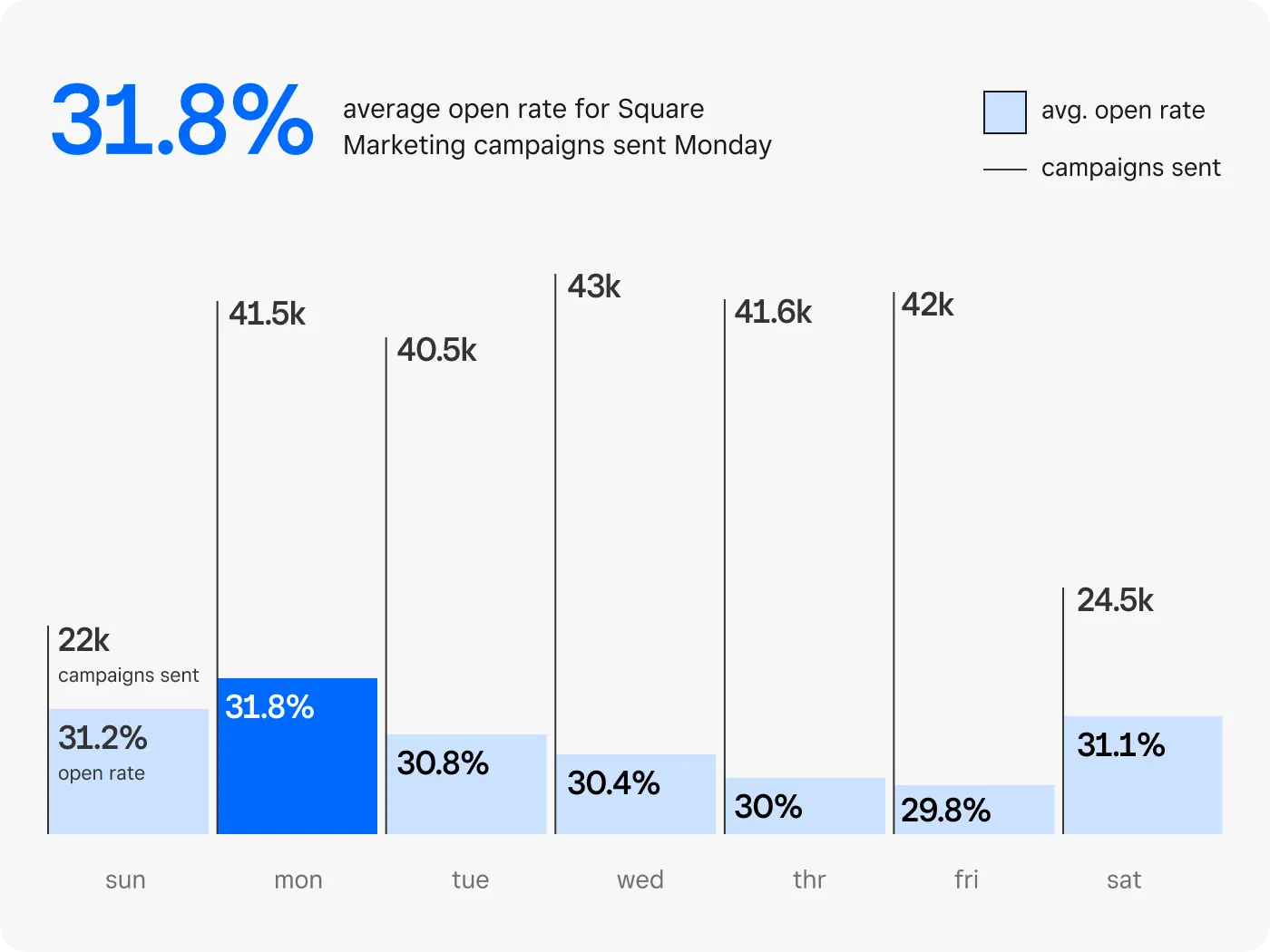 3. Best time of day to send email marketing campaigns
It's not just about what day you send your campaign but also what time you send it. From our research, we can see that most recipients open email during weekday mornings, perhaps while they're having their morning coffee or beginning work for the day.
However, that's also the time of day where we see the most campaigns being sent, creating more competition for the recipient's attention. With more campaigns being sent during this time, your recipients can often get overwhelmed and ignore or delete email, causing your open rate to drop. You may want to test sending campaigns during weekday afternoons since there is less competition and see how that impacts your campaign performance.
4. Don't flood people's inboxes
We said it before and we'll say it again. Our inboxes are flooded with email. We're sure you've seen that meme that jokes about two people in this world: one with zero unread emails and the other with 30,000 unread emails. You don't want to be the brand that gets lost in those 30,000 emails — or worse: unsubscribed.
Show your customers' inboxes the same respect you expect other businesses to show yours. Email marketing best practices demand it. Understand what the right cadence is for your audience.
Is it once per week? Once every other week? If you're struggling to produce content for your email each week, that's a sign that you may be sending too often. Aim to only send an email when the content is engaging, relevant, and worth your audience's time to read through.
How to target your email marketing campaigns
Knowing when to send your email marketing campaign is just part of the equation; you also need to make sure you're targeting your campaigns to the most relevant audience. Here are a few strategies to make your campaigns more targeted and improve your results.
5. Target your best customers
It shouldn't be a surprise that your best customers are highly likely to engage with your email marketing content. We found that the more purchases a customer makes at a business (known in business jargon as a "customer's lifetime value"), the more likely they are to engage with that business's marketing campaigns.
But in order to target customers with high lifetime value, you need to be able to connect your email marketing tool with your sales data (typically found in your point of sale or online store). Square Marketing offers Smart Groups that can help you easily target your best customers. You can sort your buyers by tags such as top spenders, frequent visitors, or active customers. Use these groups to maximize your open rate and increase your buyers' engagement with your email marketing campaigns.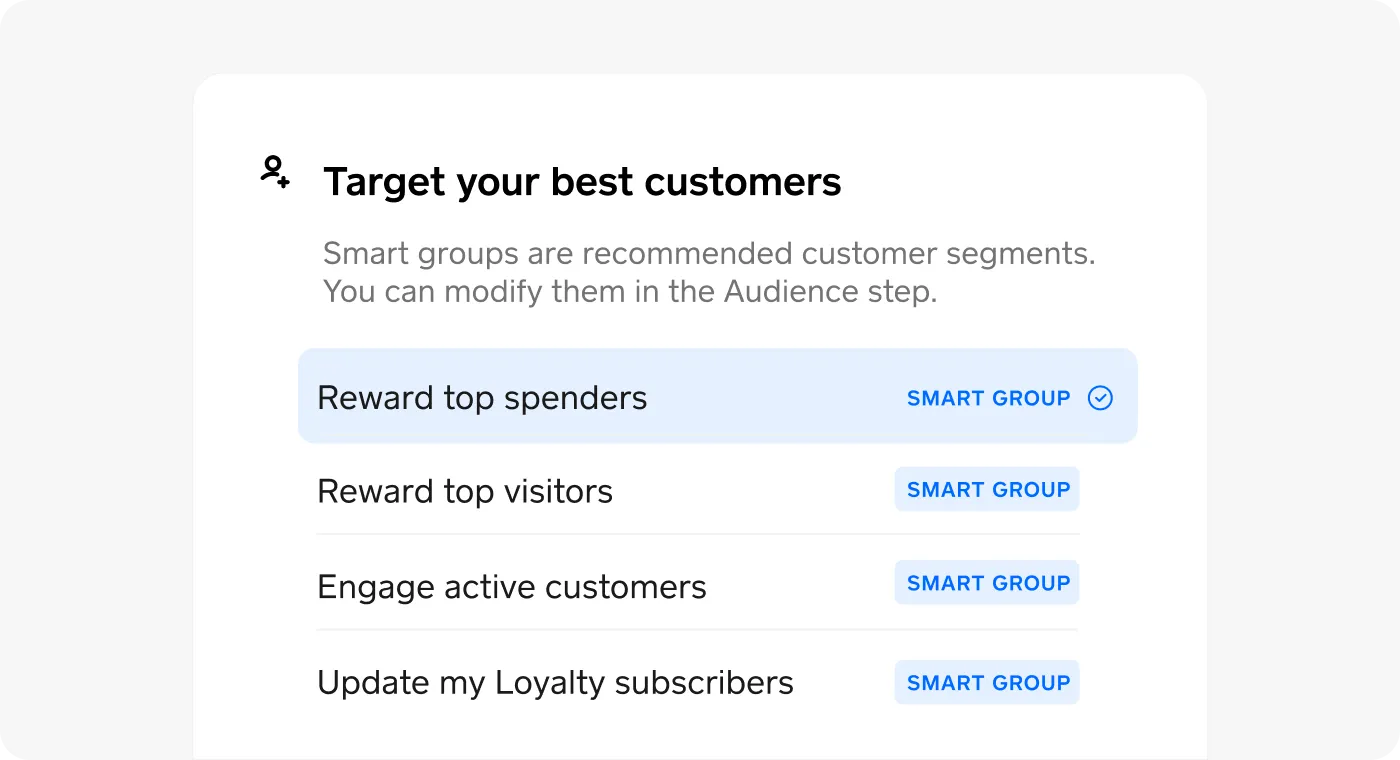 6. Re-engage customers 1-2 months after their first purchase
Another way to increase the relevance of your email marketing campaigns is to target customers shortly after their first purchase. We found that among Square sellers, email open rates are the highest one to two months after a customer's first purchase. Use that window to create your most appealing content (keep reading for more tips on what to include in your email) to reach an engaged audience and increase brand loyalty. The better you catch their attention and create that relationship with a new buyer, the higher the likelihood is that they'll make a repeat purchase.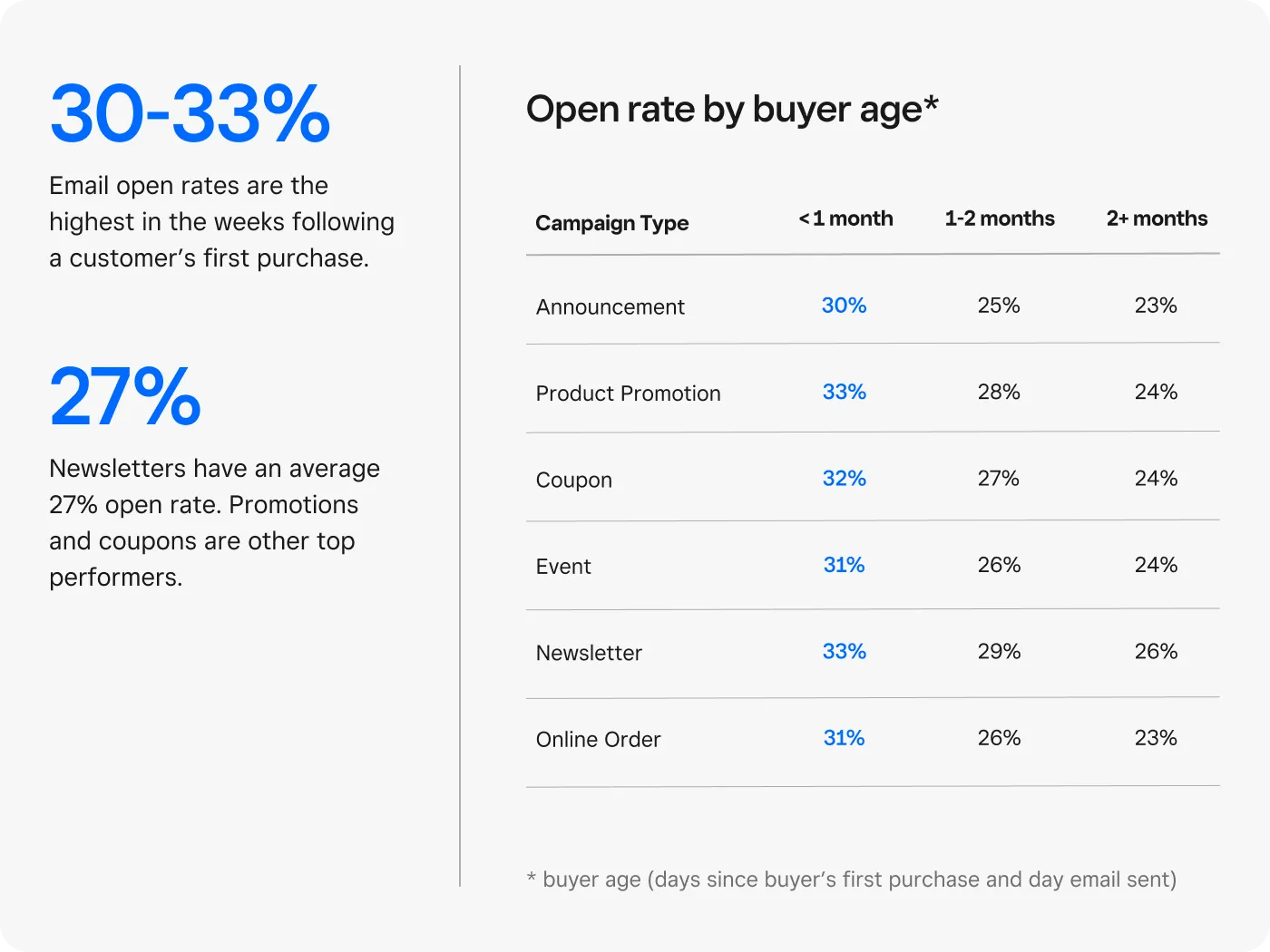 7. Resend the email to recipients that didn't engage the first time
One strategy that is often overlooked when it comes to your email marketing campaign is the option to resend the campaign to those customers who didn't open it the first time. After making a few small modifications to the first version and resending, you can nudge those who may have missed it in their inbox.
Our data shows that customers who send a reminder email see a 39% increase in open rates. With Square Marketing you can schedule reminders to send automatically, saving you time and increasing engagement with your audience.
8. Personalize email campaigns based on past purchases
Customers are more likely to engage with an email when it is relevant to them. With insight into a buyer's past purchases, you can craft your email campaigns accordingly. Take that chance to personalize the messaging in your emails.
When you can use your sales data to personalize what content, offers, and messaging is in your email campaigns, your customers will be more likely to engage with that email and take action. For example, a clothing retailer might segment their audience based on shoppers who have purchased menswear in the past and send them an email about a new line of men's jeans about to launch, thus increasing relevance and the likelihood of the recipient engaging with the email. 
How to craft a winning email marketing campaign
When it comes to building an effective email marketing campaign, it's important to have a baseline understanding of email marketing basics. From there, you can start experimenting with these email marketing best practices to set your campaigns up for success.
9. Try fixed discounts instead of a percent off
It's common to send your customers promotional discounts to encourage them to buy, but our data shows that emails sent with a fixed discount amount (i.e., $20 off your order) were more likely to be redeemed, therefore achieving a higher ROI, than percentage off coupons (i.e., 10% off your order).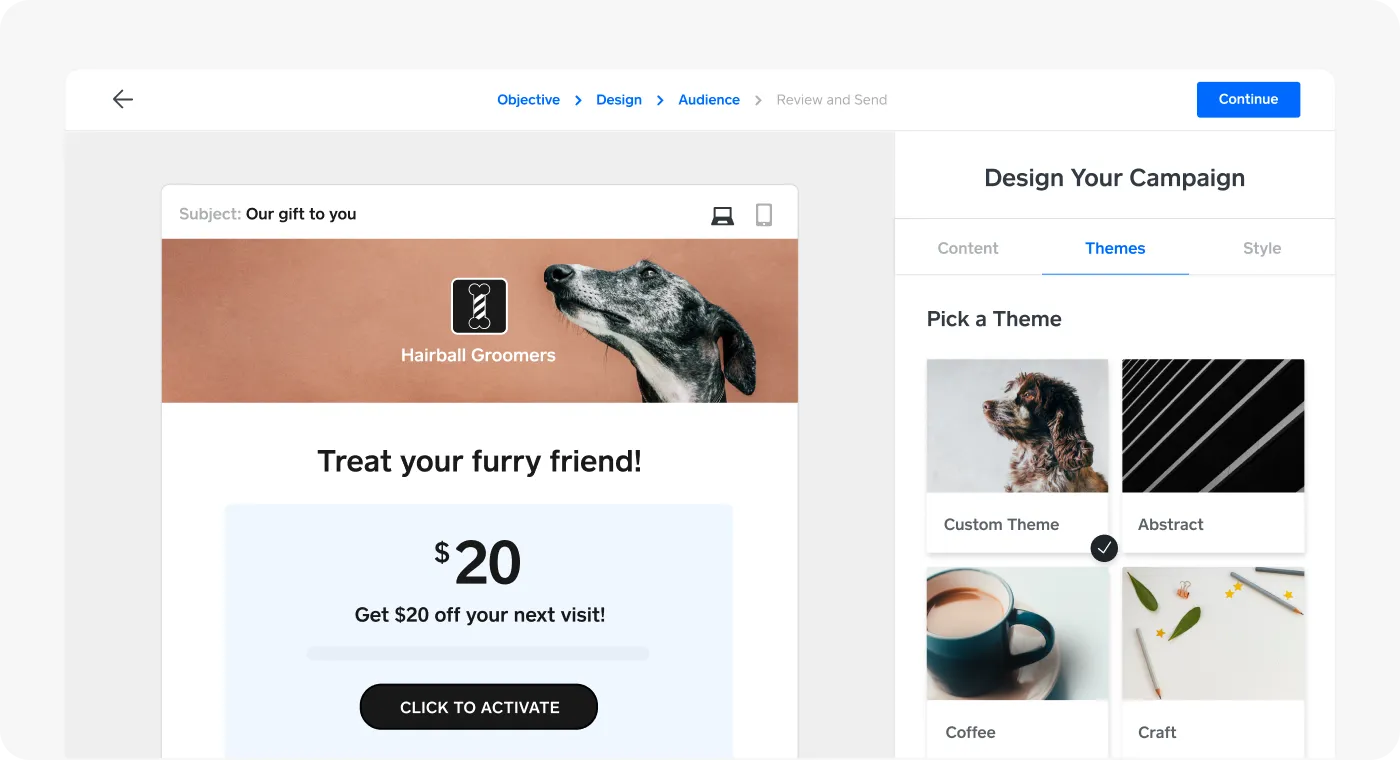 10. Choose the right template
Depending on the goal of your campaign, you'll want to choose a template that matches. Event emails may be quick and concise, telling your audience just the time, date, and location of an event. However, a newsletter with business updates may be a bit longer with more images or links. Square Marketing offers a variety of templates for different objectives, such as making an announcement, promoting an event, eCommerce, and newsletters, to name a few.  
11. Say something enticing
Subject lines could be one of the most important elements of email marketing. They're often the very reason whether someone opens your email or deletes it. This topic is an expansive one, but your subject line should provide clear expectations for what's inside and entice people to open the email to learn more. Don't be afraid to have some fun with subject lines, but be sure to be simple, direct, and actionable.
12. Avoid the spam filter
"Click Here for a Prize!" "WIN A FREE CRUISE!" While these may sound enticing, your audience has probably seen too many of these spammy subject lines. Because of this, subject lines like this rarely make it to an inbox and often get caught in spam filters. Before beginning your email marketing efforts, it's a good idea to familiarize yourself with the FTC's spam law.
Beyond those laws, make the most of our email marketing tips and avoid some common spam triggers as well, including:
All-caps subject lines
A low text-to-image ratio
Multiple exclamation marks
Exposing HTML in the body of the email
13. Send actionable content
Your email content should be worthwhile for the reader, but more importantly, it should make them want to take action. Think about what the goal of your email is for your audience. Is it to shop a sale? RSVP to an event? It's best to include one actionable link (commonly referred to as the call to action or CTA) as the centerpiece of your email.
Some CTA examples would be "Shop the sale" or "RSVP here." Be clear, be concise, and tell the customer exactly what you would like them to do. Square Marketing has beautiful, ready-to-go templates for promotions, announcements, or event invitations that make it easy to plug in your CTA.
There's a ton to know here, but hopefully these email marketing best practices will give you some inspiration to enhance your next campaign.