Table of contents
Loyalty programs are a great way to build customer affinity and grow your small business's revenue. In fact, 79% of consumers said that customer loyalty programs make them more likely to continue doing business with a brand. So it's not if you should build a loyalty program, but when. Read on to find best practices and examples for setting up a successful loyalty program, based on insights from the thousands of businesses that use Square Loyalty.
How loyalty programs work
A customer loyalty program provides a reward that your customers will want with an easy enough way to achieve it. Typically, the customer will accumulate stars or some type of measurable point system with each visit or purchase they make. Once they acquire a certain number of these points, they can redeem them to receive a reward.
Benefits of loyalty programs
There are many benefits to offering loyalty programs for your customers, both for regulars and walk-ins. They're a great way to reward customers who already support your business, showing them that you appreciate them and giving back to those that make your small business successful.
When it comes to new customers, one of the first things you learn with owning a business is that acquiring new customers can be much more expensive than keeping and maintaining relationships with current customers. That said, a strong customer loyalty program can be a relatively easy way to turn those walk-in customers into regulars.
Loyalty programs also offer a deeper insight into what your customers are most interested in. You can gather data from your loyalty program to see what customers are redeeming their points for the most, if they're accumulating points to reach the higher-level rewards, and if they're purchasing more frequently once they join.
Loyalty programs are just that: a way to build customer loyalty. So use that to your advantage and encourage them with rewards they'll actually want.
Different kinds of loyalty programs 
Now that you know how loyalty programs work and how they can help your business, let's look at a few types of loyalty programs you can choose from and how to choose what format will work best for your business.
A few things to keep in mind when choosing the type of loyalty program are your business's average transaction size, how often your customers are returning to your business, and how long it takes them to do so.
Points-based loyalty
Points-based customer loyalty programs are the most common and the type you'll most likely be familiar with. Your customers can accumulate points to redeem for cash back, discounts, or free items. Often, points can be accumulated in multiple ways, including:
Engaging on social media
Leaving a review
Celebrating a birthday or customer anniversary
Tiered loyalty
Tier programs are typically based on the customer's level of loyalty or spending with your business. The customer receives what is comparable to a type of membership depending on their spending or engagement, and with each rank comes certain types of rewards. As your rank level increases, so does the value of the rewards offered, further encouraging your customers with a goal they can reach.
Paid loyalty
Paid loyalty programs give customers benefits with a recurring or one-time program fee. For these types of loyalty programs to be successful, there must be proof of value in the fee. However, once your customers sign up, it's shown that customers are much more likely to spend more at your business after joining a paid loyalty program. One of the more famous paid loyalty program examples that most people are familiar with is Amazon Prime.
Value-based loyalty
Value-based loyalty programs allow you to connect with your customers by aligning with their values. These loyalty programs allow your customers to use their points to donate to a specific charity or social initiative. While this isn't necessarily providing a reward directly to the customer, it allows them to choose to benefit the society, community, or foundations they believe in. Some brands even use this as a hybrid model, allowing the customer to split their points and redeem some for a reward while donating the remaining points.
Coalition loyalty
A coalition loyalty program is one in which multiple small businesses or brands will join together to offer one joint loyalty program. It's beneficial to the customer since they only have to keep track of one loyalty program across multiple shopping locations. It's beneficial to the businesses as they can share the customer data and insights and attract new customers that may not otherwise shop with them.
Game-based loyalty
One way to entice your customers to engage with your business more is to turn your loyalty program into a game. Game-based loyalty programs can entertain your customers while strengthening your brand's image in a fun and playful way. Two great examples of this would be McDonald's Monopoly game and Starbucks' holiday seasonal games.
Visit-based loyalty
This type of customer loyalty program is based solely on the customer's visits to your business and works best if they visit at least once per week. This could mean a check-in on their social media channels or the traditional punch card when they visit.
Amount-spent loyalty
An amount-spent program means the customer gets a reward value for each dollar spent with your business. These loyalty programs are best if your customers aren't frequent visitors and if you are a business with high-ticket items.
Item or category-based loyalty
An item or category-based loyalty program gives customers reward points based on purchasing a specific item or category. Item or category-based programs work great if you have a particular item you'd like to promote or sell.
Best practices for customer loyalty programs
Before you start offering a customer loyalty program, there are a few best practices we've seen Square merchants use that have made their loyalty programs successful.
Most transactions should qualify for a star
When looking at Square Loyalty usage, we recommend that at least 80% of your transactions should be eligible for a star or point. While we have seen that some sellers prefer to set strict rules for earning points to incentivize their customers, the data suggests that it actually discourages customers from even engaging in the loyalty program at all.
Customers should earn a reward in a timely manner
You don't want customers to wait too long to cash in on their rewards or they'll likely forget they're even enrolled in a loyalty system. Make sure that your loyal customers are able to earn some type of reward in 30 days or less for the best results.
Offer a meaningful reward
Be sure to offer a reward that your customers will actually want or use. The loyalty program needs to be worth their time and money. We've seen that customers have greater satisfaction and are more likely to continue engaging with a loyalty program if the reward is worth at least 10% of what they spent to earn the reward.
Personalization
The loyalty program isn't just about giving rewards; it's about showing your regular customers that you appreciate their support of your small business. Incorporate thank you notes, cards for holidays, happy birthday emails, and whatever you can to personalize their experience with the program.
Some of the most successful loyalty programs we've seen have been ones that focused on building a community for their customers, so get creative. Host an event at your retail store that's for loyalty members only, giving them a first look at a new product or service. Offer a specific day or night at your restaurant when loyalty members can come in for an additional discount. Constant, clear communication and engagement with these loyalty program customers can make them feel special and like they truly make a difference for your small business.
How to promote your loyalty program
Now that you've learned about the types of loyalty programs you can incorporate and how to set them up for success, it's time to make them successful. Loyalty marketing is just as important as the loyalty program itself. Let your customers know about your new program with in-store signage, promotional email and SMS campaigns, and even posting across social channels. Take advantage of your regular customers with word-of-mouth marketing, and get them to be the first to sign up.
It's also important to make it easy and quick for your customers to sign up, whether it's right at the cash register or when they're purchasing online. You don't want to hold them up or, worse, turn them away because there were too many steps in the process. In addition, give them a quick way to view their points. With Square Loyalty, customers can see the points they've accumulated online or via the Cash App.
While making it easy for them to sign up, you'll also want to ensure they don't forget to use their rewards. You can automate text reminders to go out when a customer is nearing a reward or after they've earned enough points for a reward. And don't forget to add a points expiration date so loyalty program members use their points!
How to measure the success of your loyalty program
You can view your Square Loyalty program metrics within your Square Dashboard to help you keep a pulse on the success of your customer loyalty program. There are a few different data reports you'll be able to dive into to see how your customers are interacting with your program.
Visit report
In the visit report, you'll be able to see the total number of Loyalty visits in any given month, the average visits of Loyalty versus non-Loyalty customers, and Loyalty customers visit frequency. Sellers who use Square Loyalty see on average a 40% increase in customer visit frequency.
Sales report
In the sales report, you'll be given a comparison between sales credited to Loyalty versus non-Loyalty customers, their average dollar amount spent, and their amount spent per time period or location.
Customer retention or churn
You'll want to pay attention to how you retain your customers or how often a customer drops out of the loyalty program or stops shopping with you. If you see customers are not using the program or are not returning, you may want to revisit your rewards and adjust accordingly to make it more enticing and worthwhile for customers to come back.
Repeat purchases
With Square Dashboard, you'll be able to see your loyalty program members' repeat purchases. If there's an item that many of your regular customers continuously buy, think about highlighting that as a reward for the program.
Best customer loyalty program examples
Square sellers have transformed their small businesses using loyalty programs. Here are a few of our favorite loyalty program examples that have proven successful with our customers.
Craft + Carry
Craft + Carry in New York understood that their sales were an opportunity to create a customer connection and build that brand loyalty. They used Square Loyalty and Square Marketing to keep their existing customer base engaged while continuing to grow their business. Their loyalty program demonstrates how to offer customers meaningful rewards. With each new threshold, the value of the reward increases.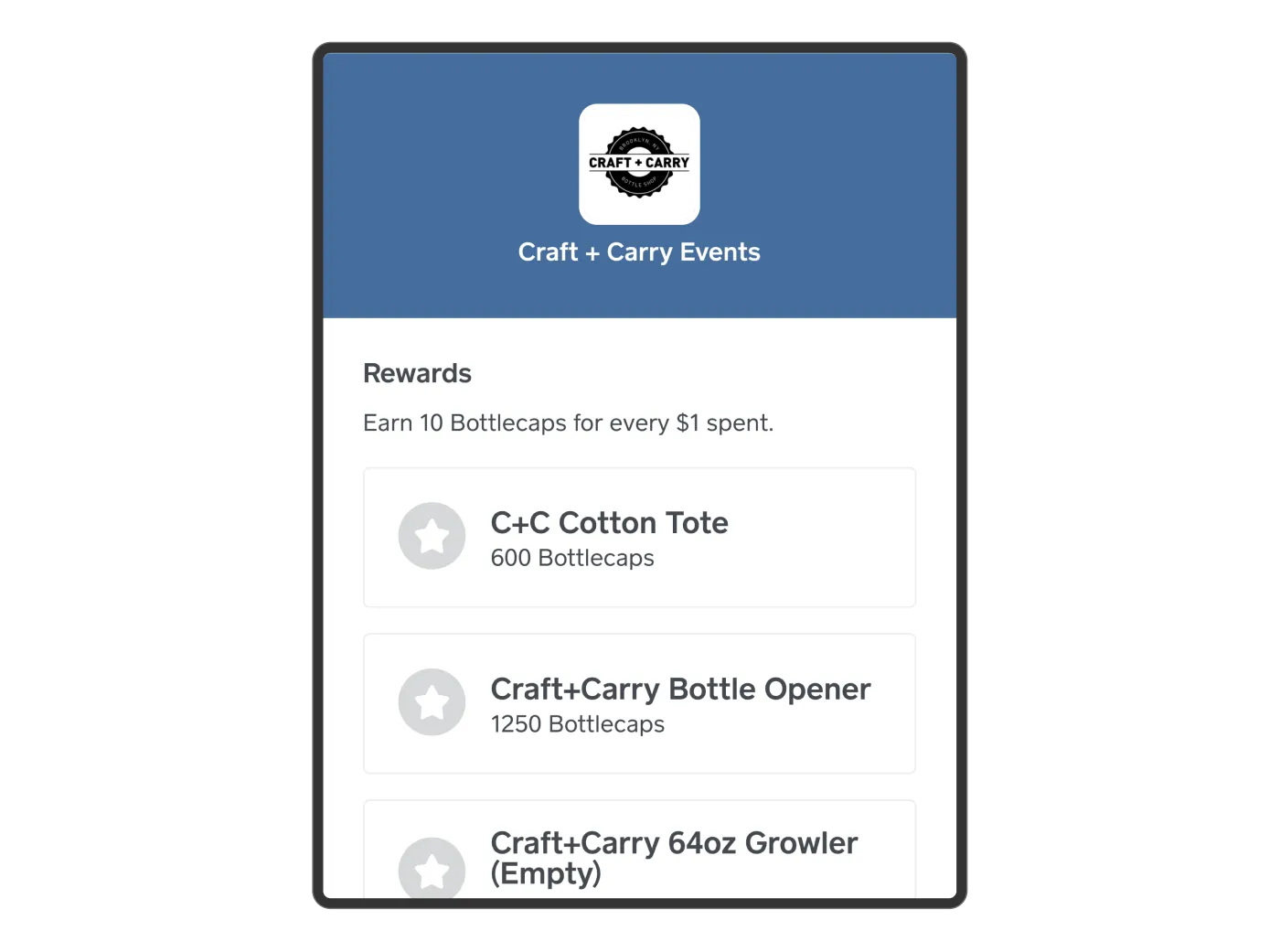 The Kebab Shop
The Kebab Shop's points-based loyalty program makes good use of the 10% benchmark, and one-to-one points to dollar ratio ensures customers get points each time they make a purchase.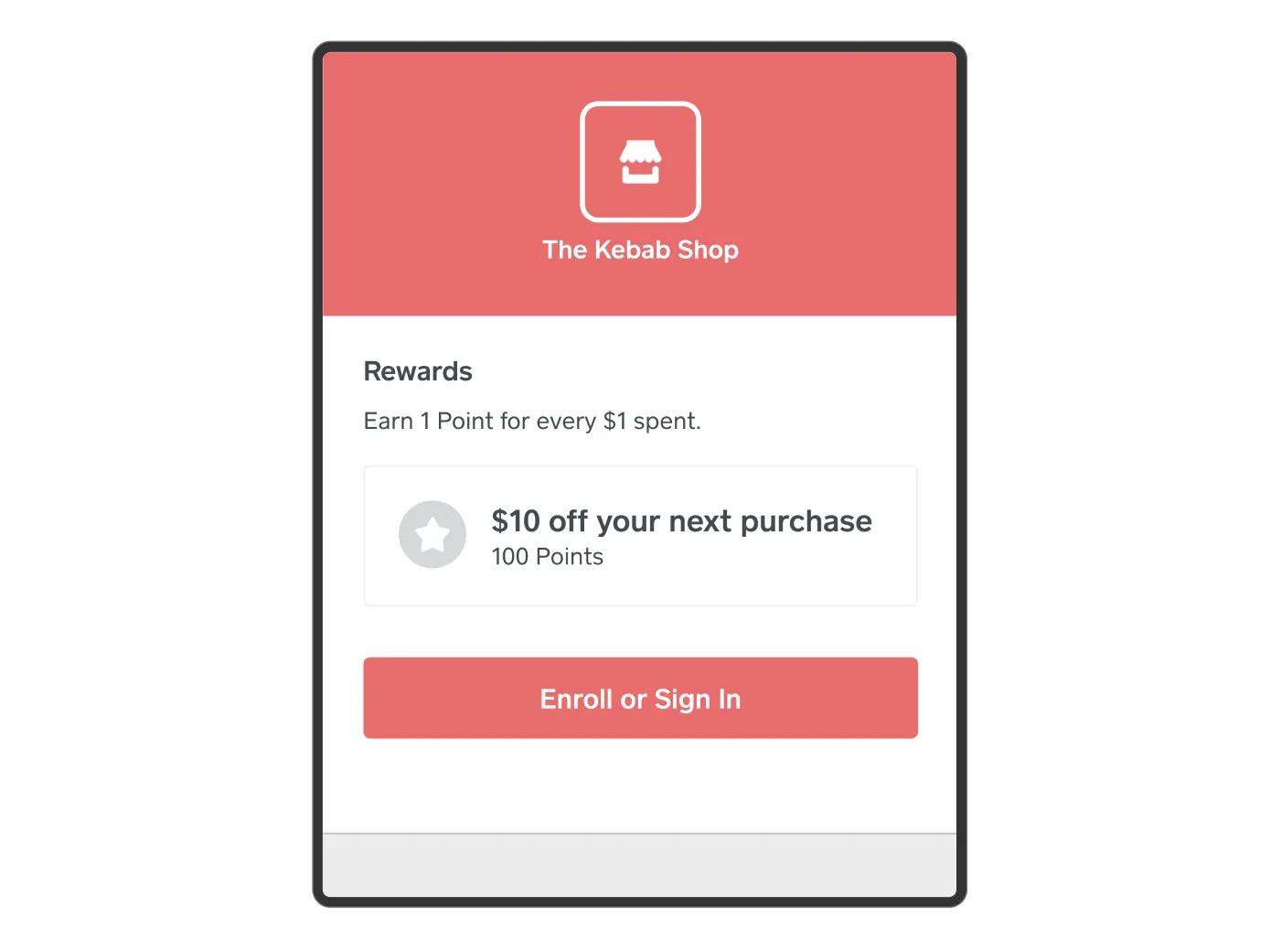 A sale is so much more than a sale. You never know when a walk-in can turn into one of your most loyal customers. It's time to engage with your customers and show them that they are what make your business successful. The more you invest in a loyalty program for your customers, the more they'll invest in you.