The restaurant industry is putting innovation and adaption first in 2023. The most popular restaurant trends show that owners are finding ways to elevate the on-site and off-site experience for guests, whether they're running a fast-casual restaurant, a full-service establishment, or exploring a completely new concept entirely. 
As consumer dining preferences and economic conditions continue to evolve, it's important to understand restaurant trends and strategies that work. Whether that's investing in kiosks for convenient ordering, experimenting with automation, or finding new ways to be sustainable, restaurants are finding creative ways to build meaningful relationships with their staff and customers.
To discover the strategies that will shape the restaurant industry in 2023, Square teamed up with Wakefield Research to investigate what 500 restaurant owners and managers and 2,000 consumers across the U.S. are thinking about the current state and future for food businesses. We analyzed the survey results, insights from the Square restaurants team, and interviews with restaurateurs leading the charge to identify the most popular restaurant trends for local businesses to explore this year.
All data cited below comes from the survey results. For a more in-depth look at these 2023 restaurant industry trends, download the second installment of our Future of Restaurants report.
1. Restaurants are preparing for a potential recession — but customers are willing to stand by them.
After the COVID-19 pandemic and inflation dominated over the last few years, restaurants want to be prepared for the next event that could impact their business. With a potential recession looming over 2023, restaurateurs are refusing to be caught off guard with a whopping 99% planning to take steps to withstand a potential economic downturn. 
"While the fallout of the pandemic transformed restaurants, the industry is seeing a need to continue innovating and adapting. Overall, restaurants are aiming to do more with less." Lisa Fong, Head of Product, Square for Restaurants.  
To prepare, 29% of restaurants are considering raising prices. But there's good news: Consumers are on board to support if a recession comes to pass. Given the impact of inflation and the rising costs of goods, 88% of consumers say they'd understand if their favorite local business raised its prices — to an extent. When asked, 55% of consumers would tolerate a 1–10% price increase.
2. Automation helps maximize staff efficiency.
One major restaurant trend for 2023 is that technology is continuing to help owners improve their businesses. While the labor shortage remains an ongoing concern for restaurant owners, restaurants are exploring solutions to make their current staff more efficient. With 31% being short staffed for two years, they're looking toward automation to free up time for more crucial tasks.
Ninety-five percent of restaurateurs noted that increased automation for back-of-house operations would free up more time for more important tasks, and 38% are planning on automating operational activities. However, owners are clear that they are not looking for automation to replace staff, with 70% saying they aren't looking to lay off staff.
"With an ongoing labor shortage, finding new efficiencies is key," says Lisa Fong, Head of Product, Square for Restaurants. "Offerings like a point-of-sale system that seamlessly integrates the front and back of house ensure customers receive their orders at the right time."
3. Restaurants are exploring new revenue streams.
Restaurants are continuing to grow beyond their primary offerings and branching out to other industries like retail in 2023. Last year, around half of restaurant owners added new products or services to their businesses. In 2023, that number is expected to jump to 88%. For many restaurants, the move toward multihyphenate retail isn't a survival tactic in an uncertain economy — it's a means of differentiating their businesses and deepening their customer relationships. 
"What makes our restaurant special is not just the food, it's the experience in itself," says Isabella Bertorelli, co-owner of Yo Tambien. "So how can we bring that into people's homes and make them feel the cantina feeling elsewhere? It has to do with the little sauces, it has to do with the little pickles, it has to do with a certain graphic identity — to be able to offer all those packaged products online is awesome. Then eventually with the wine club, it was kind of the same thing. With our Wine Club subscription, you get these recipe cards that it's a pairing with the bottle."
The good news is that consumers are hungry for this new way of doing business. Last year, 44% of customers bought something outside of their standard meals at restaurants, and this year that number is expected to increase by 10%. With consumers open to these identity experiments, there's no reason not to spice things up, especially if it can translate to a notable increase in business.
4. Customers want to connect.
Staying top of mind for customers is more important than ever, and more importantly, customers want to hear from you. Eighty-six percent of customers state that they want to communicate with the businesses they frequent. But because there are so many different ways to engage with customers, it's important to reach them exactly where they want to be reached.
Email is the most preferred way, with 60% of consumers stating it as their preferred contact method. For restaurants looking to expand their audience toward Gen Z, a different approach may be in order. According to our report, 43% of businesses are planning a different marketing approach for this generation. 
Understanding and analyzing customer data can help you make informed decisions regarding the best ways to communicate with customers.
5. Kiosks for placing orders and taking payments are on the rise.
Customer convenience is a core part of the customer experience. Because of this, kiosks will be a major bonus for restaurants in 2023. These allow customers to order how they want and when they want, empowering them to own part of their experience.
Sixty-one percent of consumers prefer to use a kiosk to order food at fast-food restaurants, and 66% said they prefer automation over live staff in at least one aspect of their experience. After two years of ordering close to everything online or via an app, diners have become accustomed to the ease of engaging with a restaurant how they want to, at their own pace, and restaurants are giving them what they want.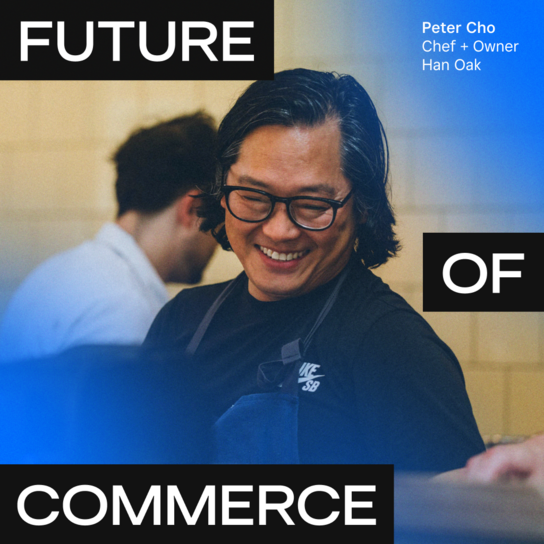 The Future of Commerce Report: 2024 Edition
Tell us a little more about yourself to gain access to the resource.
Thank you!
Check your email for your resource.
Easier ordering also leaves little room for error. Kiosks let customers make their orders and any subsequent order modifications themselves, ensuring they get exactly what they want and minimizing room for miscommunication.
"The kiosk systems have been a life saver because now we have four registers, rather than just one person repeating themselves every day," says Alexis Furkioti Pham of Pretty Bird restaurant in Utah. "We still bring the customer service element with the kiosks … they work well."
Kiosks can also improve your business beyond the customer and staffing experience by having a notable impact on your revenue and counter space.
6. Online ordering continues to grow.
More restaurateurs want to take charge of their online ordering and delivery in 2023 and decrease reliance on third parties, with 61% saying they'll continue offering food delivery directly through their restaurant — a 12% increase from last year.
The reason is simple: Restaurants want to expand their reach. 
"Online ordering created a huge secondary market that we never had before," says Ryan Nosek of Ghost Town Brewing. "We opened up a whole subset of sales we didn't have [before]."
If restaurant owners use couriers or on-demand delivery from Square they can make the customer experience even more frictionless. By taking more direct orders, businesses will have more control over customer engagement — they will have access to centralized customer data, which can help them deliver better marketing and loyalty programs.
---
Restaurant owners and managers have remained enduringly resilient in the face of challenges. From contactless service delivery to kitchen automation, restaurateurs say there's no slowing down. Going digital is taking center stage as owners and managers explore ways to improve internal efficiency, deliver more spectacular restaurant omnichannel experiences, and stay connected with their customers.
You can adapt these top restaurant trends in your business. First, take stock of your current challenges and consider the trends that could deliver the most benefit to the people you serve. For example, embracing digital technology could help you run your restaurant more efficiently and stay relevant in a digital future. An efficient tech-driven restaurant that is in touch with the community could be the future of the restaurant industry in 2023.
Want a deeper look into how restaurants are innovating in 2023? Get more information on these popular restaurant trends in our 2023 edition of the Future of Restaurants report.