Table of contents
This article is for educational purposes and does not constitute legal, financial, or tax advice. For specific advice applicable to your business, please contact a professional.
If you have dreams of working for yourself, a salon booth rental can be a great opportunity that provides independence with the benefit of working alongside other stylists. Booth rentals have been a fixture in the beauty and personal care industry for decades and continue to grow in popularity as a common salon setup. 
Love, Dunette, a hair salon in New York, uses a booth rental model for its stylists, with the owners operating a salon website for bookings and providing a business location for booth renters. Other stylists, like Jess Poynter in Bothell, Washington, rent a salon suite in another building or salon.  
Both of these options provide flexibility if you're looking for more freedom in your salon business and want to be your own boss. Here's what you need to know about salon booth rentals and how to get started.
What

are salon booth rentals?

There are two common rental models for sole proprietors in the beauty industry: booth or chair rentals and salon suite rentals. 

The primary difference between the two is the amount of space you have. With a booth or chair, you rent space inside a salon with other stylists and share all spaces except your booth. On the other hand, the salon suite model includes a small space with all of the amenities of a salon and you as the only occupant, so it looks like you have a small storefront, often in a larger building. This is often called a mini salon, and you may also work with or even hire your own stylists to provide more services.

With a booth rental, you get the benefit of being in a traditional salon setting, and your rental can include amenities like towels, laundry facilities, water, and Wi-Fi. Booth rentals are a great option if you're starting out and want to be around other stylists. You charge clients your rate, and that revenue goes to you, while you pay rent to the salon owners to be in their facility. With a booth rental, the salon may offer booking services or someone to help with scheduling, but you're ultimately responsible for generating clients and revenue. 

The salon suite option offers even more independence. You have a space with everything you need to run a salon, and larger salon suites may afford the opportunity to bring on more stylists. You have full control over every aspect of the salon in this setup, and you're responsible for paying rent for the space and operating all business functions. This option is better for more experienced stylists who are ready to operate on their own. 
Cost of renting a booth
The costs of renting a booth vary by city and salon, but booth rentals are generally much less expensive than salon suites. 
Booth rental pricing can range from $250 to $1,200 per month. In larger cities, such as New York or Los Angeles, booth rentals can cost around $1,000 a month, while booth rentals in smaller cities can be less expensive.
What are the requirements of renting a salon booth?
Booth renters generally have their own business incorporation and are independent contractors using salon space. 
In addition to paying for the booth rental, you are responsible for generating clients, managing your schedule, and buying tools and supplies. You're also responsible for taxes, licenses, and other financial obligations as a business owner. 
Additionally, your contract may stipulate how the space is shared, scheduling, or commission for product sales. Every booth rental contract can be different, so it is important to read your contract closely.
Tips for successful salon booth renting
The main thing to keep in mind when you are renting a booth is that business management is all yours. You need to establish a business model and plan so that you have a guidebook for operating your business.
Your business plan should include a few key things:
Menu of services and offerings
Policies for everything from payment to late cancellations
Pricing strategy
The next factor to think about is record-keeping and client management. A repeat client is often your best client, and a customer directory can help you manage client lists and connect with your point-of-sale or scheduling tool. 
Scheduling and POS software like Square Appointments lets clients book online in three different ways:
Through a free online booking site
From a dedicated full-service site with a booking widget
By adding a booking button to your existing site
The next element of your business plan is money management. How will you deal with accounting and cash flow? Do you have a business account set up for your money to go to?
Did you know?
Square Banking allows you to set up all the small business accounts you need and connect them with your payment processing system, including checking and savings accounts and debit cards. Plus, with Square, all of your earnings are available for instant transfer. 
Finally, you want to ensure new clients can find and book with you via multiple channels, such as phone, social media, and online search. Because you may be working under the name of another business renting a booth or chair, it is important to maintain a marketing presence of your own to build business. 
The two primary marketing channels you should consider are email marketing and social media. Email marketing helps you regularly connect with clients to remind them about appointments or upcoming offers, and Instagram provides ample opportunity to show off your skills and generate clients with a highly visual medium. 
Tools like Square Marketing include robust email and text tools to help you connect with clients using one-time messaging or full campaigns to generate increased engagement. Email automations connect directly with your client list from the Square Point of Sale to help create a truly personalized experience.
Benefits of salon booth rental
While independence is the primary reason stylists opt for booth rental, there are plenty of other benefits that come with this model. It's a great way to start running your own business with a built-in support system, allowing you to save money on startup expenses. For the most part, you can also set your own schedule. Keep in mind that some salons have base operating hours they might ask you to work within for your booth rental.
Salon booth rentals also mean you won't have to manage employees or staff as you would if you opted to open a salon of your own. And perhaps the greatest benefit of all is that booth rentals can be lucrative. Rather than working off commissions for someone else, you can set your pricing and get paid immediately.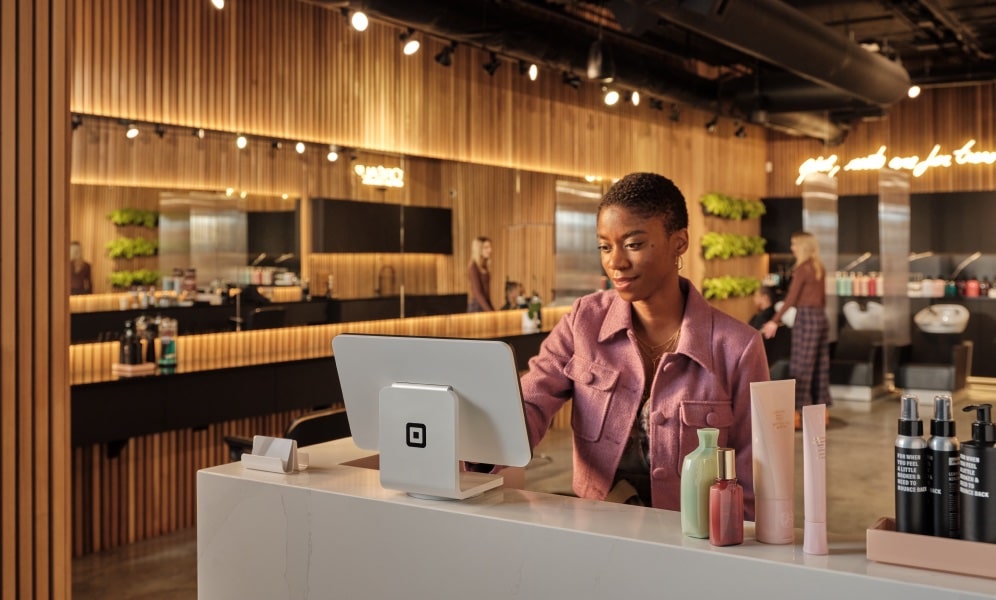 3 types of booth rental structures
There are three booth rental structures to consider when looking at this option for your salon business, including chair or booth rental, salon suite rental, or renting in a hybrid model. 
Chair or booth rental
When you rent a chair or booth, the salon owner is responsible for most of the overhead, including the building and utilities. The salon often provides amenities such as a chair, a mirror, sinks, hair dryers, towels, and office tools. These are included in your rental fee. Salon ownership might, but does not always, include additional management tools, such as logistics, scheduling, or ordering products. 
You are responsible for marketing, client management, and collecting payments. Depending on your booth rental contract, you are likely not an employee of the salon with a booth rental, meaning you need to pay for your taxes, insurance, and accounting. 
Salon suite rental
A salon suite rental is more like fully owning a salon. You are responsible for all elements of the business except for the upkeep of the salon space itself, which is part of your rental agreement. 
Think of a salon suite rental as "owning" a mini salon, where everything from overhead to logistics to managing people (if you hire others) is your responsibility. You must also do the marketing, client management and scheduling, order supplies, and manage taxes, insurance, and accounting. 
Commission-based salon (hybrid)
There's also an option to work in a bigger, commission-based salon with a hybrid model that includes booth renters and employees. Here, you'll find commission, hourly, rental, and 1099 employees all under the same roof. This is a growing concept that you won't find in all locations, but it can be a viable option if you aren't sure what model works for you. Starting as an employee of the salon and moving into renting a booth in the same salon allows you to take more ownership of your business. 
As a salon employee, operations and management are taken care of since you work for the salon. As a booth renter, you are responsible for everything listed above since you're an independent contractor. In the hybrid model, both types of stylists work together in a single location. 
Understanding regulatory constraints on booth rentals
The final items to consider regarding your salon business are any contracts, agreements, or applicable laws and regulations that may be relevant. Booth or salon suite rentals may come with binding contracts that outline financial and other responsibilities. It's important to read these contracts closely so you have a clear understanding of what you're agreeing to.
Business and tax laws can vary by state, making it important to look into this before getting started. Booth or salon suite renters may also need liability insurance, so consulting with a small business development center or a legal professional can help you better understand the requirements of where you plan to do business. 
Tools to power your salon booth rental
No matter what direction you choose for your salon business, it's essential to have the right tools to help you operate smoothly, from taking payments to booking appointments to enhancing your marketing. The Square ecosystem of tools can make small business ownership easier, connecting all sides of your business and giving you the capability to grow.
Whether you're renting a booth or moving to a salon suite, Square Appointments, Square Marketing, and Square Checking can help you make the most our of your business. Learn more and get started.
All loans and Savings accounts are issued by Square Financial Services, Inc., a Utah-Chartered Industrial Bank. Member FDIC. Actual fee depends upon payment card processing history, loan amount and other eligibility factors. A minimum payment of 1/18th of the initial loan balance is required every 60 days and full loan repayment is required within 18 months. Loan eligibility is not guaranteed. All loans are subject to credit approval. Savings accounts are provided by Square Financial Services, Inc. Member FDIC. Accrue annual percentage yield (APY) of 1.75% on balances over $10. APY subject to change, current as of 10/10/22. No minimum to open, no cost. Square Checking is provided by Sutton Bank, Member FDIC. Square Debit Card is issued by Sutton Bank, Member FDIC, pursuant to a license from Mastercard International Incorporated, and may be used wherever Mastercard is accepted. Accounts are FDIC-insured up to $250,000. Funds generated through Square's payment processing services are generally available in the Square checking account balance immediately after a payment is processed. Fund availability times may vary due to technical issues.