Square cannot provide advice on tax issues. This article is for educational purposes and does not constitute legal or tax advice. For specific advice applicable to your business, please contact a professional.
Whether it was the realization of how challenging an at-home haircut could be during the pandemic or the camaraderie of the barbershop experience, more and more people are heading to their closest barber to spruce up their looks. If you're opening a barbershop or looking into a second or third location, this guide will walk you through all the information you need to know.
Step 1: Perform market research to learn how to stand out from the competition.
You could be a barber starting from scratch, leaving your clients with the old barbershop. Or you could be bringing your own book of business with you as you open a new shop yourself. Whatever the case, it's critical to do market research to determine who your target audience is, whether it's men, women, kids, families, or simply anyone with hair. Depending on where your location is, an understanding of your audience will help you acquire clients faster.
Next, you'll want to research other local barbers and businesses. Find out what other barbers charge in your area, which services they offer, and where their shops are located. You'll want to stand out from the competition and avoid opening a location too close to another well-established barbershop.
When looking for a location and thinking about your marketing strategy, find a niche that you can serve. To really stand out, look for underserved niches in the area. Do you want to market to high-end clientele? To families? Only to children? Whichever niche it might be, ensure that it's in line with the market and competitor research you've done to set yourself up for success.
Step 2: Decide on your business's legal structure.
Now for the crucial part of opening a barbershop: the legal structure. If this is your first location, you'll have to determine whether you want to operate as an LLC, as a sole proprietorship, as a corporation, or as a partnership with another owner. You'll want to do research or ask a trusted accountant about the tax implications related to each structure and how they can benefit your business.
Once you register your business, it's time to get an EIN (employer identification number) if your business will be a partnership or a corporation. As with any business, you'll also need to obtain the necessary licenses to operate in your state and an insurance policy. Contact a trusted attorney and a licensed insurance agent in your area to help you get started on both.
Step 3: Figure out your finances and expenses.
How much does it cost to open up a barbershop? Setup costs can begin to pile up when figuring out licenses and policies for a new business, so be sure to budget for all operating costs. If you haven't established a budget, this is an important step to understanding how much you'll need to bring in each month and how low you'll need to keep your overhead for your business to be successful. If you process payments with Square, you may qualify for Square Loans. A customized offer based on your card sales through Square will appear in your dashboard if you qualify.
You'll want to:
Choose whether to buy or rent the property for your barbershop
Estimate how much you can expect to bring in per year
Find out how much you can charge for services based on your market research
Figure out the cost of all physical tools needed to perform those services (i.e., scissors, razors, etc.)
Estimate marketing costs to acquire or retain clientele
Once you establish your budget, you'll want to open business banking accounts to keep finances and responsibilities separate from your personal entities. If you don't have a trusted accountant you're willing to work with, it's important you do extensive research about the financial accounting for your small business and what your financing options are. If you're looking into loans, into lines of credit, or even dipping into your savings, be sure to account for each of those scenarios and what fees or interest are associated with each.
To keep track of incoming payments and revenue accurately and efficiently, you'll want to have the point-of-sale system that best suits your business in place. With the extensive product options at Square, you can have all your data, earnings, sales, and team performance reports in one place. There's no need to integrate any additional subscriptions since everything connects together with Square. With products such as Square Appointments, Square Payroll, and Square Banking, your business can be up and running smoothly in no time.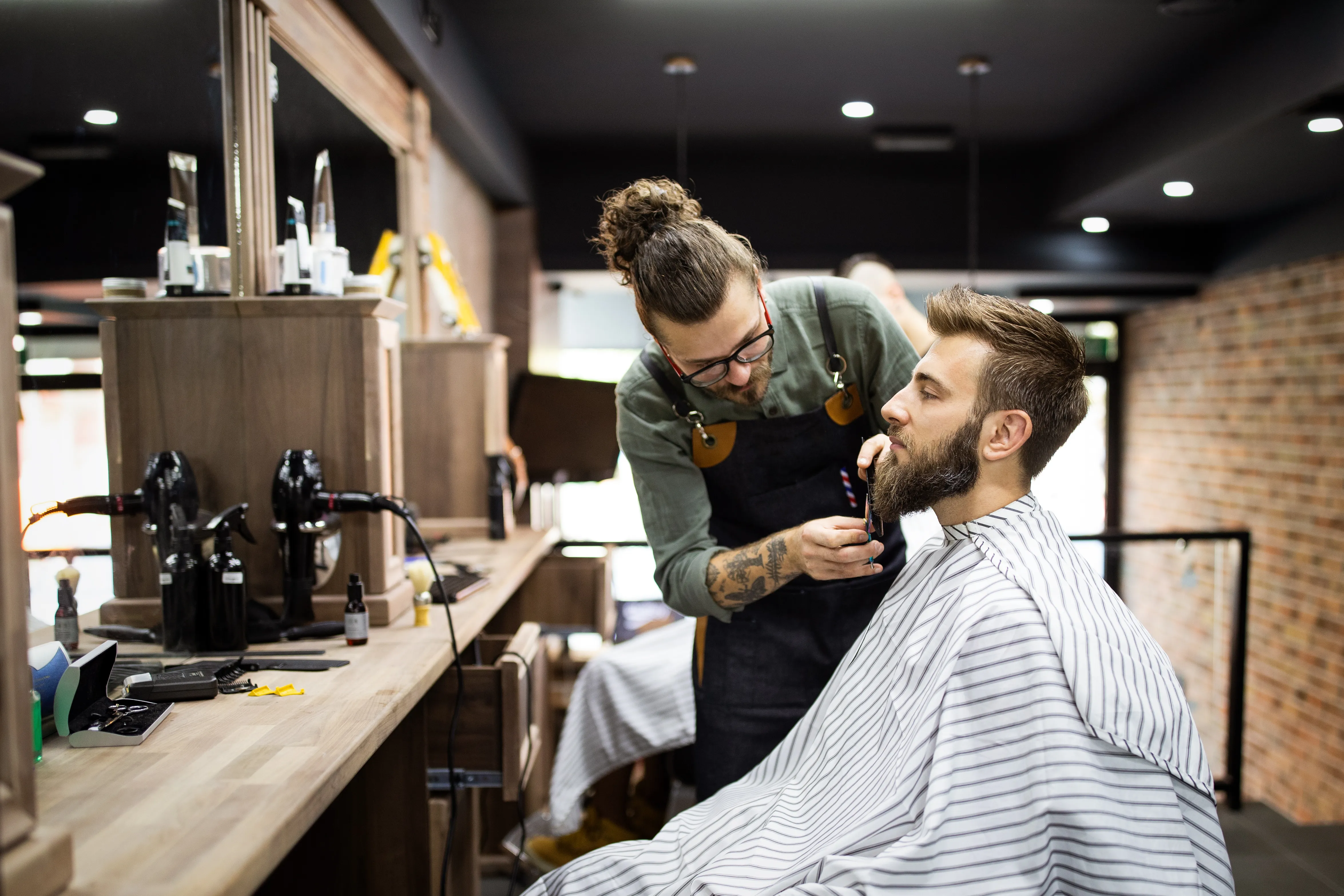 Step 4: Build your brand.
While this is step four in our guide, the branding of your barbershop should be top of mind throughout the entire process. Depending on how you structure your business, you'll need to provide the name of your barbershop to apply for your legal entity status, EIN, insurance, and licenses. Once your business name has been approved, it can be a challenge to change it, so be thorough when discussing and deciding on a name.
Once you choose a name, it's time for your creative side to kick into high gear. You can choose to design a logo yourself with free accessible tools such as Canva. Or, if you aren't the artistic type, you can hire a freelance illustrator to design one for you. Remember, your name and logo will be your clients' first impression of your business. You'll want your branding to be approachable to your target client.
Get discovered by potential clients
Take some time to craft a strategy for how to begin your marketing efforts and for how to scale up once you start to grow. Social media is a very cost-effective way to get your name out there, but this doesn't mean you have to have a presence on every social media platform. Find the platform where your target audience is and focus heavily on the strategy there first. You can even use Square Appointments to integrate with your social media channels so that your clients can book directly from your Instagram, Facebook Business, and Reserve with Google accounts.
Another great way to get discovered by potential clients is to create a Google Business Profile listing. While Square Online has built-in SEO tools for your site, you can integrate your Google Business Profile listing with Square Appointments as well. This free profile allows you to provide the location of your business, photos, services, and content information for your barbershop. 
A Google Business Profile listing and strong SEO practices boost your discoverability both on a typical Google search and whenever your potential clients search on Google Maps. Your listing allows clients to leave reviews, and your review rating can entice other potential clients to come to your barbershop as opposed to other competitors in the area. Once your website, SEO, and Google Business Profile listing are set up, you can test and run paid ads to target these clients directly based on their demographics, interests, and locations.
Once you have those marketing tactics in place, you can expand your efforts with promotions, print advertisements, and loyalty programs. And remember, the cheapest and best form of marketing will always be word of mouth. Be sure to ask your customers to refer you to their friends and families and to leave reviews online if they had a great experience.
Create the customer experience
Branding isn't just about a name, a logo, or an online presence. A welcoming and unique customer experience can lend to the development of your brand. Your branding can also make its way into the physical layout and the types of tools you use in your barbershop. 
An investment in high-quality clippers, shears, razors, and other shaving equipment can go a long way to create a brand for your business. When you evaluate barber tools, be sure to pick the right ones for your business and your budget. These are tools you'll use every day, so splurging on the higher-quality brands such as Wahl or Andis could make all the difference for your client experience.
If you want to create a clean and sophisticated look, the new Square S3 stand transforms your iPad into a sleek and stylish POS system. Complete with tap and chip reader capabilities, you can have your appointments, rebooking, and checkout all in one without extra cords or clunky chargers. With less clutter you can keep your space minimalistic or create more space for upsells at checkout. If efficiency and convenience are your game, the Square Reader allows you to take payments while the client is still finishing up, giving them a more seamless experience before they walk out the door.
Step 5: Choose the right location.
When looking for the perfect location for your new barbershop, there are a few things you'll want to consider. Especially when you're first opening up, you'll want to consider the amount of foot traffic near the location. Is the storefront hidden, or will people happen to see it as they walk by? Is it in a busy area with other businesses? The more foot traffic and the busier the area, the more potential there is to get walk-ins.
Is your storefront conveniently located? Is the parking area accessible with a sufficient number of parking spaces, or is it hard to park? Is the entrance to the door easily accessible? The convenience and accessibility of a business can often make or break it, especially if it's your first location.
It's important to understand what you need or expect from your location before you buy or rent your storefront. Remember, it's all about your target client and their interests. If you want your barbershop to be a local hangout, situate yourself in a location that lends itself to that dynamic. If you are relying on walk-in business to kickstart your clientele growth, be sure to choose a location where your business sign is visible and the atmosphere is welcoming.
Step 6: Build your team.
Once your business and location are established, it's time to build your team. If you've been in the industry for a while, recruit barbers who you know will have your business's success in mind. If they have the motivation to grow, they'll want to support the growth of your business as well.
If you're deciding whether to hire employees or to rent or lease chair space in your barbershop, there are a few things you'll want to consider:
Will you want to hire less experienced barbers with the expectation of training them?
Will you want to accept payment up front for rented or leased chairs, or will you take a percentage of each cut?
Do you want to promote your barbers, or will you want to empower them to promote themselves?
You may want to hire a receptionist to help with scheduling and to welcome clients when they walk in, an accountant to help with the finances, and maybe even other supportive part-time employees to help stock or clean the barbershop throughout the day.
A motivated and passionate staff is essential to building a successful business with a welcoming atmosphere. One way you can incentivize staff members is by offering commission if they sell more services or products. Square Appointments is a great tool to keep track of these upsells and can be customized as tiers based on a barber's seniority or tenure.
As your team grows, Square will grow with you. Square Team Management is an all-in-one solution to manage your team that allows you to schedule, to manage, and to pay your employees right from your POS.
Step 7: Manage your clientele.
When it comes to word-of-mouth marketing for your business, it's all about a positive client experience. Your customers want to feel welcome from the moment they walk in the door to the moment they leave, but their experience with your barbershop doesn't end there.
Managing your clientele and their preferences can make all the difference when it comes to providing an extraordinary experience and setting your business apart from competitors. With a strong management and scheduling system, you can have all the details and preferences of each client ready to go before they walk in the door. You can know what style of cut they received last time and when their last visit was, allowing you to provide a more personalized visit for them.
You can also use the free booking app Square Go, which allows clients to discover, book and rebook with Square Appointments sellers easily. The app saves time by eliminating the traditional scheduling back and forth over the phone. It also sends booking reminders that have helped lead to a 23% increase in rebooking.
Block Inc. is not a bank. All loans and savings accounts are issued by Square Financial Services, Inc., a Utah-Chartered Industrial Bank. Member FDIC. All loans are subject to credit approval. Square Checking is provided by Sutton Bank, Member FDIC. Square Debit Card is issued by Sutton Bank, Member FDIC, pursuant to a license from Mastercard International Incorporated, and may be used wherever Mastercard is accepted. Accounts are FDIC-insured up to $250,000.