When you're a small business owner, it's key that your payment systems fit three criteria: quick, simple, and secure. That's why technology like Apple Pay needs to be on your radar. Not only does it check all those boxes, but pretty soon, your customers will expect it. The next step? Understanding how to accept Apple Pay once customers are ready to buy.
In a study of payment methods, we found that people who use mobile payments like Apple Pay are really into it. Most cite it as their ideal payment method above credit cards and say they are likely to seek businesses that are set up to accept mobile payments.
There's wider adoption among younger groups like Millennials, but as that groups is now the largest generation (and one with big buying power) you should get comfortable with mobile payments now sooner rather than later.
To help you do that (or to refresh your memory), here's a primer on how to accept Apple Pay for small businesses: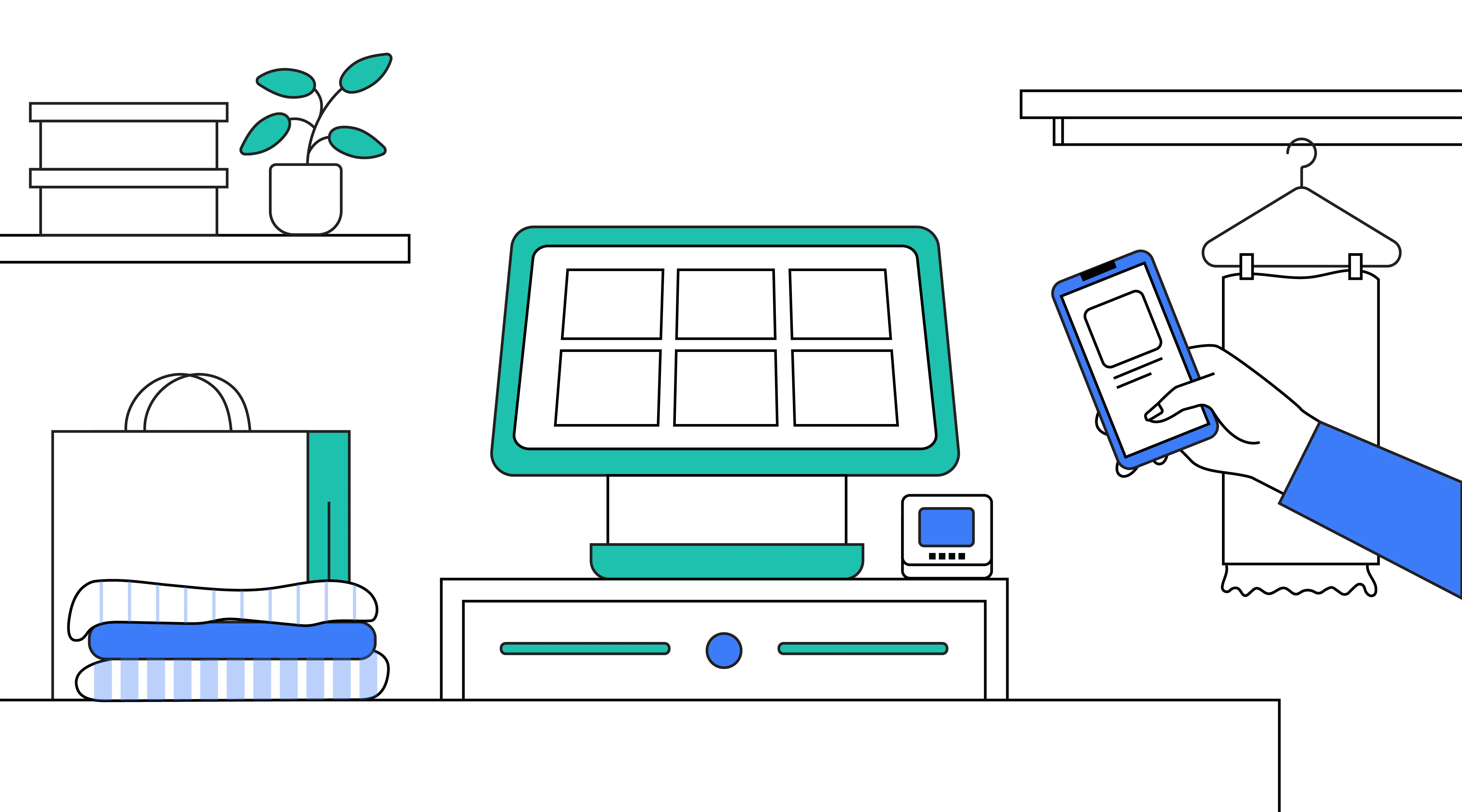 Apple Pay for Business
Before you make a decision about accepting Apple Pay, let's go over how it works. Apple Pay transactions are a type of contactless payment that are enabled through a technology called near field communication, or NFC. NFC is what enables two devices — like a smartphone and a payments reader — to communicate with each other when they're held close together.
Apple Pay is available the iPhone, iPad, and Apple Watch. Learn more about how to set up Apple Pay on your device.
Why accept Apple Pay and other mobile payments?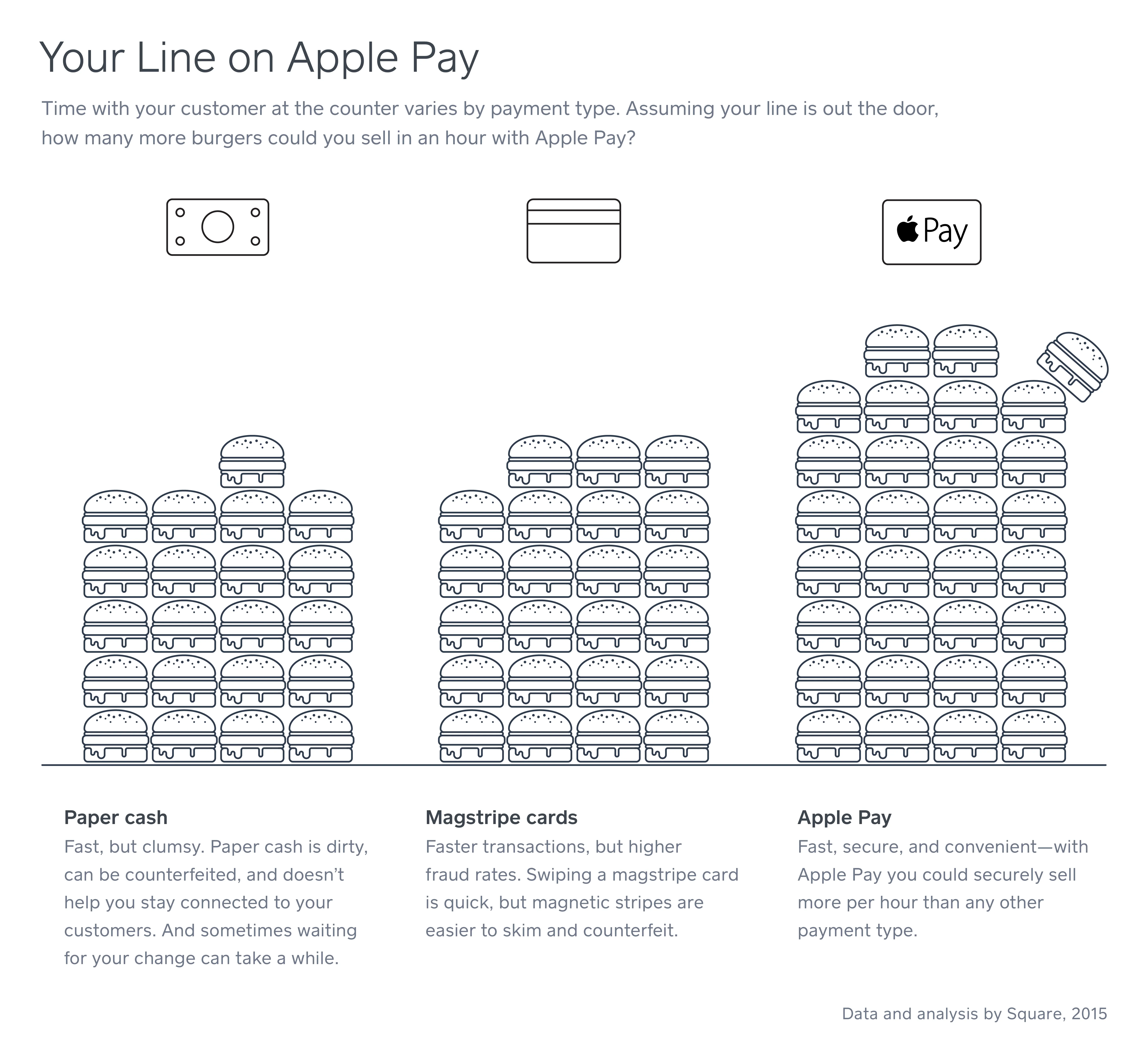 There are two main reasons to accept mobile payments like Apple Pay for your business: speed and security.
Mobile payments are processed faster than magnetic-stripe cards and chip card payments, which means they can make a serious dent in wait times at the register (and, as a result, improve customer satisfaction).
When it's the lunchtime rush and you've got a line out the door, you need to ring up customers as quickly as possible. If the line isn't moving fast enough, customers might go somewhere else. In other words, the faster you serve customers, the more money your business makes.
We're using burgers to represent an "item." Of course there are a number of factors here — how many customers are fumbling for change or how long it takes your staff to give change back, how clumsy customers are with their phone, how fast your short order cook can flip burgers — but the graph gives you a good idea of each payment type's speed.
What's the gist? Your line moves a lot faster with Apple Pay and that's better for your business.
Even more important than speed, Apple Pay transactions are very secure. The card data is tokenized, encrypted, and constantly changing, which makes it way more difficult for fraudsters to do anything with it.
Apple Pay has an added layer of security, requiring fingerprint verification or authentication from your phone password. That means even if thieves are able to unlock your phone, they still won't be able to access your Apple Pay account. Accepting Apple Pay means you're better protected against fraud and that's better for everyone.
Is Apple Pay free for merchants?
Apple Pay is free for consumers but comes with a few costs for merchants. Square charges a processing fee of 2.6% + 10 cent fee for contactless payments in addition to any hardware costs the merchant may incur. If you are using a Square Terminal, Square Reader for contactless and chip, or accepting payments through a Square Online site, you can accept Apple Pay.
How does Apple Pay work?
Apple Pay is Apple's mobile wallet. In stores, Apple Pay allows you to check out and pay by holding your phone over a payments reader that can accept Apple Pay. In apps, Apple Pay allows you to trigger a payment from just a tap on your phone. On a website, click the "Buy with Apple Pay" button on the checkout page and then confirm the payment with a tap on your phone or the button on your Apple Watch.
Apple Pay utilizes NFC (near field communication), which enables two devices to communicate wirelessly when they're close together. Increasingly, NFC is being used to power contactless payments like Apple Pay.
Apple Pay uses a technology called tokenization to safeguard bank details. After you take a picture of your credit card and load it into your iPhone, Apple sends the details to your card's issuing bank or network. During a transaction, NFC transfers a token from your iPhone to the payments processor, securely and quickly. It's as easy as that.
Is Apple Pay secure?
It's natural to question the safety of loading your credit card and bank information on a device, but rest assured, it's very secure. Here's why: In order to authenticate a payment through your phone, you have to hold your finger on the Touch ID button to have your print scanned and verified. You can also use Face ID to unlock your phone and open Apple Pay.The entire transaction is complete in just a few seconds.
Beyond fingerprints, the data associated with your cards is encrypted and always changing, so even if your phone is stolen, thieves wouldn't be able to do anything with the information. That makes the technology more secure than magnetic-stripe cards, or even cash for that matter.
What hardware do I need to accept Apple Pay?
Most NFC-enabled terminals (like Square Reader for contactless and chip) accept Apple Pay. Customers just hold their Apple device over the terminal and complete the transaction with their Touch ID, or fingerprint. Square's reader connects with Square Stand, and you can also use it for transactions outside your store, like at events or outdoor markets. Apple Pay for businesses is becoming increasingly more common.
Apple Pay isn't just accepted in stores — now you can use it within certain apps and websites. There's obviously no NFC reader involved in these transactions. If you're using Apple Pay in an app, just place your finger on the Touch ID button.
If you're using it in a website, click the "Buy with Apple Pay" button on the checkout page and then confirm the payment with the Touch ID on your phone. You can use Apple Pay within the apps of businesses such as Caviar, Target, Airbnb, Groupon, Etsy, and Sephora.
How do I accept Apple Pay at my business?
Accepting Apple Pay at your business is easy. Here are some best practices for setting up your Square Reader and Apple Pay marketing kit:
Get a new NFC-enabled payment terminal that accepts contactless payments like Apple Pay. Square Reader for contactless and chip, Square Stand, Square Terminal and Square Register all accept contactless payments.
Set up your new reader. Square Reader for contactless and chip connects to your device wirelessly as long as you have a compatible iOS device. If you're setting it up with Bluetooth LE, make sure Bluetooth is enabled on your mobile device. Then open the Square app and connect the reader. Make sure the reader is facing your customers and is within their reach so they can make Apple Pay payments easily.
To accept payments, have customers hold their iPhone, iPad or Apple Watch near the reader until four green lights appear and a chime sounds. When you see the check mark on your screen, the transaction is complete.
You can also accept Apple pay on your website. Square Checkout, a hosted checkout and online payment form that developers can implement with a single integration, supports Web Apple Pay.
In addition, Square e-commerce API supports Web Apple Pay and makes it easy for developers who are building their own checkout flow to include an option for Apple Pay at checkout.
Finally, you can also take contactless payments from contactless cards, Apple Pay, and other digital wallets in person with just your iPhone using Tap to Pay on iPhone. 
How do I train my staff to use Apple Pay?
The more knowledgeable your employees are about Apple Pay, the more likely they are to recommend it to your customers. So use the materials provided with your Apple Pay marketing kit to train your staff.
It includes a training sheet that explains how to accept Apple Pay payments. It also explains how to help your customers set up Apple Pay, in case they need a hand.
The kit also includes stickers that are cheat sheets for your staff — in case they need a reminder about how to accept Apple Pay or tell a customer how to set it up. Put the stickers near your point of sale so they're easy to access during transactions.
How do I let customers know I accept Apple Pay?
Once your business is ready to accept Apple Pay, let your customers know about it.
Placing Apple Pay decals throughout your store is an easy way to let customers know that you accept Apple Pay — and they're included free in your Apple Pay marketing kit. Each kit includes: one window decal, two register decals, and six POS terminal decals, with a maximum order of one per business. It's a pretty low-tech way to get the message out, but surprisingly effective. (Apple offers free Apple Pay decals on its website too.)
To make sure you reach people who haven't been in your store lately, post on your social media accounts that you're all set for mobile payments. Maybe post a picture of your new Square Reader for contactless and chip to show your most tech-savvy customers that you're ready for mobile payments.
Or, use Square's email marketing software to inform your regular customers of the update (while you're at it, it's a good opportunity to let them know about new items or services). We've created a template that you can send your customers right away. You can also incentivize shoppers who use Apple Pay at your business when they buy something in the next week — be sure to mention it in the email.
Using Apple Pay also makes it easy for you to run your business on the go. With Square Debit Card, a personalized business debit card, you can use Apple Pay for the fastest and most secure payments online, in-store, and in-app.
Do most businesses accept Apple Pay?
Apple Pay is currently accepted at over 85% of retailers in the U.S. Millions of stores currently accept Apple Pay as a form of payment in stores and online. Apple Pay is a way for consumers to replace physical cards with cash for an easier, more secure way to transact. Currently, your customers that use Apple Pay can store their Visa, American Express, Bank of America, and Chase cards, as well as many credit and debit cards supported by major banks in their wallet.
Accepting Apple Pay at your business not only gives customers another option for payment, they can pay with any of the cards that would be in their physical wallet, digitally.
Ready to use Apple Pay at your business? Order our Square Reader for contactless and chip.