Table of contents
The marketing landscape is constantly changing, and the growing popularity of SMS marketing is no exception. SMS marketing skyrocketed over the last couple of years, not only for major brands, but for small businesses as well. What is SMS marketing exactly and how can it work for your small business? 
As a marketing professional or small business owner, there's much to learn about this new channel. In this article, we'll explain what SMS marketing is, how you can develop an SMS marketing strategy, and things to consider before sending your first SMS marketing campaign.
What is SMS marketing?
Short Message Service (SMS) marketing, more widely known as text message marketing, is an opt-in channel that gives you the ability to contact your audience instantly through marketing text messages. When integrated through a centralized POS system that manages your customers' information, text message marketing can support your overall business and marketing goals.
Connecting with your customers directly through text messages can be effective, personal, and trackable. Examples of text message marketing for small businesses include promotions, birthday discounts, surveys, and event announcements.
Benefits of SMS marketing
With mobile-first being a focus for most businesses and users interacting with brands through social and mobile applications, it makes sense that SMS marketing can be a great tool for your small business.
While the tried-and-true tactic of email marketing still provides quality benefits for your business, many consumers' inboxes are flooded with promotional emails, which can often be deleted before they're even read. On the other hand, the majority of consumers open and read their text messages as soon as they're received. In fact, 60% of text messages are read within five minutes. With a way to reach your consumers almost immediately — right within their pocket or purse — there are a few benefits that SMS marketing can have for your small business.
Higher text open rates mean more customer engagement
SMS marketing has shown open rates as high at 98% across the board, while email marketing hovers around 20%. Because of the high open rate, you'll most likely see a higher engagement rate as well. Because of the timeliness and personal touch of text messages, your consumers are likelier to interact and convert.
More accessible/casual customer relationships
SMS marketing puts your brand's name in the same place as your consumers' closest friends and family: text messages. Showing up in a casual, conversational space like this allows your brand to feel more accessible to reach out to or contact with questions. These messages often lean toward informal, creating a sense of trust and exclusivity with your consumers.
Create and send SMS faster than emails/social media
No perfect images are needed. No lengthy content has to be drafted. Text messages can be sent instantly. All you really need for an SMS marketing message is a short, informal description of the promotion or announcement and a call to action.
Cost-effective
With Square, SMS marketing is highly cost-effective compared to other marketing tactics. The service can be added for a small monthly subscription fee; then you just pay for the number of texts you send. There's no long-term contract, and you can cancel anytime.
An added bonus is that, if you already use Square Marketing to send emails, you only need to pay for the text messages you send. No additional monthly subscription fee will be charged.
Actionable tips for building your SMS marketing strategy
When establishing your SMS marketing strategy, there are a few guidelines you'll want to follow as you use this new channel to reach your audience.
Clarify exactly who you are and what your business is
Once you've built a list of contacts, be transparent about the messages you're sending. Be sure to clearly state who you are each time you contact them, and create a brand tone and voice that your consumers look forward to interacting with.
No one likes to feel violated when it comes to their personal information, especially something as personal as text messages. As with email marketing, make sure that every person you contact has opted in to receive text messages from your business.
Personalize your text messages
Remember, SMS marketing is much more personal and informal, so make the messaging match. Make your text message campaigns more relevant by sending birthday celebrations, order updates, or even discounts or announcements of restocks on items they've purchased previously.
Send one to two messages per week to complement your email marketing
SMS marketing shouldn't replace your email marketing; it should complement it. While it's not about how often you should send a text message, it is about the quality of content you're sending. It's important to remember that customers can unsubscribe from SMS marketing at any time, often faster and easier than they can unsubscribe from email marketing, so make sure the messages are ones they'll want to see.
While sending one to two a week can be a fairly average cadence, it really depends on the type of content you have to offer or what promotions and events you have happening. Focus on more personal messages for your texts, such as reminders, birthday messages, or restocks of their favorite goods. Pair Square Text Message Marketing with email campaigns and use the long-form copy in emails to share more broad topics.
Set your KPI expectations and monitor your SMS marketing results
Once you've developed a strategy and executed it, monitor your results and set realistic goals for your KPIs. Metrics — such as your click rate, opt-out rate, delivered percentage, and conversion — are important to pay attention to as you grow your SMS marketing strategy.
Examples of campaigns you can run
There's a plethora of different SMS marketing campaigns you can run, but it's important to first understand your audience and who you'll be sending to. To test the waters, start with a series of welcome texts that either offer a discount code thanking them for signing up or simply let them know what they can expect in upcoming messages from you. Use this opportunity to establish your voice and tone.
Examples of other SMS campaigns you can run are:
Promoting new products/services or upsells/cross-sells
Appointment reminders
Abandoned cart notifications
Order/event updates
Feedback/surveys/reviews
Most importantly, remember to send your SMS messages at appropriate times and when your customers are most likely to engage with your message. Avoid sending SMS marketing messages in the middle of the night or during dinner time. But during lunchtime? Send that new lunch special you're offering mid to late morning, right when your customers are starting to get those hunger pangs.
How to set up your first SMS marketing campaign
Now that you understand what text message marketing for small business is about and some actionable tips for developing your strategy, here are some things to consider when setting up your first SMS marketing campaign.
Collecting phone numbers
One of the most important steps in setting up your first campaign is building your list of opt-in phone numbers. There are several ways you can go about asking your customers to opt in to your text message program. One method we recommend to businesses that use Square is to enable opt-in at your POS. During check out, you can set up a prompt on the buyer-facing screen that will ask if they want to join the text message marketing list.
A few other ways you can prompt your customers to join is by:
Offering a coupon if they join. For example, "Join now and get $5 off."
Using a "Text to join" number and promoting it with in-store signage or via email.
It's important to have each and every customer that you contact opted in to text message marketing. As with email marketing, there are specific laws in many places that require businesses to do so.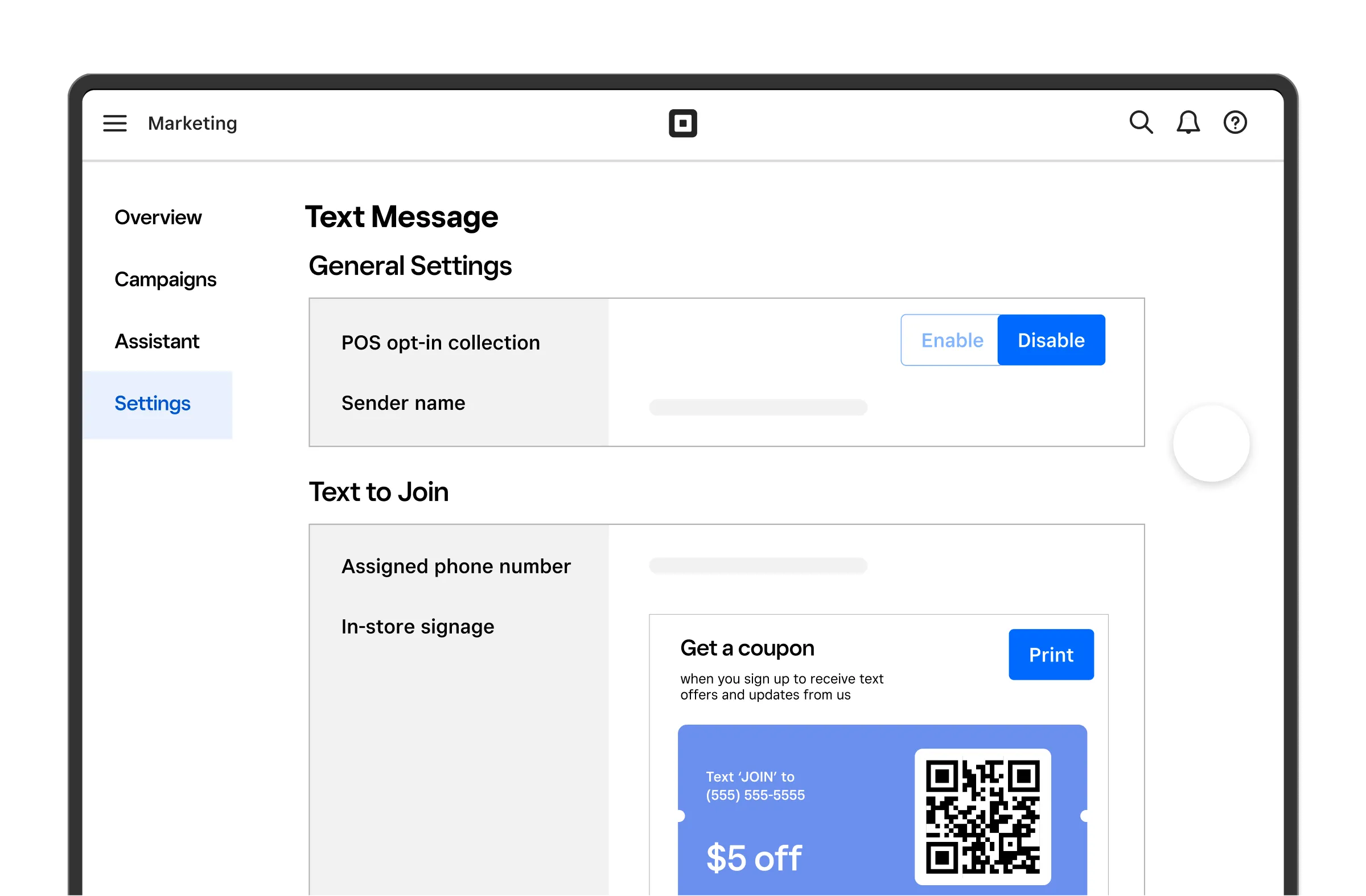 Set your campaign goal
Once you have your list started, it's time to set up the campaign. When creating a new text message marketing campaign, you should decide if you want to send a one-time blast campaign or automate a triggered campaign to specific targeted audiences.
Square makes it easy for you to raise brand awareness or increase sales with preset options. Looking to bring in customers that haven't visited in a while? Bring back your lapsed customers by sending a text message campaign reminding them about your offering. Want to reward your supporters? Send a birthday coupon seven days before their birthday so they can come in and take advantage of the offer during their birthday week.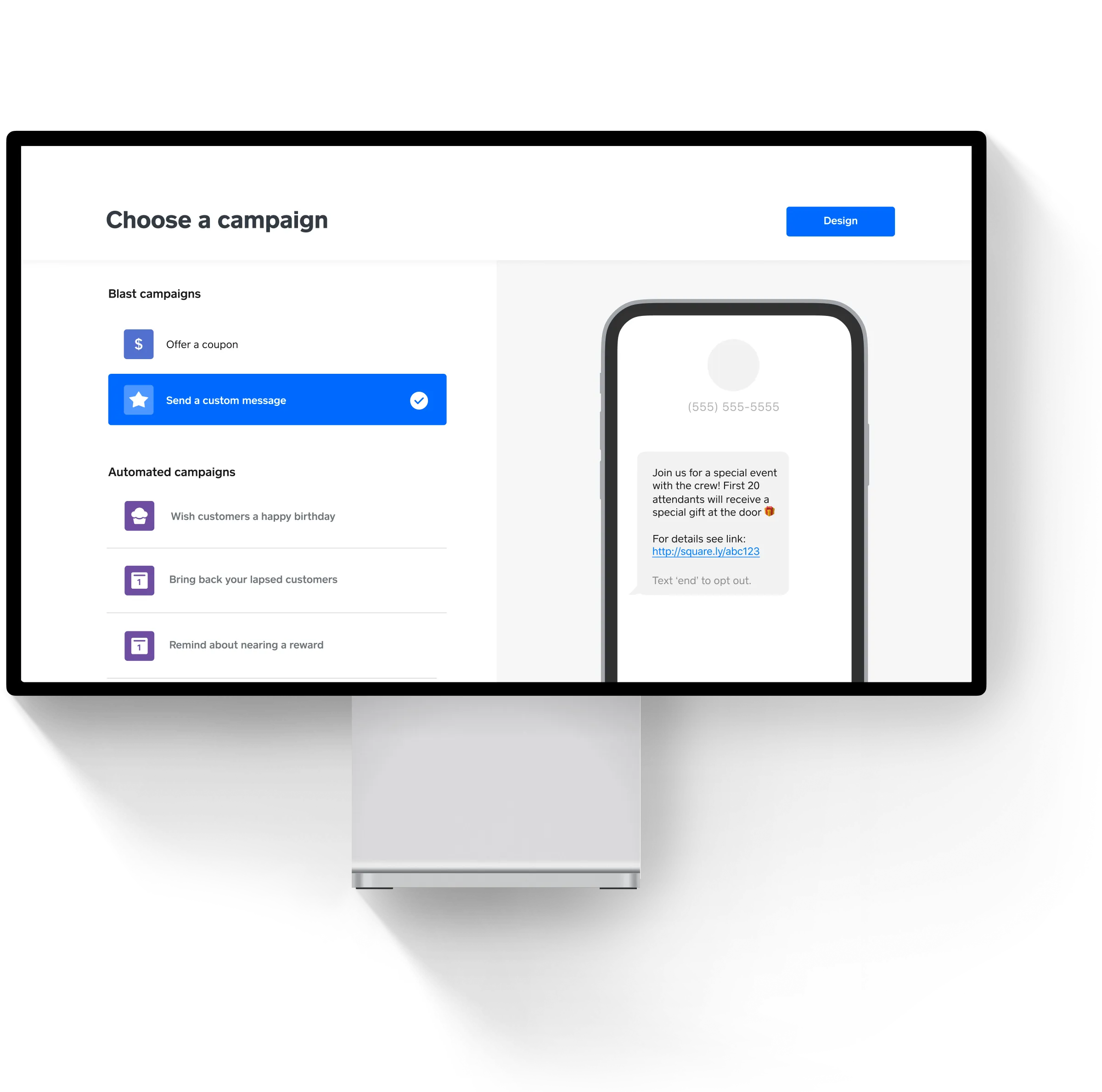 Write your message
Text messages should be in a casual tone, so try to stick to short and sweet. Focus on one topic per message and don't overcomplicate the copy. Use simple language that feels natural to read. Deliver a clear and positive call to action, and personalize the message to make it feel like it came directly from a trusted friend.
With Square Text Message Marketing, you have the ability to add multiple links and emojis to bring a bit of flair to the message. As you're drafting your message, you'll be able to see the text preview right within your Square dashboard.
Target your campaign
Once your message is drafted, decide which customers you'll be sending the campaign to. With Square, you can choose to send to all customers who have opted in or segment them by groups such as frequent buyers, upcoming birthdays, or lapsed customers.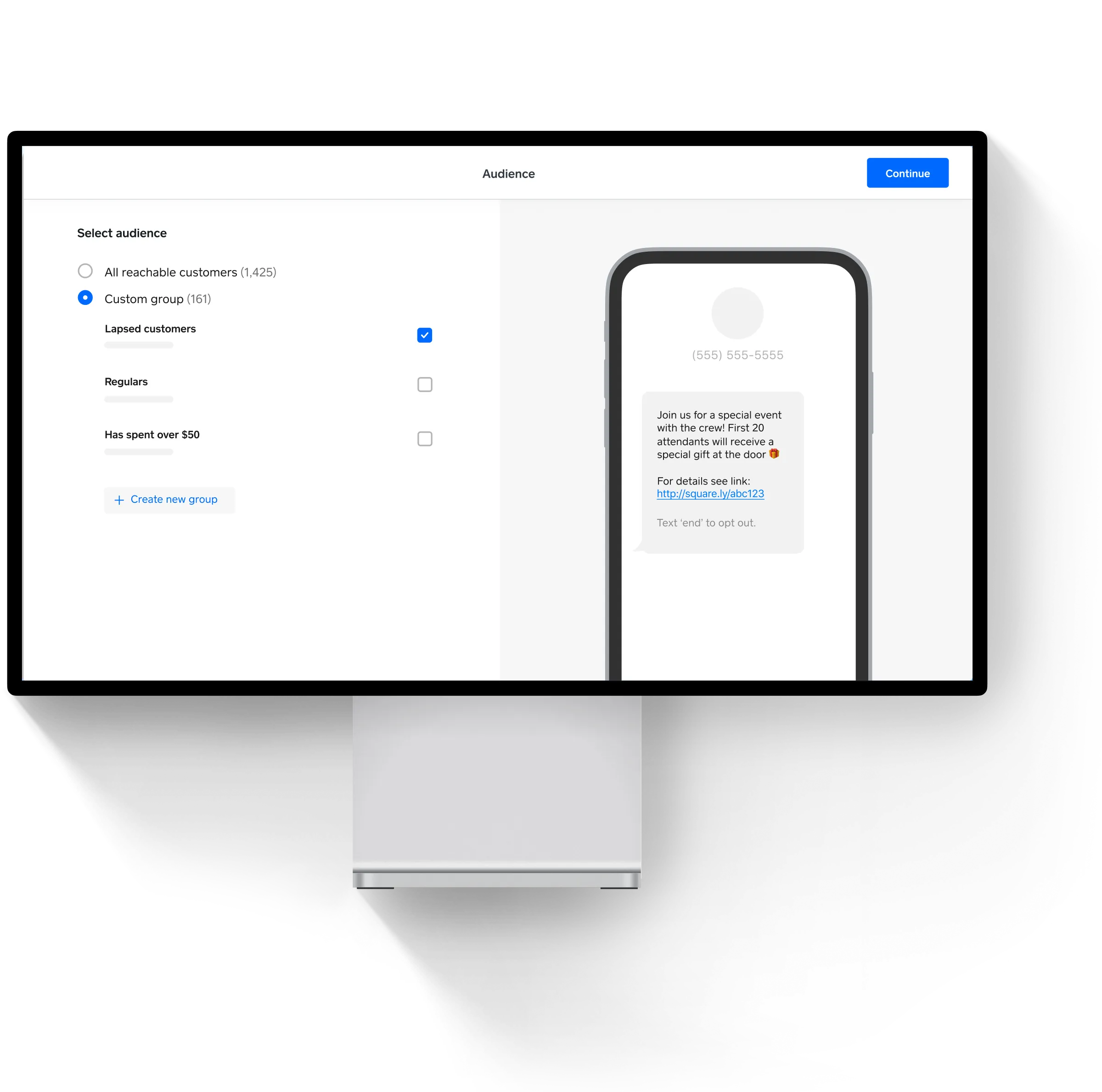 Send or schedule
You can save time with SMS marketing by drafting your campaigns ahead of time and scheduling them through your dashboard. Choose a date and time that's best to send that particular campaign or choose to send it right away.
Reporting
Since the SMS messaging is built right within your POS, all your reporting is in your dashboard in real time. As with any new marketing strategy, you'll want to continuously monitor performance and use those insights to inform future campaigns. You can look into how many of your recipients have received the text, opened it, and clicked through, and even how many have converted or purchased something from your offer.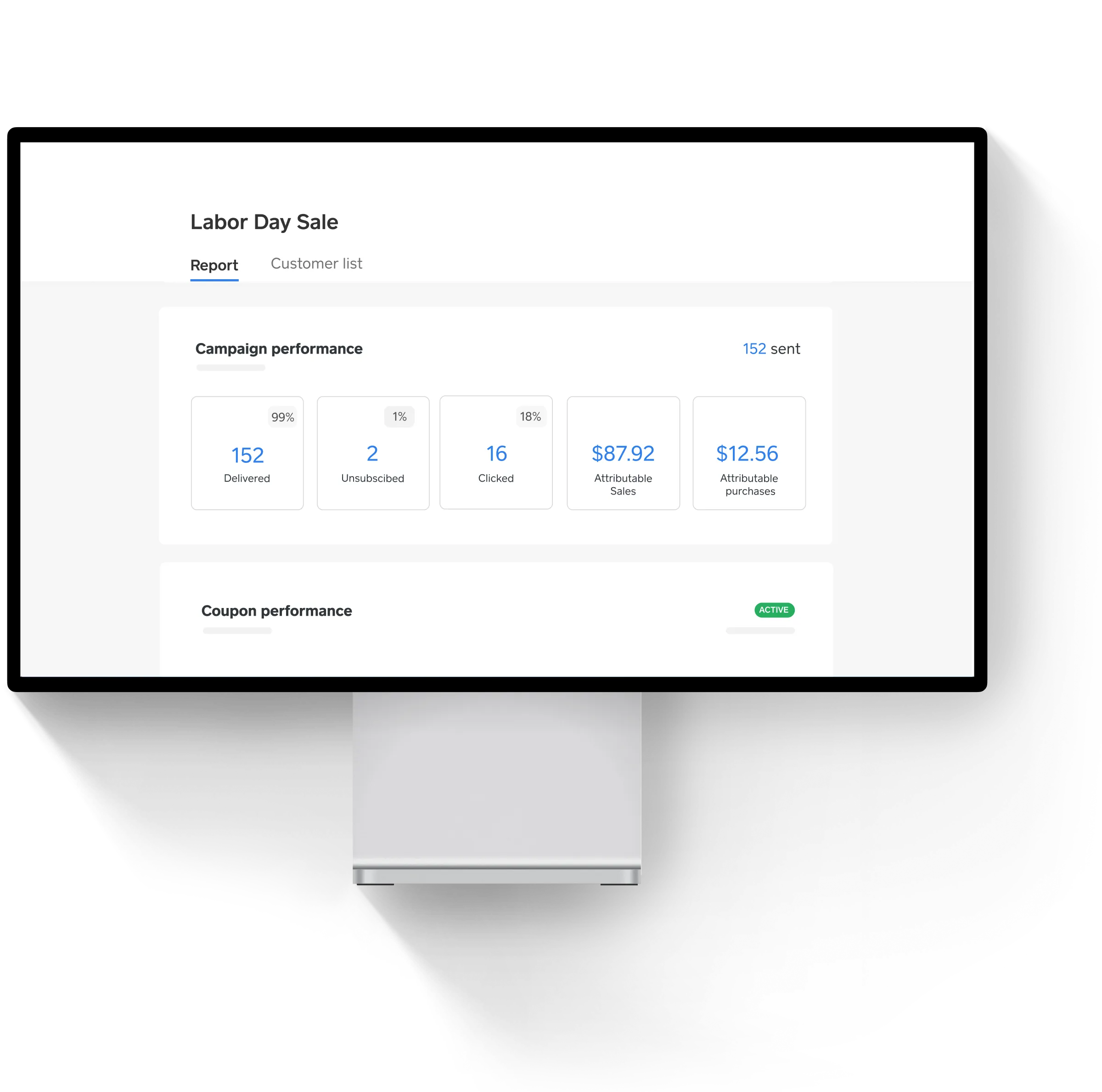 Text message marketing has changed the marketing landscape with immediate brand communication in the palms of your customers' hands. Adding this complementary tactic to your overall marketing strategy can open up opportunities to grow relationship with your customers and discover even more insights into your audience.