A point of sale, or point of purchase, is where you ring up customers. When customers check out online, walk up to your checkout counter, or pick out an item from your stand or booth, they're at the point of sale. 
Your point-of-sale system is the hardware and software that enable your business to make those sales.
How does a POS system work at a small business?
A POS system allows your business to accept payments from customers and keep track of sales. It sounds simple enough, but the setup can work in different ways, depending on whether you sell online, have a physical storefront, or both.
A point-of-sale system used to refer to the cash register at a store. Today, modern POS systems are entirely digital, which means you can check out a customer wherever you are. All you need is a POS app and an internet-enabled device, such as a tablet or phone.
So what does a POS system do? Usually, it works like this: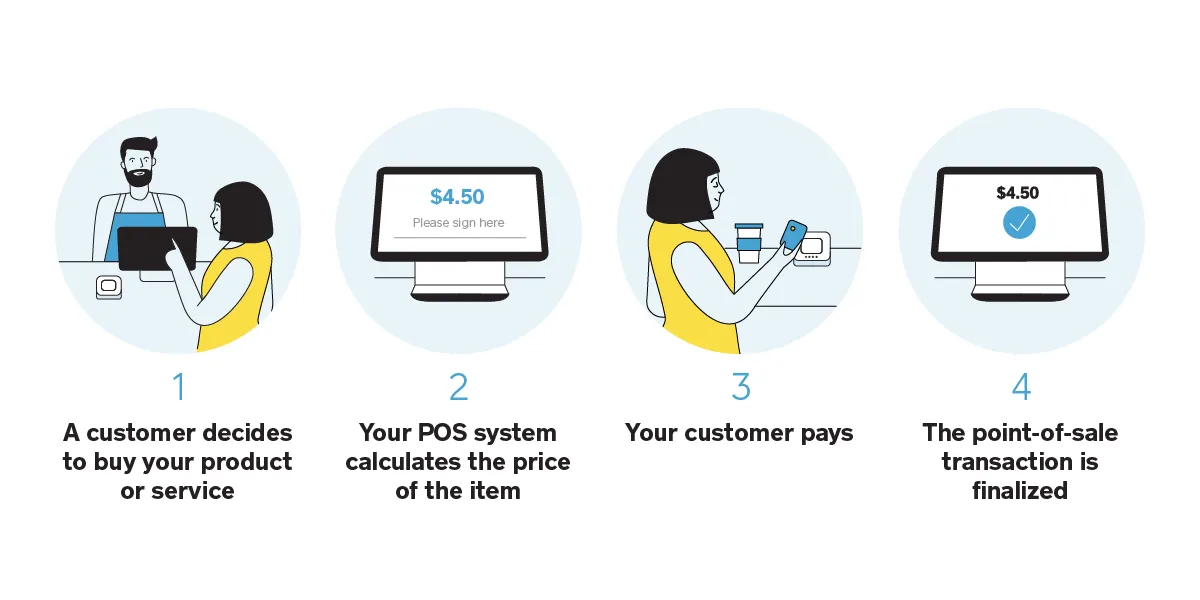 A customer decides to buy your product or service. If you have a physical store, they may ask a sales associate to ring them up. That associate could use a bar code scanner to look up the item's price. Some POS systems, such as the Square Point of Sale, also allow you to scan items visually with the camera on your device. For online stores this step happens when a customer finishes adding items to their cart and clicks the checkout button.
Your POS system calculates the price of the item, including any sales tax. Then the system updates the inventory count to show that the item is sold.
Your customer pays. To finish their purchase, your customer will have to use their credit card, tap card, debit card, loyalty points, gift card, or cash to make the payment go through. Depending on the type of payment they choose, your customer's bank then has to authorize the transaction.
The point-of-sale transaction is finalized. This is the moment when you officially make a sale. The payment goes through, a digital or printed receipt is created, and you ship or hand your customer the items they bought.
Which types of hardware and software does a POS system typically include?
Every POS system uses POS software, but not all businesses need POS hardware.
If you have an online store, then all of your sales happen on your website, so you don't need POS hardware to help you accept payments. But if you have a cafe, you may need a register and a credit card reader. If you operate a food truck, a phone or tablet could be all you need to process orders.
Here's a rundown of common types of POS hardware and software, which can help you figure out the total cost of your POS system. Keep in mind that what you need depends on your business.
Common types of POS hardware
POS hardware allows you to accept payments. If you're getting a new POS system, you should make sure it accepts all forms of payment, including cash, credit cards (especially chip cards), and mobile payments. If it makes sense for your business, your POS system should also print receipts, store cash in cash drawers, and scan bar codes. 
This list of hardware can give you a place to start as you're evaluating your POS setup options.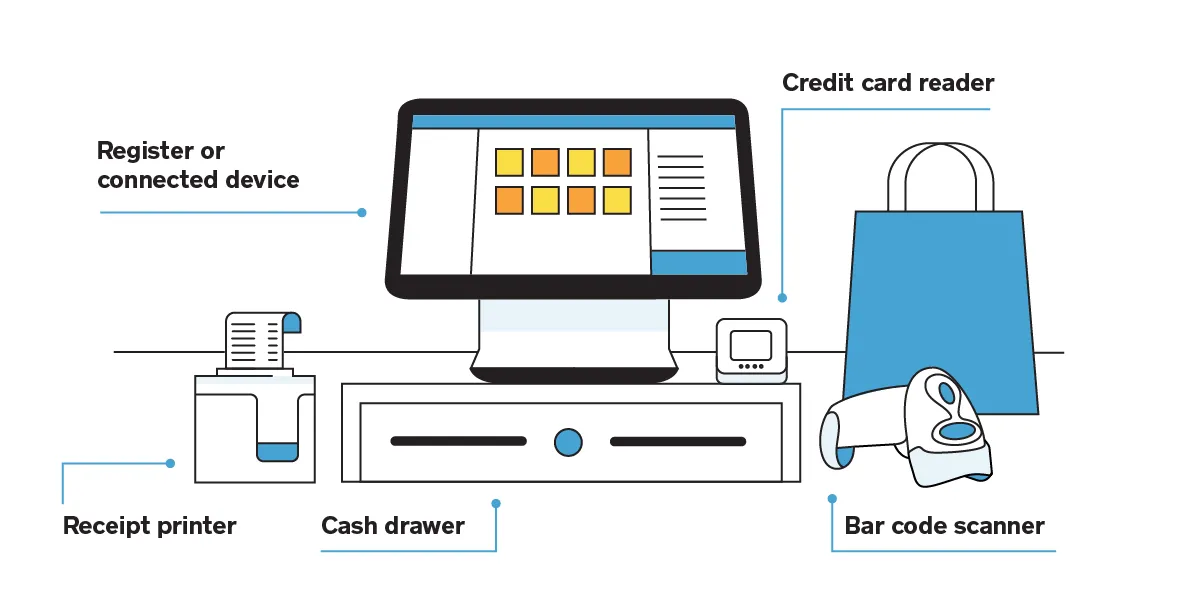 Register: A register helps you calculate and process a customer transaction.
Connected device, such as an iPad or other tablet: A portable device can be a good alternative to a monitor. Tablets can be propped up with a stand, allowing your team to clock in and out.
Credit card reader: A card reader lets your customers pay securely by credit card while in-store, whether that's through a contactless payment like Apple Pay, a chip card, or a magnetic stripe (magstripe) card.
Cash drawer: Even if you accept contactless payments, you may still need a safe spot to keep your cash. POS software that's connected to a cash drawer can minimize fraud by tracking exactly when the drawer is opened.
Receipt printer: A paper receipt shows customers exactly what they purchased, when they purchased it, and how much they paid.
Bar code scanner: A bar code scanner reads an item's product details so you can ring it up. It can also be a quick way to double-check the price, the stock level, and other details.
Common POS software features
POS software is like your command center. At a basic level, it allows you to find items in your library and ring up sales. More robust point-of-sale solutions also feature helpful tools such as sales reporting, customer engagement software, inventory management, and more. POS systems also take care of routing funds to your bank account after each sale.
Some POS solutions, such as Square, include the features below. Other systems may require you to use outside software to get the features you need. Learn more about how Square compares to other POS systems.
Payment processing
Payment processing is one of the core functions of a POS system. Each time a customer buys an item, your POS system processes the transaction.
There are a number of different payment types a POS system might accept:
Cash
Secure online payments through your eCommerce site
Magstripe credit cards, which are cards that you swipe
Chip cards, which are credit cards with an embedded chip
Contactless payments, which might include a contactless card that customers tap or a mobile wallet (e.g., Google Pay or Apple Pay)
Card-not-present transaction, which happens when your customer and their credit card aren't actually in front of you, so you have to manually enter their credit card information. This also occurs when a customers enters their payment details while checking out online.
Inventory management
Inventory management software allows you to keep tabs on all your products. Some automated inventory software can connect with your sales data and let you know when an item is running low.
POS reports
POS reports give you a quick look into how much you're selling and earning. With clear reports, you can sell more and make better business decisions.
Employee management
Team management software lets you know when your employees are working and how they're performing. Your team can also use it to clock in and out, and some types of software can grant permissions so employees can get access to certain tasks.
Customer relationship management (CRM)
A CRM tool that's tied to POS software lets you see what your customers bought and when they bought it. This knowledge helps you personalize your communications, marketing, and customer service.
Receipts
Receipts make processing refunds easier, since there's a digital or paper trail connected to the purchased item. They can also make your business look more polished.
Tipping support
For restaurants and service professionals, tips can be a big part of getting paid. POS solutions that allow customers to add a digital tip during the checkout process, make it more likely that they'll tip.
---
Now that you have a better understanding of POS systems, you're ready to find the right POS solution for your business, no matter what or where you sell.