When you're looking for the best small business point of sale (POS), it's important to understand what sorts of tools you need to run and grow your business. A good POS system for small businesses lets you process every sale securely and has the right software to help you take care of administrative tasks more efficiently.
The kinds of sales you make and the sorts of tasks you need help with depend on your business type. A busy cafe might have different needs than a clothing boutique, and a small business POS system that works for a plumber understandably might not make sense for a fitness studio.
For any small business point of sale, cost (initial as well as ongoing), security, PCI compliance, and usability should be the top factors in choosing the right solution. This article helps you understand what to look for in a POS system so you can make the best decision for your business.
When do you need a POS system?
If you want to accept credit and debit card payments and have a streamlined system for tracking sales, it's probably a good idea to invest in a POS built for small businesses. Even very small businesses benefit from a good POS system.
Unless you have a solid system for recording each sale electronically, it's hard to have an accurate understanding of what you're selling. Basically, the more data you have about your business, the better able you are to make informed decisions.
Plus, having a small business POS system helps your business appear more legitimate, which is especially important if you're just starting out.
Important factors to consider when choosing a POS system
Initial setup cost (time and money)
Payment processing costs (e.g., % of sale + charge per transaction)
Other monthly processing fees (e.g., PCI-compliance fee, chargeback fees)
Equipment costs/rental fees
POS software fees
PCI compliance (i.e., how you process payments, connect your systems, and manage customers' data securely)
Level of mobility
Ability to accept EMV chip cards
Ability to accept NFC payments like Apple Pay, Android Pay, and contactless cards
POS software features (e.g., invoices, ability to store customer data safely, inventory management, customer loyalty programs, appointment management)
How different POS systems compare, like Square vs. Shopify
Benefits of using a POS system for credit card processing and integrations
While you can take card payments using a standard credit card processor, there are a lot of benefits to using a small business point-of-sale (POS) system. For starters, every time you take a payment using a POS, all the data from the sale is tracked and recorded in the system. This is key for inventory management, which a good POS system helps you keep track of.
For example, Square Point of Sale, our POS software, can send you alerts when you're running low on an item, so you can reorder in time. Good POS systems also offer comprehensive sales analytics and data. With Square you can see if you tend to sell more croissants or muffins on Mondays, for example — helpful when you're placing an order with your bakery.
Small business POS systems often offer multilocation management, so you can effectively monitor your business's different branches. However, it's worth noting that some POS solutions charge extra for each additional location, which can be frustrating if you're trying to expand. (Square offers multilocation management free).
Best POS system for retail, eCommerce and inventory management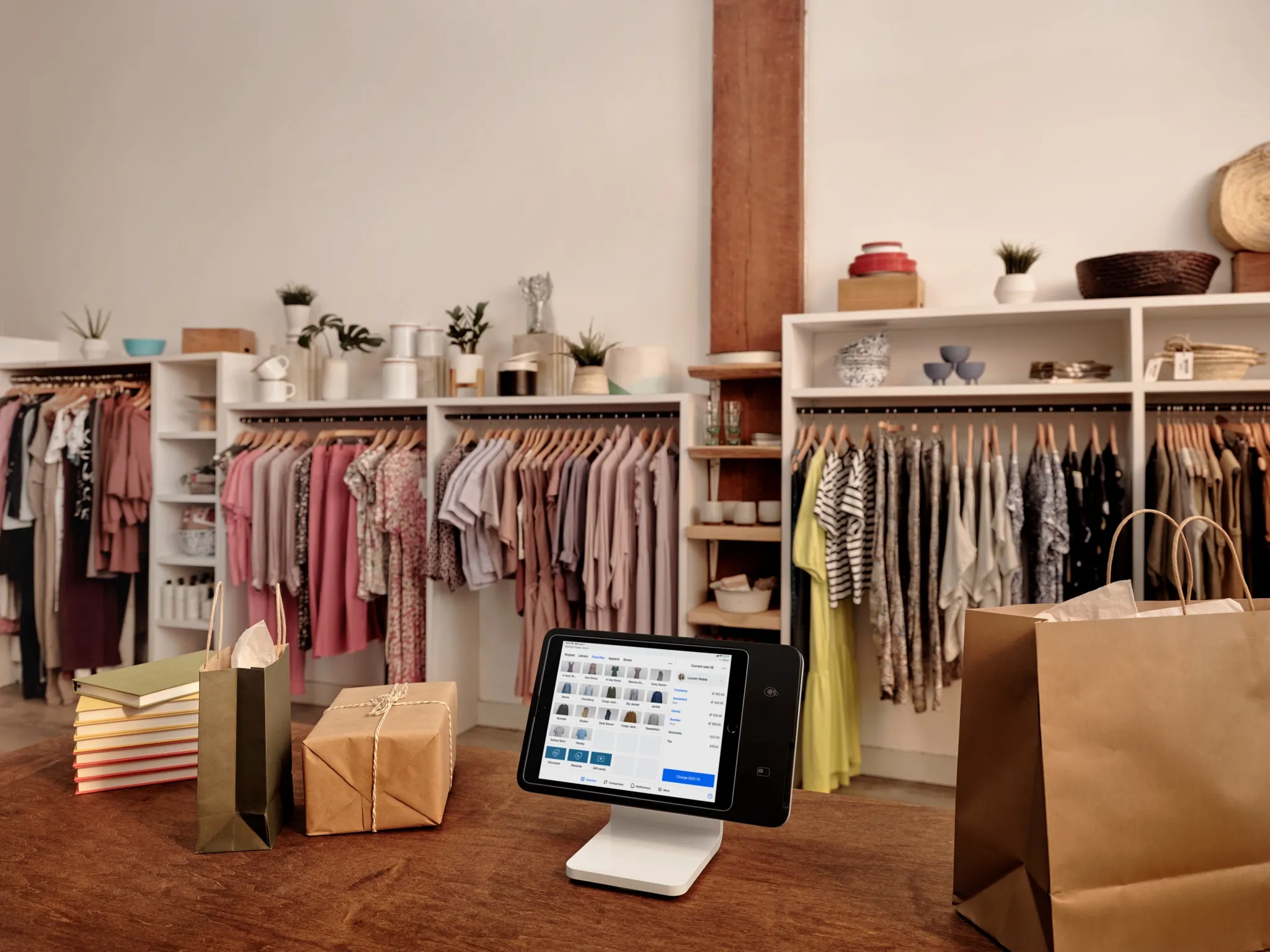 If you own a retail store, you likely need a retail POS system that offers inventory management and can connect to a bar code scanner and receipt printer. Our custom retail point of sale does all this and more.
We also offer easy-to-use email marketing software with effective templates and sample copy to let your customers know about your sales and special promotions.
Selling online? Square's eCommerce tools come with features for payment security, risk management, and cross-product integration. Shoppers can save their payment info for use with future purchases and checkout faster, and an integrated POS keeps your online and in-store orders, items, and inventory in sync.
Best POS system for contractors and home repair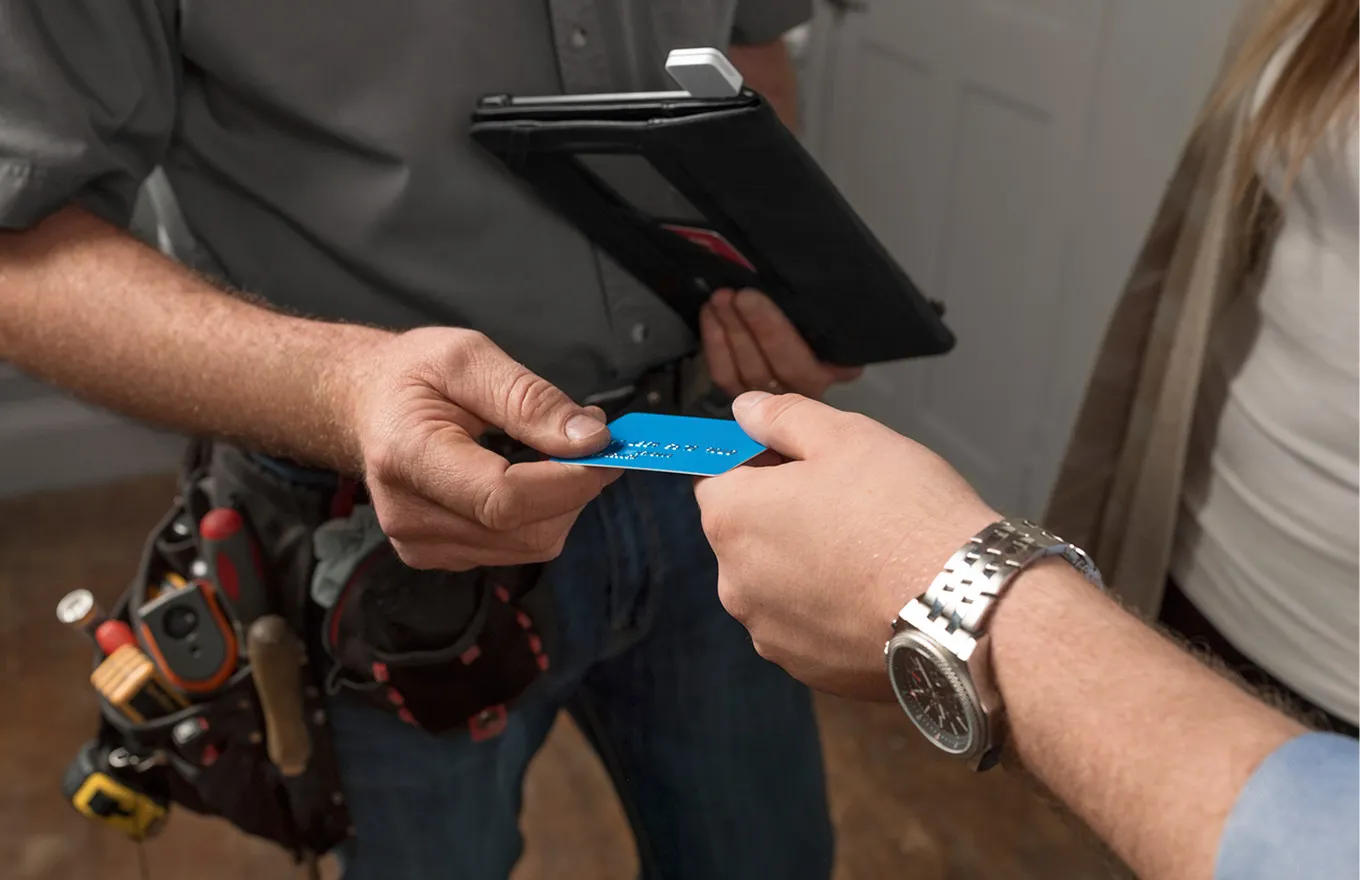 If you run a home and repair business, you need a super-mobile POS system that allows you to easily take secure credit card payments at the job site, even if you're in a remote location without connectivity.
Square's small business POS system is compatible with Square's free magstripe reader, which is small enough to fit in your pocket and plugs into the headset jack of your iOS or Android device. You can accept chip cards and contactless payments and protect your business from the liability shift with Square's contactless and chip reader.
If you're in a spot with no Wi-Fi or phone reception, you can still take card payments with Square's magstripe reader and Offline Mode, so you can get paid wherever your business takes you. Getting ahead of payments long before they're due is a great idea too. Square Contracts lets your customer make a payment or deposit directly through the contract as soon as it is signed.
Want to bill them instead? Square's fully integrated Invoices software is free to use and is great for contract work of all kinds. You pay just 2.9% + 30¢ for each invoice paid securely online.
Best POS system for bars and restaurants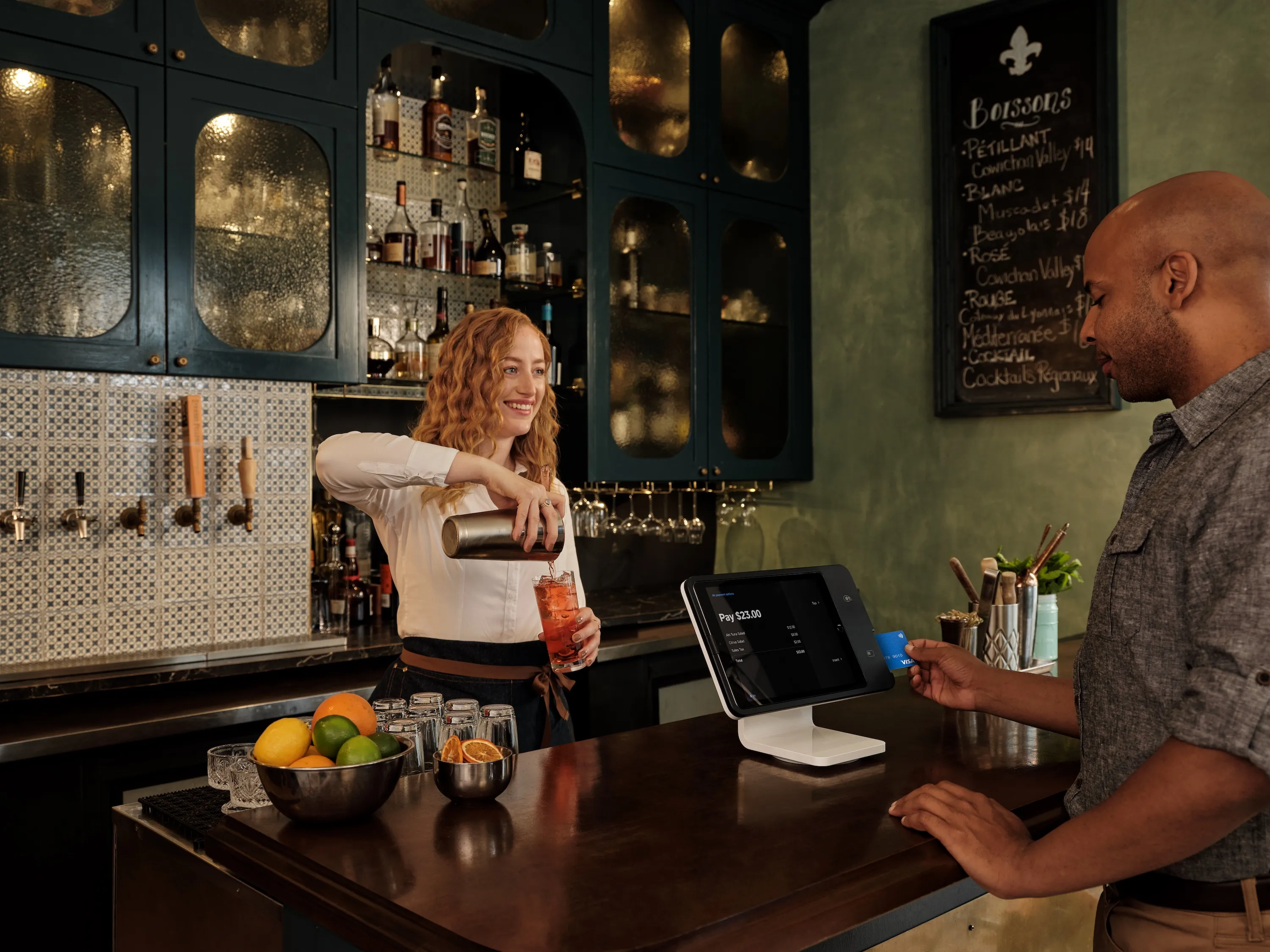 Bars and restaurants are unique beasts and require a number of specialized features in their points of sale. When shopping for a good small business POS system, be sure to look for one that makes it easy to change menu items and communicate with the kitchen or bar with item modifiers and printed kitchen tickets.
Well-designed POS systems for restaurants have the ability to split tickets between diners and keep open tickets for customers who want to settle their tab later on.
With any restaurant or bar POS system, you want to easily reconcile cash sales and keep track of payouts so closing out at the end of the night is a breeze. And don't forget about built-in tipping to keep your staff happy. Square's retaurant POS system does all this, and it syncs easily with great third-party apps like Whisk and Fresh KDS. It's easy to get set up quickly and affordably with our special bar and restaurant hardware kits.
Frequently asked questions about small business POS systems
1. Do I need to pay a monthly fee for POS software or to use a POS system?
Many POS systems are pieced together with each component coming from a different company, each with its own set of fees.
For example, the POS software provider often charges a monthly fee. That scales based on the size of your business and how many sales you process. The hardware, like a credit card machine, could come from a separate company and might have a rental fee, along with an annual contract. Your merchant services provider might charge monthly fees and even a PCI-compliance fee in addition to a transaction rate for each credit or debit card sale.
All this can cost anywhere from $60 a month for the most basic of POS systems to $150+ a month for software with moderate functionality. To put this into context, this would represent an additional 0.36 to 0.9% per transaction for a business with $200,000 of card sales.
But that's not all. There are often extra POS system costs for additional users, advanced reporting, and multilocation management. Some small business POS systems even charge extra for full customer support. And that doesn't even include credit card processing fees (which often have hidden fees of their own).
Square is different. You get a fully integrated, feature-rich point of sale for small businesses, all for one simple payment transaction price. Square's fees are just 2.6% + 10¢ per swipe, chip card dip, or NFC payment. That's it. No hidden fees, long-term contracts, or commitments. We also never charge PCI compliance fees, and there are no POS software fees. Our friendly customer support team are knowledgeable about our products, and you can get answers with our phone and online support center, all free.
Our hardware is affordable, secure, and attractive, so you feel good about giving it pride of place on your countertop.
2. What alternatives to a POS system can I use?
If you feel you don't need a point of sale for your small business, but still want to securely accept credit cards, there are a few other mobile credit card solutions:
Invoices: Square Invoices is an easy way to send invoices to clients through our free POS app, Square Point of Sale. Invoices are always free to send and cost 2.9% plus 30¢ for each invoice paid securely online. If you need to charge a client or customer on an ongoing basis, say a weekly dog-walking service or monthly catering delivery, you can set up recurring invoices. Your customers can even securely store their cards on file so recurring invoices are paid automatically. The cost for Card on File is 3.5% plus 15¢ per invoice. However, invoices aren't suitable for all types of business, and in general could be more appropriate for repeat clients. For one-time clients, it might be better to get payment in person so you're not caught out with a customer who chooses not to pay.
Square Cash for Business: You can get paid instantly for goods and services with Square Cash for Business. Payments are free for your clients to send. It's fast, convenient, and best for occasional payments. However, it doesn't come with the data analytics or other features you get from a small business POS system that can help you run your business. Also it may not appear as professional as invoices or a point of sale. As with invoices, there's always the risk that a customer will decide not to pay, so unless you know your customer, it can be safer for your business to accept payments in person.
3. What's the difference between POS systems and cash registers?
At their most basic level, small business POS systems include credit card payment hardware and a system that sends the funds to your bank account. POS systems can also contain software to help you run and grow your entire business, like detailed sales reports and analytics, marketing tools, customer relationship management, loyalty programs, gift cards, etc.
Cash registers, on the other hand, are simply machines that record sales, give change, and store money. It's important to keep in mind that cash registers don't take credit card payments. You need a separate card processor system for that. Cash registers have basic functions and can do some simple reporting, like telling you how many sales you made that day.
Square's point of sale, for example, can show you which are your busiest times of the day and the week. You can learn which are your best-selling items and what percentage of your customers are new versus returning. All of which are super-useful for making informed decisions about how many employees to schedule for different shifts, which products to stock, and how to focus your marketing energies.
If you choose to run your business with Square's small business POS system, it integrates beautifully with Square's stylish, simple hardware and can easily be connected to a cash drawer.
4. If I buy a POS system, does that make me PCI compliant?
Short answer: not necessarily. PCI compliance requires that you comply with a checklist of requirements designed to ensure sellers and organizations process cardholder data safely and securely to prevent fraud or data breaches. Which is clearly important, but all the requirements can make it seem pretty daunting. When choosing a point of sale for small business, you definitely want to make sure it's PCI compliant.
However, just because your POS software or payment processor is PCI compliant, it doesn't guarantee that you are as a seller. For example, imagine you get a PCI-compliant POS system and card terminal. You might think you're good to go, however, PCI compliance is about your entire payment ecosystem. How secure is your Wi-Fi network? Where do you store customer data? (Hint: Keeping credit card info in a spreadsheet doesn't pass muster.) If your whole payments system doesn't meet PCI-compliance requirements, then you're not actually PCI compliant.
It's especially tricky because PCI rules can change, so with traditional POS systems you might need to manually update the software, payment terminal, Wi-Fi, or other systems in your environment to keep them compliant.
Fortunately, if you use Square as your POS, we've got you covered. Since we provide the whole payments environment, we make PCI compliance simple. Basically, we provide an integrated solution across payments, hardware, software, and customer data. We use end-to-end encryption so your customers' data is safe from the moment the card touches our system. And because we push updates over the cloud, if the PCI checklist changes, you always have the current version and can rest easy knowing you're compliant.
You can learn more about PCI compliance and how Square uses industry-leading PCI standards here.