Table of contents
The success of any business relies on its ability to attract (and keep) customers. Email marketing is a powerful tool that businesses of any size can use to build a customer base and keep them coming back. However, it's important to make sure your campaign is on brand, looks professional, and is designed to meet your objectives. That's where email marketing templates come in.
Email templates can save you time and make the process of sending campaigns a bit easier. We'll break down some common email marketing examples for small businesses and share tips on how to create an email campaign that gets results and keeps your brand's name in your customers' inboxes.
What is email marketing?
Email marketing is the use of email to promote your brand, sell products or services, and offer discounts or sales. Email campaigns can also provide education about your brand or product or can be used to ask for input from your more engaged customers. It's a great opportunity to continue to build a deeper relationship with your customers.
Why email marketing templates are a good idea
Whether you're new to email marketing or a seasoned professional, email marketing templates can be a huge help when it comes to drafting and designing your campaigns. A great template can:
Save you time
Keep you focused on a single goal (purchasing a product, signing up for an event, etc.)
Clearly communicate your message to the reader
Once you have designed and tested a template that works for you, it's a great way to ensure your branding is incorporated into each email you send to your audience. You'll have your aesthetic automatically built into your email marketing templates, allowing you to focus your time on creating quality content and adding a personal touch to each campaign.
How to create email marketing templates
Typically, a strong marketing email has a few standard sections you'll want to include in every template. Let's review some basic elements of these templates that you'll want to be familiar with.
Header image
The header image is the first thing your readers will see when they open the email. This image is right at the top of the template. Do you want to include a full banner image, or will you use this space to show off your logo? Branding up front is certainly important, but be aware that it can give the email a more promotional feel, so use this space wisely in your email marketing strategy.
Headline
The headlines within your email should be short and clear descriptions of the topics directly below them. Headlines allow the reader to easily scan the email, catching their eye on the topics most relevant or interesting to them.
Text block
Since 89% of adults check their email daily, and often while on the go, you don't want to overload your readers with too much content. Text blocks are usually short and bulleted, but longer text can be used in certain instances, such as newsletters. Make your email easy to scan and read, adding more text to the areas or topics that may be more important.
CTA
A call to action, or CTA, is essential in every email you send. Use your CTA to ask your readers to take an action, such as purchasing a product or booking a session. It's a good idea to have a clear call to action at the beginning of the email if you want to entice the reader to take the action before moving on.
Email marketing examples
Depending on your email marketing strategy and goals, there are different types of emails you'll want to send to your online audience. These could be newsletters, sale announcements, event invitations, or promotions for your online store. With each type of email campaign, you'll want to incorporate additional elements as best practices. Let's take a deeper look at some of these email marketing campaign examples.
Newsletter
Newsletters might have longer stretches of text to fill your audience in on a bigger news story. Alternatively, they might have several image + headline + text + CTA sections if your newsletter is going to cover a variety of topics. You can make it easier for the reader to scan a newsletter with those aforementioned, clear headlines.
Let's take a look at the newsletter email marketing example below. You'll see that the headline "Basic steps for a good newsletter" allows the reader to know exactly what to expect without having to read every word. If they're opening this email on the go, a clear and concise headline that is relevant to them will entice the reader to keep this email in their inbox and read more later.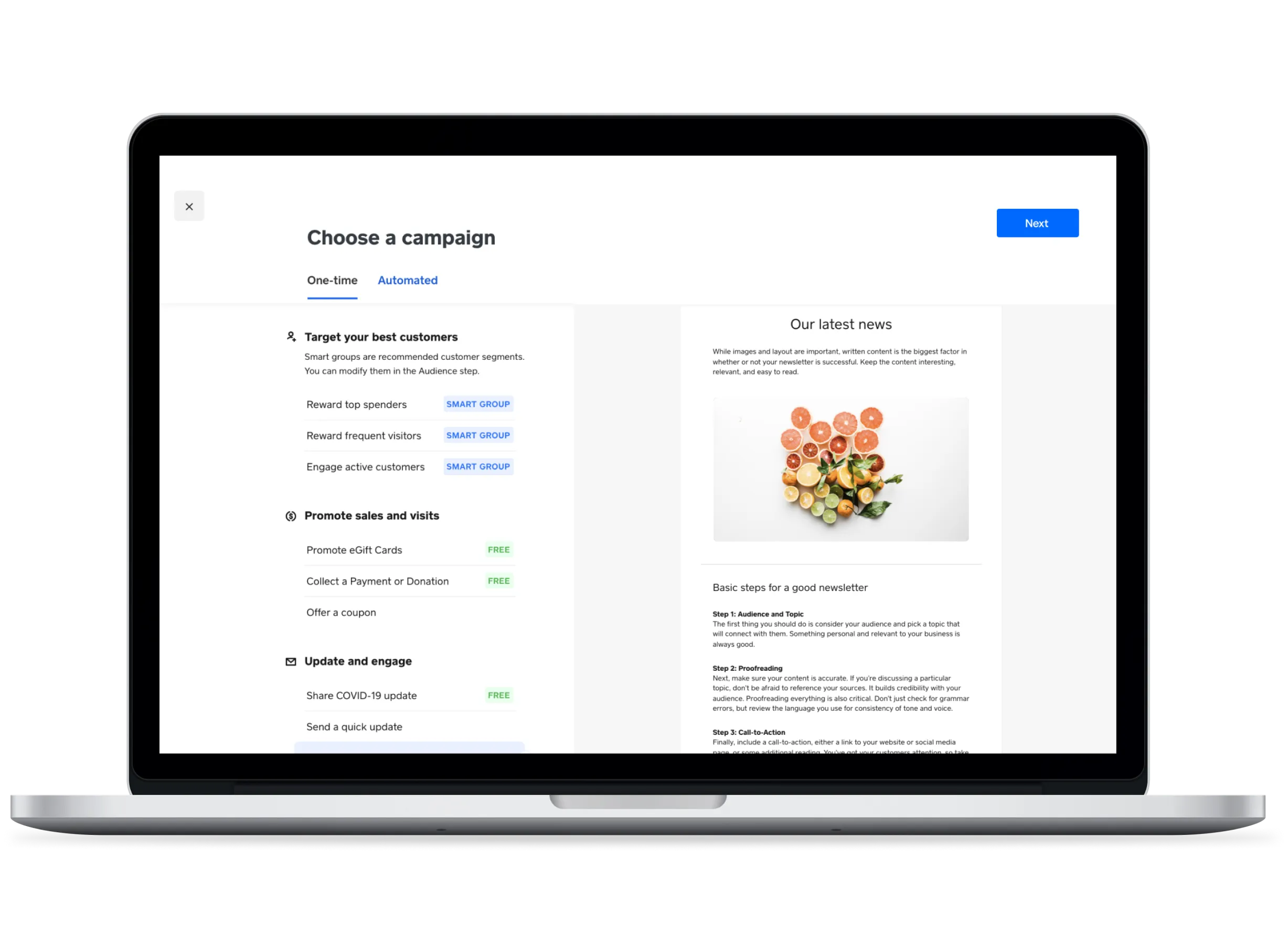 Launch a new product
When announcing a new product to your customers through an email campaign, you can build excitement for the product with lots of bold and bright imagery. Be sure to use images that are eye-catching right at the top of the email template.
In the product launch email marketing example below, you'll see that minimal copy is placed at the top of the template so as not to distract from the large, bold image following the text block.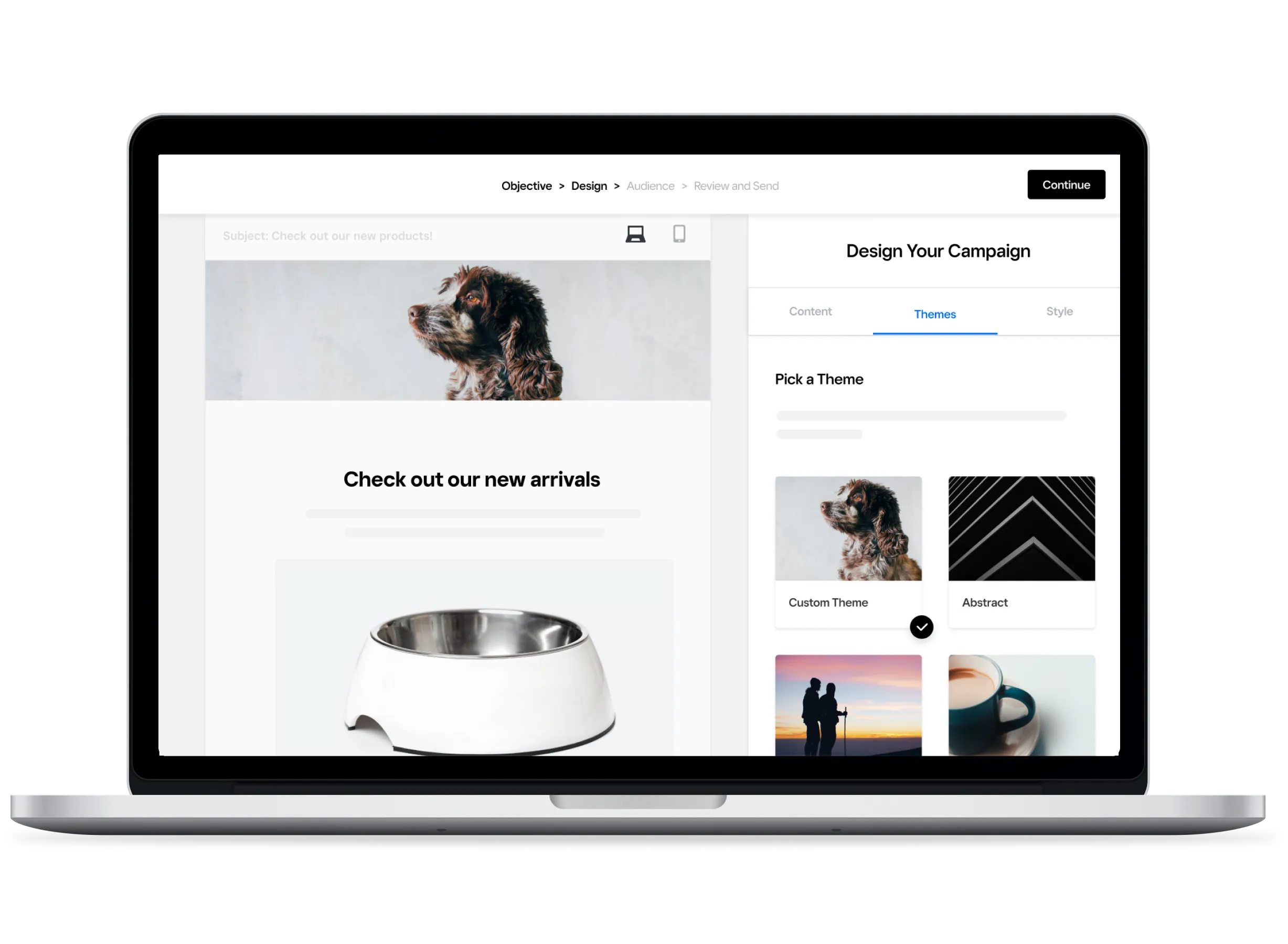 Sell products
For large and small businesses alike, email marketing can be a powerful tool for increasing sales. You can send updates about which products are selling best or running low on inventory. Or get creative by curating mini collections based on the time of year, like holiday gift ideas or seasonal favorites. 
With Square Marketing, it's easy to embed specific products you want to sell directly within your email template. Use the "item" element in Square Marketing to display each product and link to where customers can purchase. And since Square Marketing connects to your point of sale, you'll be able to track purchases to understand which campaigns are driving results. 
Drive online orders
Templates that are built with the goal of driving online orders usually have a prominent "order online" call to action that goes right to your online menu and/or ordering site. These templates can be short and sweet, giving them the sole task of visiting your online site.
As you can see in the online order email example below, the template uses a vivid, eye-catching banner image, a clear headline and description, and a CTA directing the reader to order online.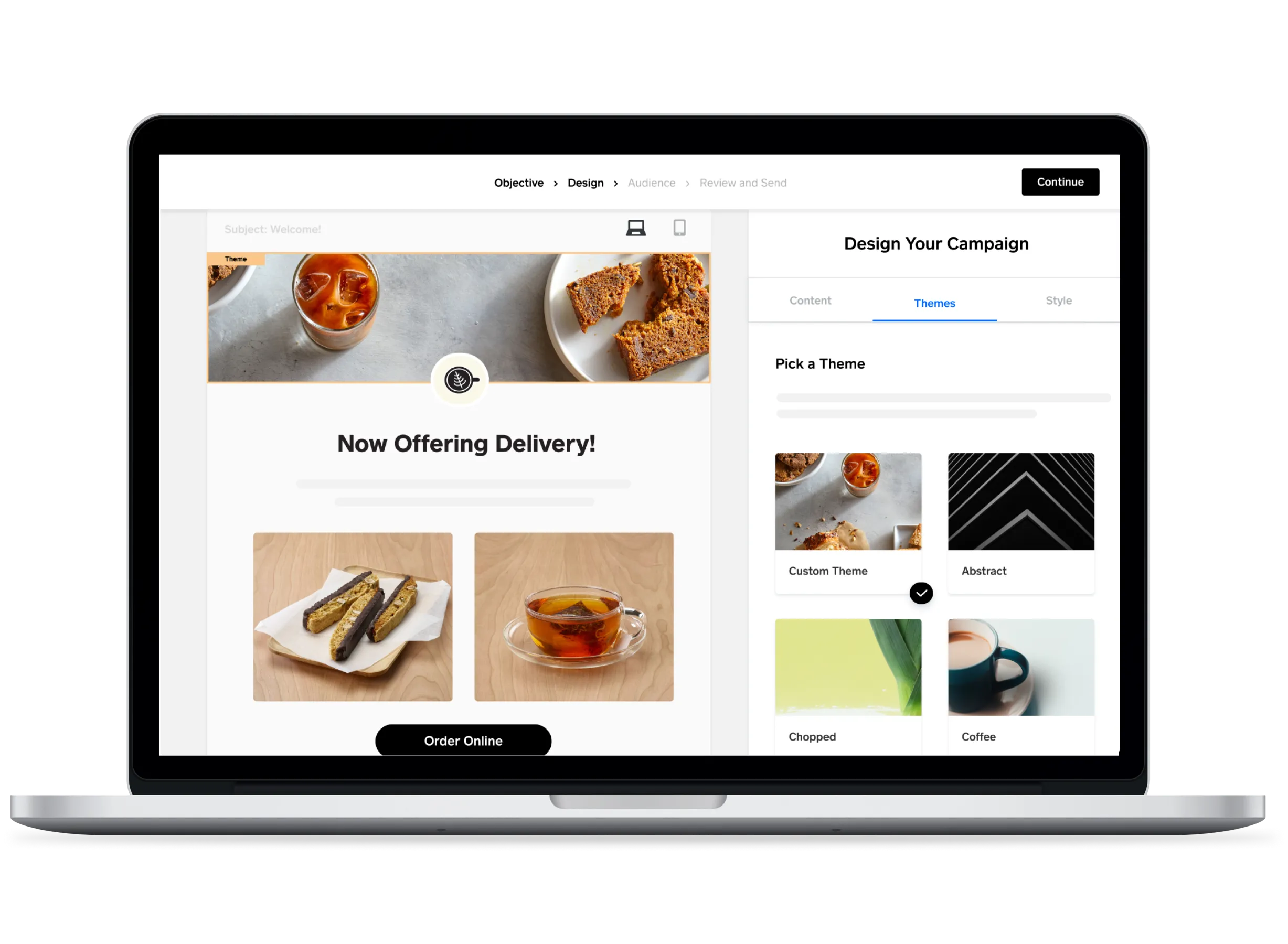 Sell gift cards
If your business has a goal of selling more gift cards during a slow time of year or the holidays, using a campaign template that makes gift cards available for purchase in the body of the email will increase the chance of more sales.
Digital gift cards are a great way to make it easier for your customers to send them to their friends or family and increase the chance that they'll purchase. Use the "eGift Card" element to embed the gift card purchase option, as seen in the gift card template example below, and save your reader time with a one-click gift solution.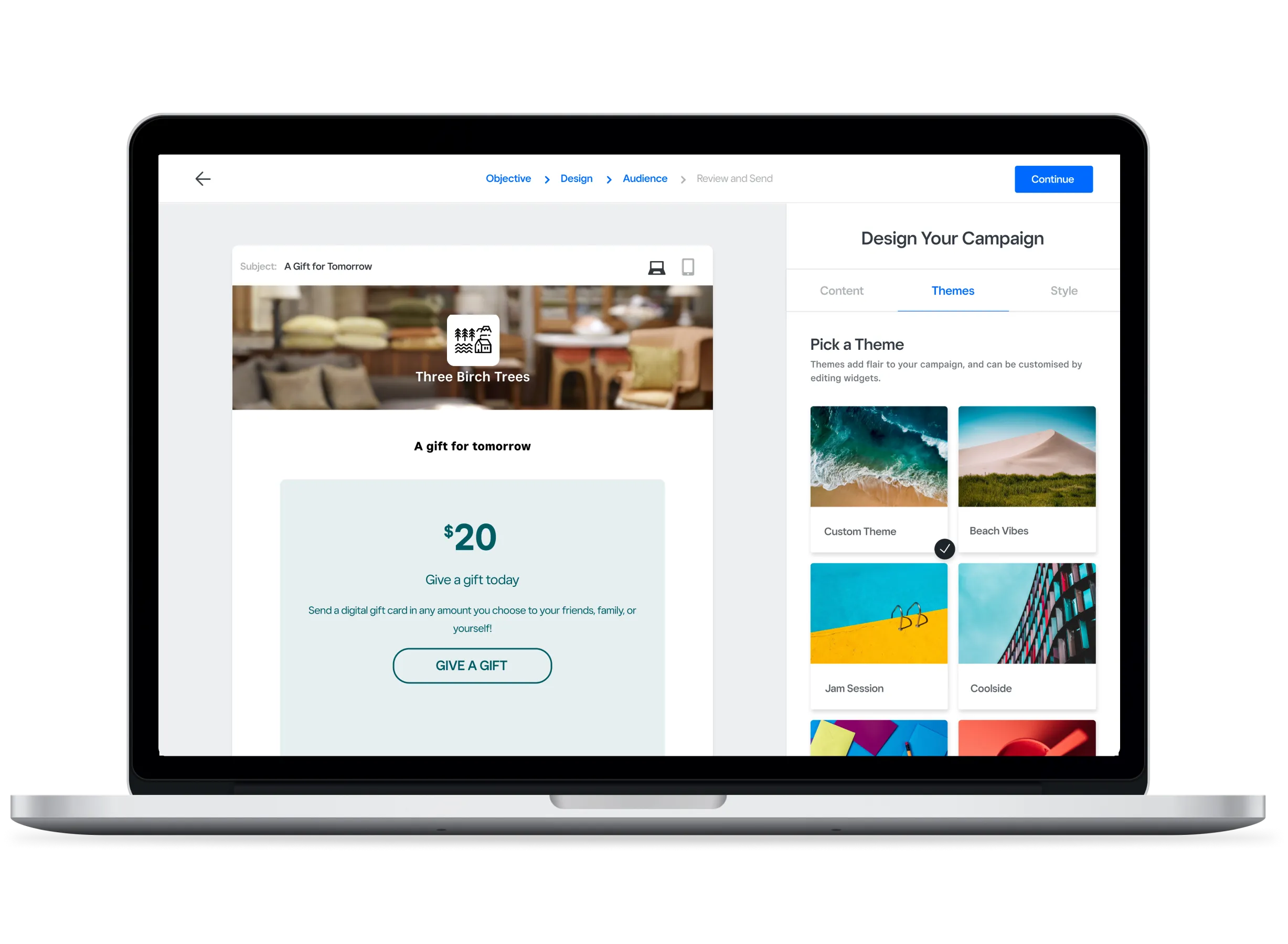 Square Marketing email templates make it fast and simple to launch email campaigns. By customizing flexible templates with your brand assets, you can build a professional-looking inbox experience that drives results.