Table of contents
Small business owners and staff can thrive in providing personalized customer experiences, knowing their regulars by name, and creating a deep relationship with each of their clients. That personalized level of customer service is what can help a business grow. Once it does, how can you maintain that personal touch with an increasing audience?
Customer segmentation can help you and your staff continue to foster a culture of individualized engagement while saving you time in your targeted marketing strategy.
What is customer segmentation?
Customer segmentation is a way to separate your audience into groups according to traits or factors such as gender, age, behavior, or similar interests. By creating groups of similar contacts from your audience, you're able to target your marketing efforts to each group in a more personalized way that they will find engaging.
Why should my business have a customer segmentation strategy?
By segmenting your customers into buyer personas and specific interests, your marketing efforts can go further. Customer segmentation not only creates a more personalized experience for those in your audience, it also saves your business time and can increase your profits. 
No two customers are exactly the same. We all have preferences, interests, and circumstances that differ from the next person. Developing a segmented customer targeting strategy will help you address the unique needs of your audience and increase the relevance of your marketing efforts. This is especially true for email marketing where you can personalize each campaign to feel like it was meant for just that one person, even if you sent that email to multiple contacts.
Imagine sending a special promo code only to customers who haven't made a purchase in the last 30 days to incentivize them to come back, or sending an email about the newest product that you know your regulars are going to love, instead of sending generic emails to your entire audience. Don't give them a reason to potentially delete your email — or worse, unsubscribe — if the topic isn't of interest to them. Make sure your time is used wisely and define your target audience to execute a strong, personalized marketing strategy.
Customer segmentation examples
When creating your targeted marketing lists or groups, there are several different customer traits or factor sets you can focus on. Some of the most widely used customer segmentation examples are:
Demographic
Demographics are statistical data groups of a population. It can include gender, age, and marital status.
Geographic
Geographic segmentation has to do with your customer's location, like city, state, or country.
Behavioral
Behavioral traits of your customers can help you determine how specific customers interact with your brand. This includes their purchasing habits, the ways they use your product, and the frequency of their appointments.
Value
The value each customer has on your business can be calculated, and that data can also be used to segment targeted audiences. Evaluate your customers and understand the revenue each generates for your business.
Needs-based
You can identify customers based on their emotional or rational needs to make a more realistic prediction of their buying behaviors. For example, certain customers will have products or services that they just can't do without and won't make substitutions for. Factor this in when filtering and segmenting your customer's needs.
Psychographic
Psychographic segmentation focuses on the cognitive factors that inspire your customers' purchasing behaviors. This segmentation is more personal, focusing on their interests.
How to use customer segments to grow your business
Now that you know the customer segmentation definition and some examples of segmented audiences, it's time to start using customer targeting in your marketing strategy. Square Directory's filters and groups can help. Here are some ideas to get you started: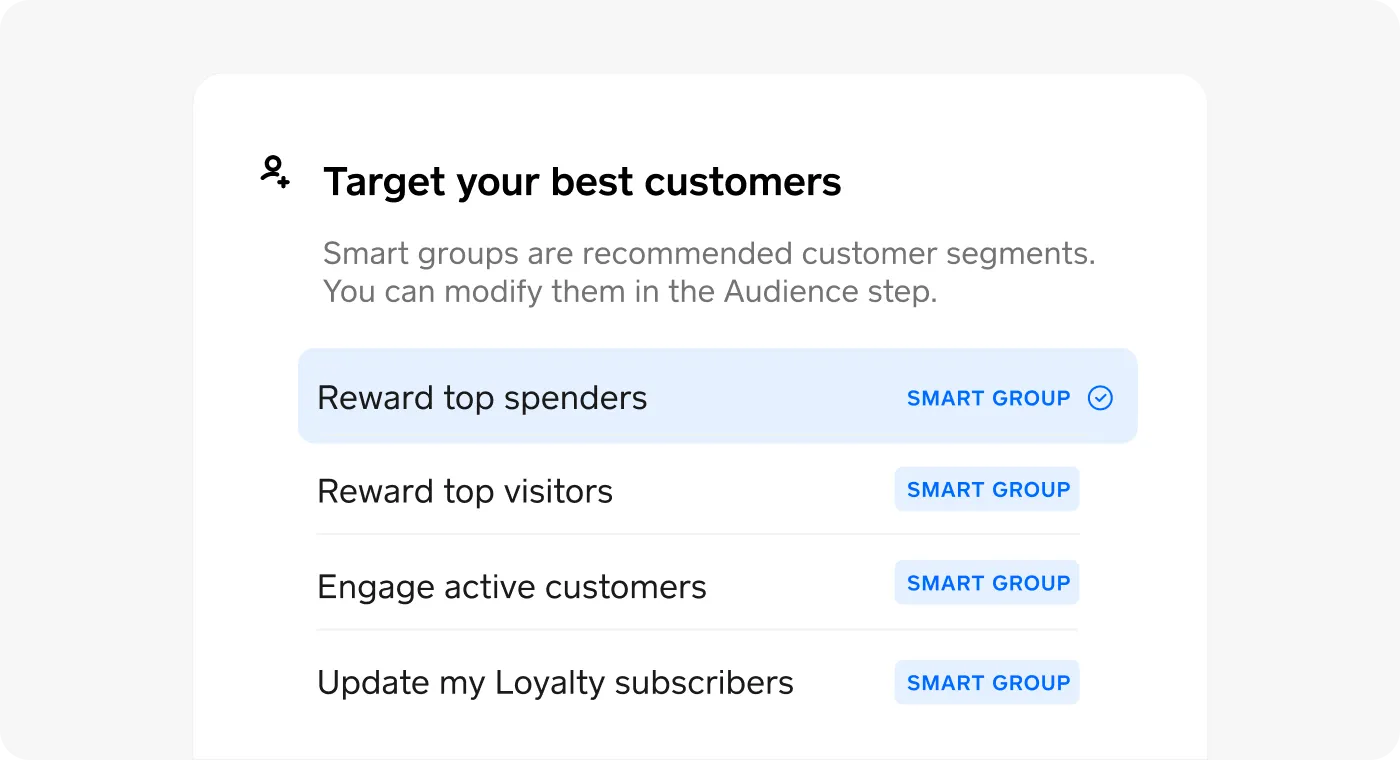 Know your regulars
Segmenting your customers based on how often they visit your business can be a good way to build brand loyalty, send updates about your business, ask for referrals, and more.
Your regulars are going to be your best option for word-of-mouth advertising, so target them with information that makes them feel unique and like they're part of your business. This could include inviting them to exclusive events or setting them up with a loyalty program.
Bring back lapsed customers
Identify customers who haven't visited your business in a while and get them to reengage with a discount or promotion. Remind them why they started shopping at your business in the first place.
Engage category buyers
Segment customers according to the type of products or service they have recently purchased. For example, a retailer might create a segment for buyers who have purchased men's shoes to announce a new shoe line. A restaurant might segment customers who only buy lunch items to encourage them to visit during dinner as well.
Launch a new location
Group customers who visit one location and let them know about another location or storefront opening nearby. Since you know these customers are already loyal to your brand, they can help kickstart the foot traffic in your new location.
Interview customers who had a negative experience
You've heard of the term "constructive criticism," right? It's time to use that criticism to your benefit. Segment the customers who have left negative feedback about your business so you can reach out to understand more about their experience and how you can improve your product or service.
Customer segmentation will help you maintain a personal touch with your customers as your business grows. Keep these tips in mind as you plan your next campaign.