Table of contents
This article is for educational purposes and does not constitute legal, employment, or tax advice. For specific advice applicable to your business, please contact a professional.
A 2021 Credit Karma survey found that 44% of Americans have used a buy now, pay later service. A wide range of products and services can be purchased through buy now, pay later. This same survey reported home and furniture goods as the top spending category, followed by electronics, apparel, and auto spend. 
For businesses, offering buy now, pay later options are ways to facilitate transactions for your customers. They receive immediate access to their purchase with the flexibility of paying over time. Customers may also feel more comfortable making payments over time for a high-ticket item such as apparel or furniture. Offering a new payment method such as buy now, pay later may increase your sales and your customers. The onset of COVID-19 also created financial uncertainty for some customers, and a buy now, pay later option can be a way for them to better budget and manage money.
Offering buy now, pay later in person
Tattoo studio Artful Ink opened its doors in 1999. In 2018, co-founder Kiara Musca made the move to Perth from Bali, where she had been establishing the tattoo shop's presence. With no credit rating from years living abroad, she slowly built her business by establishing a way to process payments, a website, payroll software, and appointment scheduling, all through Square. Today, the tattoo business has locations in Perth, Bali, Margs, and as of 2021, Mount Lawley. The studio has a range of tattoo artists, resident artists that are mainstays across each location, junior artists, and guest artists. Prospective customers can book artists directly through the shop's sites and choose the service they are interested in. While the business operates seamlessly across locations, they are backed by separate bank accounts, making sure there is always money set aside weekly for bills and wages that are not accidentally spent.
From early on the business had an online presence to complement its in-person tattooing services. "We've always been online from a booking point of view. All of them — we've been online through Facebook, Instagram. When COVID hit we went online with our calendar as well. Prior to COVID, we didn't do that," said Musca. "The backlog from COVID is still present, we're currently at a three-to-four month's [booking] wait." Stringent COVID safety guidelines in Western Australia boosted their business, as locals who could not travel turned to tattoos as a way to express themselves. 
Musca says her younger clientele often leverage Afterpay as a way to pay for tattoos. "A lot of the younger clients use Afterpay, people between the ages of 18 and 24. Tattoos are on the pricier side," and she adds that tattoos in her shop can quickly add up to $400. Of her clientele, she estimates that most tap to make payments, many use Afterpay, and about 5% still transact with cash. One of the reasons this payment method is used for her business is due to its widespread adoption. "Everybody knows what Afterpay is, everybody has Afterpay," said Musca. 
Answering customer questions about buy now, pay later
This new payment method is piquing customers' curiosity who are increasingly testing this new way to transact. Offering buy now, pay later or BNPL not only gives your customers more payment options, it may also positively impact your bottom line. RBC Capital Markets estimates this option increases retail conversion rates 20% to 30% and lifts the average ticket size between 40% and 50%. The firm points to the ease and efficiency of apps more broadly as a reason consumers are adapting to new, more contactless and frictionless technology such as buy now, pay later.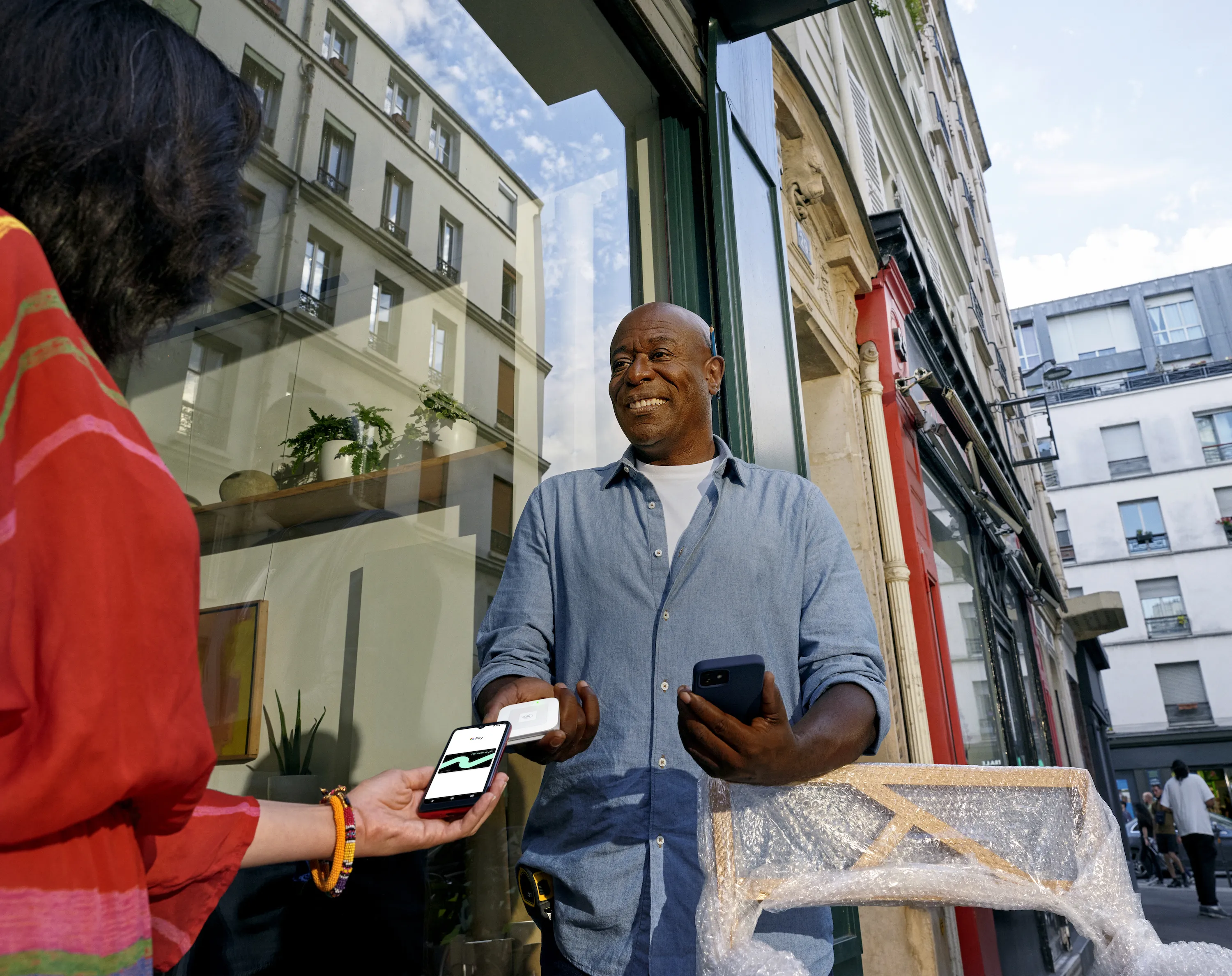 For small businesses offering buy now, pay later as a payment option for the first time, customers may have questions. Below are a few common questions you may receive from customers and some added information you can share about Afterpay and Square or buy now, pay later services more broadly. 
Customer question: How does buy now, pay later work?
Answer: Buy now, pay later, is a payment option where a customer pays for a purchase over time in installments. Afterpay, a buy now, pay later product, is now integrated with Square Online and in person. If you are a business owner using Square, your customers can pay in four interest-free* installments over six weeks with no fees when they pay on time while you get the full amount immediately.
Customer question: Do I qualify to use buy now, pay later?
Answer: Requirements to use buy now, pay later services do vary by provider. Afterpay customers must reside within one of the 50 states or the District of Columbia. They must also be 18 years old, capable of entering into a legally binding contract, have a valid and verifiable email address and mobile number, and provide a valid delivery address in the U.S.
Customer question: Are there fees associated with buy now, pay later?
Answer: Customers can pay using Afterpay in four installments over six weeks. This service is free with no fees when you pay on time. Fees may be incurred if your payments are delayed.
Customer question: Will you get paid on time? (as the shop owner)
Answer: Yes, I am paid the full amount at the time of purchase minus the transaction fee on the order. There are no processing fees charged on the remaining installments, and no other monthly fees or activation costs. 
Customer question: Could missing a payment affect my credit score?
Answer: Afterpay doesn't require external credit checks or application fees from your customers to qualify, so signing up won't hurt their credit score. However, missing or late payments, much like missing a credit card payment, could negatively affect their credit scores. If your customer misses a payment, they should contact Afterpay directly for more information.
Customer question: Where can customers make purchases using Afterpay?
Answer: Afterpay is available for purchases made on your website and in-store. Customers are pre-approved to spend. Please note, pre-approval is not a guarantee of approval at the time of purchase.