Table of contents
Whether you're looking to increase your average ticket size, improve customer loyalty, or just get out of a sales slump, gift cards are a great way to achieve your goals.
But what if you don't have physical gift cards for your customers and you need something in a pinch?
There are a couple of options: You can go digital and offer our eGift Cards or, if you want something physical, you can try our free gift certificate templates. They're easy to download and print, so you can get selling right away.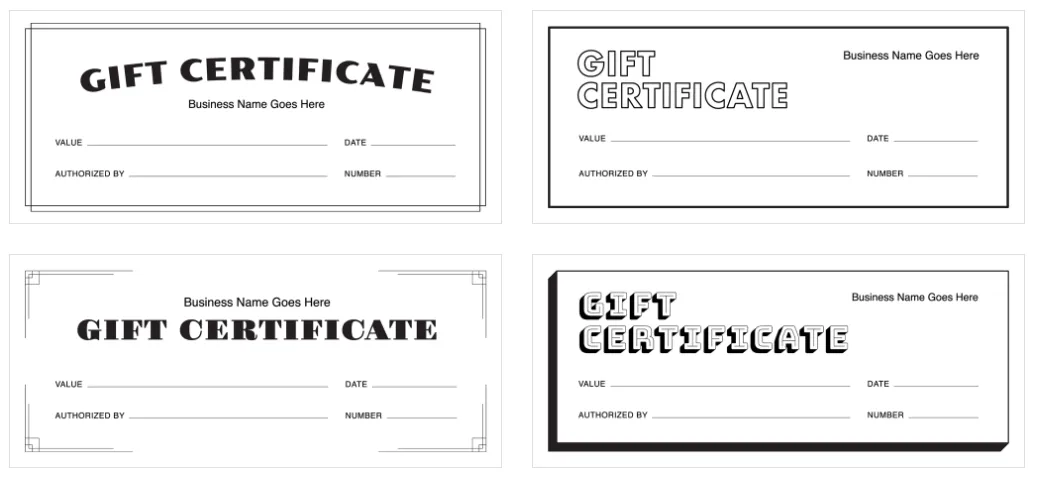 Why use a printed gift certificate?
Like plastic gift cards, gift certificates turn your customers into brand promoters, since they're passing along a piece of your business to someone new (or someone that already loves you).
They also make it easy for shoppers to quickly find a gift they know the recipient will love.
(Pro tip: If you download our printable gift certificates, make sure you print them on nice stock to give them an elevated, polished, and professional feel.)
Things to consider when you use gift certificates
Unfortunately, gift certificates aren't a perfect solution. You can't track spending on gift certificates (unlike physical gift cards or eGift cards), and a gift certificate can't be reloaded if your customer would like to reuse it. And if customers don't use the full gift certificate amount, you may have to issue them cash back, depending on your state. Make sure to familiarize yourself with any gift certificate rules and regulations that may apply in your state.
Also gift certificates can be copied easily by scammers. To lessen the risk of this, you need to implement a detailed process for issuing gift certificates. Here are a few suggestions you may consider:
Use a watermark stamp and stock when you print the certificate, so it's harder to duplicate.
Record the purchaser's info in a log after each purchase.
Log an invoice number (with a unique numbering system) for each certificate purchased.
Keep gift certificates behind the counter, out of reach of scammers.
Gift cards vs. gift certificates
If the drawbacks of gift certificates give you pause, there are other options (as we've already mentioned): physical or digital gift cards.
Both options allow you to more easily track usage over time. And if you use Square Gift Cards, which work with Square Point of Sale, sales and usage of gift cards show up in your reporting on Square Dashboard.
Having gift cards work with your POS also makes it very simple to sell, redeem, track, and reload them. In fact, redeeming a gift card is really just like using any other form of payment, which means a seamless experience for your customers.
Here's a look at what you get from Square Gift Cards versus gift certificates: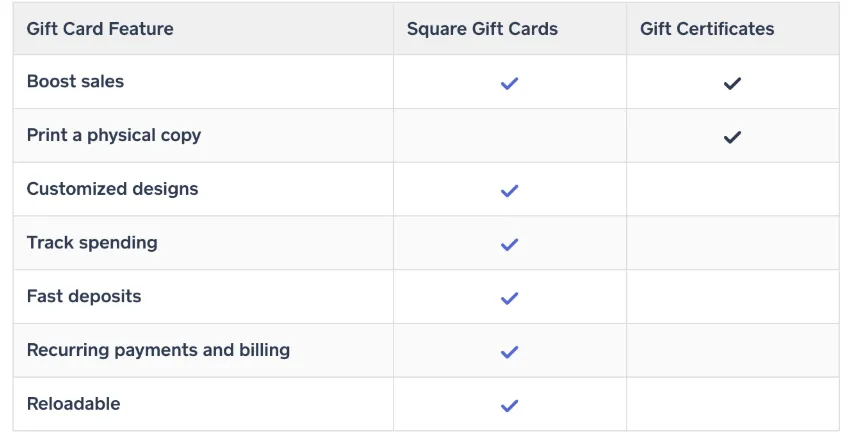 Promoting gift cards and certificates
Whatever the form, you need to market your gift cards to ensure customers buy them. From co-ops with local businesses to a brand-specific gift guide with your hand-picked favorites, there are a number of creative ways to promote your gift cards. Here are some of our favorite strategies to help you get started.