Table of contents
Instagram is one of the best platforms to engage with prospective customers on social media. Worldwide, in 2021, eMarketer estimates that 1.074 billion people are on Instagram. Given the audience size, it's no question that having a strong presence on the platform can help boost your brand. The good news is that people are looking for brands they love: 80% of Instagram users follow at least one brand, and 60% say they've discovered a product through the platform, according to Instagram.
With Instagram shoppable posts, you can sell products directly from shoppers' feeds. Users can browse, buy, and check out without leaving the app. People come to Instagram for inspiration, and selling on the platform allows you to share photos that showcase how your products are used in real life, creating the optimal selling environment.
If you're looking to extend your brand reach and increase online sales, connect your Square Online product library to your Instagram account to make your posts shoppable and turn your followers into buyers.
If you don't have Square Online, you can accept online payment for an item on Instagram with Square Online Checkout. Square Online Checkout generates a simple online checkout link or button. Just create a link with your item name and a price, and you can share the link in your Instagram bio or in an Instagram post. Learn how to get started with Square Online Checkout.
Getting started with shoppable posts
Learning how to use Instagram to create shoppable posts is easy and takes only a few steps, but there are some requirements that must be met first:
You must have an Instagram Business account. You can convert your personal account in the Instagram app settings.
You must be located in an area where Shopping on Instagram is available. You can check availability in this Instagram help guide.
Your Instagram account must be approved before you can use Shopping on Instagram. You'll be able to request a review in the final setup step.
You will need to connect to Facebook Business Extension first. Doing this imports your products to a catalog that you can access when creating posts on Instagram.
Your website must be published and you must have at least one available product in your online store.
When you're ready, go to "Sales Channels" within your Square Online dashboard and click on "Facebook Shops." Click on "Connect Facebook Account" and continue on to Facebook.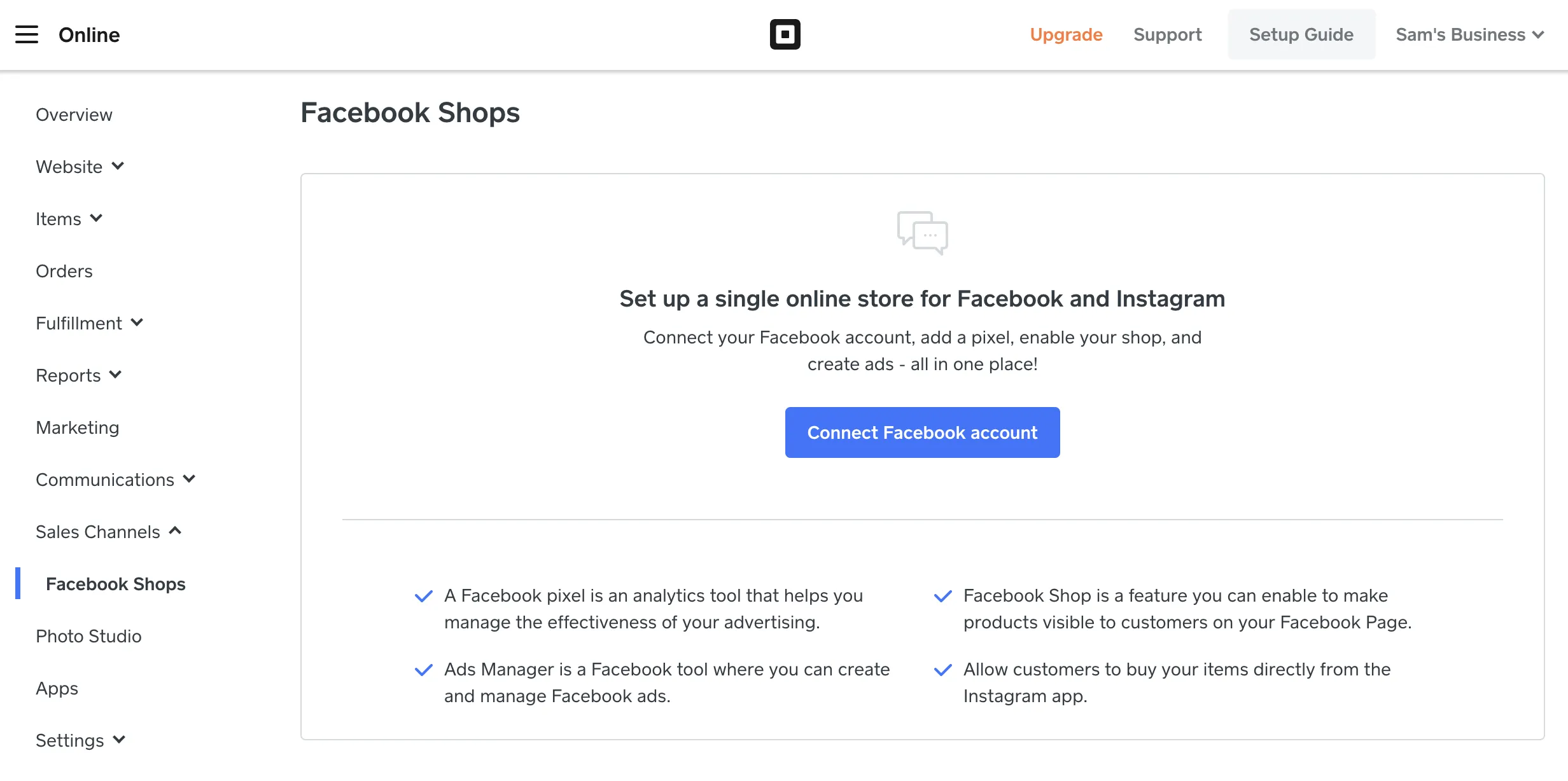 Next, follow the instructions to enable Instagram Shopping. You'll be guided through the process of connecting your Facebook Page and Instagram account, connecting or creating a catalog, connecting or creating a Facebook Pixel, and linking your Square account. You can also enable Facebook Ads and Facebook Shops in this flow if you choose.
After you've followed these steps, your account will be submitted to Facebook for review to make sure it meets their commerce guidelines.
Once Instagram reviews and approves your catalog and account for shopping posts, you can start tagging your posts with products from your online store.
How to add product tags to an Instagram post
To begin, create a new standard Instagram post or open an existing one. Instagram product tagging allows for up to five products per image or video and up to 20 products in a multi-image post, but less is more. Overwhelming a photo with too many tags can cause confusion, making it less likely a shopper will select a product. Tap Tag Products from the share screen, select the product from the catalogue, and place the tag near the product in the image. Then, share your post.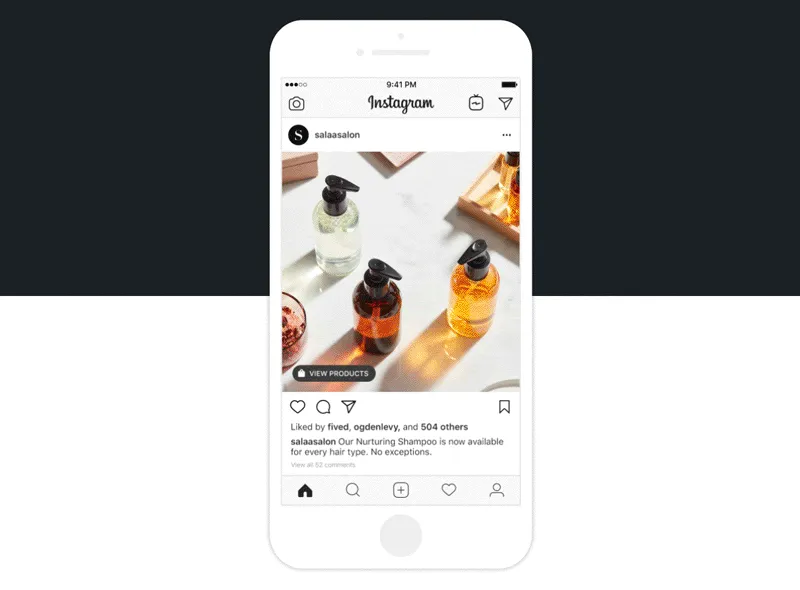 Instagram users can identify a post as being shoppable by viewing the shopping bag icon. When a user hovers over a product, a tag and price appear. To purchase, the user clicks through to the product page. Don't stop there; once you complete nine shoppable posts, your Instagram shop account also gets a Shop feed added to your profile, where customers have direct access to your products.
How to sell on Instagram with shoppable posts
Once your account is set up, focus your attention on making sales, but be selective about which Instagram posts you tag. Customers want to build relationships with brands through social media, not feel like they're being bombarded with advertisements. Remember, shoppable posts should be one part of your overall content strategy on Instagram.
Ensure your shoppable posts fit the brand and aesthetic of other posts you share. When a prospective customer visits your profile page, you don't want certain posts to look inconsistent with the others. Instagram is a visual platform and posts should be authentic. While filters can enhance images, you want to be sure your products are accurately displayed, creating correct expectations for buyers and ultimately avoiding returns.
User-generated content
Next, consider layering user-generated content into your social media marketing strategy. Consumers consider user-generated posts 76% more trustworthy than branded advertising, according to Adweek. Repost photos your customers have shared and tagged your brand in, adding tags to make them shoppable. Of course, ask permission to repost the photo and give the customer credit in the post.
You can also boost your Instagram shoppable post sales strategy by collaborating on an influencer post. Getting an influencer to talk about your products and share them with the right audience is a powerful stamp of approval that can drive sales.
Instagram hashtags
Finally, don't forget hashtags. Posts that include at least one hashtag get 12.6% more engagement than those without, according to Sprout Social. You can use up to 30 hashtags on your Instagram post, but the optimal number is 11. Include a branded hashtag on all your posts, such as the name of your business, so that shoppers can search for and find your business. Consider relevant hashtags shoppers might use to search for your products, and research competitors to stay up to date on trends.
Shoppable post performance
Monitor which types of posts generate the most sales. Keep track of impressions, which is how many people saw your posts, and engagement, which is how often your posts are liked, commented on, or shared. This information helps you identify the posts your customers want so you can reinvest your time in what's working.
Shoppable Instagram posts offer a visual, dynamic method for driving engagement and sales. According to YOTPO, at least 30% of consumers have made a purchase as a direct result of an Instagram post. Shoppable posts can become an important part of your social media marketing strategy.