Photographer, storyteller, and social media star Branden Harvey is on a mission to help surface the good in the world. And with hundreds of thousands of people following his uplifting content across Instagram, Snapchat, Twitter, and Facebook, he's definitely doing his part.
Branden's influence is so strong that he's been hired by brands like UNICEF, PetSmart, and charity: water to help bring their storytelling to life. He was also one of the social media influencers asked to chronicle the Pope's first stateside visit. And this year, he's nominated for a Shorty Award in the Snapchatter of the Year category.
Needless to say, Branden (who takes payments with Square for his photography business) is an expert in growing meaningful communities on social media. We caught up with him to get some tips and advice for how to use social media for your busines
What's your advice for businesses that are getting started on social media?
Harvey: First, have an inherent idea of what you're all about, and what you want to communicate about yourself to the world. You can't translate things to social that aren't part of your culture. The best thing you can do is focus on building relationships and people's trust. If you do that, enough people will want to buy what you are selling them — and be a part of what you are doing.
Tactically, how would you start out?
Jump on Instagram. Start sharing things not just about your brand or store, but that are similar to your brand or store. Think about adding value to people's everyday lives. Offer advice, share stories, or post beautiful images. A coffee shop might share photos of cuppings, for example. It's about identifying the audience you're talking to and then creating stuff those people are going to be thrilled about.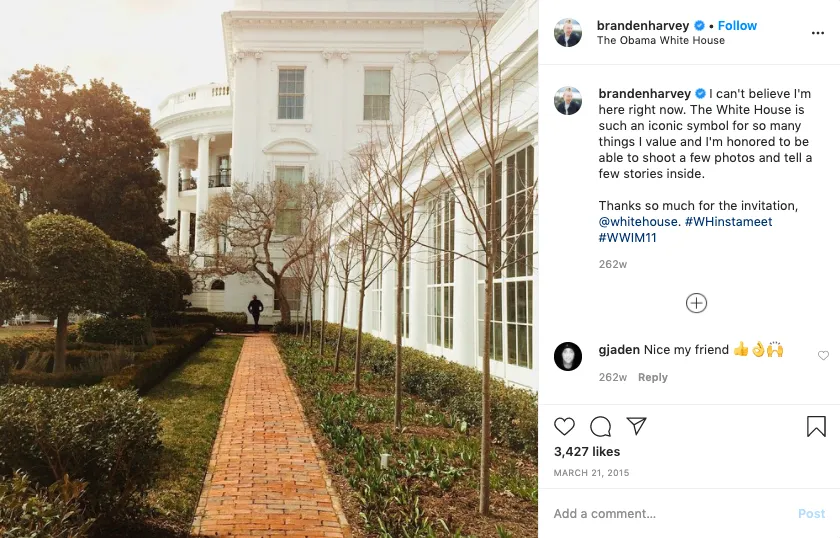 What's the key to Snapchat?
Snapchat is all about authenticity — embracing the mistakes and the imperfections. If you don't deal well with that, it's probably not the platform for you. "Behind-the-scenes" type content is great. On Instagram, I might post beautiful photos of a hike. On Snapchat, I might share the fun behind-the-scenes adventure that went into the hike, sweaty selfies and all. (Check out Branden's Snapchat stories here).
Do you have tactical pointers for small businesses that are just starting out on Snapchat?
The thing about Snapchat is that even if you post something amazing, nobody will ever see it after 24 hours. So it's important to launch with a bang. You might think about doing some PR moves around your Snapchat debut, or partnering with an influencer like me who already has a big audience within your space. Then they can drive people to your account. When you're up and running, try to do a bunch of video-based stuff. You can use the drawing tools on Snapchat to make incredible things. I would definitely encourage brands to look at that. Also, have someone with a great personality. A funny, engaging person doing video is an effective way to use Snapchat.
How often do you advise posting?
My goal is to post on Instagram once a day and Snapchat once a day, every day. It's about being consistent.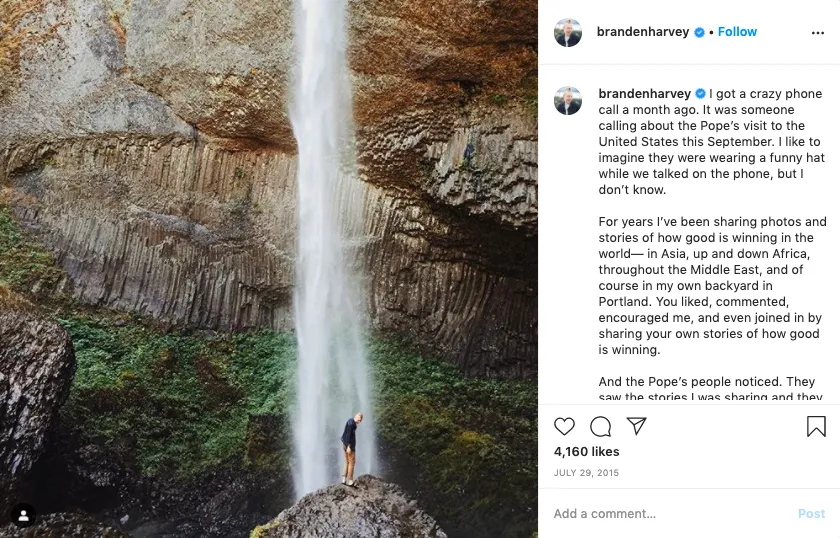 What are some examples of brands you think are doing social media particularly well?
This coffee shop in Nashville called Crema Coffee is great. Once I tweeted, "hey Crema, you have the best customer service," and they responded saying something like "we all think your hair is the best." It was so cool and nice — and now I feel like I have a more personal relationship with them. As for larger brands, I think Everlane and charity: water are doing a great job. They know what kinds of posts will bring their community together.
How do you foster that sense of community with your social audience?
Social media is for building relationships and connecting with people. Personally, I try to respond to as many comments and replies on my posts as possible. Always look for ways to celebrate your customers. At our core, all we want is to know others and be known. If a brand can do that in a personal way, that's awesome.