Your customers are talking to you across multiple online channels, and the volume has only increased in 2021. From texting a chatbot while booking an appointment to sharing payment links, many elements of your customer journey are now completely digital.
Online interactions are more frequent these days, so it's important to deliver an exceptional customer experience through the digital channels your customers use the most. And for many people, those channels are text and email.
Research from Twilio found that nine out of 10 consumers want to message businesses directly, with 85% craving a two-way conversation instead of just receiving information.
Your digital customer interactions may sometimes feel automated or impersonal, but you can still humanize the experience and stay approachable through text and email. Here's how to do it.
Why should you care about the way you communicate with customers digitally?
In short, because your customers already do.
Businesses are selling in new ways, from brick-and-mortar stores going online to selling outdoors to experimenting with new fulfillment methods like delivery and pickup. For some businesses, these methods aren't just a stopgap, but a permanent way to meet customers' evolving needs at a time when social distancing is required to keep things running.
Because your customers are interacting with you in new ways, they're also reaching out to you in new ways. And at times, that can feel overwhelming, according to Marissa Cydya, owner of Minx Studio Salon in Los Angeles. "Two years ago, I used to hand out my cell phone to clients, and that turned into a nightmare," she says. With a messaging tool, Cydya has regained control. "It streamlines my communications with my clients."
It's also good business practice to invest in making your existing customers feel heard wherever they interact with you. Research from Bain and Company found that increasing customer retention by only five percent can increase profits by 25 to 95 percent.
The benefits of using an integrated messaging tool
Makes it easy for customers to quickly get issues resolved
Research from the Harvard Business Review found that customer loyalty increases the most when customers can quickly get their problems solved. By enabling customers to reach out in the space where they last interacted with you, and across multiple channels, you can speed up the time it takes to resolve issues.
If a customer is experiencing a problem, a messaging tool can allow you and your team to quickly respond because customers are communicating in the quickest way — over email and text. Instead of having to navigate to a different tool to respond, you can get back to them in a timely manner and help them solve their issues.
With nearly two out of three customers expecting a response to an inquiry within ten minutes, according to Hubspot, speed is important. Another study from the Harvard Business Review backs that up, finding that responding to customers within an hour — instead of two — makes it seven times more likely you'll make a sale.
A tool like Square Messages not only helps you stay approachable, but it also provides a simple way to get paid. If you're messaging a customer about an upcoming landscaping job or selling a new product at your salon, you can quickly create a payment link and send it over directly.
Allows you to personalize your customer experience
With customers reaching out to you in more ways, it can be difficult to keep a handle on all of their needs. And if you haven't met the customer in person, the issue can be even more pronounced.
Texting is conversational, and it can feel more personal than email. "I feel like the tone of a text message is different," says Cydya, which she uses to quickly and thoughtfully maintain relationships with clients. "I'm able to check in on people and keep in touch. For clients that are more high maintenance, I can send them a quick message, see how their hair is doing, and see how they're doing," she says.
By allowing your customers to text you, and responding back to them over text, it can heighten that human connection. If your business had to provide more digital services or cut back on in-person time in 2020, those relationships are even more top of mind.
Having a central spot that pulls together all customer communications can also allow you to quickly scan existing conversations before any interaction, so you can personalize what you say. If you know that your customer recently purchased a certain product that will be in stock soon, you can offer up that information in your response. This can help you provide the best possible customer service since you already know their history and can respond accordingly, in addition to increasing the odds that you'll make another sale.
Encourages a dialogue
Customers don't always reach out because things aren't going well. They may also want to connect, ask more questions about your products or services, or make sure their needs are being met. By providing an easy way for customers to engage with you over text and email, and through the platform they last interacted with you on, you can encourage a more candid dialogue.
Streamlines the customer experience
Since the communication happens in real time, messaging tools can reduce the odds of customers having a bad experience by ensuring that everyone is on the same page from the start. When expectations are clear, it also means you're less likely to miss out on a sale.
Square Assistant is an automated messaging tool that helps clients confirm, cancel, and reschedule appointments. Customers who use this tool are seven times more likely to successfully reschedule their appointment, and 75% less likely to not show up for an appointment. By allowing customers to connect over text and email, you're increasing the odds of their experience going as smoothly as possible.
"On the day of, I'll have Square Appointments open," describes Cydya. "I'll just click right there in the calendar, on the client's name, and I can message them. If it's a first-time client, I'll communicate with them about where to park and how to find the salon," she says. "It's convenient and it helps me clarify things, especially with new clients. And they end up coming in."
Humanizing your customer communications with Square Messages
The more communication channels you have, the harder it may feel to maintain that consistent, personalized service you're used to providing. It doesn't matter if you're a mom-and-pop or a larger business, you don't have to lose your high bar for service when going digital.
Square Messages consolidates customer communications from Square Feedback, Square Receipts, and Square Appointments in one place. This allows you to reply to receipts and feedback over text or email, no matter where they come from. If you're a seller using Square Appointments, you can view and respond to the conversations that Square Assistant handles on the Appointments app.
You can find Square Messages on the Dashboard, Square POS, and Square Appointments iOS apps. Here's what it looks like in action: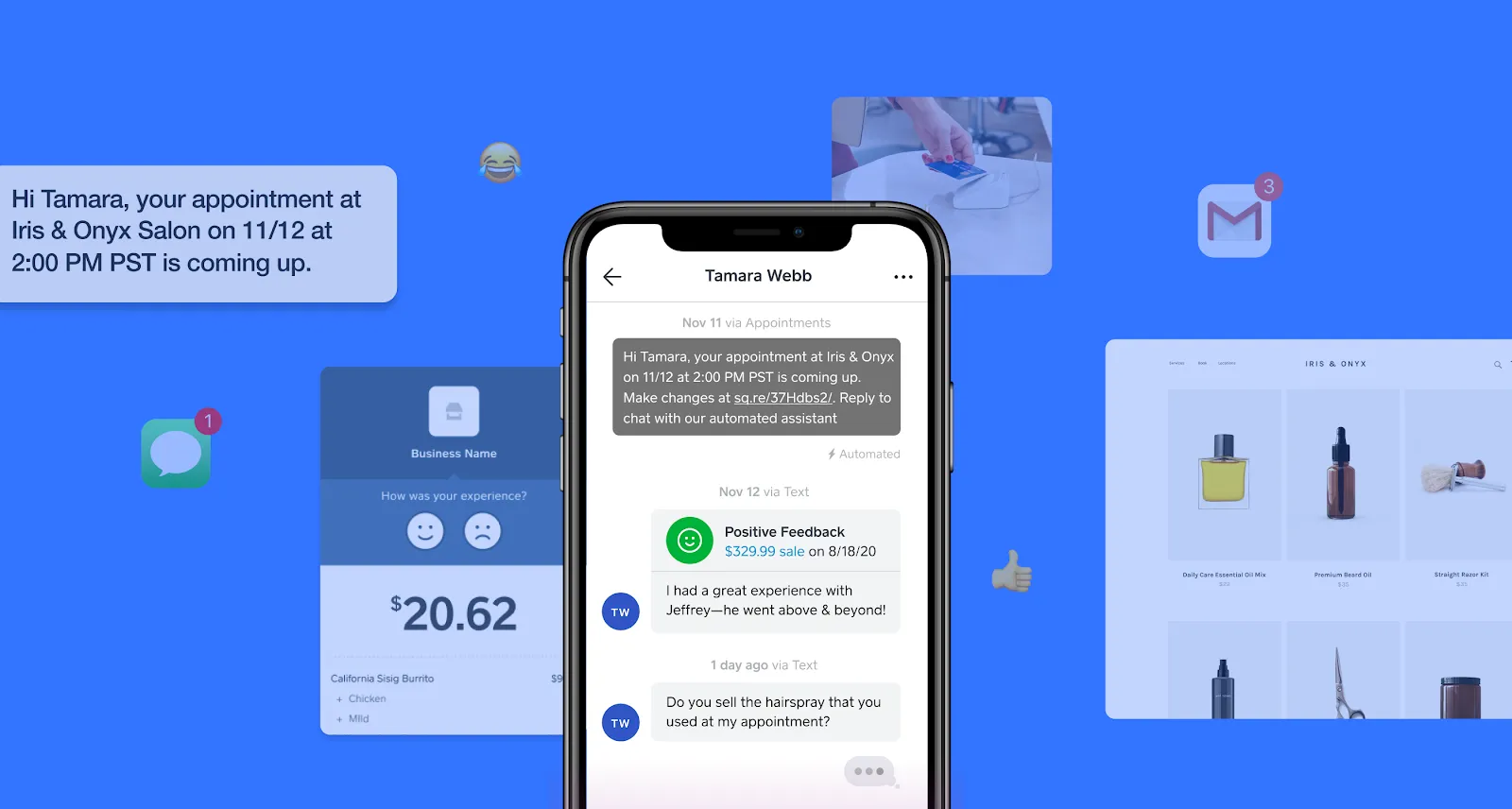 When your digital communications are connected, it can help you make your customer experience more unified and personal — something that's crucial as online interactions continue to grow.