Table of contents
Pinterest and Instagram are no longer nice-to-haves for retailers. Both of these visual social platforms have become selling channels in their own right. This is thanks to buy buttons on Pinterest, which allow users to purchase items directly from the platform, and a robust advertising offering on Instagram, which allows users to click through to branded product pages.
This means that along with any other channel strategy, you need to determine best selling practices for Pinterest and Instagram alike. This will likely mean varying price points, different product description copy, and distinct product photos created specifically for these channels.
As with any other multichannel strategy, A/B testing is essential to figure out best practices for the highest possible ROI. There are some industry standards and tactics being used by big-box brands already in the space. We'll walk through what these are and how you can implement them into your product production flow in order to use Pinterest and Instagram most effectively for your business.
Instagram
Instagram, a relatively new player in the social media advertising space, has been beefing up its options since the fall of 2013. Like any latecomer to an industry, Instagram has reaped the benefits of the learnings of other social media network's advertising options. Plus, its acquisition in 2012 by Facebook likely gave the company even further insight into which ads work best for advertisers — as well as which ads users of the platform don't mind.
So what has the platform learned? Well, for one, that users don't like to be sold to — at least not in a sales-y way. They also don't like being tricked into clicking something that will take them away from the app they're currently in. We're seeing this trend take hold in e-commerce as well, as buy buttons allow consumers to purchase without ever leaving Pinterest, for instance. For brands themselves, however, pigeonholed user experiences aren't ideal. If users aren't clicking back to your site, you're losing valuable brand experience and awareness.
Instagram's advertising offering blends both of these consumer and brand needs seamlessly. And as it turns out, finding the perfect balance between advertiser and user preferences is extremely profitable. Instagram ads will bring in $595 million in mobile revenues worldwide this year, according to eMarketer's first-ever forecast of how much advertisers will spend on the social network. By 2017, Instagram's global mobile ad revenues will reach $2.81 billion, accounting for more than 10% of parent company Facebook's global ad revenues.
For brands looking to utilize Instagram's offerings, here are a few best practices to help maintain a loyal Instagram following without being overtly sales-y in your advertising:
Use ads for marketing campaigns only: Not every post needs to be an ad. Follow an 80:20 ratio for lifestyle versus advertising content on the platform. You can always use your best image as an ad and then support that image with non-advertised photos throughout your campaign. Use a link on your profile page to capture all audiences who miss the clickable ad but follow your brand or campaign.
Put your product in context: A beautiful, high-resolution image of your product on a white background is nice, but if you put that product in context — say, sunglasses on a smiling woman on a beautiful beach with her friends — fans are more likely to relate with or aspire to that image. Instagram photos that perform best showcase lifestyle stories, not static images.
Don't overdo the branding: Let your fans connect the dots with how that product will fit into their lives and they'll be more likely to want to buy. This hints back at the "putting your product in context" messaging. Don't overly sell your items. Instead, showcase how they are part of a larger lifestyle, sans much branding, and you're more likely to get an increased number of clickthroughs.
Let's look at Philadephia Cream Cheese as an example. The brand, which is hugely popular in Australia, began utilizing Instagram ads in the eight weeks leading up to Christmas 2014. To earn the highest ROI for the spend, the team created images of cream cheese shaped into fun, themed artwork. Their goal was to make 25-to-54-year-old females think of their Pourovers product whenever they were planning an impromptu or casual social gathering, rather than just at specific calendar occasions, such as Christmas. In all, the campaign generated a 41% sales uplift for the Christmas season.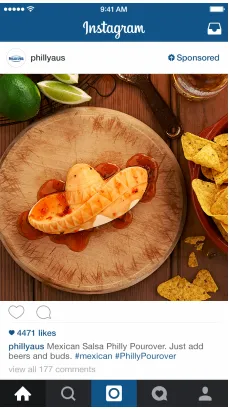 Pinterest
Pinterest recently announced Buyable Pins, a type of pin that will allow users to buy products without ever leaving the platform.
Currently, Pinterest has more than 100 million monthly active users cataloging ideas and curating products they would like to purchase. Before Buyable Pins, users were forced to click through a Pin to a merchant's site in order to checkout. Now, customers can purchase an item without ever leaving Pinterest. This allows for an increase in impulse purchases –– a behavior that studies have found plays a critical role when consumers are shopping online.
As of now, there are more than 60 million Buyable Pins on Pinterest being utilized by retailers including Macy's, Neiman Marcus, and Nordstrom, and more are being added daily. Pinterest is in the process of manually approving online stores to sell directly on their platform. In 2016, it is likely that the brand will open Pinterest selling capabilities to all, removing the current manual approval process.
Until your store gets through Pinterest's approval process, here's what you need to know about selling successfully on Pinterest once you're approved.
How Pinterest's Buyable Pins work:
Merchants can choose to make active Pins "buyable," which means they can upload new products to Pinterest and have them appear as Buyable Pins.
Buyable Pins, like regular Pins, will appear in user feeds if they are relevant to that user's interests.
Customers buying on Pinterest will only enter their shipping and payment info once for Buyable Pins. Future purchases take only two clicks.
Pinterest is partnering with Apple Pay to process payments. If you sell with Bigcommerce, orders made on Pinterest will come back to your Bigcommerce store for standard order processing.
When merchants create Buyable Pins, they automatically enable Rich Pins, which display additional product information on the Pin to increase conversions.
As you post products on Pinterest, be sure to choose high-quality, aesthetic photography to earn the highest ROI. Visually pleasing pins are the most likely to be repinned, which increases product discoverability. However, whereas on Instagram lifestyle pictures do best, Pinterest product photos should be pretty clean and simple. Use wooden backgrounds for products, arrange items in an interesting way, or pin images of your product on models on a white background.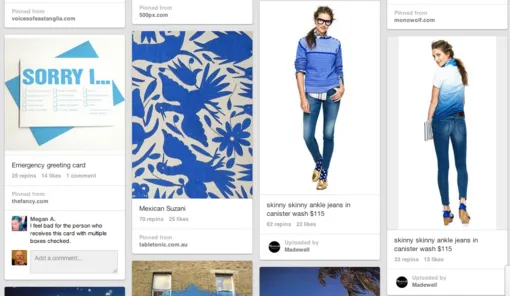 See how Madewell combines color, aesthetic, and modern aspects to increase repins.
In addition to a high-quality, simple image, your caption on Pinterest is especially important. This is one way that users searching on the platform can find your items. Be specific with your captions, but don't just copy the product descriptions on your e-commerce site. Say something interesting, and when possible, tie your image back to your board theme (like "Spring Break" if you're pinning a bathing suit or "Apple Picking" if you're pinning a scarf).
Track, measure, test
Finally, be sure to use UTM tags on every product that you promote via Instagram or Pinterest. UTM tags are easy to create and make it easy for you to search in Google Analytics so you can track performance. Also be sure to tie your campaign to goal completion within Google Analytics. This will allow you to easily monitor how many people are coming to your site from the ads and how many are purchasing.
Then, be sure to A/B test various campaigns, figure out your ROI, and optimize to ensure the lowest possible spend for the highest possible return.
—Tracey Wallace (Managing Editor, Bigcommerce)