Table of contents
The popularity of user-generated content (UGC) is easy to explain: Consumers trust the opinions of other people more than they do a brand's advertising.
There's an authenticity with UGC that advertisers can find difficult to match. And that authenticity translates to influence. In fact, a survey
found that 85 percent of users regard visual UGC as more influential than a brand's photos or videos.
But engaging consumers (both those creating the content and those consuming it) is just one benefit of this type of marketing tactic. Because you're relying on content creators' personal networks, UGC campaigns can also help you reach new audiences that may be hard to target through more traditional campaigns.
User-generated content campaigns are generally cost effective since you're using consumers to create and distribute content instead of paying influencers or producing expensive campaigns that entail photographers, models, and more.
You get it — UGC campaigns can be a great tool for a business to engage its customers and prospective customers in a scalable and cost-efficient way. But what separates a successful UGC campaign from one that is less so?
Check out these three campaigns and learn how you can apply some of their key concepts to your own marketing efforts.
Aerie
The images that fashion brands use in advertising and on social media are known for extreme retouching, particularly when it comes to photos of women in swimsuits. This practice is blamed for contributing to a lack of body confidence among young adults.
Aerie, a sub-brand of American Eagle, sought to change that reputation and promote body positivity among young women with its #AerieREAL campaign. When users tagged an unretouched photo of themselves in a swimsuit, the brand pledged to donate a dollar (up to $15,000) to the National Eating Disorders Association.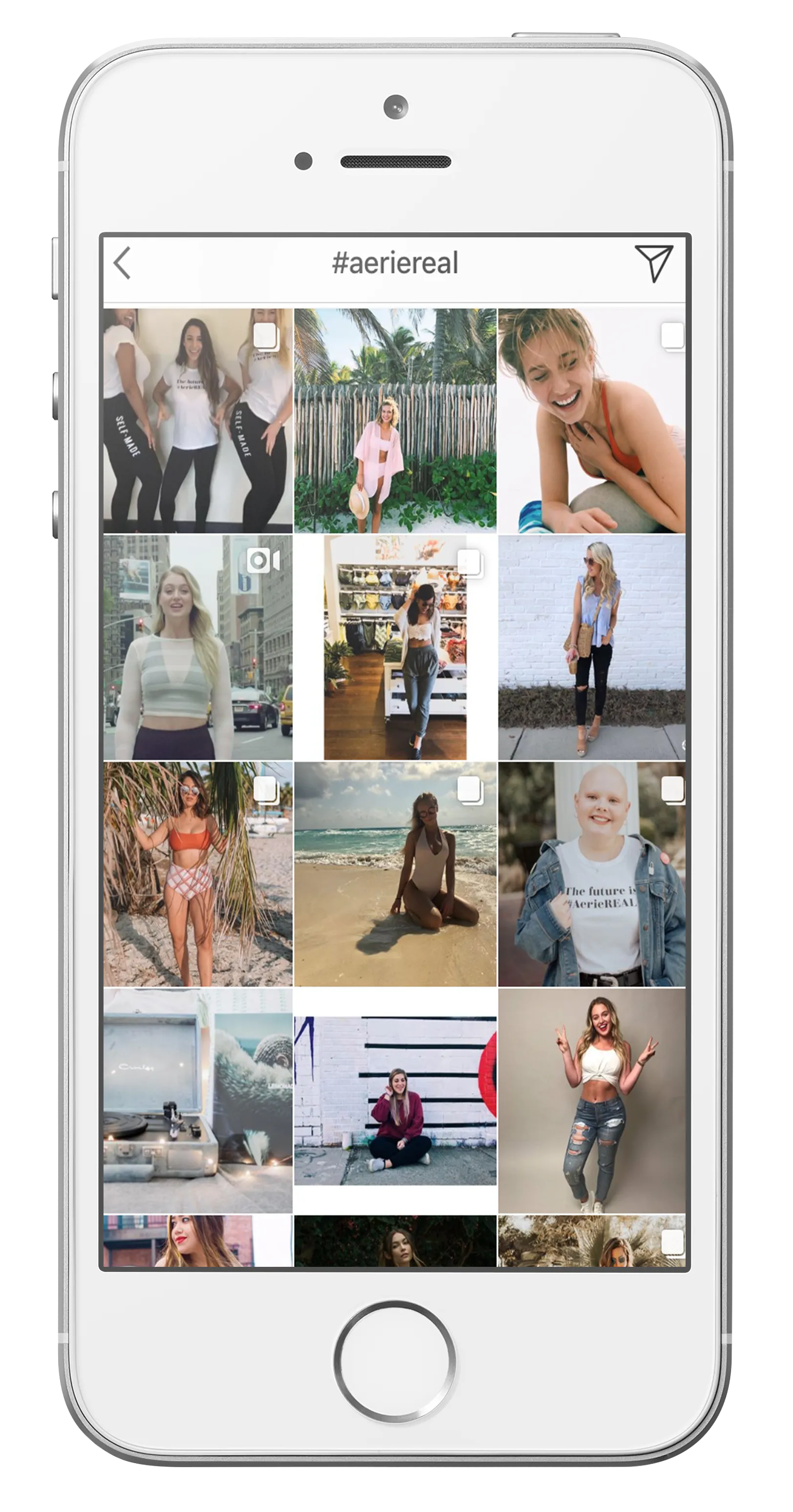 Takeaway: Tapping into a prominent social issue is a great way to communicate your values to customers. But you don't want it to look like you're capitalizing on a movement. By adding a charitable component to the campaign, Aerie shows that it's trying to create conversation and make a positive change.
Clif Bar
The maker of energy and protein bars wants to align itself with athletes, adventurers, and people with active lifestyles. Its tagline, "feed your adventure," is also a hashtag that the brand encourages its "Clif fans" to add to their posts to share their stories.
As a result, not only does Clif have an Instagram feed full of stunning photos of nature and people living their best lives outdoors, but also its brand has become synonymous with the bold, sporty users who tag it.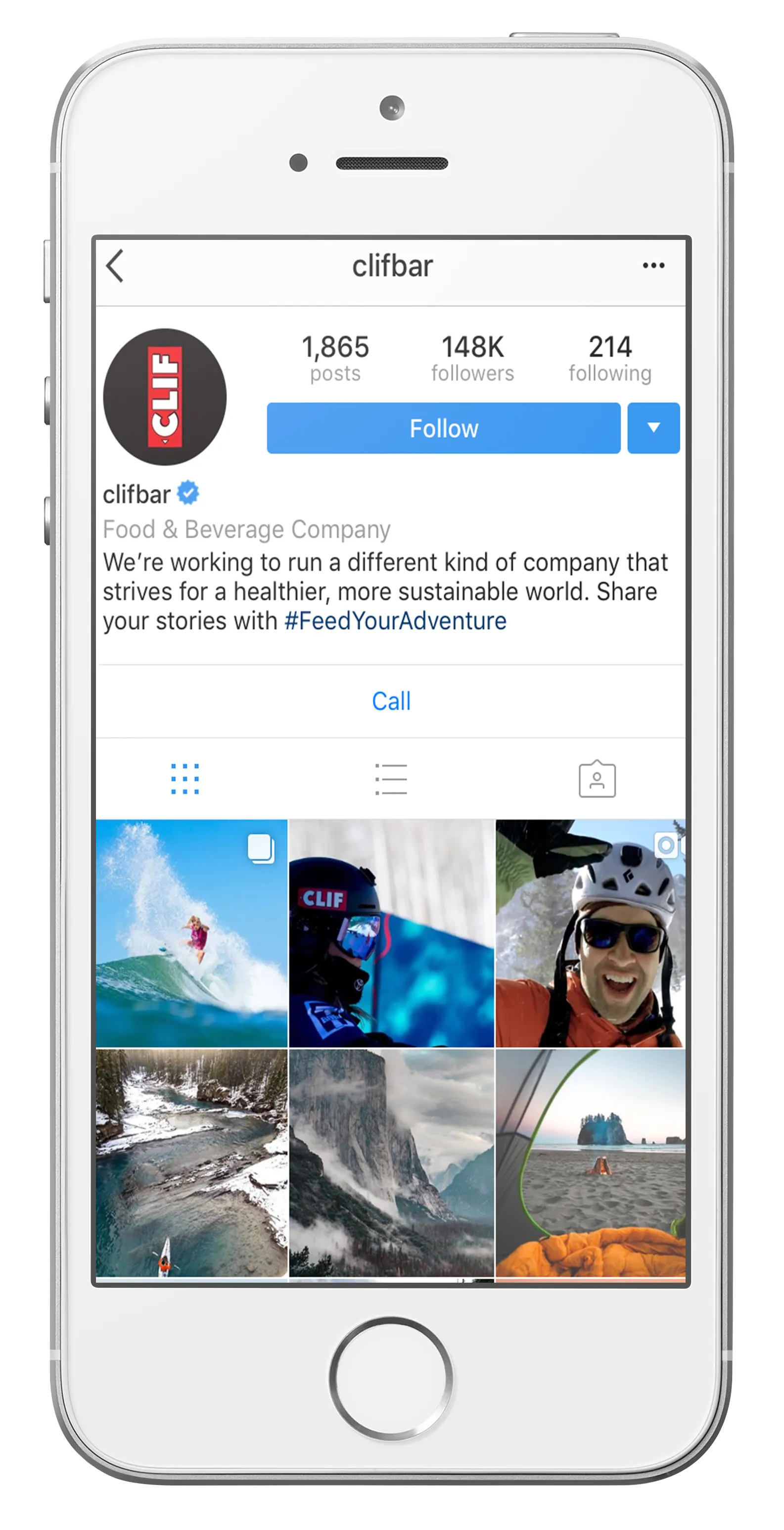 Takeaway: Instead of telling consumers who you are, show them through images that express how you want to be perceived as a brand. Create a hashtag with the tagline of your brand or campaign (not your company name) and invite users to add it to their posts that fit with your overall message or a specific category, like gorgeous vacation photos. Then repost images that best convey your brand's ideals (that's an incentive for a lot of consumers).
REI
Black Friday is usually a sales bonanza for retailers, opening ever earlier in the morning (if they closed on Thanksgiving at all). But in 2015, REI made the bold move to close its stores that day, opting out of the day-after-Thanksgiving competition. Instead, the company decided to "opt outside" and encouraged its customers to do the same by getting out and enjoying nature instead of fighting crowds at the mall.
The #OptOutside campaign was radical enough to gain tons of media attention and accolades from consumers, and the hashtag has been tagged in more than 7.8 million posts on Instagram so far.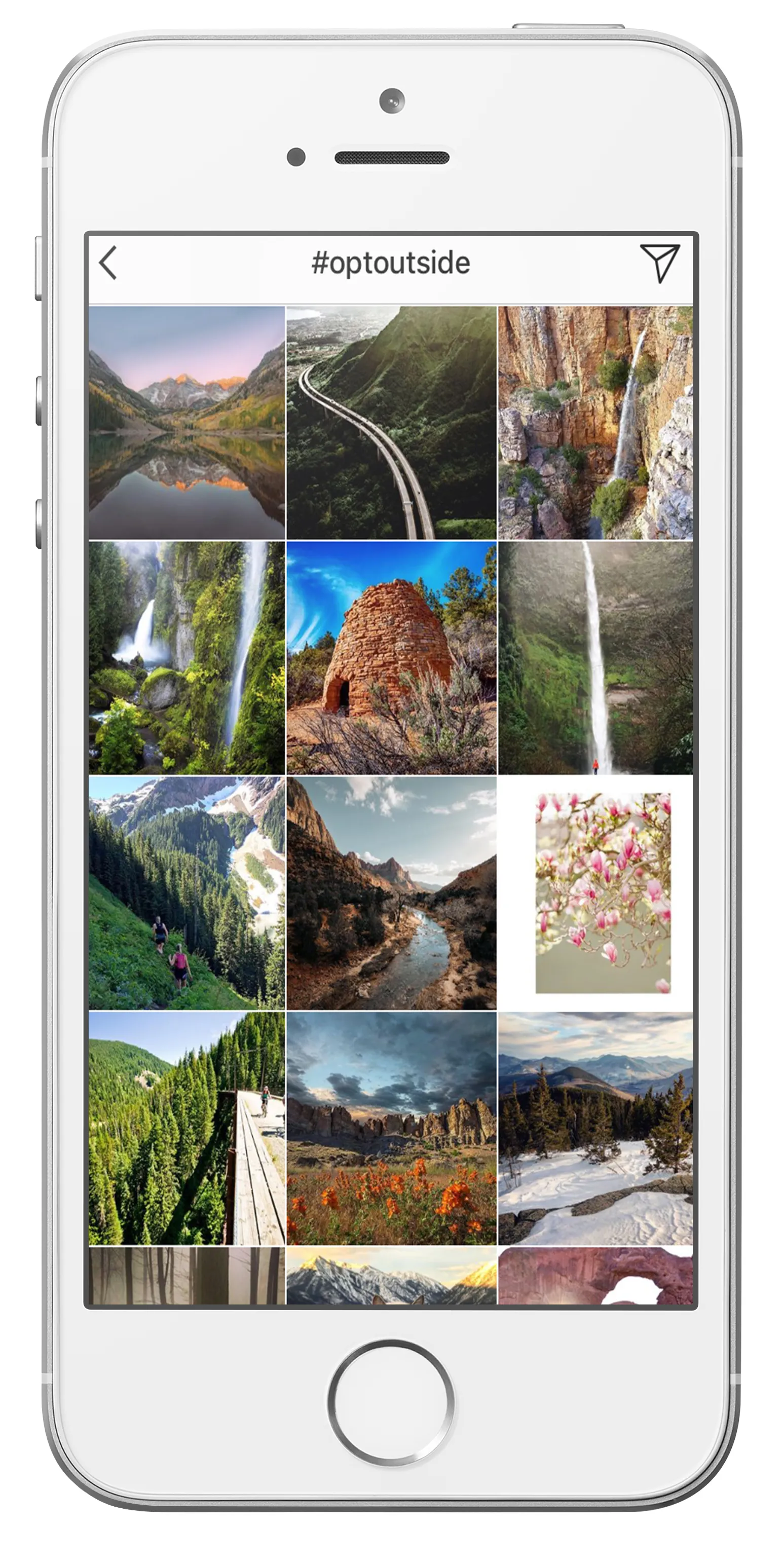 Takeaway: By showing that profits aren't its only concern — and being true to its brand — REI actually saw an increase in revenue and online sales. Try an out-of-the-box idea like this to communicate your company values and the issues you support.
7 questions to answer before you build your UGC campaign
Now that you know what a great UGC campaign looks like, it's time to create your own. To make sure you're investing time in a campaign that will yield results, you should answer these seven questions first:
1. What does success look like?
You can't have a successful campaign if you haven't established what that means. Do you want to get a certain number of posts? Or are you looking for engagement with those posts?
2. Who do you want to create content for your campaign?
Are you going to rely only on your current customers or try to get all your followers to create content? Or do you have additional budget — and time — to expand your reach with social influencers?
3. What do you want people to post about?
Brands like Aerie and Clif Bar developed campaigns that ask consumers to produce content related to a central brand tenet. REI capitalized on a holiday (Black Friday).
Home-furnishings site Wayfair has a campaign — #WayfairAtHome — that asks people to share how they've used Wayfair purchases to decorate their home.
Whether you're asking people to produce content around a theme or an event, or how they use your products, the most successful campaigns don't ask for direct endorsements. Instead they focus on the consumer's experience.
4. Where and what do you want them to post?
What channels will host your campaign? Are you just asking for photos to be posted on Instagram? Or do you want videos on Facebook and Instagram? Or do you want consumers to submit content directly to you via email (this gives you a little more control but requires more of your resources to vet and publish content).
5. How are you going to make sure they know to post?
You won't get any UGC if people aren't asked to do it. So make sure you're promoting the campaign through the channels where your customers are most engaged. Social media is an obvious place to promote your campaign, but don't forget about other channels like email.
6. Are you offering something for people who post?
Consumers like rewards, so think about what you could offer in return for content. Aerie did this with a donation. You could run a contest or offer gift cards or discounts to people with the best posts. That's not to say that the reward has to be monetary. Sometimes just reposting the consumer's content is enough of a reward.
7. How are you tagging all of this UGC?
You might have noticed that all of these campaigns ask people to use a specific hashtag. This will allow you to find all of the UGC on various social networks. Think carefully about your hashtag. Make it short and easy to remember.