Table of contents
Social commerce is a new force in online shopping, and businesses both large and small are joining in.
According to a study by Accenture, the social commerce industry is predicted to grow three times as fast as traditional eCommerce to reach $1.2 trillion by 2025. As social commerce opens up new omnichannel revenue streams and unique shopping experiences, many businesses have an entirely new way to connect with a customer base that they didn't have access to before.
In this guide, we'll cover the basics of social commerce, why it matters to businesses and consumers, and how brands can implement an effective social commerce strategy of their own.
What is social commerce?
Social commerce is the process of marketing, buying, and selling products on social media channels. With social commerce, a customer's entire shopping experience can take place on a social media platform — from browsing and discovering products to making a purchase. 
How does social commerce work?
A social commerce strategy is based on using social media profiles to sell products. Social media channels are commonly used for marketing and promotional purposes, but improved shopping integrations across popular social platforms mean that consumers can discover products, browse an entire store through a seller's profile, and make purchases directly within the social app or online checkout page.
By selling directly through a social media platform, businesses and brands have a way to create a seamless social purchasing experience, remove some of the friction that results in abandoned cart items, and better connect the experience of making a purchase with a sense of community on social platforms.
What's the difference between social commerce and eCommerce?
Social commerce and eCommerce both fall under the same broader category of online shopping, but with some notable differences. Social commerce refers to any shopping, buying, and selling of products that takes place on a social media platform. ECommerce encompasses the overall buying, selling, and shopping experience online, usually on an eCommerce platform or a specific online store.
While the channels differ, social commerce and eCommerce strategies actually go hand in hand: Combining social experiences with traditional transactional experiences on a single platform offers a new way to connect, buy, and sell. Social commerce can help a business expand their eCommerce presence to social media channels to reach a wider, younger, and mobile-first audience. 
82% of millennials, 73% of Gen Z, and 63% of Gen X report using their smartphones for commerce, according to the Square Growth of Mobile and Conversational Commerce report. 
Social commerce examples
By definition, social commerce allows a full shopping experience to happen through a social media platform, but social commerce strategies come in a few different forms. 
Shoppable posts: Shoppable posts allow followers to browse and shop directly from your social posts across a variety of social channels, including Instagram reels, Instagram stories, TikTok videos, Pinterest pins, and Facebook photos. By simply tagging one or more products in your images or videos, you can showcase your products natively on social channels and give users a way to buy them.
Shoppable ads: Shoppable ads are similar to shoppable posts, but they're catered to a specific audience and are usually part of a paid social campaign. Shoppable ads can be targeted at certain consumers who may be potential customers, or they can act as a reminder of products that a shopper viewed but didn't buy. 
Storefronts: Some social apps allow a business to create a storefront or a shop to enhance shopping on their social profiles. This shop is essentially an eCommerce store within the social platform that showcases your products. Shops can help a business curate the shopping experience and drive product discovery, and shoppers can explore products and make purchases.
Influencer content: Working with a social media influencer or micro-influencer can help advertise your products, raise brand awareness, and drive users to your profile or shop. Influencers tag your products in their posts, and if a shopper is interested in the product, the tag will take them directly to your product page on that social platform to make a purchase. 
Live shopping: Livestream shopping can help add an even more personalized touch to a social commerce strategy. Through livestream selling, brands and businesses can use livestream video to interact in real time with customers, to demonstrate and talk about their products, and to answer customer questions. Shoppers can buy products from the livestream through shoppable posts or payment links.
In-app messaging: Interacting with customers on social media platforms through direct messages (DMs) gives a space for customers to ask questions and get product help. In-app messaging is also a useful tool to help customers discover products or to provide payment links for a quick checkout.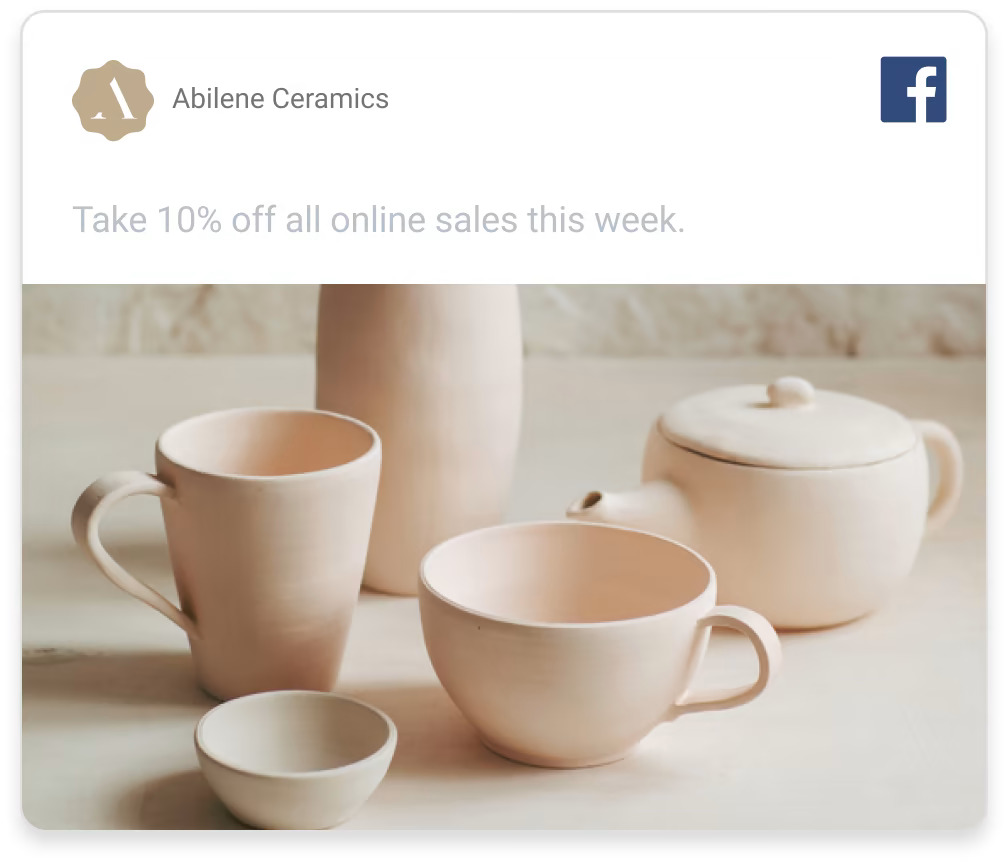 Benefits of social commerce 
Simply put, social commerce can open up a world of opportunity for a business. As social platforms build tools to capitalize on in-platform sales, there's more than one reason to sell on social media.
Grow your brand awareness and audience
Besides the billions of worldwide users on social media apps, the platforms run on serving new content and products to users. According to Instagram, 83% of users discover new products or services on the platform, and according to Facebook, 74% of users discover new brands and products — compared to 41% who said that they discover new brands and products on a company's website.
No matter how sophisticated your marketing strategy is, these free marketing tools can help you build up your brand's awareness, tell your business's story, and stay top of mind with potential customers who are looking for products or services. 
Sell to customers where they spend time
As people spend over two hours a day on social channels, data from Sprout Social revealed that 98% of consumers planned to make a purchase on social media in 2022. On top of that, the Square Growth of Mobile and Conversational Commerce report found that 30% of shoppers expect to increase their shopping on mobile devices over the next 12 months. 
Marketing and selling your products on social media channels opens the door to customers who already spend time on the platforms and who are looking to spend on new products. And while social commerce offers substantial opportunity for large businesses, smaller businesses and individual brands have plenty of room to benefit, too. Research from Accenture showed that 59% of social buyers surveyed were more likely to support small- and medium-sized businesses through social commerce than when shopping on eCommerce websites.
Drive more authentic connection and engagement 
One of the best aspects of social media marketing is the level of engagement the platforms provide. Followers already express interest in a business, brand, or influencer by following them in the first place, and by showing up in a consumer's feed on a regular basis, brands can foster connection and engagement and can grow customer relationships. 
Sprout Social found that consumers prefer to connect with brands on social media: 64% of consumers want brands to connect with them, and 57% will increase their spending with that brand if they feel connected. Personal recommendations are the most powerful driver of purchasing for younger generations, and social media platforms are a natural way to provide that more personalized marketing.
Gain customer insight 
Valuable customer insight can come from selling on social media. The channel generates lead opportunities from customers who have made a purchase or who have provided you with some of their information. The two-way communication that some platforms offer means that you can interact directly with customers to answer questions and get direct feedback on what they're looking for and what they need.
Social platforms themselves provide a host of analytics that can give you more insight into who your customers are, what interests them, and how you can get in front of them with tools like livestream shopping or paid shoppable ads.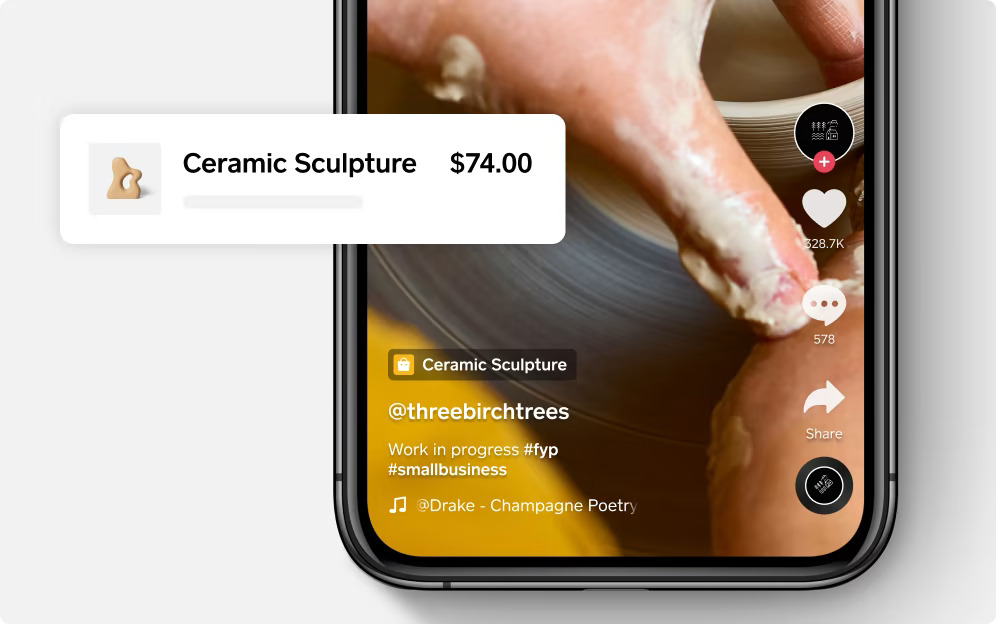 Top social commerce platforms
Now that we've covered the basics and benefits of social commerce, let's look at where you can start to use social commerce tools. Most social media platforms support social commerce, but here's a breakdown of the top platforms and what they offer.
Instagram
The Square Future of Commerce report found that of retailers that sell on social media, 32% of sales came from Instagram (followed closely by 31% on Facebook and 30% on TikTok). Even with those narrow margins, Instagram is a top shopping platform, thanks to its engaging shopping capabilities through photos, reels, stories, live broadcasts, and ads.
Instagram Shop is a set of features built for businesses to sell on the platform. With Shop, you can build out an eCommerce storefront on Instagram, which allows customers to browse all of your products and collections. Shoppers can also find products from your Instagram Shop in other places on the platform using product tags. Whether your products are in a post or a live broadcast, shoppers can click your product tag and be directed back to your storefront to see product details and make a purchase.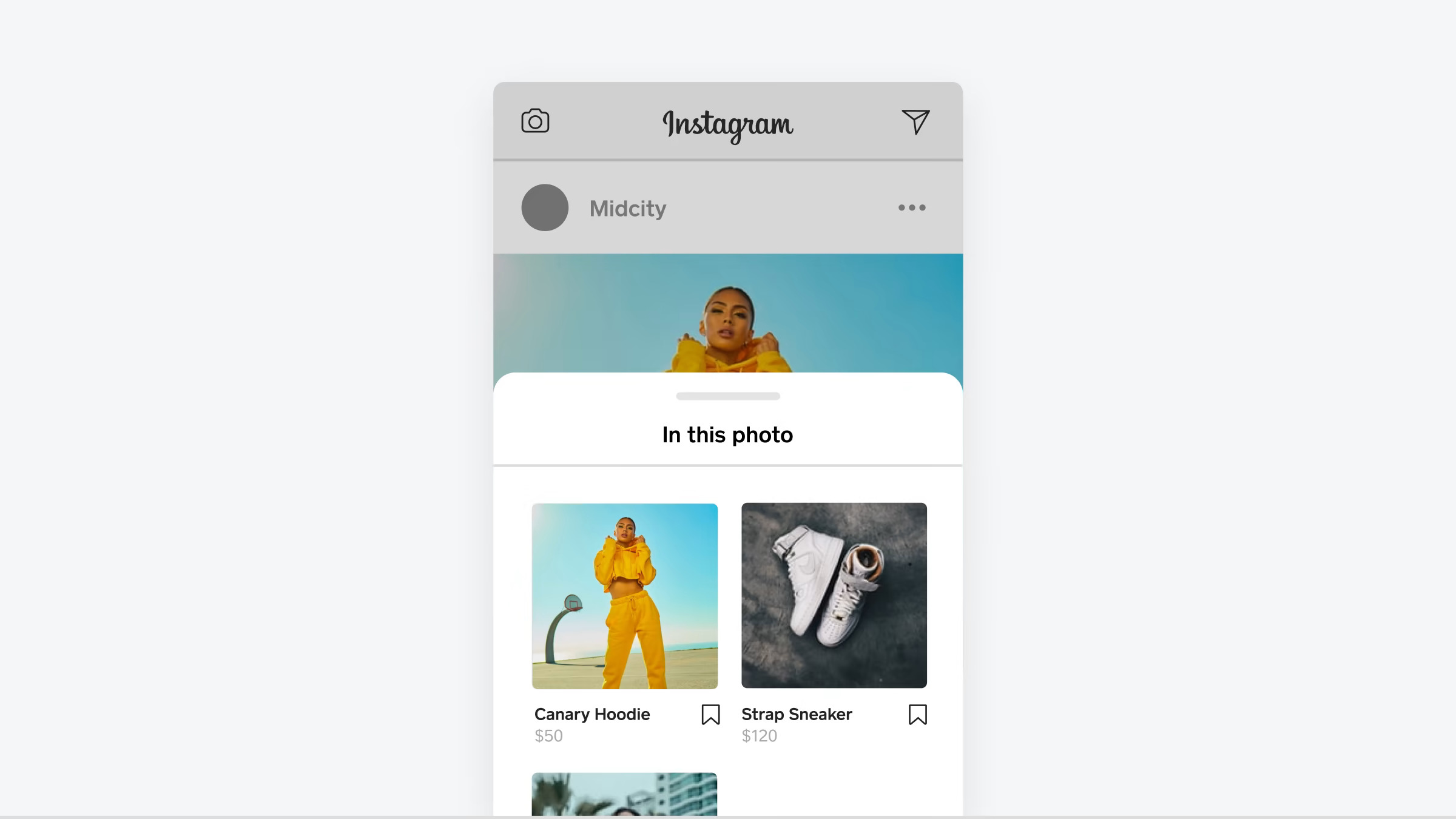 Facebook
Facebook offers a handful of ways to sell, but Facebook Shops is the best for businesses, since it allows you to list your entire eCommerce store and complete transactions. Much like Instagram, you can set up a Facebook Shop storefront on the platform to showcase all of your products and collections. 
Shoppers can make a purchase right from your Facebook page, either directly on the platform or through your online store. Similar to Instagram Shop, customers can leave product reviews and contact the business directly, enabling two-way communication and additional consumer insights.
TikTok
This fast-growing social platform is a search engine of its own, full of everything from fashion and food to trends and opinions. But TikTok's vastness and wide-ranging audience actually make it a perfect place to promote and sell products — take it from one seller who used TikTok to save her business.
With a TikTok business account, you can enable TikTok Shopping, which allows you to create a shopping page to showcase all of your products for customers to browse directly within the app. You can apply shopping tags to your products in TikTok videos, which help direct shoppers to your shopping page to complete a purchase. 
Twitter
Twitter may seem like more of an information-sharing platform than a marketplace, but the social channel has rolled out its own social commerce features with a goal to move users from simply talking about products to purchasing them.
With Twitter Shops, merchants can list a curated collection of products on their profiles. The "View Shop" button on these profiles lets shoppers browse collections, learn about the items, and make a purchase.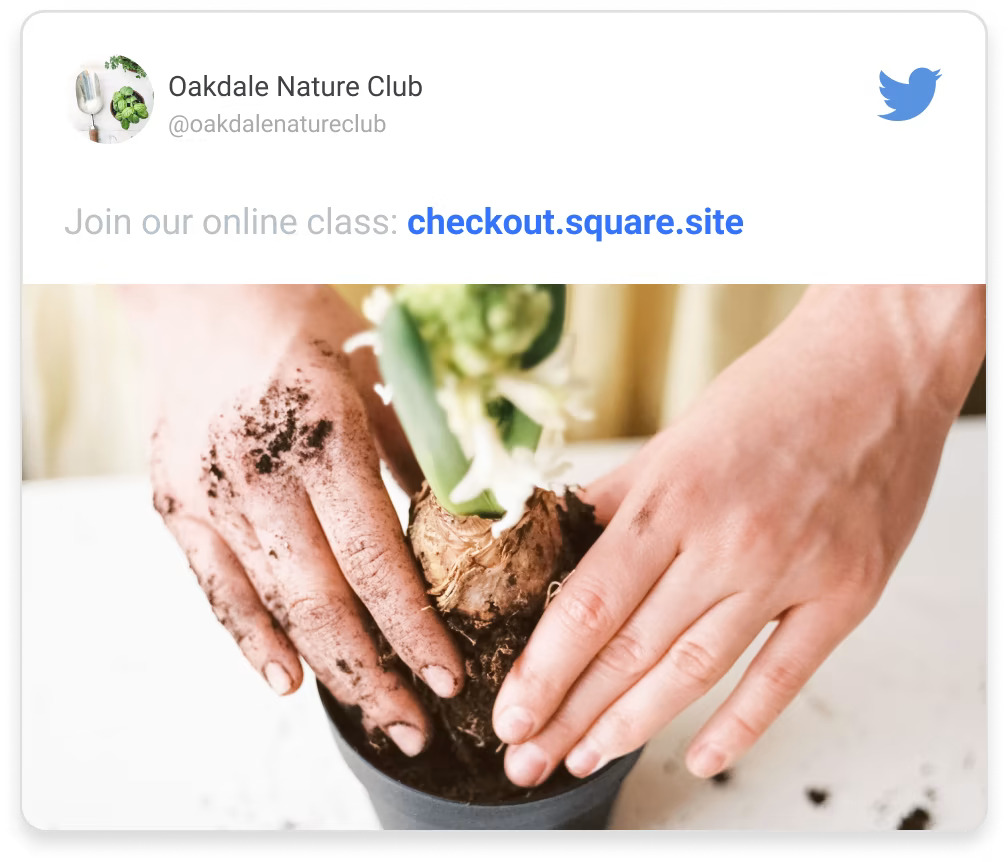 Pinterest
Part social platform and part vision board, Pinterest is a go-to for inspiration and the discovery of new products. Once you set up a business account and sync your products to Pinterest, you can display your product collection, create and organize your own Pinterest boards, and set up product pins to connect shoppers to your online store.
Since Pinterest is a search engine in its own right, it's essential to pay attention to search engine optimization basics and add detail to your images so users can find your products. Besides using attention-grabbing photos, don't forget to add detailed product descriptions, image titles, and alt text that includes keywords relevant to your products.
YouTube
This video platform is a go-to for entertainment, information seeking, and problem solving, but it also offers an opportunity to sell. Many businesses create video content that resonates with their target audiences — such as advice, how-tos, product demonstrations, or user stories — that can be an effective way to market products. 
Like other social platforms, getting your content shared, working with influencers, and engaging with your audience can boost your YouTube views. When a user lands on your video, be sure they have a way to navigate to your online store.
Tips and best practices for building a social commerce strategy
With the number of social channels available to sell on and the many ways to connect with consumers, it's essential to have a social commerce strategy in place so you can make the most of these platforms. These best practices and expert tips for a social commerce strategy can help boost customer engagement, generate unique insights, and increase sales.