Table of contents
Bailey Ryan, owner of Virginia-based premium plant shop PlantHouse, makes shopping for plants a more personal experience, even when customers are browsing online. That's why she celebrates Delivery Day (the day shipments come in) by going on Instagram Stories and doing a live, talk show-style walkthrough of new products while they are still in the delivery truck—sometimes going even as late as midnight.
Ryan says that to create a personal, one-on-one feeling with customers during PlantHouse's livestream events, she shares information about each plant, like whether it's pet friendly and where it can fit in their home.
"It gives not only that personal shopping experience, but 'Hey, there's a human running the store behind the scenes, and it's not just products getting loaded onto a website!'" she says.
As retailers look to win over local customers who have gotten used to shopping from home, they're turning to livestreaming on social media to recreate the sense of connection people feel when shopping inside a physical store.
"We're seeing retailers take a QVC-style approach or doing flash sales on Instagram where customers have to direct message the brand at a certain time to get the product," says David Rusenko, Square's Head of eCommerce. "It creates a sense of urgency."
What is livestream selling?
Livestream selling is when a host demonstrates a product in a live online video either through a social media platform, direct video call with a customer, or another avenue. The retailer can introduce themselves, their store, and the sale before describing each item and its price while holding it up so followers can clearly see the product.
Followers can:
Watch the feed from wherever they want.
Interact through comments in real time.
Ask questions that get answered right then and there.
Make purchases directly.
For Square's Future of Retail report, 35% of retail managers surveyed say they plan to implement livestream shopping in 2021. Retailers have made the online shopping experience a higher priority since the pandemic, as consumers say that an average of 43% of their monthly purchases are now made online. Additionally, 34% of Millennial and Gen Z consumers surveyed say they are interested in livestream shopping. According to Forbes, about 30% of China's population viewed eCommerce livestreams in 2020, which is a precursor to expected growth in the U.S.
Katie Miller, a Square account manager who has worked with hundreds of retail business owners as they start, run, and grow their companies, says that retailers are increasingly turning to livestreaming because it's an efficient, engaging way to show off products and the personality of the business.
"I have seen business owners create elaborate backdrops, incorporate storytelling, wear costumes, and even open oysters to reveal colored pearls live on camera," she says. "Business owners become mini-celebrities as the host of their shows; they are the trusted source to their customers."
Using livestreaming to create a personal connection with customers
In June 2020, Renee Losee went from working behind a bar to livestream selling jewelry on Facebook from her Arizona home under the brand Mama Renee's Jewels.
Since then, she's learned a lot about what really motivates customers to buy. "Livestreaming is your connection to people because today, the most important thing is people will buy because of your personality. You have to be approachable. You have to be somebody that the audience wants to spend time with."
Like many business owners, Losee is a pro at connecting with customers. With her friendly demeanor, Losee is able to instantly make her audience members feel like part of her inner circle. The keys to her success have been consistency (she started out livestreaming four nights a week) and her ability to make the audience experience the joy of shopping.
"People will jump on my live and they're like, 'Man, I love your energy,' or they'll be like, 'I had the roughest day today and I just feel so much better now' — and they've got five items in their shopping cart. They've got their shopping fix, they've got that little bit of bling, they know it's only going to cost them $25, and they got to hang out with me for the night."
As an account manager at Square, Miller has seen businesses succeed at livestreaming by giving customers the feeling of exclusive access, both in terms of information and products. By having a product expert conduct the livestream, customers feel that they are getting access to inside information, which builds trust in the brand's knowledge.
She says brands should also create livestream sales with a focus on live and limited opportunities, such as discounts, first access to a product, or limited-edition items. "Retailers want customers to feel a sense of accomplishment after the event—they got the best deal, the last one left, the best item you can't get elsewhere," says Miller. "The real-time aspect of the event generates a buzz and allows participants to interact with other customers watching the event on the social channel by reading comments and even communicating directly."
Losee ends her livestreams with uplifting messages that make her audience feel like they are part of the community, and this keeps them coming back for more. "Don't forget to hug yourself and remind yourself: You're amazing," she says in her sign-off.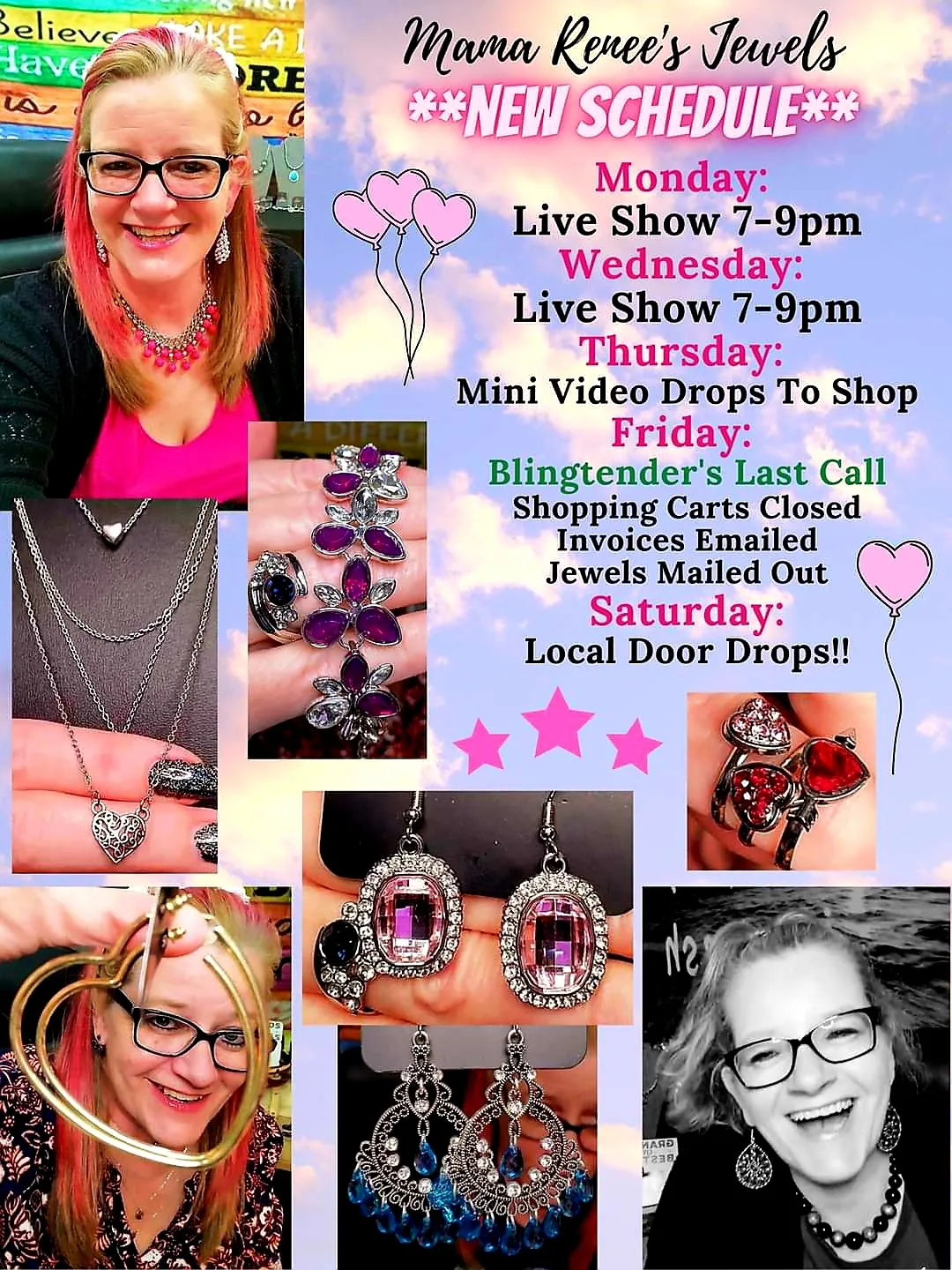 Renee Losee of Mama Renee's Jewels heavily promotes her livestream sales and says consistency has helped make her events successful.
How to start livestream selling
You can livestream sell on a variety of platforms, including Facebook, Instagram, Amazon, or even Zoom for more exclusive events. TikTok is also reportedly rolling out a livestream shopping feature later this year. Choose the platform where your customers are most engaged and consider your target demographic. For example, Instagram may be a better fit if you want to reach a Millennial or Gen Z audience.
While you or one of your team members is on camera, another one can watch the comments for people requesting to buy items. The team member then adds those products to the appropriate customer's "buy list." You can conduct this process through Square Invoices, payment links, or use Square partner Commentsold, which allows followers to make their purchases via comments on Facebook or Instagram.
You can also create shoppable posts on Instagram through Square Online, or paste a secure payment link in your Instagram Bio or Facebook page to allow customers to purchase the items directly from your social media accounts.
Launching an effective livestream shopping event
While it's technically easy to host a livestream event, you need to plan carefully to see the most engagement and sales.
Here are a few tips on how to host a successful livestream shopping event.
Promote your sale ahead of the event and follow up afterwards
In addition to sharing on the channel where you're hosting the event, be sure to spread the word on other social media channels, your email list, and with in-store customers to drive more people to the event. Be sure to highlight the time (and time zone), which social media platform the event will be aired on, how your customers can tune in to shop, and drum up some excitement about the products.
Losee says she maintains consistent communication with her customers to build momentum.
"I do follow-up videos the next day with items that didn't sell. I'm following up with a date for the next livestream. I'm telling people they've got to join my VIP Facebook group. That's important. You can't just go away."
Select the right products for the sale
Look for products that are in a price range that is conducive to impulse buys or products that can't be found anywhere else.
"I have seen merchants do well when they hone in on their niche product," Miller says. "For instance: vintage housewares, limited-edition records, plus-size clothing, a specific style of wardrobe, even metaphysical crystals."
More than anything, choose the products that you (or the host if it's someone else) are truly passionate about.
"You have to be excited about the product you're selling. You have to act like you want to buy it. Be very descriptive about what it is and then create excitement about it," Losee says.
Don't waste the first few minutes
"It's the first five minutes that you have to capture people," says Losee. "When I was researching lives, I saw people wiping their nose, picking their teeth, not realizing that the audience would see that on replay."
Even if you just have a couple people watching at that point, make sure you introduce yourself and capture their attention right away. You want to make sure those customers feel important. "I don't care if you only have two people show up, act like you have 200," Losee advises.
Turn it into a fun conversation
During the event, be as personable and conversational as possible, both with your words and actions. Interact with the audience by answering questions submitted online while on camera. Whenever possible, show the item in context — on a table or with other products — so viewers get a better feel for the size and material.
Create a visually appealing set
Carefully choose where you will physically be standing during the event and try to select a location that makes sense for the products you're selling. For example, if you're selling plants, your set can look like a home or patio. Be sure to record with good lighting so viewers can see both the products and the person showing them.
Conduct a test run
To eliminate technical issues, arrange a time to create the set and record a run-through of the event, especially when you're first starting out. Watch the recording, and then make any improvements. You should also run through an actual livestreaming session beforehand to make sure your device has enough bandwidth to smoothly handle the show.
If you aren't already experimenting with livestreaming, try putting an event on your calendar. Miller says that livestream selling will only continue to get more popular as people crave connection.
"Strangers from across the country get to know each other's likes and dislikes, just from their comments over multiple sales," she explains. "They become friends in their shared love for the product. Like shopping in a physical store, people become more interested in an item when someone else picks it up. The livestream sales can have the same buzz."