This article is for educational purposes and does not constitute legal, employment, or tax advice. For specific advice applicable to your business, please contact a professional.
Opening a new restaurant requires a great deal of thought about what may feel like a million things at once — and there is no one-size-fits-all solution as each restaurant has its own unique needs.
However, one of the most important factors for all new restaurants is kitchen equipment. While different food outlets will have varying requirements, there is certain essential equipment that every new restaurateur should consider in order to get cooking.
Creating a list of equipment that meets the requirements of your restaurant's menu ensures everything will be in place ahead of the big opening day.

Download a PDF of the checklist here
Restaurant equipment checklist
Ovens and grills
There are many different types of ovens and grills to choose from, but the best fit will depend on the style of food being cooked.
A flat-top grill is a good all-arounder. that can be used for almost anything. A convection oven heats up quickly, while brick ovens offer an authentic cooking style in a pizza restaurant. Commercial ovens and grills typically have a long lifespan, so buying second-hand is always an option for entrepreneurs on a budget.
Stovetops and ventilation
Gas stoves have higher daily operational costs than electric, however, they are typically more durable and cheaper to fix if anything goes wrong.
Having proper ventilation is an essential part of meeting safety criteria to remove cooking fumes at the source and provide enough air in the work environment.
Fridges and freezers
To keep food fresh and meet health and safety regulations, fridges and freezers are a must. Fridges and freezers help you store food properly, ensuring proper temperature control for ingredients. Investing in the highest affordable quality of fridges and freezers is always a good decision.
Cookware
The catalogue of cookware required will depend on your menu and the available space in your kitchen. A basic starter combination will include a set of pans in a range of shapes and sizes, baking trays and cake tins, tongs, spatulas, ladles, whisks, spoons, cutting boards, and a quality set of knives.
Food processors and blenders
An industrial food processor with a comprehensive set of attachments can make your dreams come true in a busy kitchen environment. Food processors can be used to speed up many daily processes, such as grating cheese. Blenders are also a handy tool and essential for restaurants intending to include soup on the menu.
Sinks and washing equipment
A full-service restaurant kitchen should have separate sinks dedicated to hand-washing and and equipment washing. Most will also need a third sink for food preparation and cleaning. Each sink should be used only for its designated purpose — and typically needs to be quite large.
Microwave
Even gourmet restaurants will sometimes find a microwave handy, particularly when the stovetop is full. They can also help to ensure all food is piping hot ahead of service. Commercial microwaves have higher power than domestic microwaves, so do your research.
Food preparation areas
Food preparation areas need to be large enough for your purpose and at a height that allows chefs to work comfortably. There should be enough room to separate high-risk categories of food, such as raw meat and fish, ideally with a dedicated service pass separate to the preparation zones.
Shelving and storage
Having plenty of shelving and storage is an essential element when complying with health and safety protocols.
Servingware and cutlery
No matter the style of restaurant, having the appropriate style and quantity of servingware and cutlery is vital. The maximum number of potential customers will dictate the volume required. Breakages should also be accounted for, as this is almost unavoidable in a bustling restaurant environment.
Back-office basics
When you're starting out and focused on fine-tuning your restaurant, it can be easy to forget about basics such as WiFi, a computer, cleaning supplies, and a break room for staff. But planning ahead will help your operations run smoothly while avoiding surprise expenses.
The right hardware for your restaurant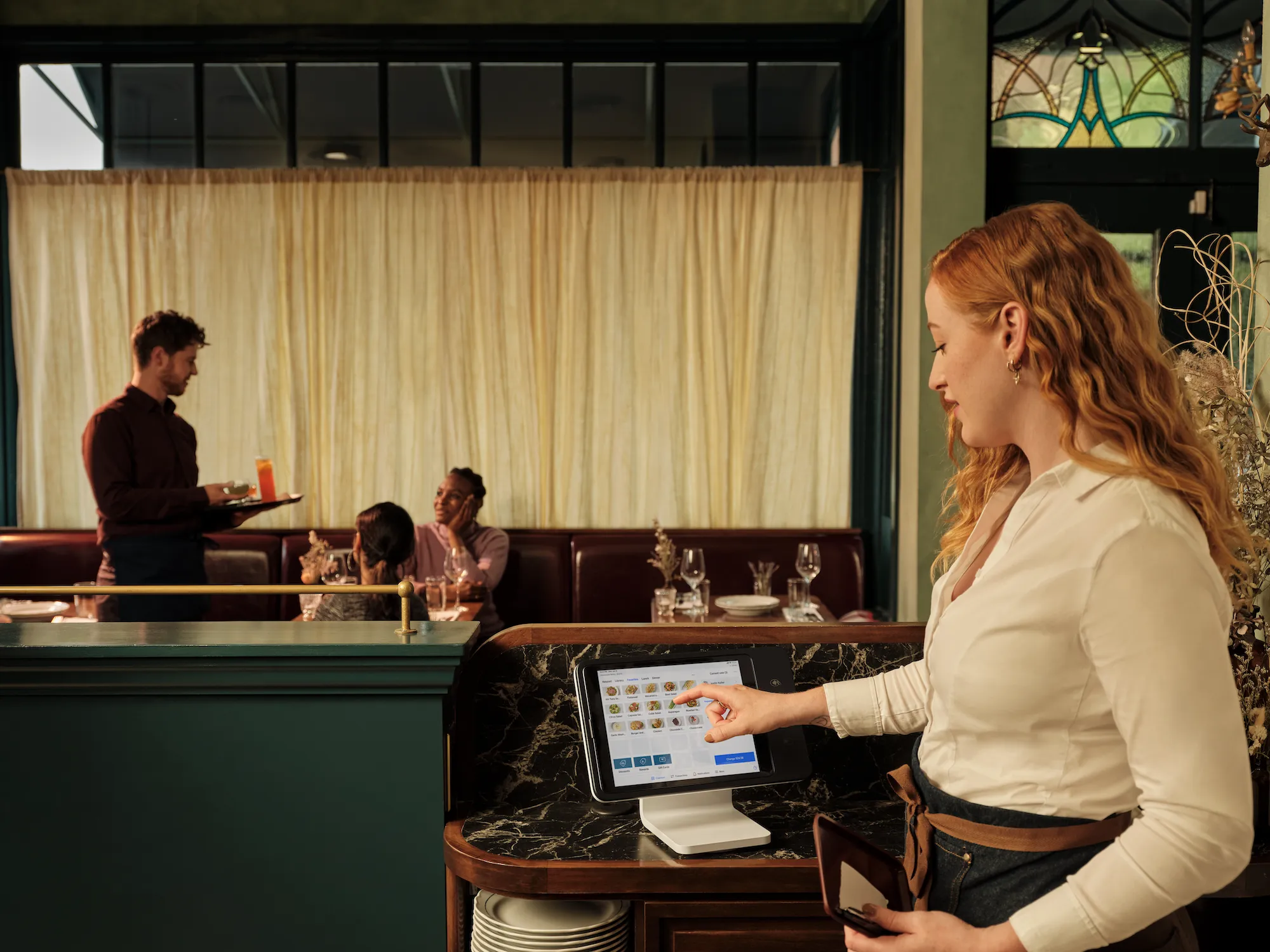 Once the restaurant kitchen equipment list has been checked off, hardware is the next concern. The primary component of hardware for any restaurant is a payment system which facilitates streamlined service.
Restaurant POS software offers a range of benefits over and above the traditional cash register. With an integrated Square payment system, restaurant owners can take payments in person and online with ease. The system can also help manage inventory, plan seating at busy times, monitor stock levels, send orders to the kitchen, and even coordinate deliveries and collections.
There are multiple options that are ideal for restaurants of all shapes and sizes.
Square Stand features a powerful iPad POS, a built-in card reader, and even smoother checkouts.
Square Terminal can be integrated into any payment system and allows both contactless and chip-and-pin payments on site.
Square Register can be integrated with the Square Point of Sale app for a one-stop shop for all your payment service needs.