Table of contents
Trina Gregory-Propst's Orlando, Florida, restaurant has exceeded her wildest expectations. After having a son, she left a 20-year career in the spa industry, put herself through college, and took her first step into the food and beverage industry with the business that has evolved into Se7en Bites.
Gregory-Propst planned on running the business as a private chef, and began by making desserts for other restaurants. Her girlfriend at the time convinced her it was worth scaling up production to sell those baked goods from the counter of a 987-square-foot space. In the early days, Gregory-Propst operated as the full-time baker and cashier while also taking out the trash and managing inventory. As her modern approach to southern food grew in popularity, she had no choice but to evolve Se7en Bites.
"The last year in the previous location was really painful," Gregory-Propst said. "Lines around the corner around the building. We knew that if we didn't grow that we wouldn't have the opportunity to continue to grow our brand. And so it was kind of forced growth."
Now, Se7en Bites heads into its eighth year of business, operating smoothly out of a 4,000-square-foot location, serving 250 to 400 guests a day on weekdays and 450 to 600 on weekends. Their Vanilla Bean Bourbon Bacon Nighttime SkyPie and Chicken Pot Pie are in high demand after being featured on Food Network's "Diners, Drive-Ins, and Dives" twice. 
Gregory-Probst credits the business's unexpected success to its high food quality, commitment to customer service, and willingness to embrace new technology that allows her and her staff to operate at a consistently high level.
"Would I have ever said this is where we would be?" she aked. "I absolutely would not have. This was not the plan. And yet here we are."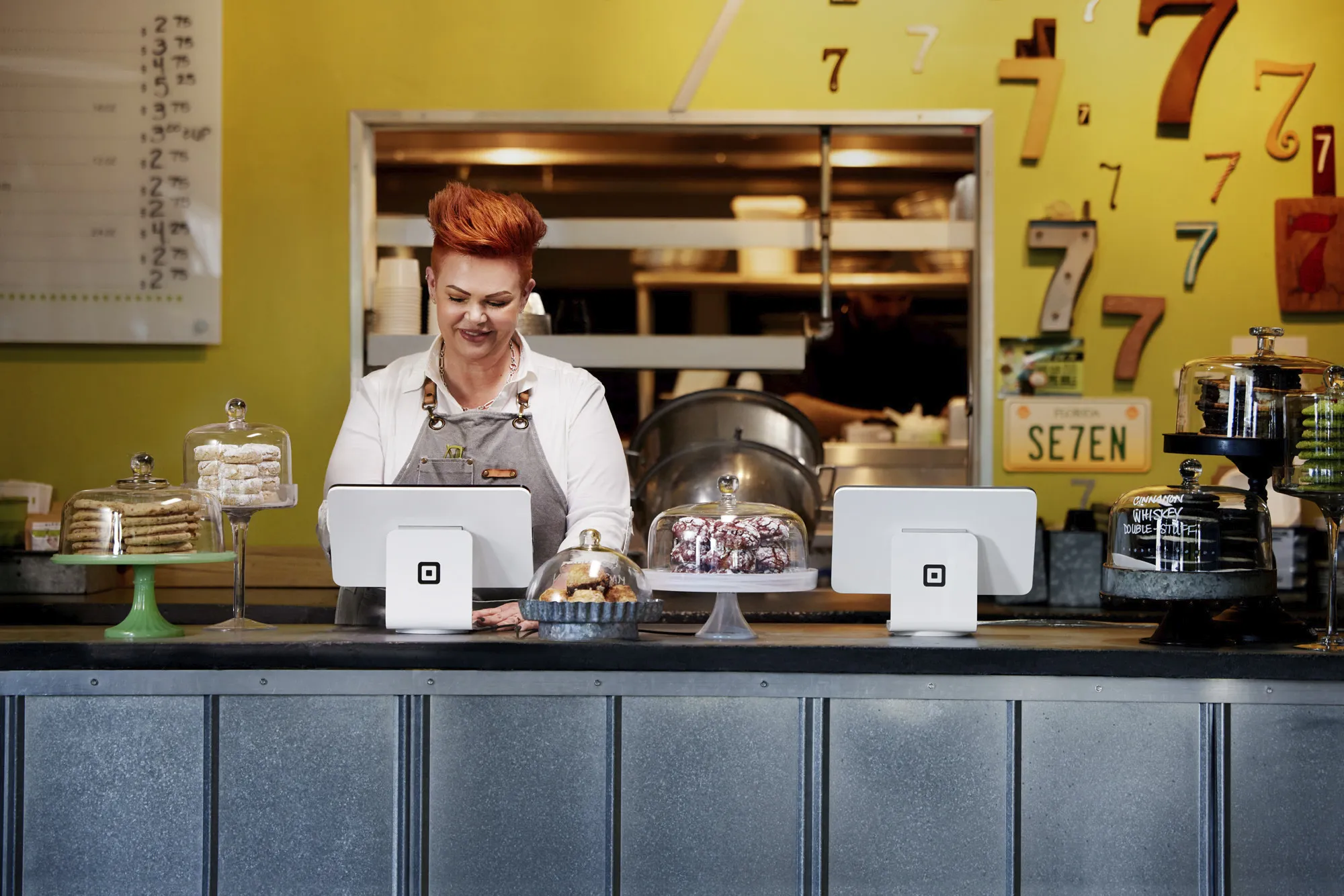 Embracing technology and growth
Gregory-Propst's work day begins long before she walks in the doors of Se7en Bites. After waking up around 4:30 a.m., she checks the previous day's data on her Square dashboard, forecasts upcoming sales, checks on invoices for wholesale clients, and sends messages to bakers to prepare for the morning.
"I really have all of the opportunity to be able to see what's going on with my business before I even walk in the door," she said. "As a small business, I feel like I'm being treated like a big business and getting the opportunity that large corporations have."
While Gregory-Propst doesn't consider herself inherently technologically savvy, she has scaled her business by embracing a customizable and integrated set of tools that have easily fit her needs.
"I've really been able to take all of the benefits that I can get from Square and just pick and choose and use the things that help my business grow and help my brand the most," she said.
Managerial tasks such as running payroll used to prevent Gregory-Propst from spending as much time as she wanted in the kitchen. But finding an automated solution connected to her staff scheduling and point of sale helped alleviate those pain points.
"Payroll used to be a nemesis for me," she said. "And I've been able to look like a hero to my staff by giving them direct deposit and the ability to have access to their account on a daily basis without wondering what their next check is going to be. The ease with which I do payroll now has saved me hours of time every week, and it just integrates so well. I can look at my sales and know what my payroll is and really see: What is the forecast? Am I doing OK? Do I need to pull back on hours? Do I need to increase hours?"
Se7en Bites also added national shipping, online ordering, eGift Cards, and catering services connected through their website, helping the business maximize its potential.
"I think these days and times, if you don't have multiple ways to operate your business and think outside the box — what else can you do with the equipment that you have? How can the system that you already have better work for you? You just stunt your growth by not thinking of those things," she said.
Evolving with new tools
Gregory-Propst was a little skeptical to implement the newest version of Square Stand into her business at first, nervous about switching technology after investing time in the setup of her point-of-sale tool.
"But I was shockingly surprised at the the transition," she said. "I love how streamlined it is. There's no extra bits that have all of the different cords to them. Everything is all in one unit now. It's very easy to use. It's easy to read. I know exactly what it's doing, when it's doing it. I don't have to pay attention to: Is this on? Is that on? Are they connected? Are they talking to each other? It's all in one unit now and it makes perfect sense to me."
The new version of Square Stand simplifies everything with one device that turns your iPad into a point of sale, making checkouts smoother while saving money and stress.
"You know where you stand — literally, our fees are included," Gregory-Propst said. "I know daily what comes out. I can check that at the end of the day, the next day, I know where we're at. It is clear, concise, and very in front of you. I know how to run my business that way. 
The Se7en Bites staff quickly got used to the new POS as well, with Square Stand integrating into the rest of the business's tools.
"The staff loves it because it's easy for them to use," Gregory-Propst said. "It's easy to explain to the customers how to use it, and by being able to shift that around, they can tap their card. They know we're not touching their credit card. It's really just ease of use that's made everyone feel comfortable.
"And the flexibility of being able to use the program within a lot of our different pieces of equipment allows us to sometimes take extra orders when we need to. I never have to worry about: Is my Square Stand talking to my iPad? For my takeaway sales, is the amount of information that I just put into my personal PC for my invoices all collecting in my sales as well? I never have to worry about that. It's all integrated. It talks to each other and it's consistent every single time."
Gregory-Propst remains busy with the daily duties of running her restaurant, from new growth opportunities to making sure there's enough quiche to match customer demand. But she's confident in the future of her business because of the strength of her team and how they're set up to succeed.
"We have such a talented staff," she said. "They really, truly have perfected their art. And so, you know, I know that we're going to be making the most beautiful galettes and that our biscuits will always be perfection, because we cut in all the butter by hand, and we hand roll them and we hand cut them. And I don't have to worry about what is going on out front. I can focus on the quality of our food and know that we are delivering something that feels like comfort to everyone, because we are making things with love."