Table of contents
We're constantly releasing tools to help you start, run, and grow your business.
In September we launched a bunch of cool new features. To make sure you're getting the most out of Square, here's a roundup.
Attach files to your invoices.
Square Invoices now allows you to attach files. Whether it's receipts, pictures, or contracts, help streamline the experience for your customers by sending it all together. Learn how to use invoice attachments. (Not sure how to put together a contract? Check out these free contract templates.)

No headset jack on your iPhone 7, 8, or X? No worries!
If you've upgraded to an iPhone 7, iPhone 8, or iPhone X — or another phone without a headset jack — you're probably wondering if you can keep relying on Square to take credit card payments. Rest assured — we have you covered.
You can use Square Reader for contactless and chip, which connects to your phone via Bluetooth LE. Or you can use the new Lightning Adapter for Square Reader. With this adapter, your Square Reader for magstripe stays firmly in place so you can swipe easily and accurately. Learn more about your options for taking payments when you don't have a headset jack.
Lower quantities of custom gift cards are now available.
You can now create and order custom gift cards in packs as small as 125, lowering the up-front costs of Custom Cards by 40 percent. Square Gift Cards are fully integrated with Square Point of Sale, and they are a great way to boost sales and bring in new customers. Get started with gift cards.
Promote eGift cards in your online store and email.
Square eGift Cards allow your customers to buy and send digital gift cards online. eGift cards are free to set up — you only pay processing once a gift card order is placed. And now you can easily promote your cards through Square Online and Square Marketing.
Once you've set up your eGift cards, a promotional link will automatically appear on your online store. Also, you can add a default link to any Square Marketing email campaigns to get the word out about your digital gift cards. Set up your free eGift cards today.
Meet the new Orders API.
The new Orders API enables developers to leverage the full power of Square's Connect API and reporting tools to supercharge online business. The Orders API delivers full itemization capability, making it possible to build more meaningful reporting for businesses that share a catalog between online and brick-and-mortar sales channels. Learn more about how to implement the Orders API on The Corner, our developer blog.
Make payroll automatic.
With Square Payroll's Automatic Payroll feature, you never have to worry about forgetting to run payroll again. When you turn on Automatic Payroll, we automatically calculate salaries, import timecards, calculate deductions, and run payroll for you each pay period. Before each pay period, you get an email confirming what your employees will be paid and you have until the end of the day to cancel or make any changes.
Start using Automatic Payroll by turning it on in your online Square Payroll dashboard. Or you can read more about Automatic Payroll.
New Square for Retail features
Customize your labels.
Square for Retail now lets you choose and customize what you want to print on your product labels. Choose between SKU, item name, variation name, bar code, and price. You can print labels for your product categories or even print directly from a purchase order. Learn more about label printing.
Search your inventory across locations.
Now you can view your inventory across all your retail locations with the Square Retail app. Just tap More Info in your inventory search results to view details about your stock in other locations.
You can sort and search through your results by stock count, distance, or alphabetical name. And when a product is out of stock at your location, you now see an out-of-stock indication in the inventory search result. Square also provides the store's address, phone number, and business hours.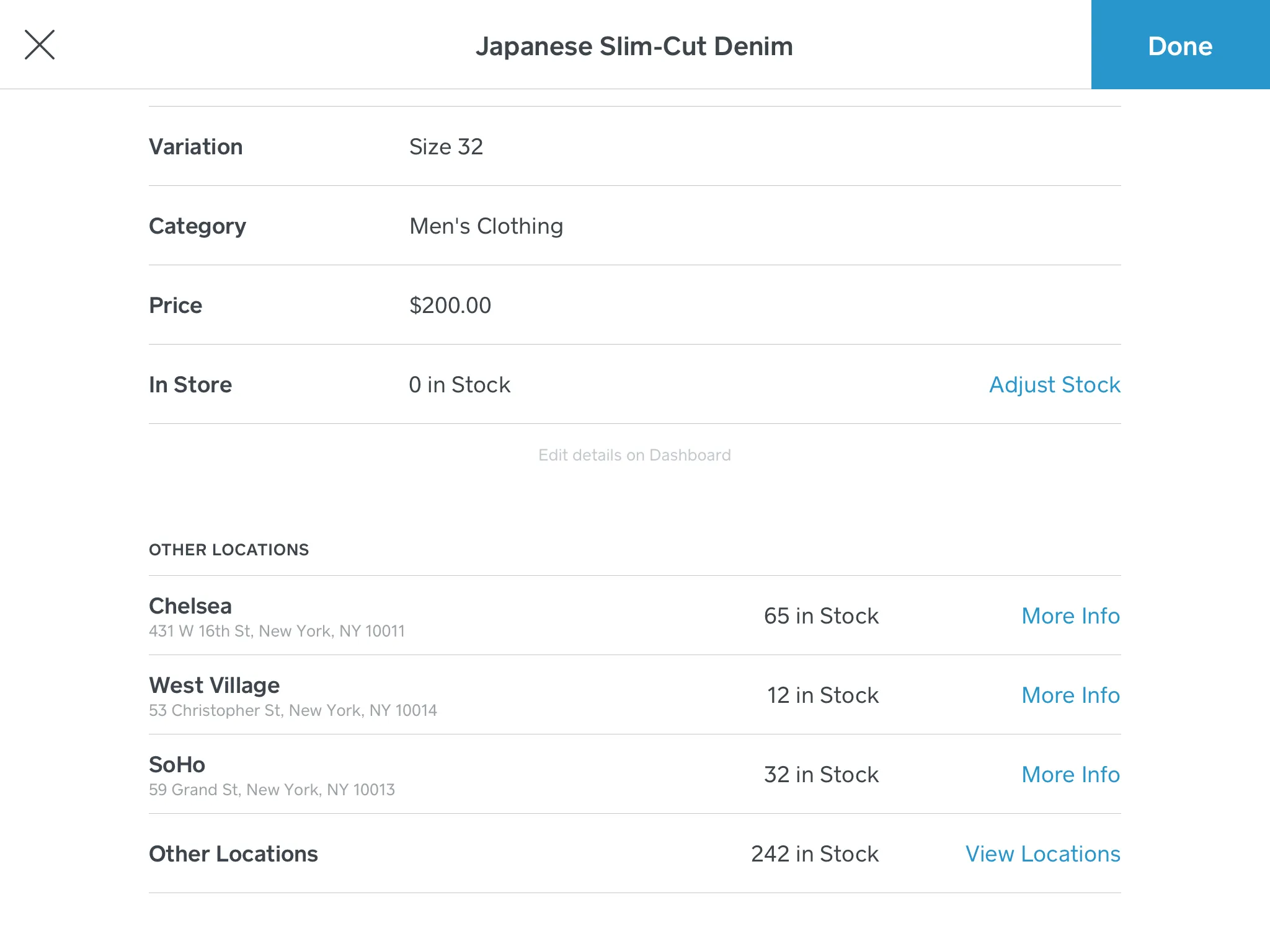 Receive purchase orders in the Square Retail app.
You can now receive purchase orders and products right from the Square Retail app. During receiving you can add optional fees, such as shipping and taxes, to accurately reflect costs in your Cost of Goods Sold report. Also, view the status of all your purchase orders in the app, whether they've been fully received, partially received, or are still on their way, and the date to expect them. Try it today with the Square Retail app.