This article is for educational purposes and does not constitute legal, employment, or tax advice. For specific advice applicable to your business, please contact a professional.
What do you need to open a retail store?
After going through the process of nailing your retail business plan, registering your business, acquiring licenses, determining your financing, and finding a location, you're ready to take the next step and build out your space. But where should you start and what are your options? 
Having a well-equipped, connected, and easy-to-manage store is essential to setting up yourself, your staff, and your business for success. According to the Square Future of Retail report, 41% of consumers say they are likely to avoid businesses that don't have staff or employees onsite to assist them, while 72% of retailers use or plan to use automation to decrease staff members' hands-on time.
Here is the Square checklist guide for the types of hardware and tools you can use to get up and running.

Download a PDF of the checklist here
Retail store supplies, inventory, and stock room
Essentials
Good inventory management reduces costs, improves cash flow, and boosts your business's bottom line — especially when it's connected to a strong point-of-sale solution. You don't need much to start and stay organized, but these tools will help.
Shelving: From gondolas to rack fixtures, you have multiple options here. The most important thing is being able to quickly find and track your items.
Labels with a printer and/or a pricing gun: With Square for Retail Plus, you can create and print bar code labels with multiple printer types.
Consider
Scale: This can come in handy both for your product descriptions as well as shipping.
Box cutters: Consider this and similar tools that will ease any manual labor demands at your retail store
Shipping materials: For more info on shipping techniques, check out UPS' guide to shipping everything here.
Retail back office
Essentials
It can be easy to forget about these basics when you're starting out and focused on fine-tuning your product, but planning ahead will help your operations run smoothly while avoiding surprise expenses.
WiFi system: Before you open your doors, ask yourself if WiFi will be used for staff only or if you want to offer an option for customers to connect.
Computer or tablet: While you can do plenty of business management from your phone, it's helpful to have a computer or tablet available for larger projects.
Office basics (pens/paper/staplers/clips): Like many of these tools, buying in bulk and budgeting ahead can help save on future costs.
Cleaning supplies: Items such as trash cans, trash bags, brooms, mops, and disinfectant wipes will help your store maintain a level of cleanliness to attract customers.
Consider
You might not need a traditional break room, but consider spaces dedicated to your staff. Giving employees an area to unwind with amenities — even small ones like comfortable chairs and a stocked fridge — is a nice step to attracting and retaining talent.
Break room: You can get creative here, and employees are likely to appreciate the perk.
Filing cabinet and safe: You might not require space for tracking physical documents or providing security for specific items at your retail location, but both can be helpful tools as you're getting started.
First aid kit
Retail display and fixtures
Essentials
The specifics here will depend on what you're selling and the size of your space, but this all comes down to two factors: letting your products shine and making it as easy as possible for your customers to make purchases the way that works best for them.
Shelving/racks/hangers: Plan for the amount of space you need for featuring your products as well as giving customers room to browse.
Shopping bags: If you have the budget for it, this can be another opportunity to market your business with s creative shopping bag design.
Consider
While these items aren't quite essential, they can provide functional value while also enhancing the customer experience. After you map out the costs for all of your key purchases, you can see what else you need and are able to afford.
Shopping carts/baskets
Security system (camera, alarm, merchandise protection) 
Dressing rooms/curtains/dividers
Display cases
Sign holders
Countertops
Dividers
Mirrors
Point-of-purchase (POP) displays in the center of your store
Stereo system or speakers to play music
Mannequin displays
Point of sale (POS) system
Essentials
Whether it's a stand for your tablet, a mounted POS, a small mobile terminal, or a full register, your point-of-sale system is so much more than a tool for the essential task of processing payments. The best POS nails the basics while streamlining administrative tasks and tracking everything from sales reporting to customer engagement to inventory management. Here's how to get started choosing the one for you.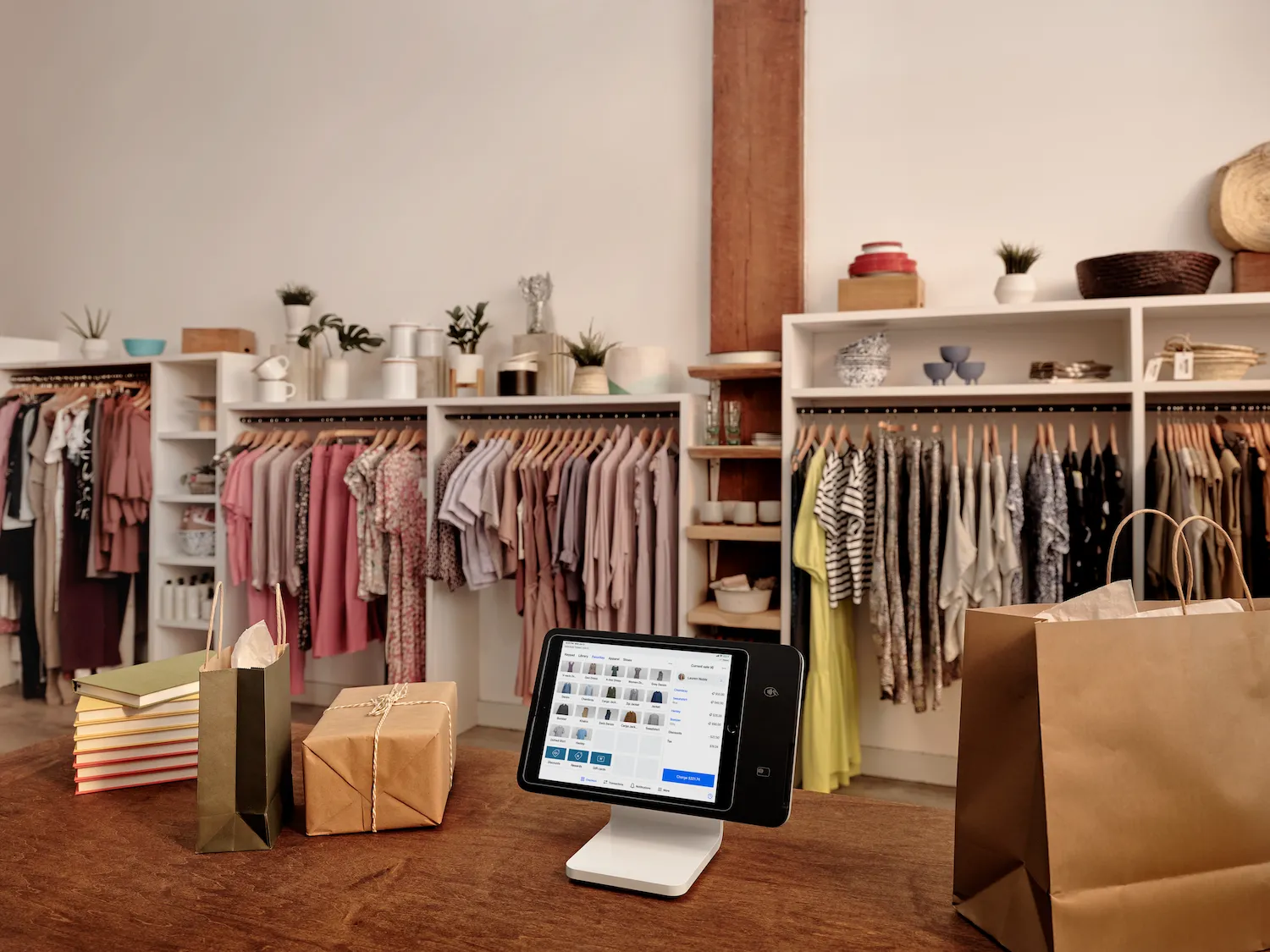 Consider:
Retail lighting, colors, furniture, and signs
Essentials
Your product matters, but the vibe inside of your store can also play a large role in attracting customers. Make sure that you've invested in a lighting setup that makes your products shine any time of day, and find signage that fits your brand while selling your products clearly.
Lighting: Your lighting choices can have effects across your business, including setting the right mood and guiding customers to specific areas of your store.
Signage: Signage inside and outside your store can provide guidance to customers while also acting as another branding opportunity.
Consider
Have the budget to amplify your space a bit more? Small things can make a huge difference in retaining customers.
"For some reason, it sounds nuts, but having the plants that we have feels so welcoming the moment you walk in," WTR Cooler Studio owner Ivana Cajina said. "And I know I may be biased, but there's something about it. Every time someone walks in they go, 'Whoa.' Because you don't expect it. It just feels good."
Plants
Rugs
Seating/furniture
Restrooms
Retail store marketing materials
Consider
While physical marketing tools aren't essential items for your retail business, you should consider whether they're useful for the business you're starting and if they fit inside your budget. While digital marketing can be highly effective, a new retail store can get a boost from these items.
Business cards
Stickers, pens, and small giveaway items