Table of contents
The way we pay for things is changing — fast. To make sure your business stays current (and secure), here are the payments methods you should start accepting both in-person and online:
1. Chip cards
You've probably noticed that at many stores, you're now asked to pay via chip cards (aka EMV cards). Magnetic-stripe cards have long been vulnerable to fraud, so chip cards, which create a unique impression every time they're used, are a better option due to their superior security. Instead of swiping, customers insert their card into a reader until the transaction is complete. The liability shift went into effect in 2015, making a chip reader all the more important. (Read our post A Simple Guide to the EMV Liability Shift for more information.)
Square's contactless and chip reader accepts both EMV® (a technology developed and managed by American Express, Discover, JCB, Mastercard, UnionPay, and Visa) and NFC transactions like Apple Pay (more on that below). Read more about chip cards in our post Everything You Need to Know About the Switch to Chip Cards.
2. Mobile wallets
This type of payment method uses near field communication (NFC) to transmit information from a mobile device to a payments reader. NFC is a type of radio frequency identification technology that allows your smartphone and a payments device to talk to each other wirelessly and complete the appropriately named contactless payment. NFC transactions are just as secure as EMV, but they're a lot faster. If you've paid with your chip card, you've probably noticed that the whole process takes quite a while. NFC mobile payments, on the other hand, take just seconds. And they're a lot more convenient — customers don't need to carry around a physical wallet, just their smartphone. As a business owner, you can start accepting mobile payments by purchasing an affordable NFC reader like the Square contactless and chip reader. You can read more about mobile wallets in our post What Is a Contactless Payment?
Here are the most common examples of mobile, contactless payment apps (all of which you can accept with the Square contactless and chip reader):
Apple Pay
Apple Pay is currently available on models starting with the iPhone 6 (these iPhone models also contain NFC chips), as well as the Apple Watch. When customers pay with this method, they use a credit or debit card saved to Wallet and hover their iPhone or Apple Watch over a payment reader while holding their finger on the Touch ID button of Dace ID feature to unlock their phone. The transaction takes only a few seconds to complete. Read more about how to use Apple Pay — and accept it at your business.
Google Pay
Google's mobile wallet technology, Google Pay, is available on all NFC-enabled devices that run Android version 4.4 or later. To use Google Pay, customers just open the app on their phone (which requires the user to have a secure lock screen) and complete the transaction by holding their device over the payment reader.
Samsung Pay
To use Samsung Pay, customers open the app and then hold their device over the point-of-sale terminal. This technology is available on Galaxy phones starting with the Galaxy Note 5 through the Galaxy S20 Ultra. It is also available on the Galaxy Watch, Gear S2, Gear S3 and Sport.
These three payment methods offer a contactless way to pay using the customers' digital wallet and device's face or touch ID.
3. Digital invoices
If you have clients, one of the struggles can be actually getting paid, an endeavor made more frustrating when relying on paperwork, checks, or taking credit card numbers over the phone. Digital invoices streamline this process. For example, with Square Invoices, you can send invoices from the app on your mobile device and track them on your Dashboard.
This year will mark some big shifts in the way we pay for things. To ensure you can securely accept any sale this year, it's a good idea to fast-track the latest and greatest POS and payments processing technologies at your business.
Want to try digital invoices? Click to get started today.
More Ways to Get Paid With Square
Square has a variety of online and in-person payment methods that can help you grow and streamline your business. Here are nine ways you can integrate online payments into your business.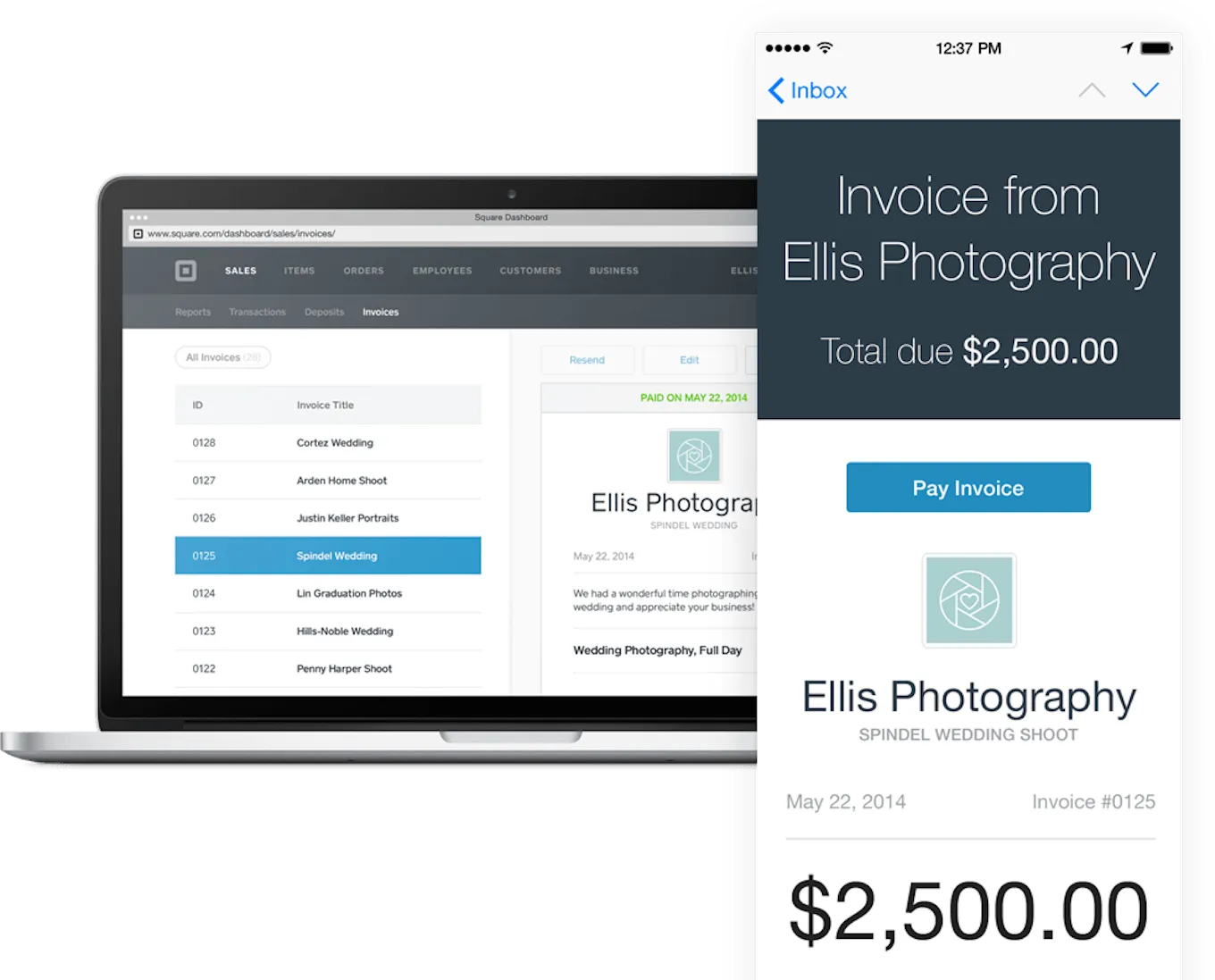 9 Payment Methods for You to Choose From
| # | Payment Method | Cost | Best for |
| --- | --- | --- | --- |
| 1 | Online Invoices | 2.9% + 30¢ per invoice paid | Regularly billing remote clients |
| 2 | Cash App | Free debit card payments for personal use or 2.75% per business payment received | Quick and simple billing |
| 3 | Appointments Prepayments | 2.9% + 30¢ per guaranteed appointment | Services-based businesses |
| 4 | App Marketplace | Free | Integrate with your existing apps (Intuit, Bigcommerce, etc.) |
| 5 | Manually Enter Transactions | 3.5% + 15¢ per transaction | Forgot your Square Reader |
| 6 | Take payments with Square Point of Sale | 2.6% + 10¢ per swipe, tap, or dip | In-person payments |
| 7 | Turn your computer into a cloud POS with Virtual Terminal | 3.5% + 15¢ per transaction | Taking remote payments over phone or fax |
| 8 | E-commerce API | 3.5% + 15¢ per transaction | Process online payments on your own self-hosted, fully developed website |
| 9 | Hosted Checkout | 3.5% + 15¢ per transaction | Process online payments on your site with a payment form from Square |
Online payment methods
Online Invoicing
Sending out paper invoices is cumbersome, time consuming, and not so friendly to the environment. A far more streamlined, convenient, and eco friendly way to go is online invoicing. With software like Square Invoices, you can use ready-made invoicing templates to quickly and easily spin up invoices and send them out to your customers, where they can pay with a click right from the email. That means that you get your money a whole lot faster than with the snail-mail approach. Paid invoices usually land in your bank account within one to two days. Square Invoices also has the added benefit of allowing you to track all your invoices, so you can quickly see what's been paid and what's outstanding.
Cash App
A quick and easy way to get paid online is with Cash App. The mobile app lets you request payments for business goods and services at just 3 percent per transaction. This type of payment method makes it easy for your customers to pay you on the spot, and the money is available to you within seconds. Send and receive money with anyone, donate or receive tips by entering a $cashtag, phone number or letting customers scan your QR code to pay.
Prepayment with Appointments
If you're a business that deals with appointments, it's a good idea to consider adopting an online payment method that lets your customers prepay you for the service. This is easy to do with Square Appointments, which has a client prepayments feature baked right into the software. Client prepayments also have the added benefit of helping to cut down on no-shows (if people prepay for a service, more likely than not they'll show up).
Explore App Marketplace's online store integrations
Square App Marketplace has 21 business apps you can connect to your Square account to help you streamline and manage your business. You can set up a beautiful online store to complement your brick-and-mortar store using e-commerce apps like BigCommerce and Weebly. In addition to accepting different payment types online, these apps can help you with tasks like streamlining inventory management across all your selling channels.
Build your e-commerce solution with our E-Commerce API
With Square's E-Commerce API, you can use Square to process online payments on your own self-hosted, fully developed website. By seamlessly integrating your website with Square's online payments services, you can grow both your online and offline businesses together in one dashboard. Square's E-Commerce API also makes PCI compliance easy. Because customer credit card information never touches your website, you don't need to complete a single PCI DSS checklist to make sure you're PCI compliant.
Square Checkout
Square's hosted checkout solution, Square Checkout, allows merchants to accept online payments for supported payment types using a checkout workflow form hosted at squareup.com. The checkout form provides next-business-day transfers, a PCI-compliant integration, and SSL support.
Ring up purchases on your Square Point of Sale
Using Square Point of Sale, you can accept credit and debit cards, Apple Pay, and Android Pay at a rate of 2.6% + 10¢ per swipe, tap, or dip. Once you've set up your Square Stand with your iPad, or connected your chip reader to your Android or Apple device, you can swipe magstripe cards through the track in the front of the stand, and dip chip cards or tap an Apple Pay or Android Pay enabled device to accept payments with the contactless and chip reader.
Remote payment methods
Remote payments are ideal for businesses that take orders over the phone or fax to charge a client's credit card safely and securely. Because card-not-present (CNP) transactions naturally carry a higher amount of risk, payment processing fees tend to be higher to accommodate a higher occurrence of chargebacks or fraud.
Virtual Terminal
Turn your computer into a cloud POS with Virtual Terminal at a rate of 3.5% + 15¢ per transaction. No hardware, reader, or app installation is required. To process a transaction, you need your customer's card number, expiration date, CVV/CVV2, and billing ZIP Code. Virtual Terminal is ideal for if you want to immediately charge a customer remotely for orders received over the phone or online.
Manually enter transactions in the Square Point of Sale app
With a cloud POS like Square Point of Sale, you can manually enter your customer's credit card information for a card-not-present (CNP) transaction. For manually entered transactions, Square's fee is 3.5% + 15¢ per transaction. To use Square Square Point of Sale's manual entry feature, you need your customer's complete card number, expiration date, security code/CVV, and billing ZIP code. Read more about using manual entry.
Remember: Manual entry is best for businesses that only occasionally bill remotely. If you regularly bill customers from afar, consider trying Square Invoices (option 1) instead for a 2.9% + 30¢ per invoice paid online. There are no extra fees, and you only pay for the invoices that are paid online.
Square's Point of Sale app also offers two touch free ways to checkout customers. Customers can checkout using QR codes or payment links directly from your Square Point of Sale.
FAQ
If a customer's card on file is expired or lost, how can I update their preferred payment method?
You can update a customer's preferred payment method by going to your customer's profile in your Customer Directory, and selecting Edit Personal Information. Your customers can also remove their own cards by following the link provided to them on all Card on File notifications. Customers receive notifications when their card is stored, when their email address is changed, and when a payment is made using a card on file. Outdated customer card information is a common reason for credit card declines.
Why does your list of payment methods include different processing rates and fees?
When a transaction is completed and a card is not present (CNP), Square assumes a higher risk of fraud and chargebacks. Therefore, CNP payment methods have a higher processing fee than transactions completed in person through Square Point of Sale. Authenticated, in-person payments like chip cards and NFC tend to be the most secure way to get customers to pay, and generally have lower processing rates associated with them.
What is the most secure method of payment?
In-person payments with the card owner's signature are highly secure, reducing the risk of chargebacks and credit card fraud. You can also require a valid government-issued ID with every credit card purchase, and keep proof of all credit card orders. If you take payments where the card is not present, you might ask your customers to sign a credit card authorization form, which gives you permission to charge their card on an ongoing basis.
NFC mobile payments like Apple Pay are dynamically encrypted, making them one of the most secure ways to pay with a credit card. The near field communication (NFC) creates a contactless transaction that utilizes tokenization to keep your data safe. Read more on NFC payments here.
EMV chip cards are much more secure than traditional magnetic-stripe cards, and have encryption built right into the chip. Type of payment methods are top of mind for Square sellers navigating changes in their business during COVID-19. Read more about contactless payments.
I want to build an online shop, which payment method is right for me?
To build an online shop, you have a few options of methods of payment online. If you host your own fully developed website, Square's E-Commerce API allows you to create the best payment solution for your site, on Square's payments processing platform.
If you have your own site but don't want to build a payment page, Square Checkout provides a payment workflow in conjunction with squareup.com that includes security features.
Square also syncs with a variety of beautiful, no-coding-required e-commerce platforms like BigCommerce, Wix, and Ecwid that help you start your online store quickly. Find the best solution for your needs in Square App Marketplace.
Not interested in managing your inventory online? No worries! With Square Virtual Terminal you don't need a separate card reader or app, making it ideal for businesses that specialize in wholesale orders or bill remotely over phone or fax.