We're constantly releasing tools to help you start, run, and grow your business.
In December, we launched a bunch of cool new features. To make sure you're getting the most out of Square, here's a roundup of what's new.
Dashboard Search is live to help you find answers
Find what you're looking for easily with Dashboard Search. In Dashboard, simply click the search icon in the top-right corner, type in your question, and get search results for content within Dashboard, related Support articles, and Seller Community topics. Try it out.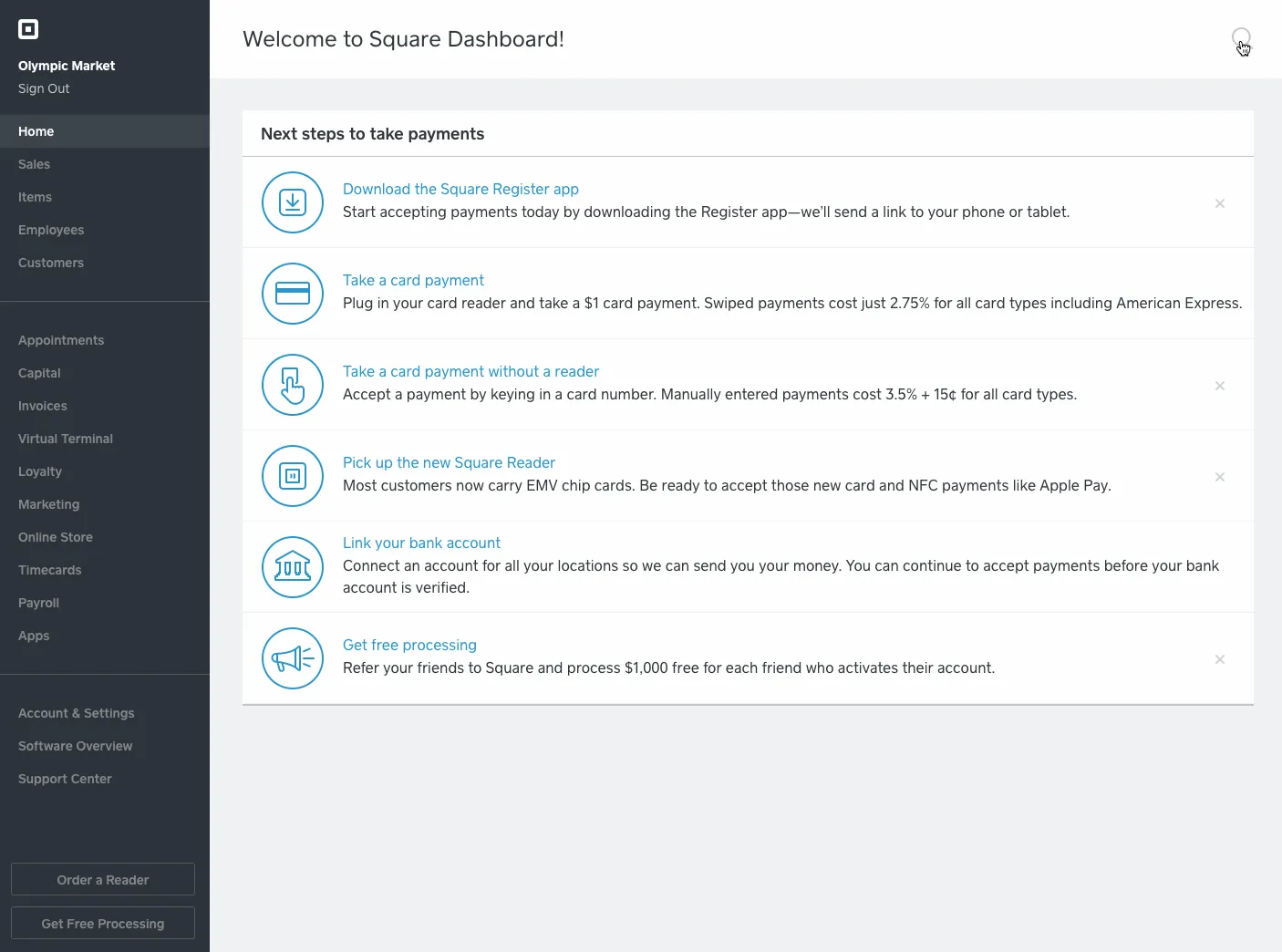 Transfer schedule now visible in iOS
Now sellers can see their transfer schedule directly from the Square app on iOS. From the Deposit Settings page on your mobile device, you can see whether your funds are coming the next business day or are scheduled to arrive the same day.
Want to change your transfers default? From your mobile Dashboard, adjust your close of day or schedule same-day transfers for any day of the week, including weekends and holidays. Learn more about scheduled transfer or try it out.
Save custom messages in Square Invoices
You can now easily customize your invoices to automatically include return policies, cancellation policies, or other terms of service by saving custom messages. Simply update the Message field to include your message and select "Save as Default Message." Send an invoice now.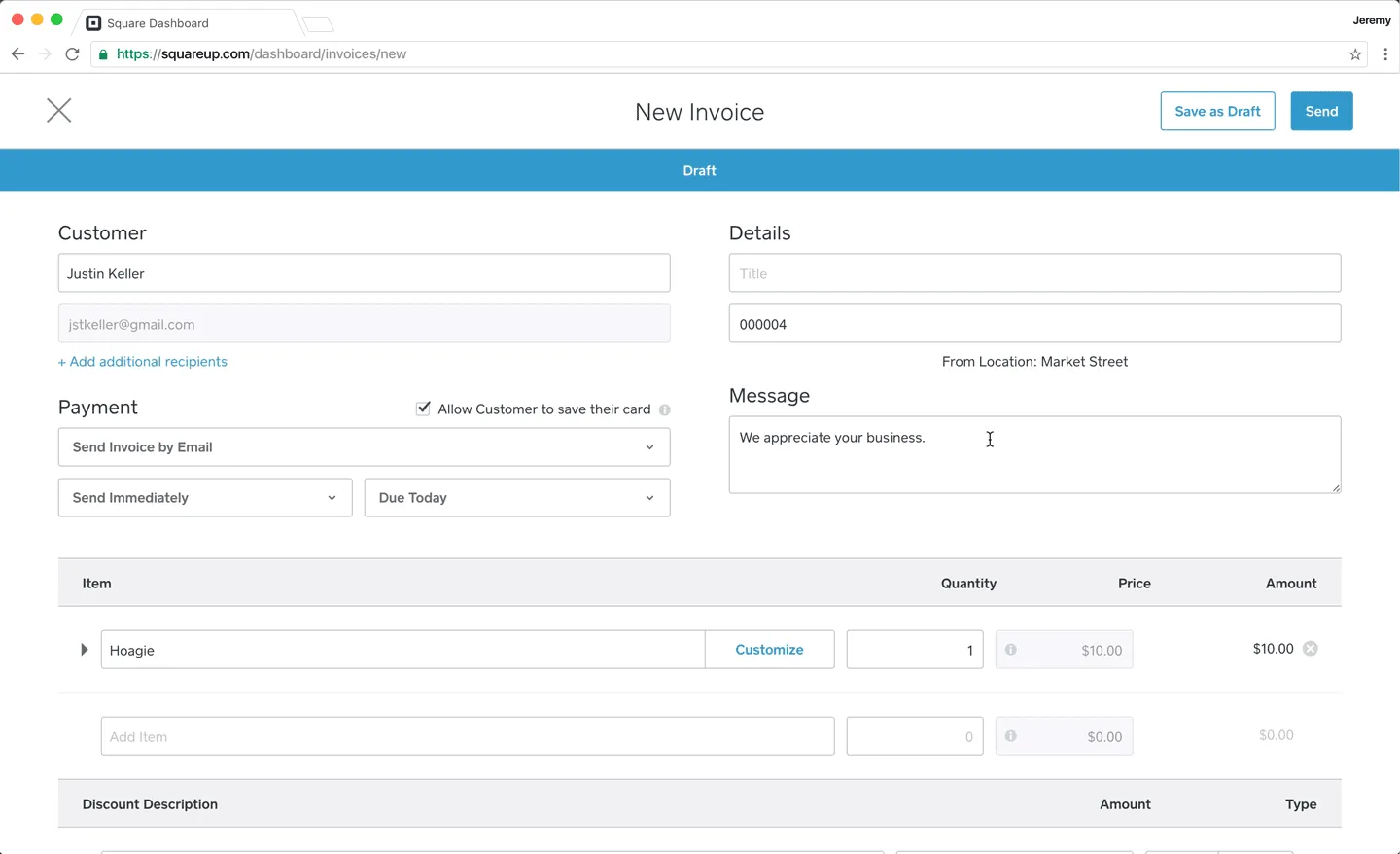 Pay salaried employees with Square Payroll
Square Payroll now makes it easy to pay salaried employees, including nonexempt workers who are eligible for overtime. Square Payroll gives you the tools to easily get set up, track hours worked, and automatically calculate overtime when you run payroll. Our full-service solution also handles tax calculations and filings for you. Learn more about salary support or get the lowdown on Payroll.
Create custom payroll reports
You can now download custom payroll reports from your Payroll History tab. Download the details of a single payroll or paycheck, or select a custom time period. Run reports showing all paycheck details, employee totals, or company totals. Learn more or try it.
Customized headers in Square Marketing
You can now fully customize the header images in Square Marketing email templates, giving you more freedom to promote your brand to your customers. With that plus new seasonal template options, .gif support, and enhanced text editing controls, Square Marketing now gives sellers a whole new level of control over their email design. Check out our top tips for customizing email, or try it yourself here.
Gift receipts now available on iOS
Just in time for the holiday season, sellers running the Square app on iOS devices can now print gift receipts without the dollar amount. If you need to process a refund, you can look up transactions just like with a regular receipt. Find printing instructions here.
Three improvements to Square's Point of Sale API
We've got good news for developers who use Square's Point of Sale API to build a custom point of sale. Previously sellers had to log in twice — once on the third-party app and again when using Square for payment. Now, the OAuth requirement has been removed so sellers only have to log in to the Square app.
Also sellers can now store customers' card on file within their custom point-of-sale app by associating it with the Customer ID. Lastly, developers can now build Android web-based POS solutions that take in-person payments with our new Android Web API. Learn more here.
Auto-receipts are now delivered for Virtual Terminal transactions
Your customers who have opted to receive Square receipts now automatically get receipts sent from Virtual Terminal, too. Virtual Terminal lets sellers accept credit card payments from their computer, with no extra hardware or software needed. Sellers can bill their customers remotely, for phone or email orders, and get paid fast. Learn more about Virtual Terminal or try it out now.