Latino entrepreneurship is on fire. In 2013, Latinos launched 20 percent of new U.S. businesses, up from 10 percent in 2007. They're starting new ventures at twice the rate of the general population and now contribute more than $468 billion to the U.S. economy.
They're also increasingly relying on mobile. In a recent study, sixty percent of Latino entrepreneurs credited mobile technology as a primary tool for helping them grow their businesses. We're seeing that trend at Square, where the number of sellers using our Spanish products have increased 10 percent since launch. Our Spanish-using sellers now operate in more than 400 metro areas and have processed over $112 million in sales.
We dove deeper into our data to determine where businesses using Square in Spanish are thriving the most. They're growing the fastest in Orlando, Tampa, and Atlanta. However, Miami takes the crown for total transactions processed by Square in Spanish, cashing in at over $24 million so far. Second is New York, coming in at $15.3 million, followed by Los Angeles ($10.4 million) and Houston ($4.5 million). The biggest sector is services (accountants, electricians, taxi drivers), making up 14 percent of our Spanish-using sellers.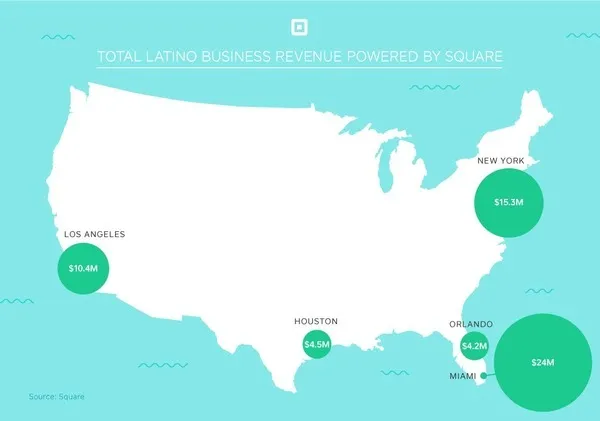 And now, some news. We're excited to announce that as of today, the Square Reader presented in Spanish is available at 3,800 Walmart stores and Walmart.com. As always, it's free. We'll give a full $10 rebate for the entire cost of the reader in stores and online.
Square's complete suite of mobile and desktop products in Spanish give Latino entrepreneurs the tools they need to run their businesses on the go, at the counter, and in the office. Our signature point of sale app, dashboard reports, and e-commerce platform streamline operations so sellers can focus on what's most valuable: continued innovation, creativity, and connecting with their customers.
Click here to learn about Square Reader in Spanish, and cheers to all the Latino entrepreneurs killing it out there.