Table of contents
This article is for educational purposes and does not constitute legal, financial, or tax advice. For specific advice applicable to your business, please contact a professional.
When starting a coffee shop, your goal is to provide coffee connoisseurs a selection of complex beans that create unique flavors while delivering a superb customer experience. But as you know, a coffee shop requires more than a few talented latte artists in a trendy location. Here's everything you need to know about how to open a coffee shop.
Write a coffee shop business plan.
In order to be successful when you start a coffee shop, you need to write a business plan that lays out your business objectives and the strategies you will use to achieve them. Key sections of a business plan include:
Executive summary. Your executive summary should provide a top-line synopsis of your business — location, size, company ownership — as well as your coffee shop's objectives (or mission statement) and how you plan to meet them. You may also want to include an overview of startup costs and forecasted revenue growth, which is explained later in the business plan.
Market analysis. The coffee market continuously evolves due to a shift in consumer trends. According to the National Coffee Association, fewer people are drinking drip coffee (46%), more people are drinking coffee prepared from home (46%), and 59% of the daily consumption of coffee is classified as gourmet. Not only is the coffee game changing, but so are food and retail spaces. This means that you need to have a sound understanding of the market. Your market analysis should uncover similar trends and data that you can use to determine which concept you bring to market. Include a description of the market segmentation and your target market, then highlight your target market's buying patterns, the factors that encourage or limit coffee consumption, and any gaps in the industry that your coffee shop can capitalize on.
Competitive analysis. Your competitive analysis should hone in on your local environment and highlight any current competitors, along with potential competitors who might enter the market. Determine the strengths and weaknesses of your competitors to uncover opportunities that give your coffee shop a competitive advantage.
Product line. This section describes the coffee products you intend to sell at your store. Here you can include your plan to procure your coffee beans, the vendors you want to use for additional materials, and the specific drinks and snacks to be served at your coffee house.
Sales strategy. Use insights from your market and competitive analyses to outline a strategy to promote your coffee products and your business as a whole. This section of your business plan may include traditional sales techniques and marketing tactics. It's important to identify which sales data to track in order to determine whether your business is growing. Then focus on revenue forecasting from your sales. Most forecasting should be done three years out so you can get a clear picture of your break-even point and profit potential. This can help you budget effectively when you start your coffee shop.
Management plan. Managing your coffee shop is key to growing your business, so take the time to create a management summary. It should include a layout of your management team, personnel responsibilities, and employee costs, such as wages, payroll, training, etc.
Financial considerations. Now is the time to think about how to manage cash flow at your coffee shop. You need to define your costs and how to finance your business in order to determine the average profits for your business. A cash flow analysis can be extremely helpful with this part of the business plan.
Once you have written your business plan, compute your projected cash flow to determine your break-even point. Include your projected profit and loss over a three-year time span to show the coffee shop's net profitability as the store becomes established in the local market.
Regulatory considerations for your coffee shop
After your coffee shop business plan is in order, it's time to consider the regulatory parameters of your business. The regulatory requirements of your particular business depend on where you operate. Aside from registering your business with the IRS and obtaining a business license, there are various state licenses and permits you may need to research before you start a coffee shop.
Outside of general business licensing, you will likely need to obtain industry-specific licenses and permits. For example, you may need a license to handle and prepare food and beverages, or licenses that certify compliance with restaurant health and safety practices. You'll also likely need to pass other health safety inspections before your coffee shop can operate. Each of these is unique to your business and where you are located, so make sure you consult a legal expert on these matters.
You should also consider insurance coverage to protect you from unforeseen accidents at your coffee shop. Here are a few types of insurance to investigate:
General insurance
Health insurance
Liability insurance
Kitchen insurance
Workers' compensation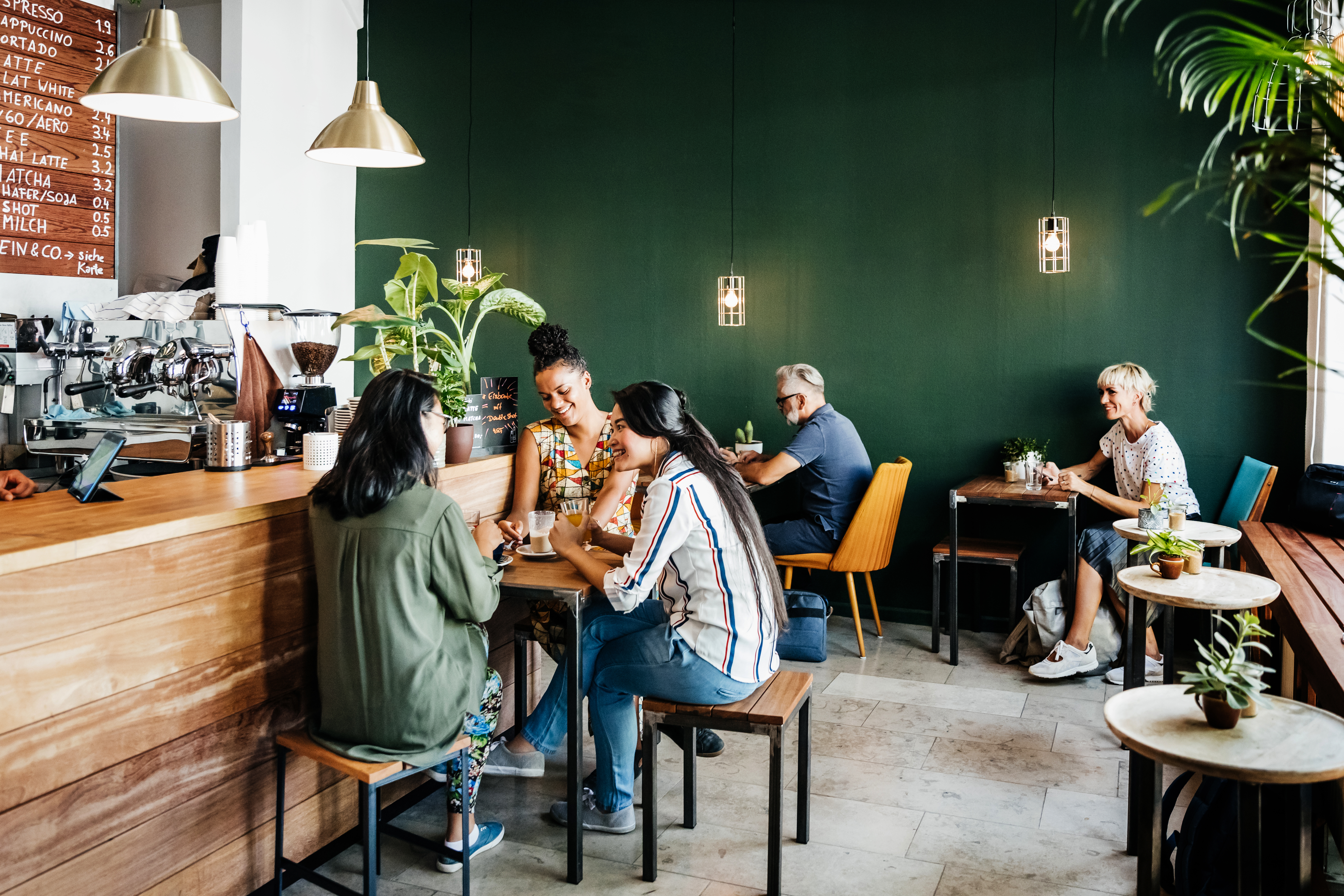 Identify coffee shop startup costs.
The cost to start a coffee shop can be a major barrier to entry for some aspiring owners. But if you understand what you need to budget for — what is necessary and what is not — you can make it happen. 
How much does it cost to open a coffee shop?
Here are six cost factors to consider when you open a coffee shop:
Physical space. The location of your coffee shop is absolutely crucial. Generally, there are four types of locations you can consider: coffee kiosk, coffee truck, coffee shop with seating, and coffee shop with seating and a drive-thru. Once you've narrowed down the style of your space, the cost factors of the space include the building deposit, the monthly rent, the utilities, and the square footage of your store. These are determined by the popularity of the location and the foot traffic potential.
Interior design. The design of a coffee shop says a lot of about the store itself, and it can cost you a pretty penny without some strategic planning. Revisit your store's vision and the environment you want to cultivate before you start to buy anything. Think about what you really want to spend money on. Research and purchase coffee mugs, seating, artwork, and additional interior decor based on your desired style.
Equipment. The selection of coffee shop equipment can be overwhelming. From espresso machines to condiment organizers, there are a lot of options, and they cost a lot of money. Review the best coffee shop equipment for your store and figure out which equipment you absolutely must have to open.
Your menu. How many products you offer is another cost driver when you open a coffee shop. You might want to stick to the basics, you might want a small selection of gourmet coffee, or you might want gourmet coffee and yummy treats. Use your market and competitive analyses to decide which products are worth putting on your menu. You want to follow industry trends, but make sure to balance that with products your customers actually want.
Labor. You might think that paying baristas and servers at your coffee shop is simple — just pay them an hourly wage. But there's a lot more that goes into the cost of labor. Aside from wages, you have to think about training costs, benefits, insurance, and technology that can help you with things like employee management and payroll.
Marketing. When you first open a coffee shop, there are promotional efforts that should be included in your startup costs. These may include the cost of a soft opening that showcases your coffee and creates hype in the community, or the cost of a social media campaign to reach new customers. The optimal coffee shop marketing plan — and how much it costs — depends on your target customers, so find out where they obtain information and create campaigns that make sense for them.
You may not have money on hand to fund the total cost of a coffee shop, but there are financing options available. You might look for investors to help with business funds, or you might look into small-business loans. Loans can help subsidize:
Inventory
New coffee equipment
Hiring
Day-to-day operations
Here are some additional ways to use a business loan strategically to help your coffee shop grow.
Define a coffee shop pricing strategy.
Choosing the right pricing strategy is crucial. Your price needs to be competitive enough to attract customers, but profitable enough to keep your business running. A successful pricing strategy balances profitability and customer appeal. You can find this sweet spot through competitive analysis and data insights.
Factors to be aware of with cafe pricing
There are a few factors that matter when it comes to determining your cafe pricing:
Markups. Pricing markups trend to the higher end in the coffee shop industry — as high as 80% on higher-end brews. However, not all your products will have the same markup margin percentage. Different coffees on your menu — as well as other non-coffee items — will have higher or lower margins than others. It's vital to price each product properly to ensure that you still make a profit to grow your cafe.
Customer demographics. Your pricing strategy should factor in customer demographics. Will you cater to office workers, or is your customer likely to be a college student? Different demographics will have different expectations and price sensitivities, so keep these in mind as you develop your strategy.
Competitors' strategies. Pay attention to your competitors'

pricing strategies

. The key is to stay competitive without pricing yourself out of the market.
How to set a pricing strategy for a cafe
Once you have a good understanding of customer insights and data, you can determine the pricing strategy for your coffee shop.
First, decide what you'll offer on your menu, taking competitors, demographics, and the value your cafe offers into account.
Next, calculate any food costs. For each item you plan to offer, make a list of their ingredients and the prices of those ingredients. Figure out how much it costs to make each item on your menu by adding up the cost of the ingredients. Then consider your other cafe-related costs. These include all fixed and variable costs to determine your overhead, such as rent, utilities, payroll, and marketing.
To determine your break-even point, calculate how much revenue you need to generate each day, week, or month to cover your expenses. This will tell you the minimum price you'll need to set for each item on your menu. Now that you know your break-even point, you can set coffee pricing intelligently.
Methods to set coffee shop prices
Here are some common pricing methods:
Food–cost percentage pricing: This pricing method calculates the price of your coffee based on the cost of the ingredients used to make it. Simply add up the cost of all the ingredients used to make a cup of coffee, then multiply it by your desired markup percentage.
Markup (or factor) pricing: This method involves adding a certain amount or percentage to the cost of your coffee. For example, if the cost of a cup of coffee is $1.00, and you want to have a 50% markup, the price would be $1.00 plus 50 cents, so $1.50.
Cost + pricing: The cost + pricing method takes into account all the costs associated with running your coffee shop, including rent, utilities, labor costs, and ingredients, and adds a certain percentage to cover these costs. While this method does aim to help you cover all your overhead costs, the downside of this method is that it can be difficult to calculate all of your costs accurately, which could lead you to set higher prices than your competitors.
Gross–profit–margin pricing: This last method involves setting your prices based on the gross profit margin you aim to achieve. To calculate your prices with this method,

divide the cost of the coffee (or other menu item) by one, minus the desired gross profit margin percentage

.
What's a healthy coffee shop margin?
Based on numbers from the Specialty Coffee Association (SCA), non-roaster coffee retailers can make as much as a 6.86% profit margin, while coffee retailers that roast their own coffee can see a profit margin of 8.79%.
Find the right coffee shop location.
When you're looking for the optimal location for your coffee shop, cost might be your biggest driver. Cheaper rent and utilities might sound great when you first start, but choosing a location solely on price can be detrimental in the long term.
The location of your coffee shop can make or break your business, and there are specific factors that determine the best location for your coffee shop. Aside from costs, consider foot traffic, your target market, and your competitors.
To make sure you choose the best coffee shop location, you need to ask a lot of questions. When you search for the perfect coffee shop location, here are some questions you can ask before you commit to a location:
What types of businesses have operated here in the past?
Find out whether coffee shops have ever operated in the space, and try to get a sense of the clientele that shops in the area.
What are the restrictions on remodeling?
Some commercial landlords prohibit renovations of any kind. So if the space hasn't operated as a coffee shop in the past, it may not be permitted.
What is the minimum lease requirement?
Typically commercial landlords require a year, which may be the right choice when you're getting started. Long leases can be risky when you first open a coffee shop.
What insurance coverage does the lease require?
Commercial landlords require certain insurance.
Do I owe the landlord a share of my sales?
While this sounds obscure, your lease may require you to pay the landlord a percentage of your monthly sales. Make sure to inquire about this stipulation.
While it sounds tedious, it's worth taking the time to ask lots of questions before you decide on an optimal coffee shop location.
Choose a coffee shop POS.
The right coffee shop POS software provides numerous benefits to your cafe. By streamlining your sales process and providing customer insights, a full-solution POS system helps increase revenue. Plus, with integrated loyalty programs, discounts, and marketing promotions, you can encourage customers to return and become regulars to your coffee shop.
Operational efficiency is another significant benefit of the right POS software solution. You can manage your inventory, track sales, and generate business reporting all in one place. Storing all your data in one POS solution can reduce errors, can automate processes, and can increase your overall operational efficiency.
When looking for the best POS system for your coffee shop, there are several factors to consider:
Hardware features and integrations: Ensuring integration between any current software or hardware is essential, so choose hardware that is reliable and simple to integrate with your other business needs. Square Point of Sale software offers a range of compatible hardware, such as Square Register, Square Stand, Square Mount, and Square Terminal. You'll also want to ensure that software integrations make the POS easy to use with platforms and systems you may already have in place.
Staff experience: To create a smooth experience for your customers, your staff will need to use the POS system successfully. Pay attention to how user-friendly the software and hardware are. Is the checkout functionality easy for your staff to use? Can you train your staff quickly on how to edit your item library? On how to operate the POS during rush hour or when customers place complex orders? This can save you and your employees time during training and increase productivity.
Operations: Efficient operations and inventory management are crucial to the success of your coffee shop. Features such as advanced analytics and insights, stock alerts, and downloadable sales reports help create an efficient sales system with necessary data to see which products are your biggest sellers. If you have back-of-house food or kitchen production, a kitchen display system helps streamline ordering, reduce errors in the kitchen, and improve overall back-of-house efficiency. 
Customer loyalty integrations: Loyalty programs are an excellent way to create repeat customers and increase sales. Look for a POS system that can support a loyalty program, such as Square Loyalty, and that can sell and accept gift cards or discounts.
Staff management: A POS system that includes time tracking for employee shifts can be essential for effective employee management. Automating repetitive tasks saves time and helps you track employee hours, create schedules, and manage payroll.
Inventory management: This allows you to track products being sold and materials being used. Look for software that lets you set stock alerts when inventory gets low as a way to manage your inventory effectively.
A system that is aesthetically pleasing and simple: Coffee shops tend to be quaint, with the counter being the focal point to a customer's eyes. Cords and bulky systems can turn off customers, so look for a POS system that blends in with your decor.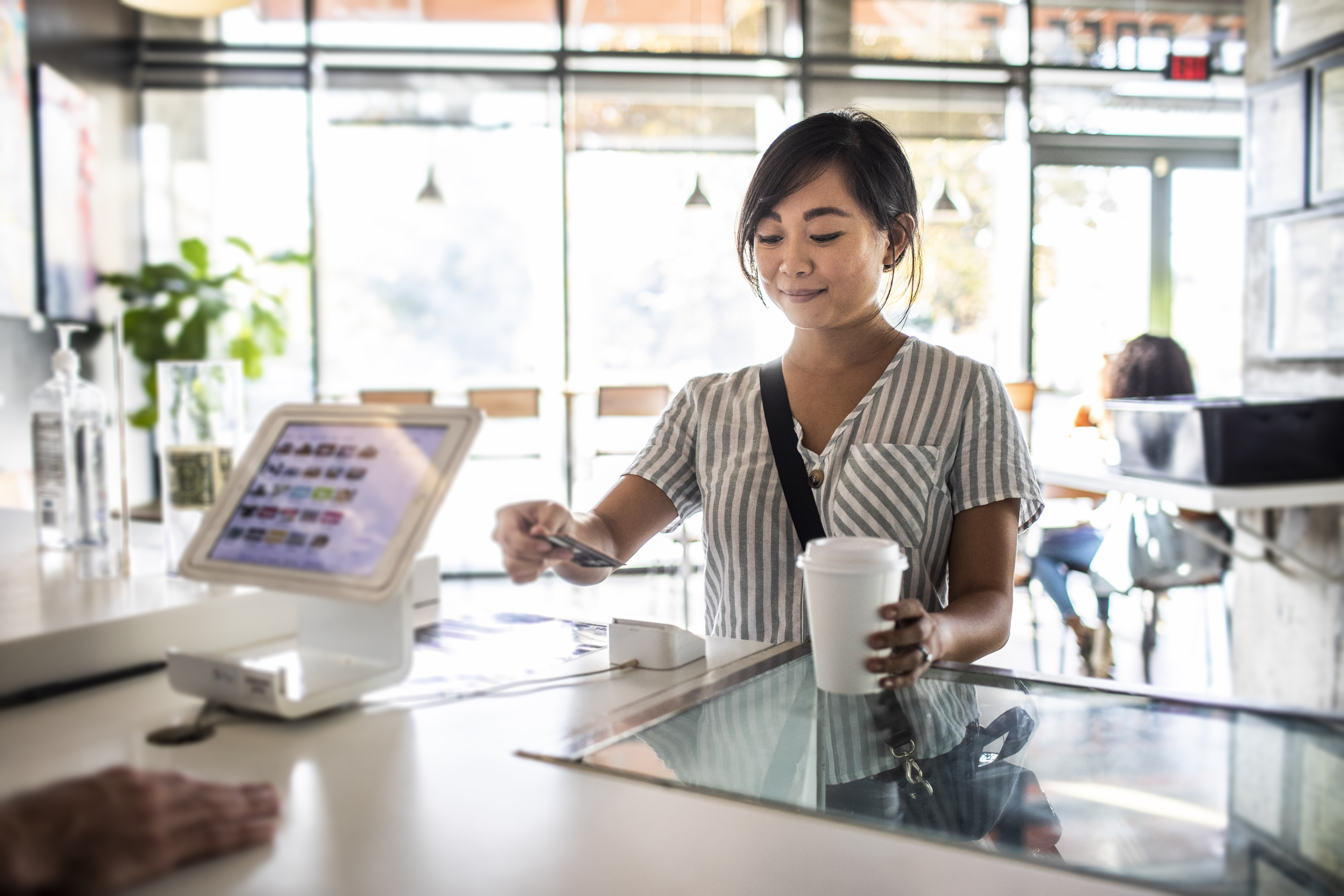 Take payments at your coffee shop.
Guests expect a swift, personal experience when they walk through your doors. Long lines due to a lousy payment system can taint a customer's perception and result in the loss of business. So when you start a coffee shop, it's important to invest in a reliable POS to process payments.
Your point-of-sale system should be integrated with a payments processor, and you should make sure that it can take any form of payment — magstripe, EMV, or mobile payments (such as Apple Pay).
To ensure that your coffee POS software improves the payment processes in your coffee shop, look for:
Payment simplicity: Find a system that accepts various types of payment methods, such as contactless, credit cards, and online ordering or order-ahead features. Ensure that the payment processor is secure, reliable, and offers reasonable transaction fees. Remember that payment processing fees can add up quickly, so consider any fees or costs associated with the POS system, including monthly fees, card processing fees, and any transaction fees. While some fees may be inevitable, choose a system that provides the right value for the cost.
A built-in tipping system that's easy for customers to use. There are a few interesting findings that help improve tipping. With tipping built into your POS, customers are presented with a screen that suggests a tip amount, which allows them to add a tip with just one tap.
Data capabilities to collect insight on what's being sold. With data analytics integrated into your POS, you can see which menu items are popular and gain sales insights that help you improve your business strategy. Learn more ways analytics can help you grow your business.
Reach your customers.
The feeling of opening your coffee shop is truly rewarding. But now the daily grind begins. When you're figuring out how to run a successful coffee shop, you might prioritize managing employees and optimizing the ordering process. But one of your most important day-to-day jobs is to make sure that customers come through your doors again, and again, and again — and that they don't go to your competitor down the street. So developing a customer retention strategy is crucial.
To stay connected with your customers and develop a relationship with them, you should invest in a customer engagement tool — or customer relationship manager (CRM) — that allows you to reach your customers and understand their behaviors. CRM software for your coffee shop might include:
An email marketing tool that allows you to send campaigns to keep your customers informed about what's happening in your store, whether it's a promotion or an event. Sending personalized messages to loyal customers, such as birthday emails or holiday notes, actually generates higher engagement and greater redemption rates on average than one-off email campaigns.
A customer loyalty program that incentivizes customers to spend. Sixty-two percent of shoppers make more store visits and purchases because they signed up for a mobile loyalty program, according to a study by 3cInteractive. It can help boost sales and keep customers returning for your coffee.
Feedback software that is integrated into your POS so customers can tell you about their experience at your shop. Feedback software provides one-on-one communication with your customer, so you can get a direct response about a particular service. You can use positive feedback to motivate employees and constructive criticism to tweak business

processes

.
After you've developed a business plan, identified costs and a location, and are getting your coffee shop up and running, the next step is making sure you're getting the most out of your business. Learn more about the tips and tricks for strategically running a successful business.