Earlier this month, we introduced Square's new pickup tool — enabling sellers to offer their customers a quick way to pre-order and pick up their purchase. Pickup has proved invaluable for smart casual restaurants like Souvla, a new Greek sandwich shop and wine bar in San Francisco. Souvla links to Square Online from its website to offer customers a great pickup experience.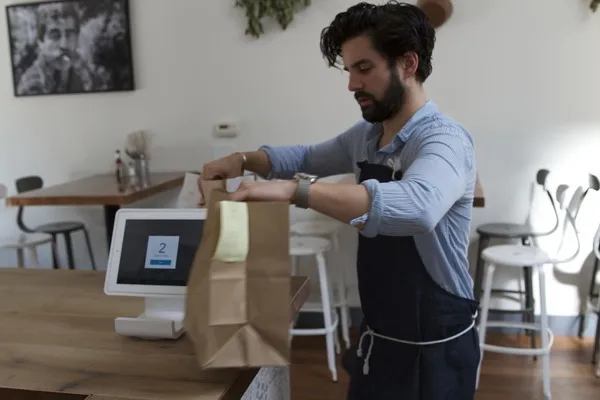 We caught up with Souvla owner Charles Bililies to find out how Square has helped him start, run, and grow his budding business. Here's what he said:
"We ring up hundreds of people a day and need to work through lines quickly. With Square, each transaction takes as little as 15 to 20 seconds. Since we operate in such a small space, the viability of our business relies on volume, and quick transaction time is paramount."
"Our staff finds Square intuitive to use and has seen great benefits from the smart tipping feature. For a place that requires volume but doesn't have table service, Square provides a platform for customers to easily leave gratuity. Thanks to the built-in tipping feature, our staff is doing very well here financially. That helps sustain employee retention and morale."
"Flexibility is critical to a new business. We can make changes on the fly with Square. Because Square's system is cloud-based, we can freely edit our inventory from anywhere. As a new business, we sometimes need to make changes to our menu. With Square, I can do so almost instantaneously by logging in to the dashboard to edit an item price or picture. The convenience of being able to adjust quickly is huge for us."
"Great aesthetics make for a great experience. The design, style, and aesthetic of Souvla are very important to me. Square Stand has integrated very well into our space and helps promote interaction at the counter. At other businesses, cashiers basically hide behind a POS system and the mess of wires behind it, interrupting the conversation that the seller and buyer are trying to have. With Square Stand, we're standing up and having that nice open conversation with the customers we've welcomed into our store."
For aspiring owners eager to dive into the business like Charles, learn more about how you can start your restaurant and the best restaurant safety practices to follow.
You can visit Souvla at 517 Hayes Street in San Francisco, or order online via Square Online and pick up in person. We recommend the greek fries.