Table of contents
Looking to grow your bookings and sales in 2022? Whether you're a spa, salon or personal trainer, social media booking — and Instagram booking specifically — is a high-growth area to consider investing in and optimizing.
Some key figures: More than 70% of appointments booked on Instagram through Square Appointments come from new customers. According to Square's 2022 Future of Beauty report, 47% of customers surveyed used social media to interact with their salon or stylist, and 19% of customers booked appointments through social media. Among Millennial and Gen Z clients, that figure jumped to 38%. This is also a growing space for promoting your retail products — 28% of customers who bought retail products from personal care businesses did so on social media. 
Here's how to get started with social media booking and how to optimize the tools for your business.
How to book more appointments with social media buttons
With an Instagram business account linked to an online booking platform such as Square Appointments, you can add a call to action (CTA) button to the top of your profile. This will streamline booking for your new clients, allowing them to book without leaving the Instagram app, all while syncing with your booking software.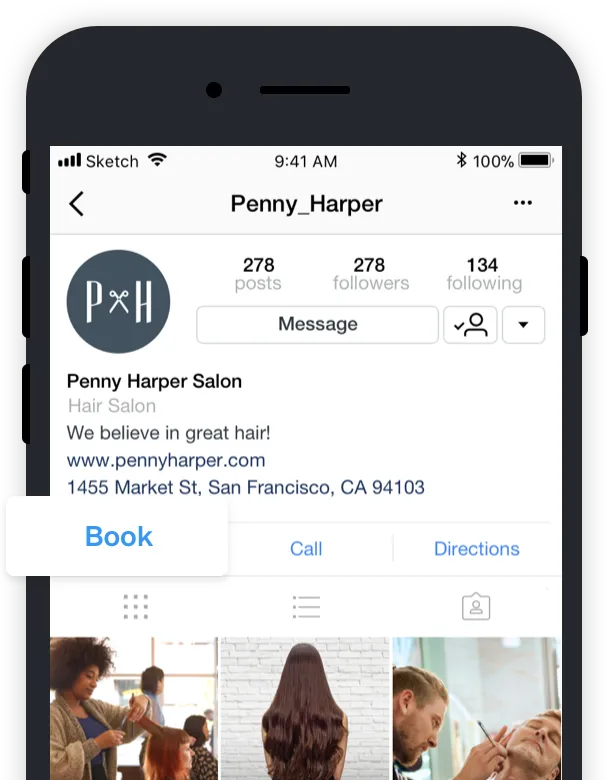 While Instagram may be the platform on which you're currently most likely to book new business, there are other channels to consider. Square Appointments also syncs with Facebook business profiles as well as Reserve With Google, which can help convert people searching for your services into first-time customers.
6 tips for optimizing your bookings on social media
1. Promote a booking link across your channels
Once you're set up for social media booking, it's time to promote your services. Consider social media content that shows off your specific skills and expertise. This can help attract new followers to your account who will are interested in your offerings and will see your book button. You can also create a direct booking link to drop into Instagram stories.
Don't forget to promote your social media feeds on your booking website so they are easy for customers to find.
2. Encourage your staff to embrace social media booking for their own appointments
If you own a business with individual booking options for your staff, your employees can use their own social media accounts to promote booking buttons and links. Consider promoting these staff accounts from your main account to grow your reach.
Square lets business owners set permissions for staff to link their own booking buttons that sync with the shop's overall availability.
3. Offer a discount or promotion
If you're setting up a book button for the first time on your social channels, you could offer a discount to the first five customers to schedule an appointment through the platform. 
You can also set up a referral program for new clients who book based on recommendations from your existing clients on social media.
4. Integrate your retail products
More than 96% of beauty businesses say they sell retail products, while 41% of beauty businesses say 26 to 50% of their revenue comes from online and social media sales. Additionally, 20% say half or more of their business comes from online and social media sales.
Embrace a mix of revenue streams on social media with features such as Instagram Shoppable posts that allow customers to purchase your products right from your page. Look for ways to integrate posts that feature both shopping and booking options.
5. Cross-promote with accounts you love
Your regular clients trust your work, and interacting with other businesses in your network on social media is a good way to continue that work while expanding your reach. Some methods you can try out:
Pop in with a comment on posts from businesses you'd recommend or share their posts to your story
Run a promotion with another local business, such as a discount if you book a haircut and a personal training session in the same month
Partner up on a class offering
6. Spread the word in person
As part of your end-to-end client experience plan, let new clients know they can book directly from your social media account at the end of an appointment. This can help with client retention while also growing your online following.