Table of contents
Salons are a place of refuge and connection. Customers come to a salon for self-care, to treat themselves, and to leave feeling refreshed.
As a beauty professional, when you think about this customer experience, you likely think about the actions you take to make their experience better when they're in front of you. When you greet them at the front door and welcome them into the salon, when you get them settled into your station, when you are providing your service for them, and finally, when they're paying. You likely go above and beyond when you see your customers to make sure they leave the salon feeling like a brand-new person.
These are all very important parts of their experience, but not the only part of the experience that gets customers through the door and coming back. Your customers' opinions and impressions are being shaped by every touchpoint they have with your business, even the ones that aren't right in front of you.
Customer service doesn't just happen at the front desk, it happens at every touchpoint that your beauty and wellness customers interact with. The work you do behind the scenes can make a huge impact on the experience your customers have when they enter your salon. This overall experience contributes to your customers's' happiness and, ultimately their decision to return.
Here are 20 touchpoints, from back-of-house administration to in-person contact, that can make or break your customer experience.
Before your customers arrive
Your website: We live in a digital age and a website can make a huge impression. Think of your website as an extension of your personal brand. It should represent you, your services, and the level of care and professionalism your customers can expect from you in person. 
Your online store: If you sell your products online, your website should include an online store that is easy to navigate and offers a seamless shopping experience. 
Your appointments management system: Making an appointment with you should be easy. It should be front and center on your website and social channels for easy discoverability, and overall should be a frictionless experience for customers. A tool like Square Appointments enables you to manage your availability on the back end so that customers can book their own appointments based on available slots. This takes the admin work off of your plate so you can be more present for customers in person. 
Appointment reminders: A  very appreciated feature by your customers is appointment reminders. With automatic email reminders you don't have to even think twice about this part, but your customers receive a helpful reminder that their appointment is coming up, or a nudge to reschedule if they can't make it. This small but mighty feature can save you from no-shows or last-minute cancellations.  
Thank-you emails: After a customer checks out online, you can set up email triggers that will send them an email thanking them for their purchase. If they've purchased specific beauty products, you can customize these emails to include a note with instructions for how to use the product or recommendations for other products they might like in the future based on their purchase. 
New customer emails: After the first purchase or booked appointment on your website, set up an email trigger to send a welcome note to your new customer. This small gesture can make them feel appreciated and excited to return. 
Promotions and new services: Keep customers up to date on any new promotions you're running or if you add a new service to your salon. Regular email nurtures can keep customers in the loop and you top of mind.
Health and safety communication: As salons reopen, keeping customers up to date on the latest health and safety precautions you're taking can help them feel more at ease before coming in person. 
While your customers are in your salon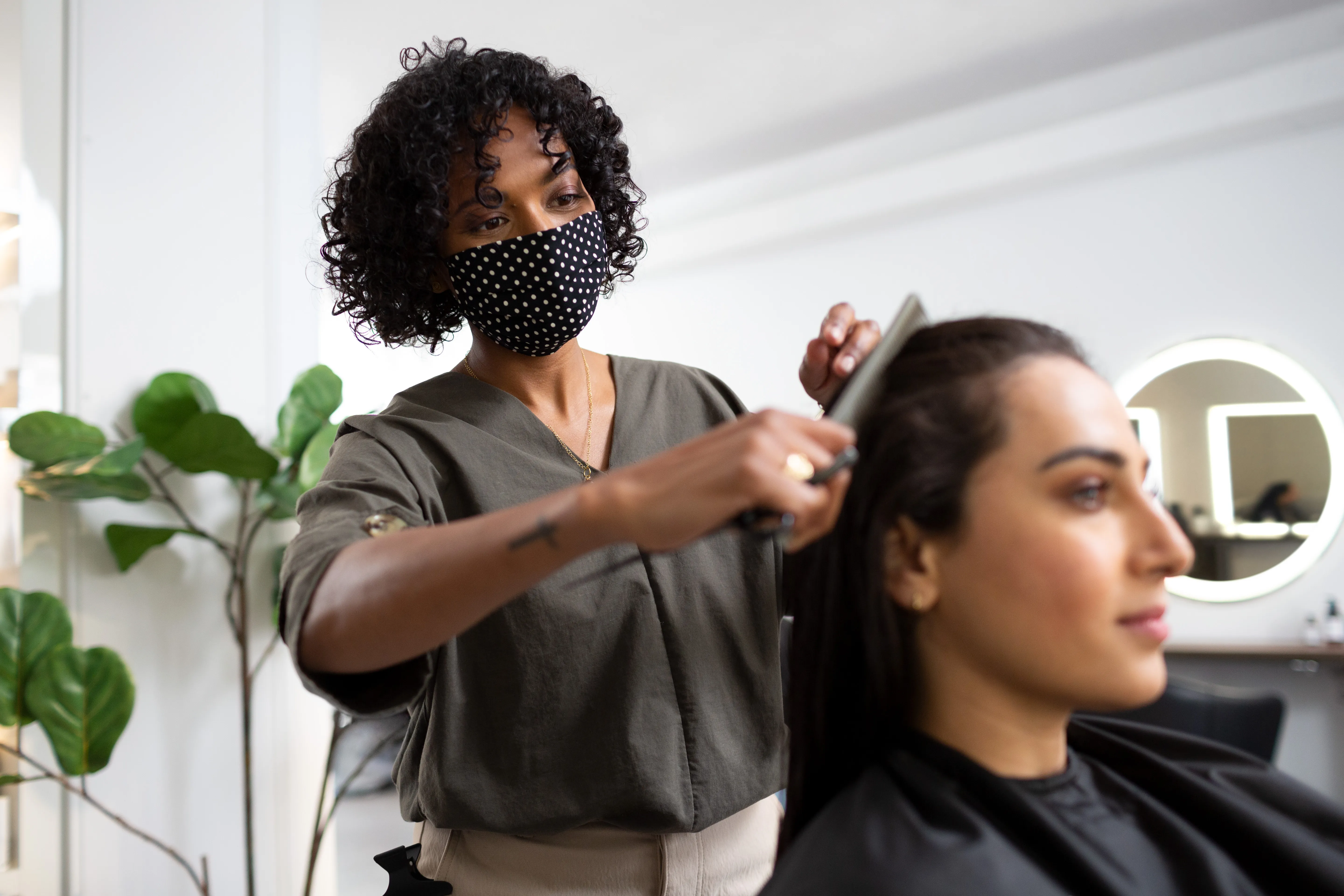 Happy employees: Well-managed employees are happier employees. Square Payroll runs payroll, files payroll taxes, manages employee benefits, and syncs with Team Management so your employees always know exactly what their benefits are, when they're scheduled to work, and where their paycheck is. 
Greet your customers: Salons can get hectic, but a quick hello and reassurance that customers will be seen soon goes a long way. Make sure to greet every customer when they come in and, if you can, invest in an employee to manage the front desk to get customers settled while they wait to be seen. 
Minimize wait times: Another benefit of an appointments tool is that it keeps you on track with appointments. Nothing frustrates you or your customers like having to wait around. Things happen here and there and people run late due to traffic all the time, but with the right appointments management, you can stay on track and minimize wait times. 
Pay attention to the small details: Salons are a place to relax, unwind, and feel pampered. Sometimes the little things, like a cup of tea or offering chocolate, can make all the difference to show customers how appreciative you are of their business. 
Salon cleanliness: Cleanliness and organization are things that customers definitely notice and can be the deciding factor if they decide to return. Make sure you spend time cleaning your salon and setting guidelines for employees to remind them to keep their stations orderly and clean. 
Helpful signage: Salon hours, bathroom signs, and information about promotions and new services should be clear and easy to find. It might seem like a small detail, but it helps customers feel more comfortable if they have the information they need and know where things are.    
Stocked inventory: There's nothing worse than having an interested customer leave empty-handed because you're out of stock. Keep on top of your inventory, especially across your in-salon and online channels, to minimize the chances of that happening. Sometimes you have a hit item that unexpectedly sells out, though, and in that case, follow up with your customers to let them know when it's back in stock. 
Follow up on sales and products used during service: If your customers love a product you used on them, make sure they know it's available for sale, or send them home with some samples so they can purchase it next time they're in the salon. 
After customers leave
Send a thank-you email and request customer feedback: After your customers leave, make sure to send them a quick email or message to thank them for their business and check in to see if they have any questions or feedback. 
Remind customers when it's time for their next appointment: We all make mental notes to make an appointment and then forget, but with reminder emails you can send an email when it's time for your customer's next service, prompting them to schedule it right the and there. 
Take advantage of special moments and ways to stay connected: Birthdays, holidays,, and other moments in time might call for a special promotion or coupon code. 
Don't forget about social media: Your social media channels are an extension of your brand and a great place to advertise your services. With social selling tools you can sell products from your social posts and inspire customers to make an appointment straight from your social accounts.