In a recent article, a Business Insider writer claimed the donuts at Manhattan's Underwest Donuts were the best he'd ever had. So you know the place is doing something right. But what makes Underwest Donuts even more of a standout is that the shop is located under the West Side Highway — inside a car wash.
We caught up with owner Scott Levine on how he came up with the concept — and what makes donuts and a car wash a winning combination.
Square: What made you decide to do this?
Levine:I really wanted to be an entrepreneur. I'd worked in kitchens in New York City for a long time. It became clear to me that there were two options — either climb the corporate ladder or open a place of my own. I wanted to get out of the corporate environment. Then the question became, "Well, what should I open?" I had a few different concepts. Originally I had a more robust idea that included a savory component. But due to the lack of physical space in the location, I was unable to fit the equipment needed to do additional prep. So I whittled it down to coffee and donuts.
Was there something about the simplicity of just offering donuts that appealed to you?
I knew I wanted to have a focused menu. I also feel like people crave sweet comfort foods in a way that they don't necessarily crave savory or salty foods. Portion-sized sweets like donuts are things that people crave every day whether they admit it or not. I'm thrilled that people are excited about our product and that we now have some wind in our sails with all the press.
Why inside a car wash?
The car wash is owned by my father-in-law, so I was always hip to the fact that there was empty space there. But I never connected the dots that it was somewhere I could open my own business. Once I left my job in 2012 and started looking around Manhattan and Brooklyn for places to rent, the realities sank in about what I could actually afford. I needed to find something that required a lower capital expenditure. My father-in-law and I discussed the car wash as an option that would bring value to his business while affording me an opportunity to start my business. I thought about it more critically and realized it was a really awesome location. I mean, you have a built-in audience of car wash customers. So at least from day one, I didn't have to worry about people walking through my door.
It seems that there's a trend, generally, of food popping up in unlikely places.
Something that struck me, at least here in New York, was espresso bars popping up in barbershops. I thought, "Wow, now that's an interesting mashup." But it makes sense. If I were waiting for a haircut at the barber, I'd want a cup of coffee. I was also in Kansas City and had some of the best barbecue of my life at a place called Oklahoma Joe's — which is inside a gas station convenience store. Who wouldn't want to eat barbecue at a gas station in Kansas City? So I drew upon some of these thoughts. The donut/car wash concept became less crazy the more I thought about it. I think this trend is born out of necessity followed by creativity. At least that was my experience.
There also seems to be something nostalgic about all the examples you mentioned.
Definitely. I thought about what memories I had as a kid. I remember my dad taking me to Dunkin Donuts on weekends. Donuts are fun. Car washes are fun. And there's something of a family element with it — it's very American.
How does Square help you run your business?

The interface is super-easy and intuitive. I'm also looking forward to trying out Invoices. Wholesale is a part of my business that I plan to grow substantially. Generating invoices right from the centralized point of sale would make things a lot easier.
On to the donuts. What's your roster?
We have two types. First, the old fashioned, which we make in small batches throughout the day and serve fresh out of the fryer. We offer different types of flavored sugar to top it with — cinnamon, espresso bean, and cocoa raspberry. The cinnamon one is the most popular. For our glazed flavors, we have a brown butter donut and also dark chocolate and coconut lime. We also just started offering a maple waffle donut.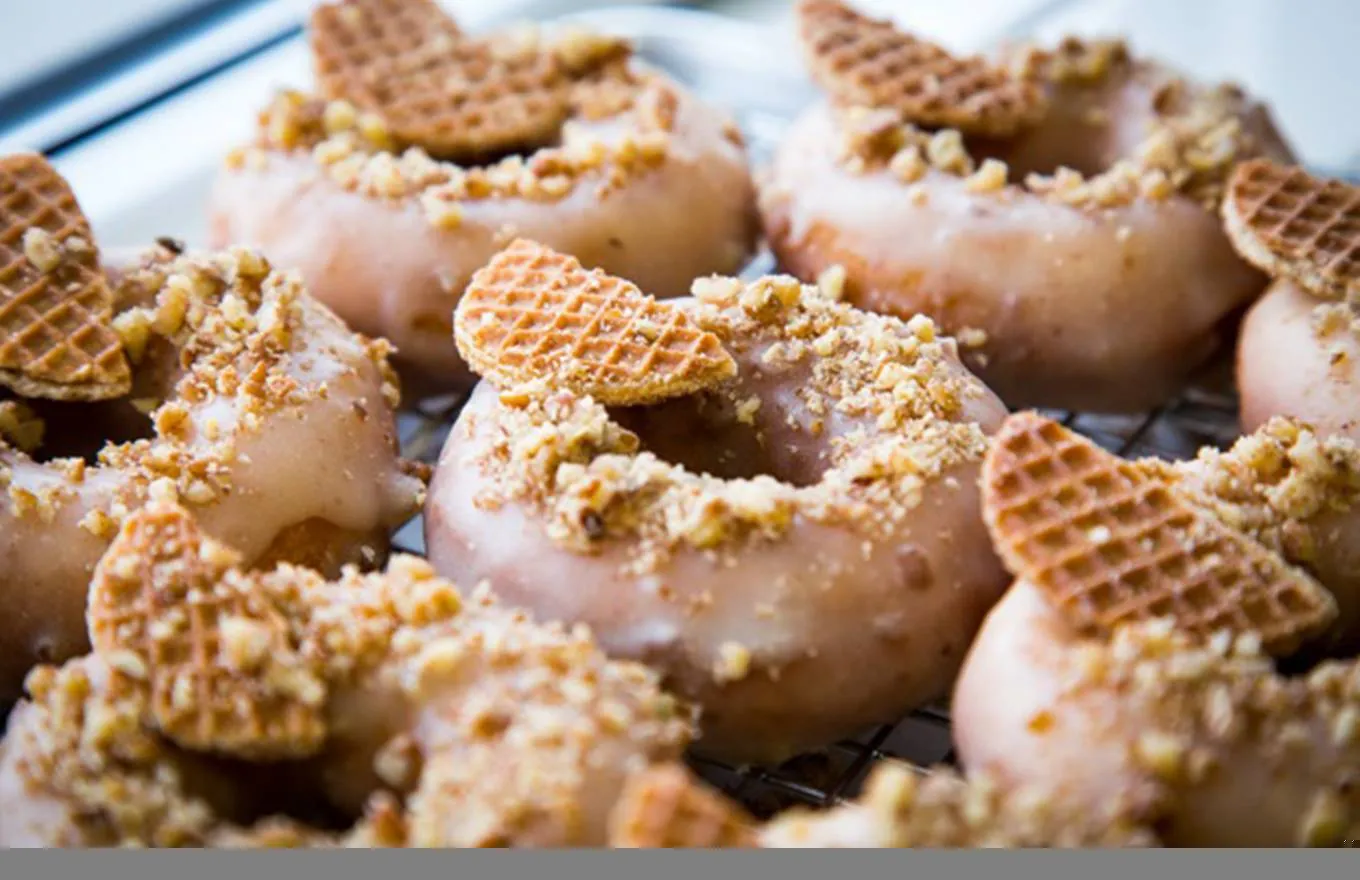 Those look crazy good. And unique too?
Well, maple is not unique. But my approach is to take ingredients that are familiar and offer them in a way that's slightly different. I thought about what I like, and I'm a big fan of maple syrup on waffles. So I thought about how I could incorporate this in a donut.
Congrats on all the press you've gotten recently. How did that wave come about?
It was pretty organic. When we started, I sent an email to all my friends and family saying I was about to open a donut shop, and explained the concept. I asked people to please share with friends, and also included all our social media links. A friend of my sister got the email into the hands of a food writer at New York Magazine. So they wrote the first article, and then everything came from there.
And then you were on the Today Show!
Yeah! I delivered donuts to Kathy Lee and Hoda. I was sitting in the same room as Ricky Martin and realized how far Underwest Donuts has come in such a short period of time. It was kind of a crazy moment.
To learn more about how Square can help you run your business, sign up for our Town Square newsletter.