Table of contents
This seller story is part of Square's definitive guide on eCommerce best practices during the holidays. Explore the guide to learn how to curate a festive and stress-free shopping experience for your customers and stay competitive.
The holiday season is a busy time of year for nearly any business. But for a food-based business that offers holiday gift sets and bundles, the holidays are especially hectic. For the Montello Tasting Room — located about halfway between Los Angeles and San Francisco, along California's picturesque Central Coast — the holidays truly are "the most wonderful time of the year."
They are also something the Montello family prepares for months in advance.
The gift of mom's cooking
The Montello Tasting Room got its start when founder Lorraine Montello realized she wanted to bring staples of her mom's Italian cooking to customers in California.
"We have a tasting room where we feature extra virgin olive oils from California and balsamic vinegar from Modena, Italy," Montello tells us. "I'm Italian, so all my life my mom used olive oil and balsamic vinegars. After I went to a tasting room similar to ours years ago, I fell in love with the concept and thought, 'I need to learn every one of these flavors.' I had to go into business myself so I could have every one of these flavors."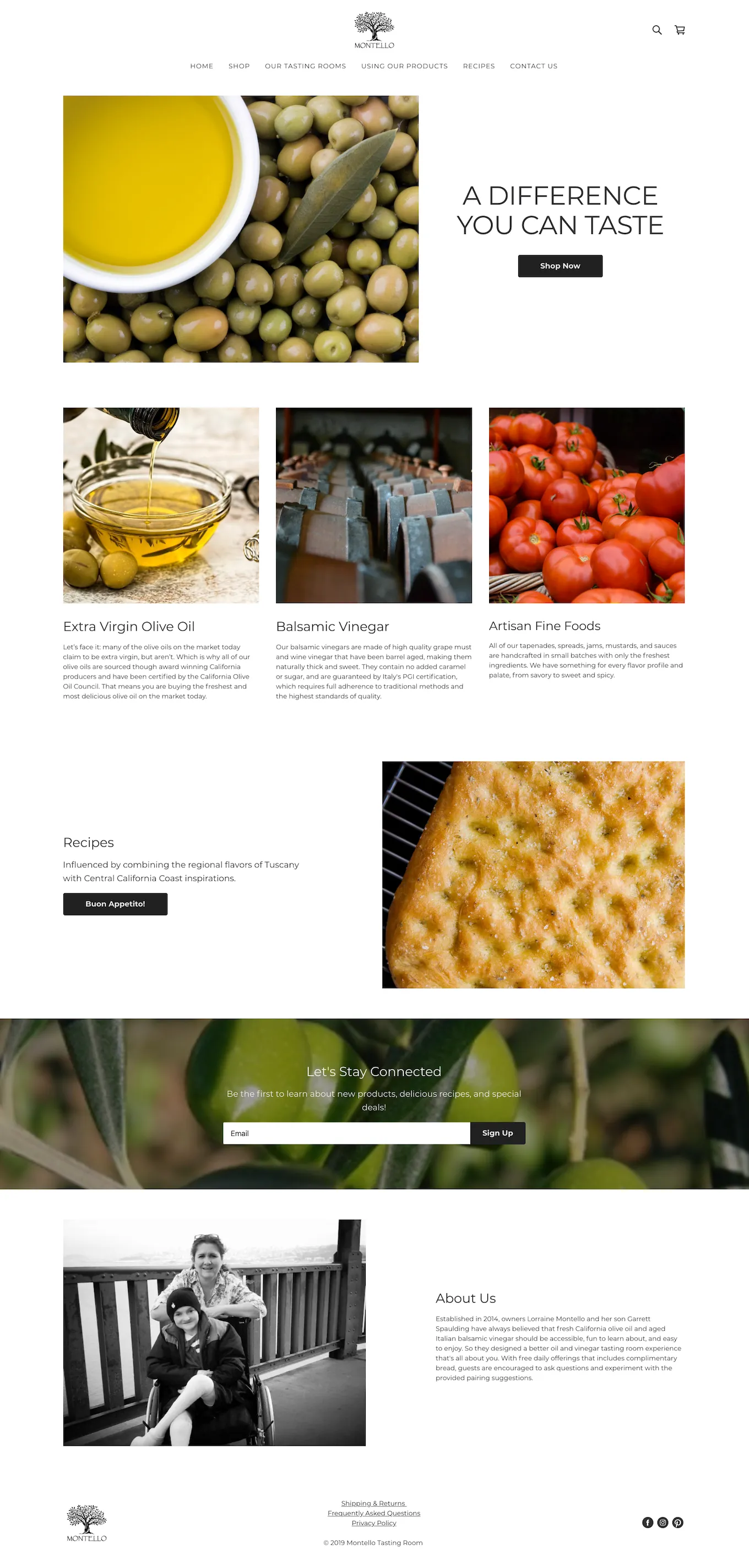 Although Montello's business began by selling at fairs, festivals, and home parties, they quickly realized they needed an online presence as well.
"We knew pretty immediately that it would be helpful to have a website. We were doing fairs and festivals, which is a one-shot deal. You see these people once and if they were buying our products, we wanted them to be able to come back and buy more. So we knew almost immediately we needed eCommerce for them to buy it," says Lorraine.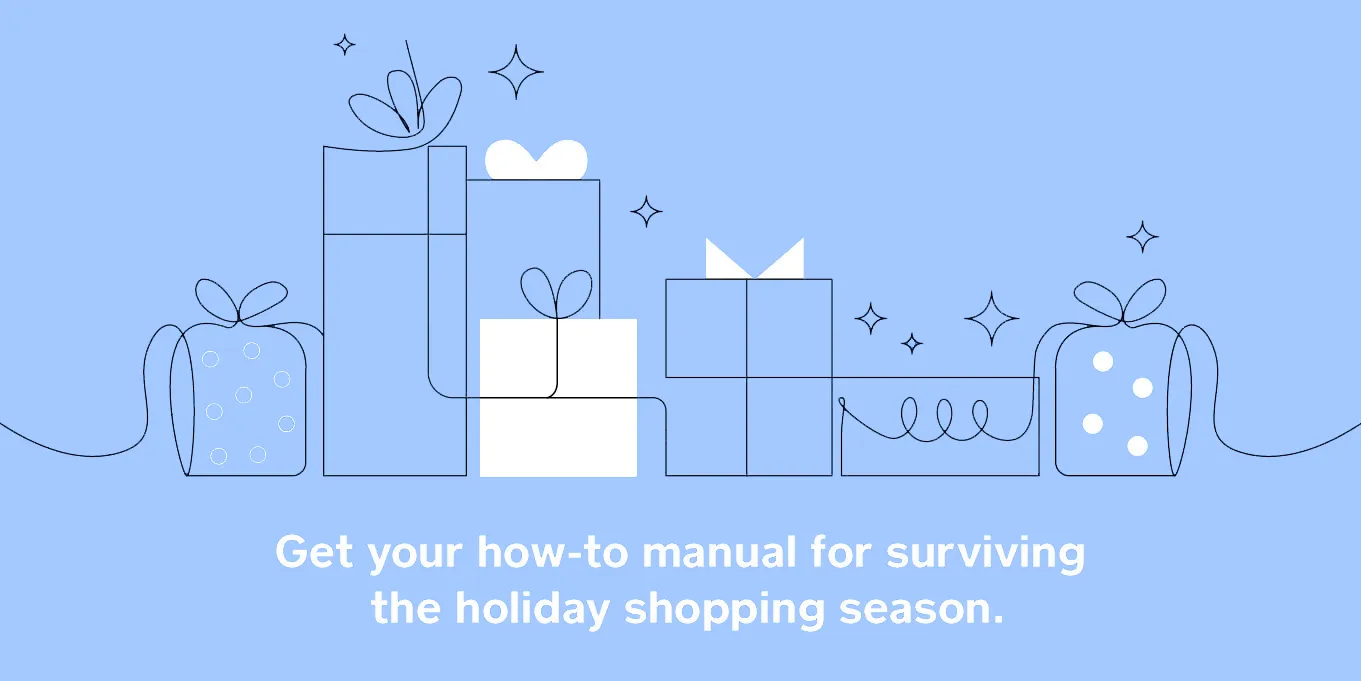 Prepping for the holiday shopping rush
The Montello Tasting Room website has also proven invaluable for the holiday season. It's a busy time of year, with Lorraine (semi) joking that they start preparing for the holidays "immediately after the previous holiday season is done." She says that the sales reports they can generate through their online store are the first step to being prepared for the holiday shopping rush.
"[Every year] we look at our Square sales reports and look at our inventory levels — what we used, what we haven't used, what things are selling faster than others — and stock up appropriately," says Lorraine, adding, "Our Square reports really help us keep a balance of what is selling on what levels, and trend the products.
"We also use our Square sales summaries to know what days are going to be busier, and try to prepare for that ahead of time." By being prepared with appropriate quantities based on previous sales trends, Montello is able to avoid running out or panicking. "You can't sell it if you don't have it."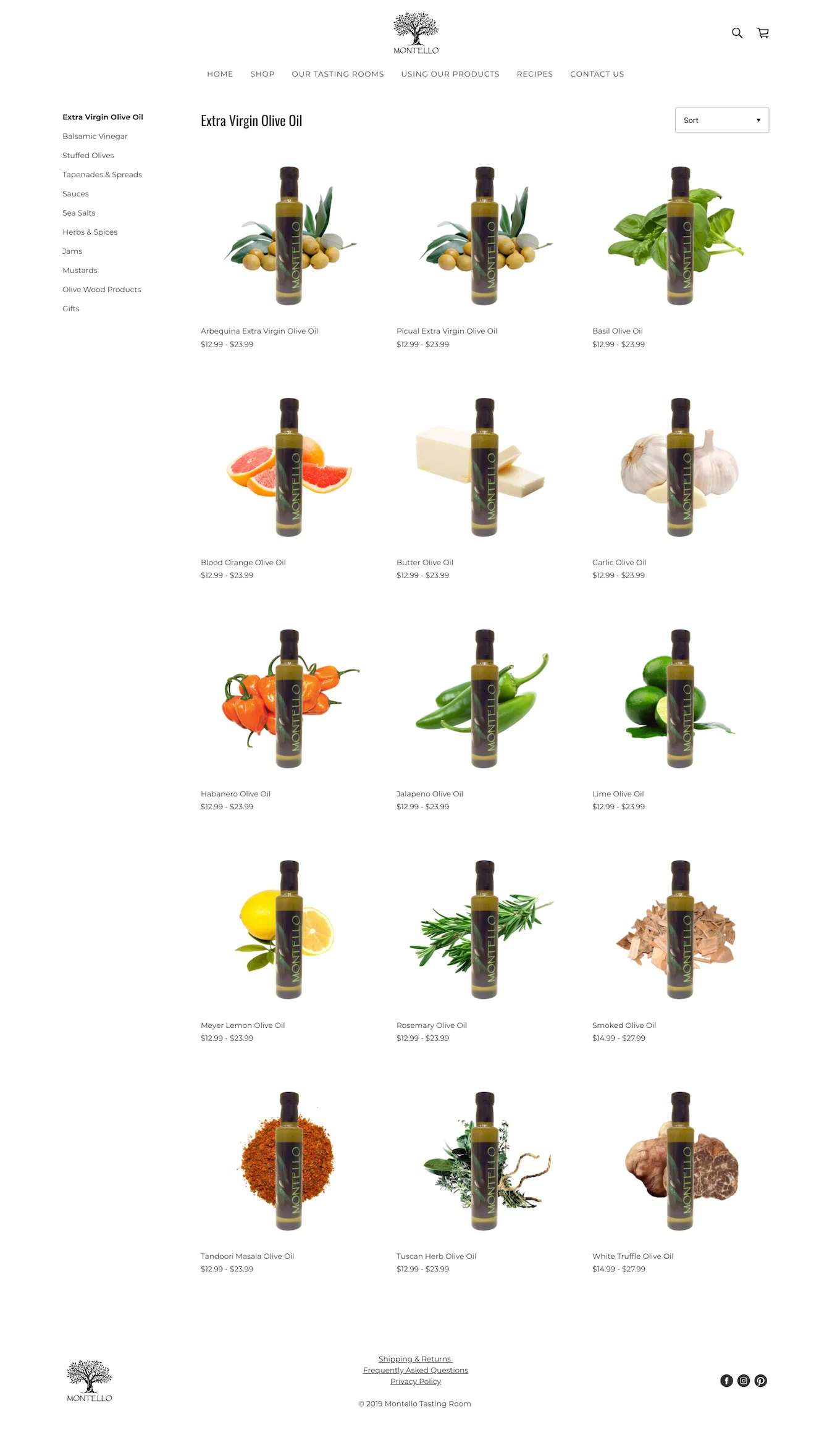 Lorraine also says that the holidays have gotten easier with every passing year thanks to putting this sales data process into place.
"It's just a matter of the volume. That is always tricky because you want to keep up with the online sales and the in-store sales," says Lorraine. "That means following our holiday marketing plan, having all of our purchasing done in advance — suppliers can run out of 'best sellers' if you wait too long — and doing a complete inventory audit prior to the start of the quarter. It's a great time of year, though, it's a lot of fun."
Holiday-themed products
Part of that holiday fun is when the Montello Tasting Room highlights special products and offers tips for using them in holiday cooking in their monthly newsletter, which is another great aspect of the eCommerce space.
"We try to put out a holiday gift suggestion section every year before the holidays hit," Lorraine says. "And we put together packages or bundles with a little discount, and we'll put a recipe card with it. I'm always developing recipes — it's an ongoing thing, so when the holidays come, I try to find some holiday-specific ones to add to our website.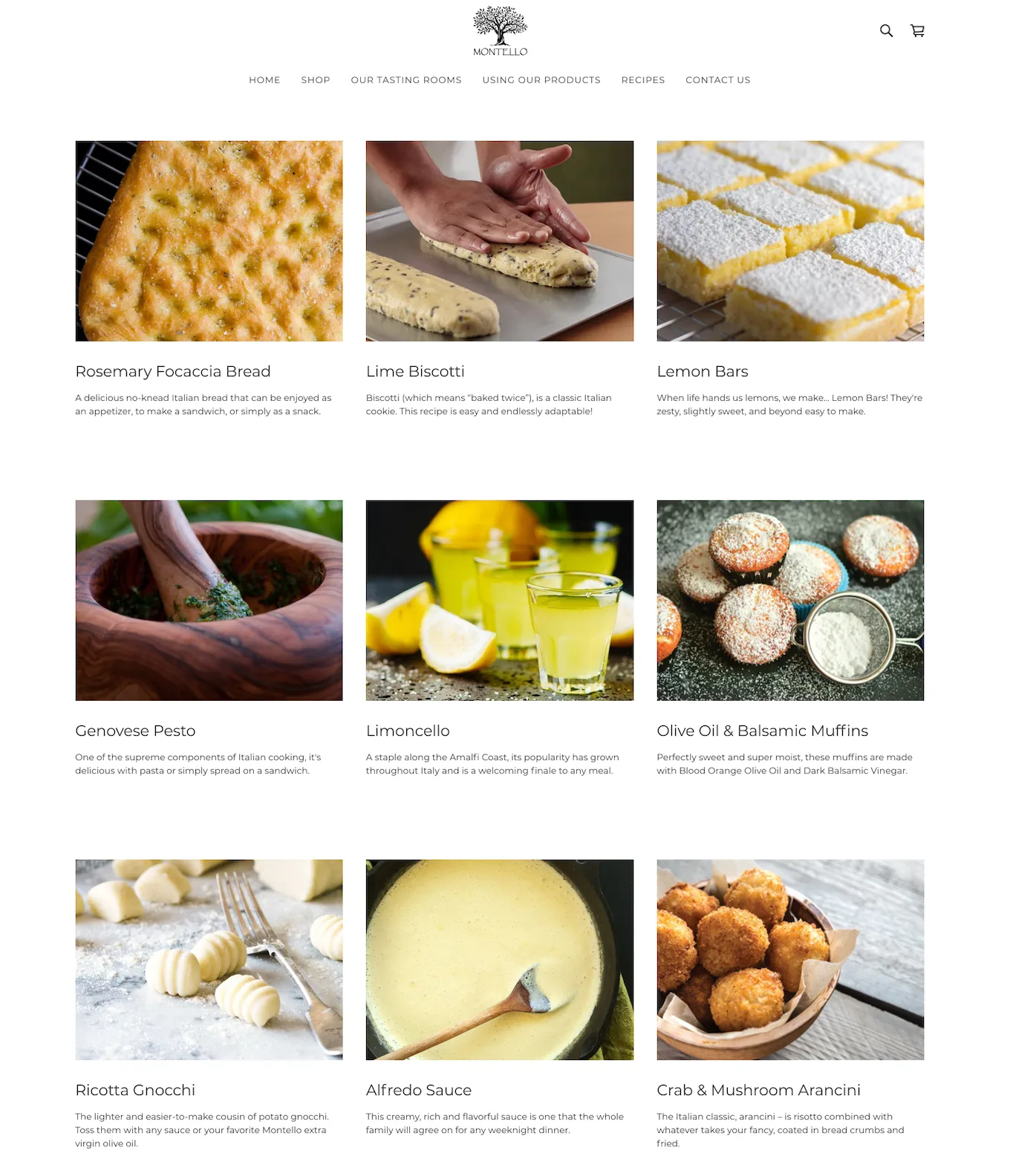 "We have a wonderful Tuscan olive oil that I will baste my entire turkey in and make my stuffing with. I share those kinds of things with people in our newsletter. The holidays give us a wonderful opportunity because people are cooking things they may not cook more than once a year. Because our product is food-related, we really get to expand on that holiday-food combination."
Taking the stress out of the holidays
Lorraine also says that what has been especially helpful in the eCommerce space is that as the business has grown, she has been able to expand the website and its features.
"Everything is synced together — the store, the inventory, and the inventory on the website. We're in the process of opening a second store and that will all be synced together by individual location," says Lorraine, adding, "We try to keep pretty consistent between the store and the website because people will come in and say, 'Oh, I want to order again,' or 'I want more of what I saw in your store,' so we want to make sure we can match the store and the website as much as possible."
Overall, even with how much easier the holidays have gotten for them over the years, Lorraine still realizes that it is a hectic time of year. For any new business owners facing their first holiday season, she has one big piece of advice: have fun.
"It's unlike any other time of the year," says Lorraine. "If you're enjoying the season, your customers will see it and want to shop at your store."
She adds, "Be prepared, don't panic, have fun … and take plenty of notes. That will help you better prepare for next year."
With shoppers looking for the next big gift, the holidays can be a great time for businesses to launch an online store. From experiential gifts to themed product promotions, Square Online Store gives sellers the tools to stand out this season. Launch an eCommerce website that uniquely fits your brand, manage inventory at the click of a button, and track order fulfillment — all within the Square ecosystem. Square Online Store takes the pressure off managing a digital storefront so you can focus on giving your eCommerce customers a holly jolly shopping experience. Give yourself the gift of a unified eCommerce business and start a free online store today.