Table of contents
In the past 20 years, the internet has made it possible for many people to turn their passion projects into a business — and not just any business, but one that thrives with the expanded customer access that eCommerce offers.
Having an eCommerce website is like opening a new storefront, but this one is available to anyone at any time, and it gives customers the feeling that they are supporting their favorite retailers, even if these retailers are thousands of miles away. An eCommerce website is also a way to highlight a unique brand, product, or service with a customizable, user-friendly design that reflects a business' special qualities.
Three current online sellers have done just that, turning their creative endeavors into thriving businesses. To help turn their eCommerce visions into reality, they turned to Square Online.
Letting your products tell the story
Boneca Lathers is an artisanal soap company that started as a hobby in its owner's home but has grown into a successful, environmentally friendly company that prides itself on helping customers live a cleaner life that isn't dependent on chemicals and toxins. It's grown from offering a few simple soaps to selling a wide variety of artisanal soaps, scrubs, bath salts, cleansing grains, and soy candles. Part of what made the business successful was launching a website that showcased products in their best light.
"I needed a fast, easy way for people to view my products," says Boneca Lathers founder Melisa Melo. "I wanted to move away from my Etsy shop to create a more polished look for my business."
Its product-focused eCommerce website has an "About" page that gives some background on the business, a "Shop All" page listing the full inventory, a page about customized products to give as gifts, and a contact page. For Boneca Lathers, less is more. The whole site is five pages, but it packs valuable information and eye-catching photos of its handmade small-batch natural soaps to drive sales.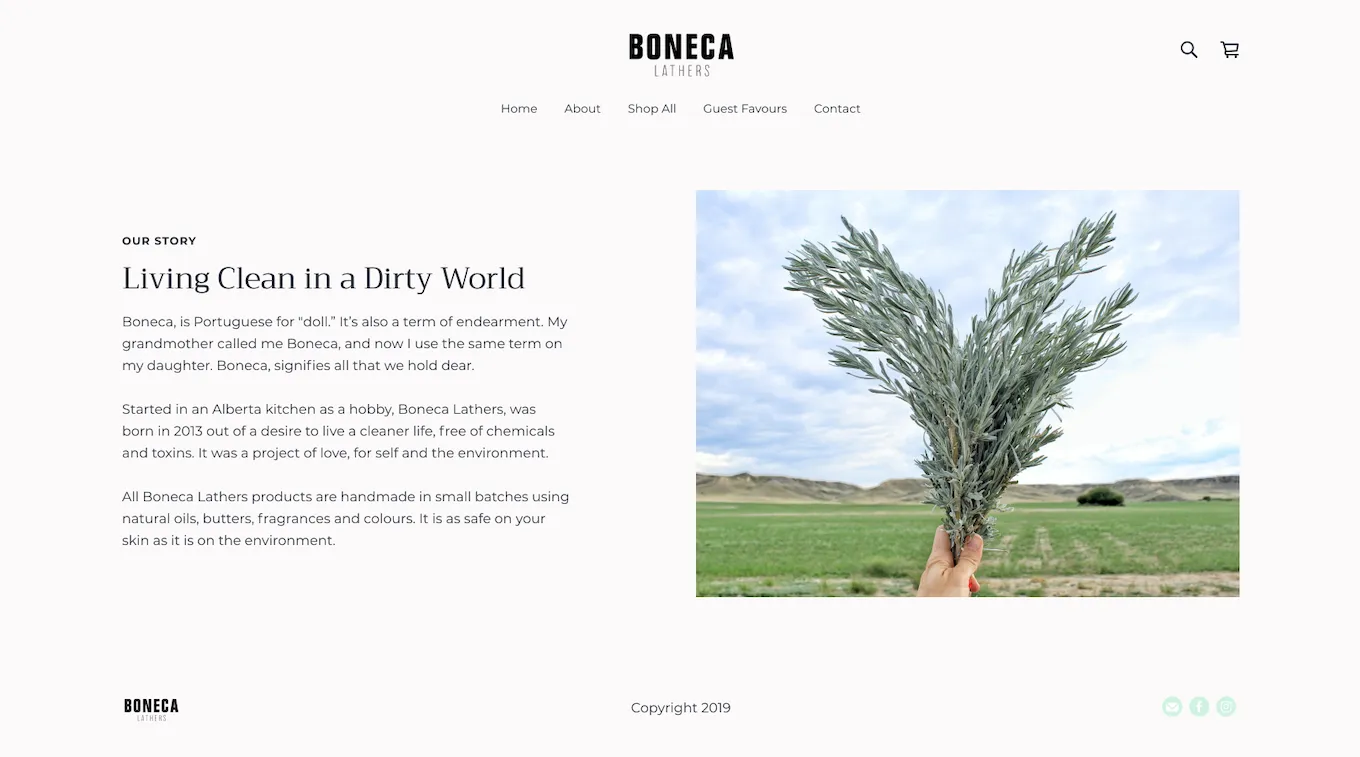 Melo was already doing good business offline, selling her products at pop-up stands, craft markets, and vendor shows. But in creating her eCommerce website, she found out just how easy it was to link her offline sales with her new virtual space, uniting her customer base and creating a seamless online and offline experience.
"With the Square card reader, it was a no-brainer to be able to link my Square account to my website to help with inventory control," says Melo.
Crafting your online brand identity
Launching your own website gives you full control over the appearance, content, and layout in comparison to online marketplaces and social media platforms that often restrict users to single pages with limited options. Having the freedom to customize a website to your unique needs, and having full control over your brand, can also help you stand out from competitors.
White Gardenia Co. — a home goods eCommerce website specializing in teas, candles, soaps, and housewarming gift boxes — wanted the ability to easily craft a brand identity online. Founder Hannah Holbrook says in a video on her website that the goal of her company is "simplicity."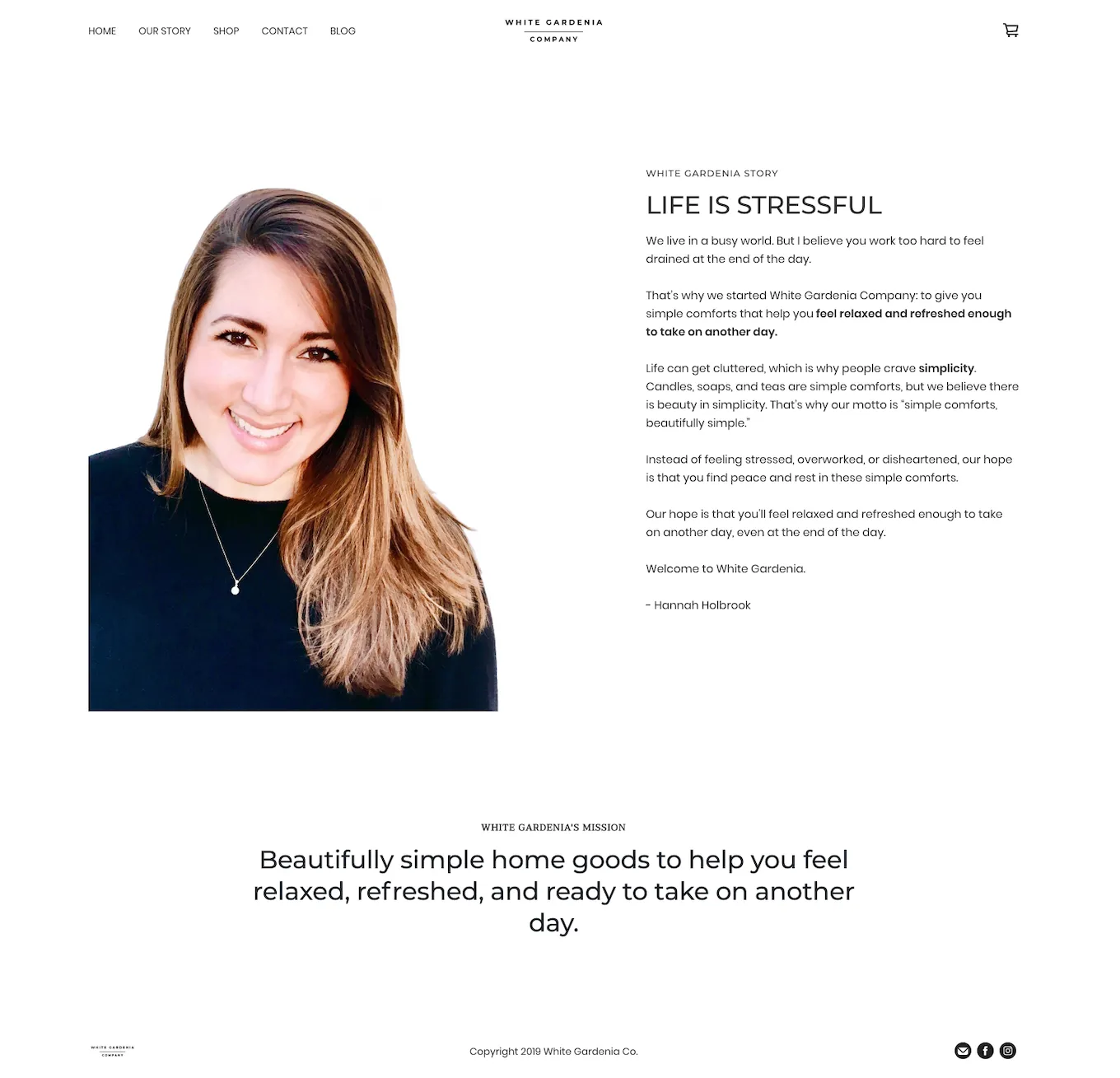 "Square's eCommerce website is very user-friendly from both a selling and buying perspective," says Holbrook. "From a seller's standpoint, I love all the web design options and store customizations that are available. From a buying point of view, our customers tell us time and time again how quick and easy it is to order through our website. And from both perspectives, it feels so crisp and clean."
Creating the perfect eCommerce website is all about customizing the experience to fit a business's needs, which lets customers know they're not just browsing another marketplace. When launching White Gardenia Co.'s website, Holbrook made creative design choices to reflect its brand identity around simple, clean living, which helps establish an authentic online presence where it can connect with customers.
Establishing (and growing) your online following
An online store can also help elevate a brand and extend a company's reach to a wider customer base.
Poor George, a former Etsy seller, uses its online store to bring its Hudson Valley aesthetic to a much wider audience. The brick-and-mortar store is located in the heart of Cold Spring, New York, but now its online store can bring its handmade clothing, accessories, apothecary items, and housewares to customers nationwide. Poor George founder Cadah Goulet tells us that this not only helped them reach a wider customer base, but it gives the store more legitimacy and helps them retain customers who visited the store while on vacation.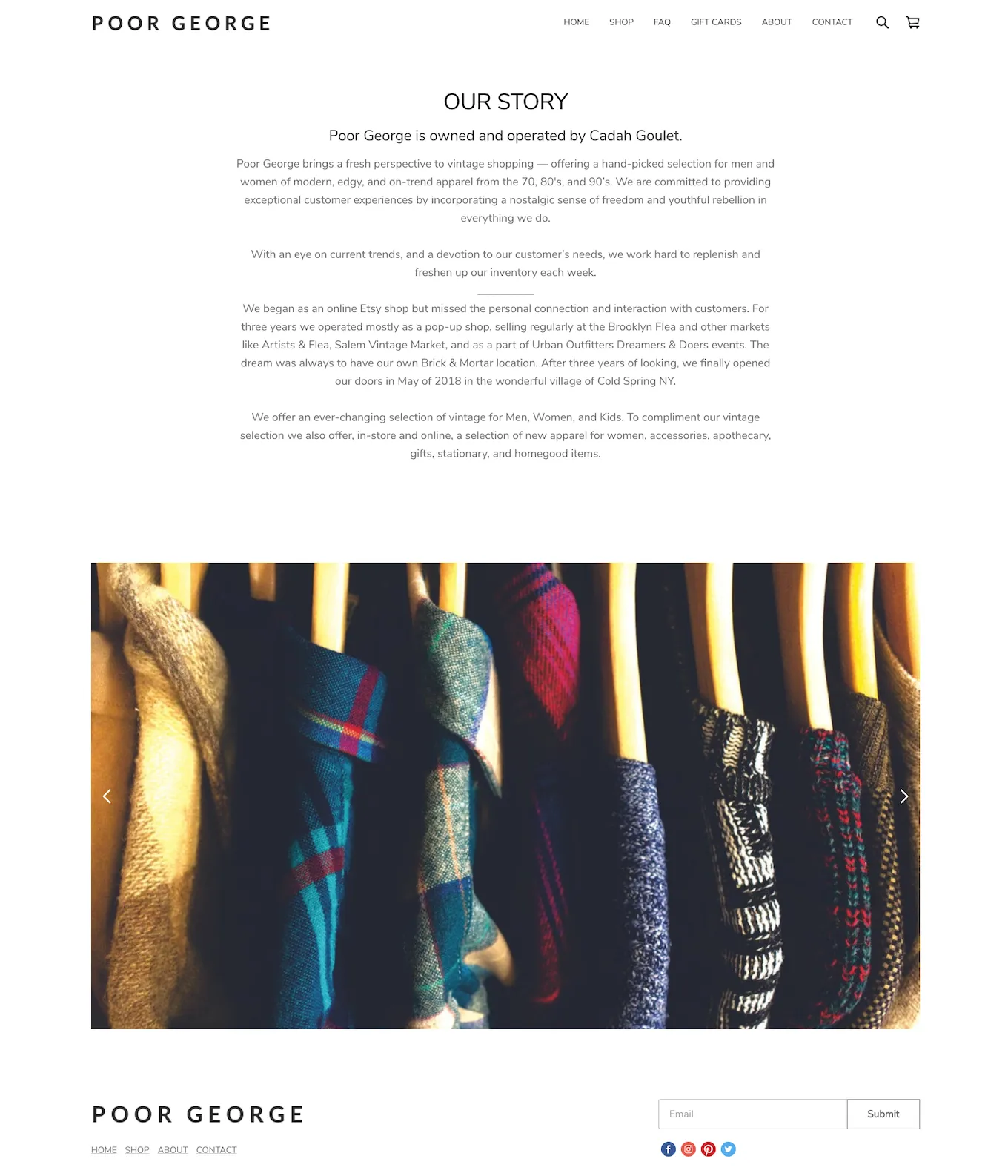 "I was more concerned with legitimacy instead of sales growth. Having a website is a nice offering to customers who want to repurchase something they bought in the store," says Goulet. "There's a lot of tourism in the town here where I have my brick-and-mortar [location] and it's nice to be able to retain customers via online when they aren't able to always come into town."
Focusing on what makes your business unique
These self-made business owners were able to launch their brand on their own terms with an online store. By leveraging a DIY website builder, sellers can build pages and develop a user experience that is customized to their unique business goals. For Boneca Lathers, that was using simplified product pages to put their inventory front and center. White Gardenia used design tools to build its online identity, and Poor George united its physical location with a growing online community.
Having the option to own and manage the creation of your site lets you prioritize the aspects of your store that matter most to your audience. This allows for a lot of experimentation in what works best for each individual business. An online store can help business owners focus on creating a beautiful site that shows off products in their best light. And it gives sellers the ability to scale up their business as their customer base grows.
Take the first step in growing your brand and creating a unique eCommerce experience for your customers with Square Online. From modular website layouts to inventory syncing both in person and online, Square empowers sellers to turn their passion projects into a reality. Get started today.