Table of contents
Benefits are important if you want to attract and retain great employees. But it may feel like providing benefits is either too expensive, time-consuming, or complicated if you're a small business. That's why we're so excited to announce that now Square Payroll offers benefits designed specifically with small businesses in mind.
We've partnered with industry-leading providers so you can offer affordable, simple health insurance, retirement plans, workers' compensation, and pre-tax benefits. You can choose whichever benefits best fit your business and budget. (We really mean that — benefits start at $0!)
Importance of employee benefits
Numerous studies show the importance of benefits when people are looking for jobs or deciding to stay in one. And that is more true than ever before in this tight job market. A Glassdoor study found that four in five employees prefer benefits or perks more than a pay raise. Eighty-three percent of employees say that health insurance is very or extremely important when choosing or deciding to stay in a job, according to a study by the Employee Benefit Research Institute. And 73 percent say the same about retirement benefits.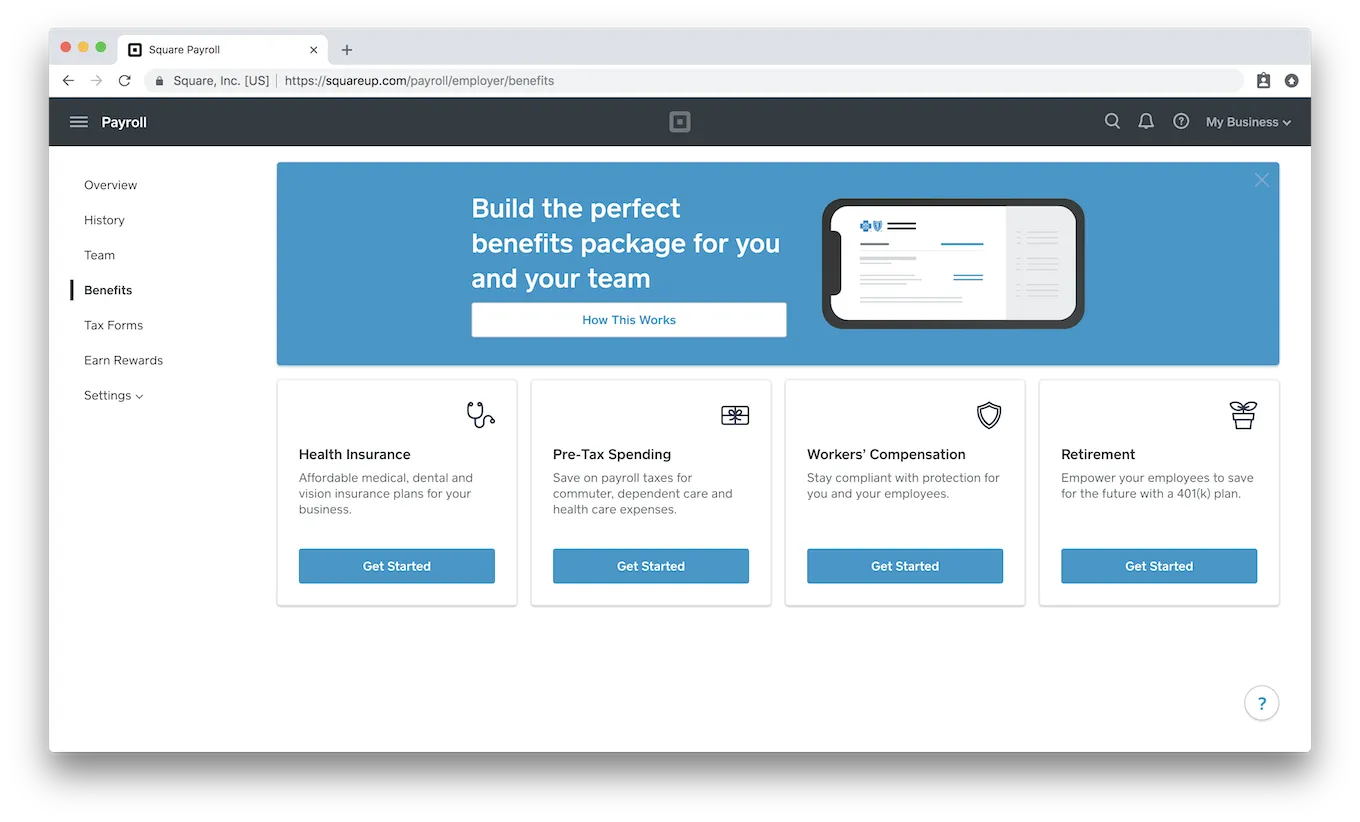 Access employee benefits offerings through Square Payroll
You can access benefits offered by our partners — SimplyInsured, AP Intego, Guideline, and Alice — through Square Payroll, including:
Health insurance: SimplyInsured offers medical, dental, and vision plans from top health insurance companies.
Workers' compensation insurance: AP Intego offers pay-as-you-go workers' compensation so you're only billed for actual hours worked and never have to pay a lump sum up front.
401(k) retirement plan: Guideline's all-inclusive plan has no management fees or hidden costs, giving you access to the lowest-portfolio-fee plan in the industry.
Pre-tax benefits: Save money for your business and your employees by offering pre-tax benefits through Alice, and make everyday employee expenses like commuter, dependent care, and health-care expenses tax-free.
"Offering benefits is about doing something good for our employees. We signed up for pre-tax benefits which saves our employees money each paycheck and actually saves our business money too. It was a no brainer for us," said Dave of One Girl Cookies in Brooklyn.
It's never been simpler to provide your employees (and yourself) with benefits. Once you've picked your plans, you can enroll through Square Payroll and let us take care of the rest (i.e., all the complicated bits). We'll minimize your admin time by enrolling your employees and automatically calculating deductions and contributions with each pay run. And each benefit partner has a dedicated support team to answer all your employees' questions, so you don't have to.
Additional features
The addition of benefits to Square Payroll is our latest move to make payroll and everything associated with it as efficient and easy as possible — so you can get back to doing the work that you love. Here are some of the other features we've introduced:
Mobile apps so you can run payroll, no matter where you are or what you're doing, and your employees can clock in and out and access their pay stubs.
Automatic payroll so you never forget a pay run and your employees always get paid.
Integrated timecards that you can import directly from your point of sale so you don't have to manually input or reconcile hours.
Tip importing that automatically splits tips between employees when your team uses timecards, saving hours in manual calculations and data entry.
Automatic tax filings and payments: We generate your W-2s and 1099s, file your state and federal taxes, and even track sick leave or paid time off, among other things.
Online accounts for your team, so they can update their information, sign up for direct deposit, and view pay stubs.
The ability to pay both W-2 employees and 1099 contractors.
(And now Square Payroll is available in all 50 states and Washington, D.C.)
Want to start providing benefits?
If you already use Square Payroll, you can enroll in benefits directly from the Square Payroll dashboard. Choose the benefits that best suit your needs and budget, and we'll take care of everything else, including the taxability and reporting requirements for each benefit to make sure your taxes and tax forms are accurate.
Not using Square Payroll yet? Create an account to learn more about signing up for benefits. Or, if you already have benefits that you want to sync with Square Payroll, learn about adding your benefits to Payroll in our Support Center.