We love industry events and conventions — we attend them every chance we get. It's another opportunity for us to connect with independent sellers and walk through Square products that can help you start a salon or just run your business. We're also there to stay up to date on the hottest trends in your industry so we can better understand your needs.
Not everyone can make the trip to these events, so we're going to start writing roundups of the trends we spot at the bigger events we attend. We'll start with two particularly fun ones, The International Beauty Show (IBS) and International Esthetics, Cosmetics & Spa Conference (IECSC), two big March events in New York City.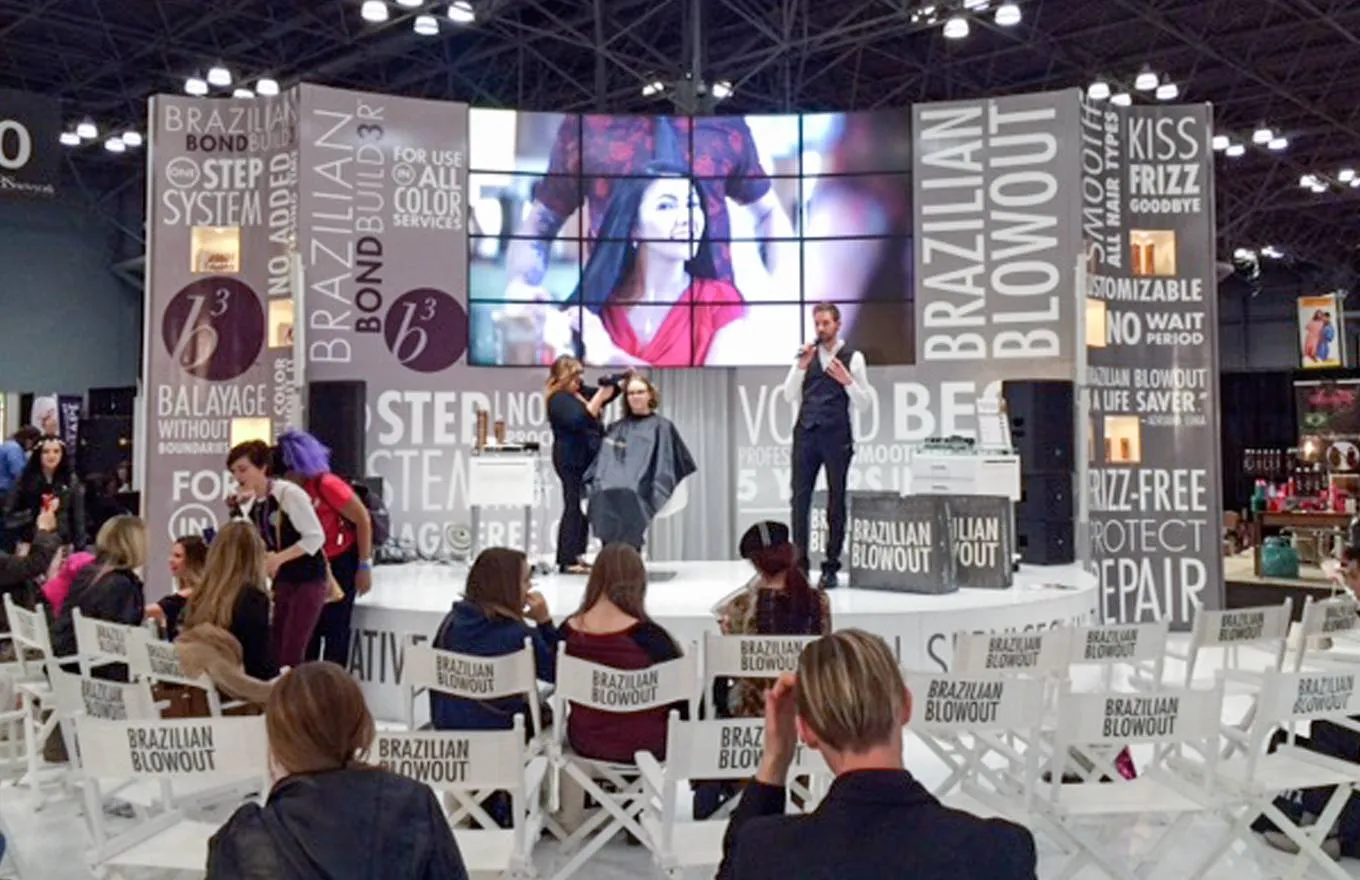 It was three days of flawless skin, big hair, and bold makeup. IBS and IECSC just wrapped up in New York City, leaving the year's top beauty trends to follow in their wakes. We walked up and down the Javits Center floor, surveying hundreds of booths to ID some themes. Here's what we saw:
Low-maintenance locks
Though not new on the scene, Brazilian blowouts still reign supreme. This year, they support a new trend: low-maintenance hair (that still looks shiny). Once a blowout creates the ideal texture, hair routines become easier, especially given the ever-growing options for dry shampoo. If you're a salon, consider touting services and products that support a low-maintenance lifestyle this year.
Balayage highlighting
Move over ombre, balayage highlights are taking over. The softer, more natural approach to highlighting will be popular in the coming months as clients prepare their sun-kissed summer looks. An added bonus? Less noticeable regrowth lines. Sunlights Balayage, which uses Square, was an IBS standout around the balayage movement. Check out its blog to be enlightened.
Bye-bye mascara, hello eyelash extensions
When it comes to lashes, it's all about longer and fuller. Several exhibitors at both IBS and IECSC were applying extensions on site — the result being dramatic lashes well worth the tedious and time-consuming process. It's safe to say mascara is being replaced (or at least enhanced) by eyelash extensions. Definitely consider adding this treatment to your services roster.
The science of things
People are geeking out over beauty science in a big way — with a particular focus on the research behind specific ingredients and their interactions with skin. MEG 21 hosted a popular session at IECSC on why glycation is so harmful to the skin (and causes aging and inelasticity). They shared the research behind their patented ingredient, supplamine, which fights the harmful effects of glycation. If you're an esthetician or spa owner, consider starting a blog that explains the science behind your services and products. There's definitely an appetite for this type of information, and the content will position you as a thought leader in your industry.
Natural products for face and body
Perhaps not surprisingly, locally sourced and organic products are still making a big impression. Exhibitors such as FarmHouse Fresh had nonstop traffic throughout all three IECSC days, and its natural body creams, scrubs, lotions, and bath soaps were flying off the shelves. If you carry lines of organic or local products, consider doing some more marketing around those themes. This could take the form of Facebook posts explaining where and how the products you carry are made, or signage in your store clearly stating that the things you carry are all-natural and sustainable.
Notice another trend at IBC or IECSC this week? Let us know on Twitter.
And for more tips, tricks, and information on how to run and grow your business, sign up for our newsletter, Town Square News.