Starting a business is challenging, there's no doubt about that. A new venture requires a lot of planning and patience. You can almost certainly expect to face operational roadblocks and financial obstacles. But at the end you will have accomplished a huge feat and opened a business of your very own.
Instead of letting the challenges deter you from your goal, focus on being prepared so you know what to expect when opening your business. Especially when it comes to the finances needed to open your business.
Planning for the future
When preparing for a new business, one of the first things you should do is create a budget. This budget should include everything from rent to inventory to marketing your business.
We surveyed 1,000 small business owners about the obstacles they face in running a business and how they overcome them. From that survey we found that nearly half of small business owners will exceed their budget when it comes to startup costs.
But which costs should you focus on most? Our survey showed that the following expenses were the largest startup costs for small business owners:
Of course, some costs are dependent on the kind of business you run. While food and beverage businesses are typically the most expensive to start, other expensive categories include professional services, retail, health, and beauty and wellness.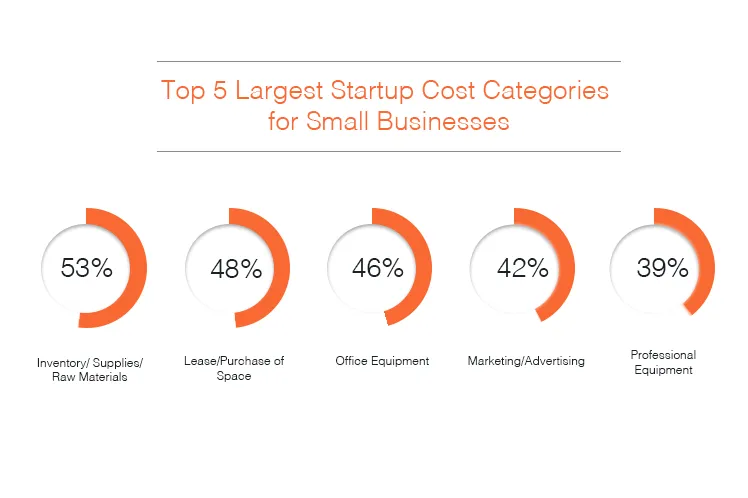 Cutting costs before opening
For nearly half of the surveyed business owners, cash flow is a big concern that keeps them up at night. Do some research and know where other small businesses are spending their money to help you plan your budget and avoid unexpected cash flow issues, especially when first starting out.
A number of small business owners we surveyed made strategic concessions to keep costs down prior to opening, such as:
Delaying or forgoing purchasing items that they want for their business
Compromising on a location that fits within their budget
Initially limiting the scope of the products or services that their business offered
As a small business owner, the prospect of prioritizing large costs and making professional and personal concessions may seem overwhelming. But being resourceful and getting creative with cost cutting can be an effective way to finance your business.
Get creative with your approach
Many small business owners are finding innovative ways to be resourceful, remain competitive in the marketplace, and save money. Here are a few options you can explore, inspired by the business owners we surveyed:
An alternative location: When starting out, consider operating your business out of a mobile or pop-up location, as you gauge your core demographic. You can also look into sharing your space with another business to reduce your rent expenses.
Do it yourself: If your space needs some TLC, opt to do the improvements on your own, or with the help of friends and family. Outsourcing work to contractors can cost a lot of money, even if the repairs are minor.
Be spend-savvy: Work to negotiate a lower price for rent or equipment, or barter for supplies to keep costs low. Depending on what kind of products or services you provide, you may even be able to trade in kind.
Use technology to manage your business: Utilize software services that can help you manage your payroll, email marketing, and customer invoicing, thus limiting the need for other staff members at first.
Start niche: Keeping a large inventory stocked can quickly eat up your budget. Think about limiting your product lines at first, then expand as customer demand and budget allows.
Question wants vs. needs: You probably have a clear idea of what your new business should look like when it opens. But sometimes a vision can have a steep price tag. Evaluate all the items on your purchase list and separate them into wants and needs. Start with your needs and then purchase your wants as the business grows.
Getting a new business off the ground can seem daunting and may require you to make some professional and personal sacrifices. While there are some costs you may not be able to avoid, there are ways for you to get creative and stay within your budget. Keep a positive attitude, adopt a flexible mindset, and be resourceful — you'll be on your way to starting your business in no time.