Table of contents
In the face of economic uncertainty, future-proofing your business becomes a top priority. As you consider crucial elements such as inventory and staffing, it's equally important to consider the lifeline of your business — the customer. Nowadays, customers are faced with notable price increases from food to energy costs, the rising cost of living, and more, causing them to be especially particular about how they shop — if they even shop at all. According to Morning Consult, 72% of U.S. adults are shopping less overall, and 76% are looking for deals and coupons, even if it takes them away from their preferred stores.
In other words, reaching customers in uncertain times takes a touch of delicacy. But the good news is that with the right marketing efforts, reaching them and encouraging them to shop your brand, even in the face of uncertainty, can be done.
Be empathetic. 
In your marketing communications, speak to shoppers with a certain level of human understanding. Make it clear that you're aware of the economic situation and use sympathetic language that shows your store is trying to make their lives easier. For instance, subject lines that call out Taco Tuesday might work to engage a customer, satisfying your open rate, but empathetic subject lines such as 'need a break?,' 'save money,' or 'let us cook dinner for a change' focus on how your business can help the shopper and make shopping your business more appealing.
It's equally important to be strategic about the products you're marketing. Consider focusing more on core and necessary items and less on items that may not be top of mind. For example, retail stores that focus on a plethora of items like soaps, lotions, and candles might benefit from prioritizing the essentials like soaps. For businesses that heavily rely on discretionary shopping like entertainment, use your customer data and analyze what consumers buy from you the most. Use these findings to your advantage and prioritize them in your marketing.
Be transparent.
Whether it's increased prices, low staffing, or low inventory, it's important to be transparent with customers about expectations. Because spending money can oftentimes feel like a luxury in an economic downturn, be sure to provide a worthwhile experience. If your store is understaffed and customer service might be a little slower than usual, be open about this and apologize (and maybe even offer something) for the inconvenience. In the same way, if economic pressure is causing you to raise your prices, don't let this be a surprise to customers. 
Communicate that price increases are necessary to maintain the business and emphasize why your products are worth the increased value. Transparent, honest communication is key to the shopping experience and can go a long way in creating trust with your customers and potentially even inspiring another trip to your store.
Implement social listening.
Analyzing mentions of your brand, industry, and related keywords across social media channels is the act of social listening. Social listening can be impactful in helping you understand what shoppers think about your brand — or related brands — and can help define what to focus on in your marketing. Oftentimes consumers verbally express what they would like to see from brands or how certain products have helped them, both of which can serve as inspiration for helping you outline your value during tough times.
Once you have an understanding of the conversation around your industry or brand, you can join the conversation and make your social media marketing work twice as hard. This can have increased benefits for your business because you're reaching customers where they — and their brains — are. 
Try a different approach to influencer marketing. 
Similar to social listening, understanding who the influencers are in your industry can also have increased benefits, especially during tough times. Influencer marketing is a type of social media marketing that relies on product mentions or endorsements from social media users who have an established following and are considered experts in their field. The term influencer doesn't necessarily have to equate to millions of followers either. Influencers with a blossoming following of people that thoroughly engage with their content can sometimes be just as impactful. Because influencer marketing comes with a variety of compensation methods, consider exploring the cost-efficient method of product-based compensation. Product-based compensation involves offering services or products in exchange for them to market your brand. While this method can appear more natural with influencers who have a pre-existing relationship with your products (and would happily indulge in them with their own money), you can also try sending out samples to influencers who may be new to your product but would make a great fit in terms of target audience and reach.
Communicate flexible payment methods.
Offering flexible payment methods like buy now, pay later can take some of the financial pressure off of shoppers by allowing them to pay their way, ultimately making shopping more feasible and desirable. If you offer services like Afterpay in your stores (an easy add for Square sellers), make this known through signage at checkout stations, store staff, your online store, and all of your social media channels. Go the extra mile and over-communicate (within reason) to ensure that your customers know all of their options.
Examples of marketing efforts adapted for
inflation
Afterpay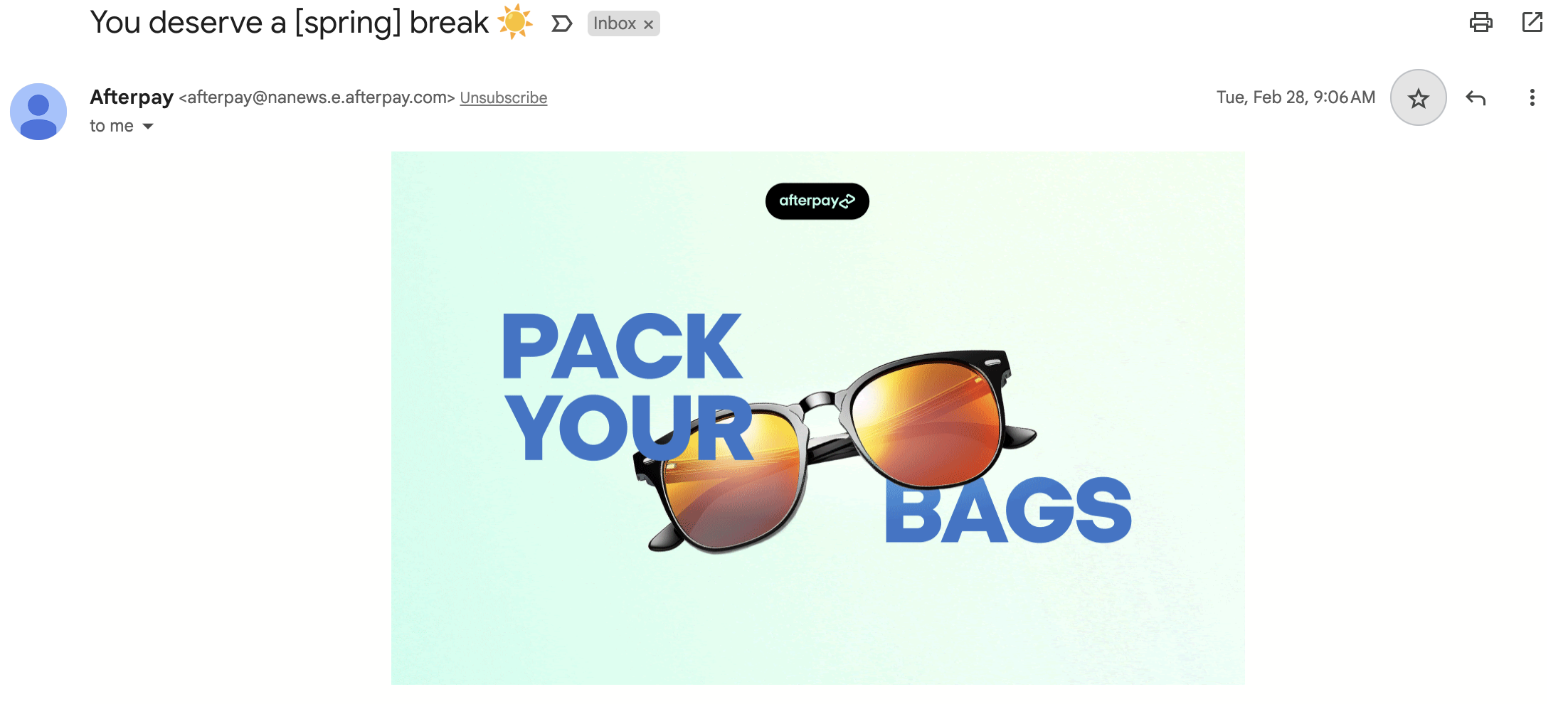 In the above example, Afterpay utilizes an empathetic headline to encourage shoppers to use their platform. The double entendre makes the call to action clear and simple, reminding cash-strapped consumers that they can still engage in a vacation despite the economy — ultimately keeping their brand top of mind if consumers decide to do so. 
TheRealReal

In this email marketing example by TheRealReal, the consignment store focuses on helping consumers earn money instead of encouraging customers to browse what's available. As a store that has multiple functions, prioritizing the fact that shoppers can earn money with them in times when extra cash flow is especially needed is a display of strategic marketing (and another display of empathy).
Fenty Beauty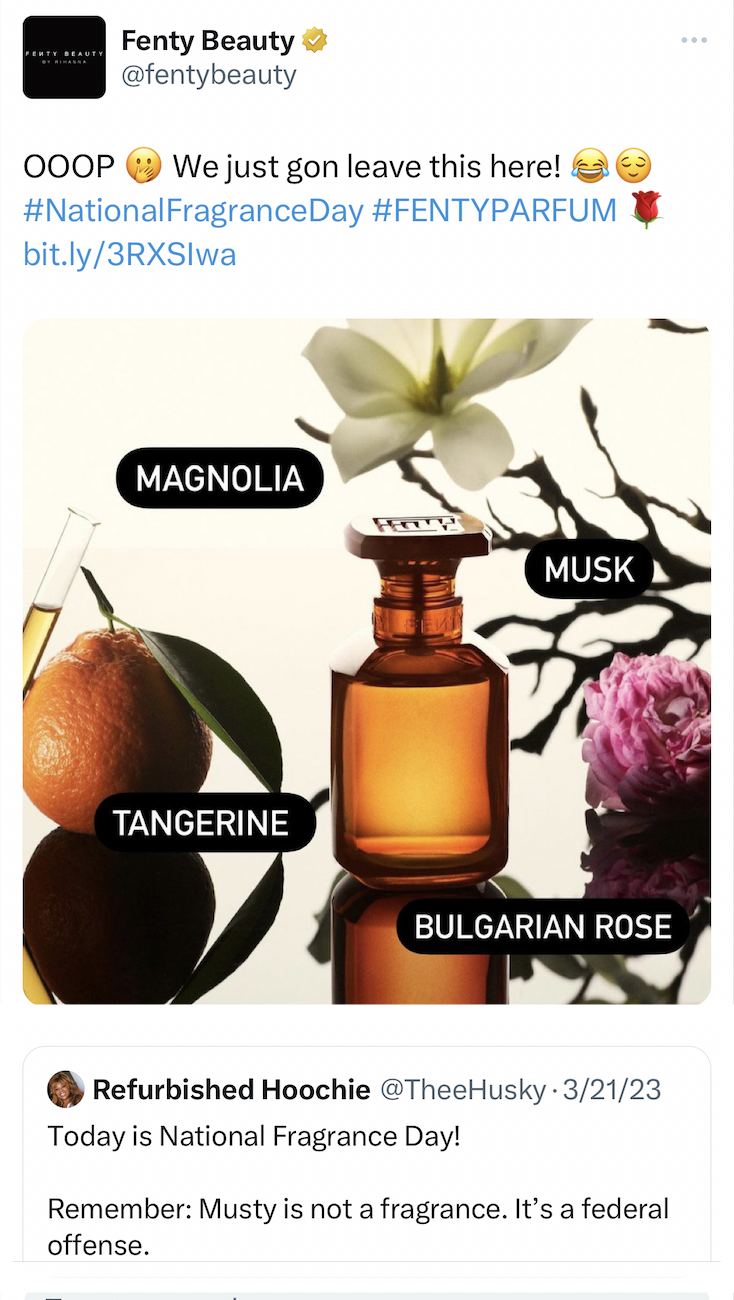 Fenty Beauty implemented social listening by searching keywords related to their brand and finding the perfect tweet to help further promote their products. This example is crucial because, in times of economic hardship, some customers may be looking for cheaper options while others may simply be looking for new ones. By zeroing in on social posts where your products are in demand or being talked about, it hand delivers your brand to an interested audience.
Wingstop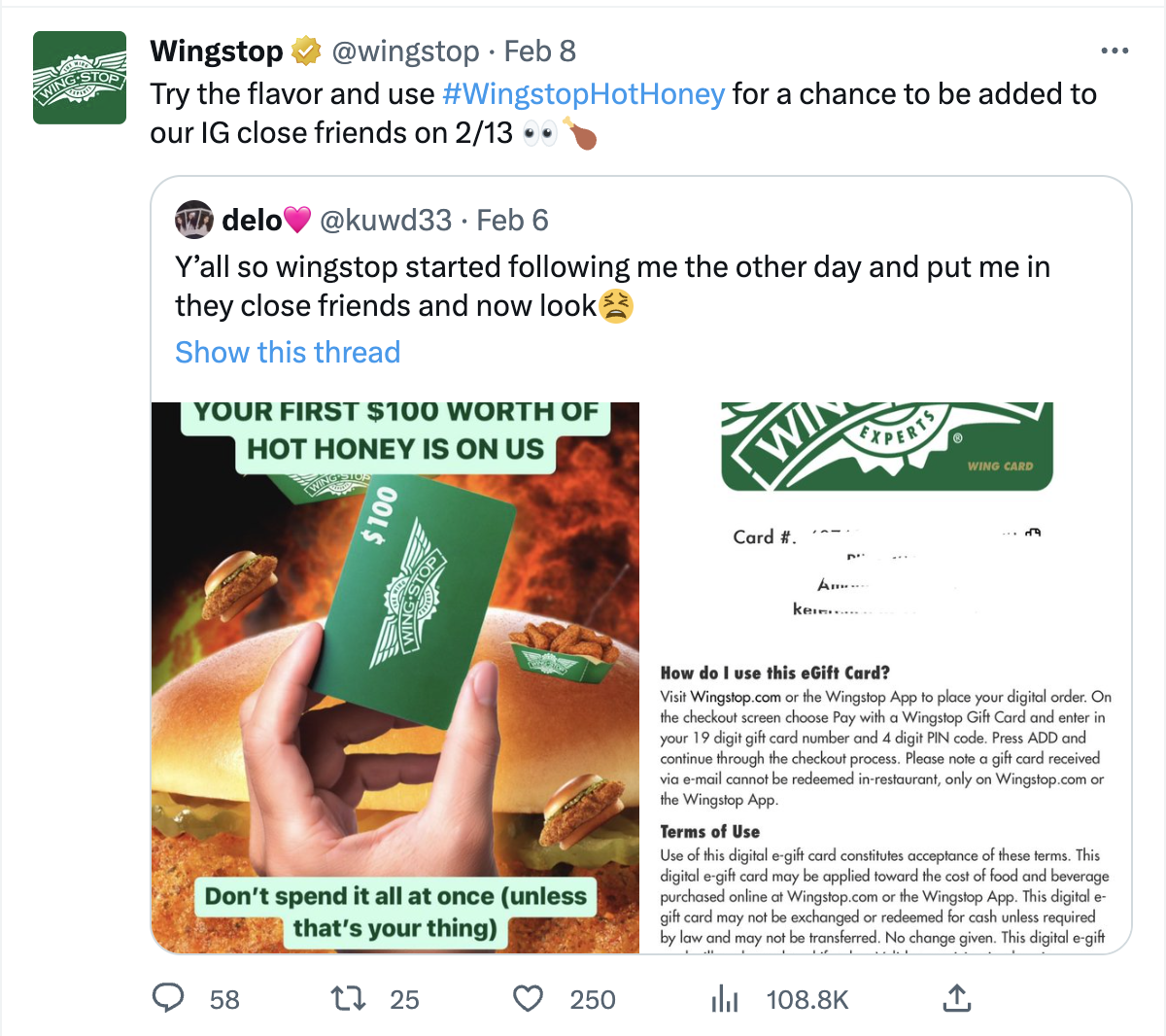 Wingstop took a unique approach to influencer marketing by reaching out to social users with sizable followings (the user in the above tweet had less than 5K followers at the time of publication) and adding them to closed social groups, giving them the option to indulge in a special deal. While this type of influencer marketing can be risky because there's no guarantee that the user(s) will share that it happened, it can do wonders for word-of-mouth marketing and help grow your social media channels, creating more opportunities for sales.
Because the user didn't directly tag Wingstop in the post, this is also another example of social listening because the brand had to seek this content out organically.
Marketing is the lifeline of any business, especially in times of economic hardship. Utilizing methods such as email marketing, SMS marketing, and social media marketing — or ideally a mix of the three — places your products directly in front of customers, but it's important to keep in mind which channels you use and how you use them. Choosing essential products, using empathetic language, taking advantage of social channels, and building relationships with micro-influencers can go a long way in ensuring your marketing can withstand the times, helping to future-proof your business.