Table of contents
When Ryan Nosek started Ghost Town Brewing, he didn't anticipate it becoming a Bay Area staple or winning awards. Nosek, who formed a number of metal rock bands throughout the 2000s, found his passion for brewing seemingly by accident. 
"The band that founded Ghost Town was probably formed in 2008 or 2009," he remembers. "The brewery came out of the band mostly because we were trying to figure out how we could afford to keep rehearsing in our rehearsal space. We thought we might as well offset the cost of this rehearsal studio and start a brewery."
Perhaps, the greatest thing about brewing, according to Nosek, is that it's a lot like making music. In fact, he easily compares it to guitar theory — being able to freely explore and experiment with structure and find possibilities. The magic lies in the possibilities, as far as he's concerned, and it's that magic that led to the first Ghost Town Brewing in Oakland, powered by Square.
Starting with reliability and simplicity 
"Square came into the picture for us day one of our operation," noted Nosek. "The moment we realized that we were going to invite the public into our space, we knew we needed a rock-solid system for our staff to use."
He cites the simplicity of Square tools as critical in streamlining the business. The ability to cut back on time training staff and learning complicated processes leaves more time to focus on ways to grow and expand the business. Beyond the reader and the POS system, Nosek is also a proud user of Square Online, which proved essential for Ghost Town during the pandemic.
"We turned on the online capability of Square and immediately started sending beer all over the state." This feature ultimately opened up a huge secondary market for Ghost Town, expanding its customer base beyond the Bay Area. "There are people who are really excited about our products that have never been here."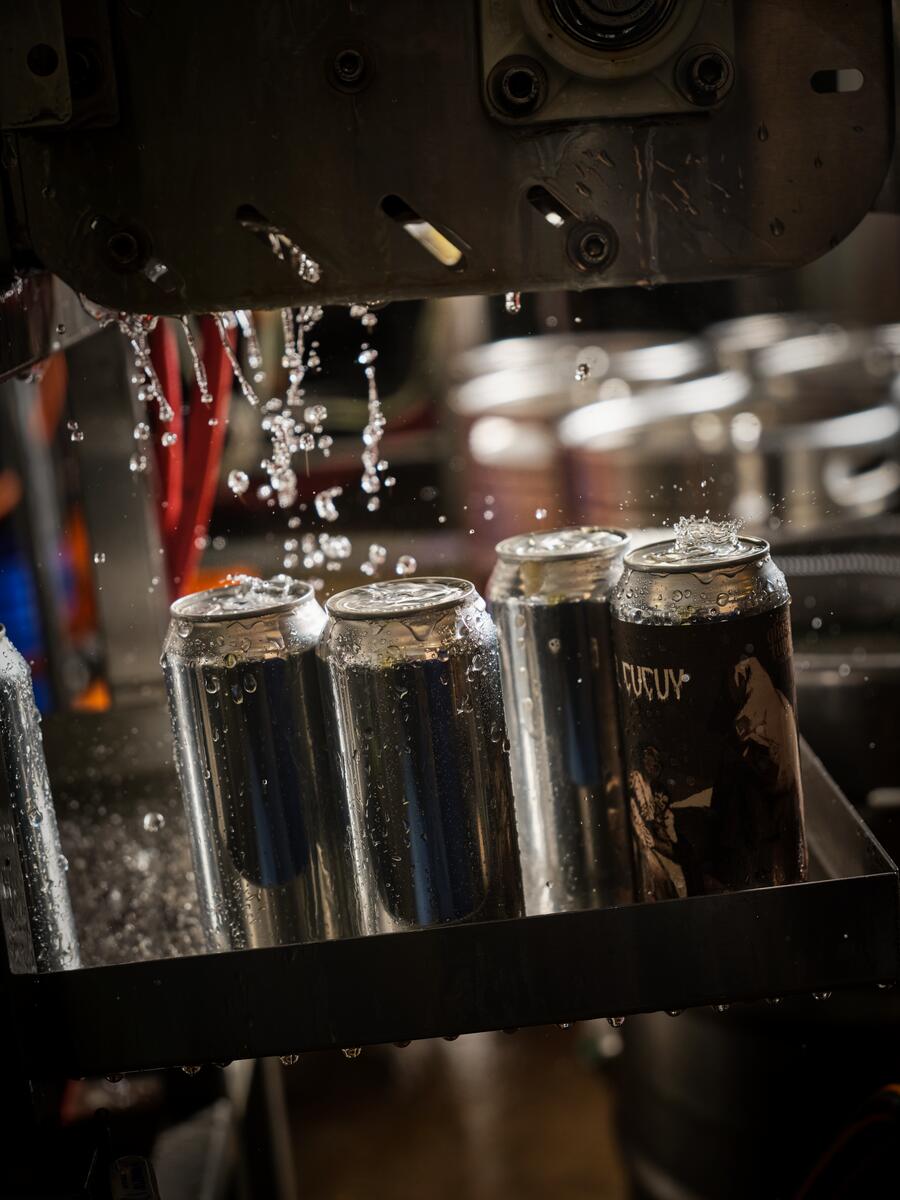 Expanding the business with new revenue streams
In addition to its brewery and online business, Ghost Town also has a wholesale business and merchandise sales that are sizable revenue streams. The brewery has found success with merchandise and canned beer by infusing it's branding with the spirit of the founding band's metal ethos.
The iconography — which Nosek describes as "something beautiful or something disgusting" —  catches the eye of customers and makes their products stand out in an increasingly competitive market. Placing this kind of imagery on items that specifically appeal to their target audience is also how Ghost Town keeps customers engaged. Beyond the standard t-shirts, hats, and sweatshirts, the brewery also sells lighters and guitar picks to help create a full experience for the metal band lover.
Ghost Town's wholesale and merchandise revenue streams naturally aligned with its core business and appealed to its target customer. The same is true of its next venture, a second location that includes food, featuring a taproom and a restaurant. 
Venturing from brewery to restaurant hybrid
Even as he ventured into the restaurant industry, Square was Nosek's first option yet again. "It was an easy choice," he says. "I always love when I wonder if Square does this … and the answer is, like, always yes."
With features like the Square Kitchen Display System, Square for Restaurants made establishing a kitchen as a first-time restaurant owner painless. "We didn't have to figure out a whole lot of other stuff to do, it just kind of worked," says Nosek. The ease of use and access to data provided by Square tools have also enabled Ghost Town to plan for a third location. 
"Square data really helped us figure out when and where to launch [a third location]," Nosek explains. The ability to forecast where his business would be at a certain point in time, accounting for seasonal dips and trends, and then pairing that with historical data, played a large role in Nosek feeling confident to take the next step towards growth.
But he also cites another Square product that's played a hand in his expansion – Square Loans. Since opening the first Ghost Town location, he admits to using Square Loans three times to help account for the increased fermentation capacity that naturally comes with the expansion of a brewery. 
"Square Loans has really allowed us to get some of the expensive pieces of equipment without having to do traditional bank loans … and stuff like putting our houses on the line and all sorts of scary paperwork."
Looking toward the future
Ghost Town won four awards in 2022 at the coveted Great American Beer Fest, a national competition that invites industry professionals around the world to taste beers across a number of categories. With two gold medals and two silver medals under its belt — in addition to Brewery and Brewer of the Year — the sky is the limit as they look to open their third location.
With his sights set on opening more locations, furthering its distribution efforts, and pushing the envelope for West Coast beers, Nosek admits that he has a lot to worry about, and fortunately, his POS system isn't on the list.
"[Square] helps us plan the future of our business by — it's going to sound weird — by not really having to worry about it. I worry so little about our POS system," he says. "I have so many things going wrong all the time and not having it be our POS is amazing." 
With a POS system he can count on, Nosek can make sure his brewery serves its purpose: to be "a safe harbor from the outside world" with good food, good people, and even better drinks. With a loyal customer base that's consistently selling out custom beer cans before they even drop, Ghost Town is surely living up to it.
 All loans are issued by Square Financial Services, Inc., a Utah-Chartered Industrial Bank. Member FDIC. Actual fee depends upon payment card processing history, loan amount and other eligibility factors. A minimum payment of 1/18th of the initial loan balance is required every 60 days and full loan repayment is required within 18 months. Loan eligibility is not guaranteed. All loans are subject to credit approval.