Table of contents
If you're an entrepreneur exploring a new gym or fitness brand, you have good timing. While gyms experienced a decline in revenue during the pandemic due to safety regulations and consumer confidence, business is projected to rebound. According to Run Repeat, the fitness industry was worth nearly $160 billion in 2021 and is is expected to grow by as much as 171.75% to $434.74 billion by 2028. 
As you get started, set yourself up for success by taking these steps. 
1. Identify your niche
While a gym can be considered a commodity service, specialization can help you stand out from other facilities. You can set your business apart in a few ways. The first is focusing on a type of exercise, like Pilates or spin classes. Exercisers are often attracted to a particular workout, and choosing a niche could help you become their go-to place.
You can also focus on a specific type of customer. For example, your facility could provide neonatal workouts for pregnant women or mommy and me classes for mothers who want to bond with their babies while making time for fitness. Another target market could be retirees looking for a fitness center that caters to their age group.
Finally, another way you can identify your niche is to focus on how you deliver your services. For example, you can hold mobile pop-up workouts at apartment complexes, schools, or churches. Or offer fitness classes at offices for employees who want to fit in an activity during their lunch hour or after work.
Your niche will help you define your business name and branding. It also allows you to identify your target market, which is essential for launching and growing your business.
2. Establish your credentials
While it's not mandatory, consider becoming an accredited trainer. For example, groups like the American Council on Exercise and the National Association of Sports Medicine provide certification to people who complete their professional training programs. Some specialties also offer accreditation, such as becoming a Registered Yoga Teacher from the Yoga Alliance or getting certified by the National Pilates Certification Program. 
Becoming credentialed demonstrates to your customers that you're a professional they can trust to create an effective and safe workout. Having the approval of national organizations can also help you better compete with larger gyms.
3. Form your business 
Now it's time to lay the foundation for your business. Start by writing a business plan. This exercise will create a blueprint for your business that helps you make better decisions, boosting your chance for success. The U.S. Small Business Administration (SBA) website offers templates and guidance for writing your plan. And you can also seek advice from organizations like SCORE, which will pair you with a retired professional from your field who can give you expert advice. 
Next, apply for the proper licenses and permits that you'll need to operate a gym. Requirements will vary by state, so investigate the rules for your area. You may also need permits from your city government, which could be based on your location or clientele. More steps to consider when starting a business include:
4. Consider your finances
The cost of launching a gym can vary greatly, depending on the type of facility you want to open, ranging from $10,000 for a modest facility to more than $1,000,000 for a large fitness center. If you don't have that much cash on hand, funding may be available through a small business loan at your bank or through the SBA, or you can raise money from investors, including family and friends. 
Estimate your expenses, which will be higher at first because you'll need to acquire all necessary equipment and supplies. Create a budget that includes your rent, utilities, insurance, software, payroll, and marketing. 
Understanding your costs will help you price your services by establishing a break-even point and a goal for revenue. Most gym memberships charge a monthly membership or per-class fee, and some charge a sign-up fee. You'll need to obtain equipment that allows you to process payments, such as Square Point of Sale.
Check out your competition to ensure your fees are in line with what others are charging. You don't want to price yourself out of the market, but you want to make sure you have enough income to keep the business running. Be sure to consider complimentary services, like personal training and beverages, that can add to your bottom line. 
5. Find a location
Once you understand your budget, start looking for a location. Rent will be one of your most significant monthly expenses. The amount will vary depending on how much space you'll need for your type of gym. A yoga studio, for example, can operate in a smaller area than a climbing gym.
Choosing the right spot is critical, so research the best locations based on your target market. If you are running high-intensity interval training (HIIT) classes geared toward young moms, you may want to be in family-friendly neighborhoods. But if your HIIT gym targets the after-work crowd, you might look for more urban locations convenient to office complexes.
Don't forget to consider parking and accessibility for your clientele. You may find a fantastic location, but if parking is limited or it's hard to find, you could miss out on potential customers.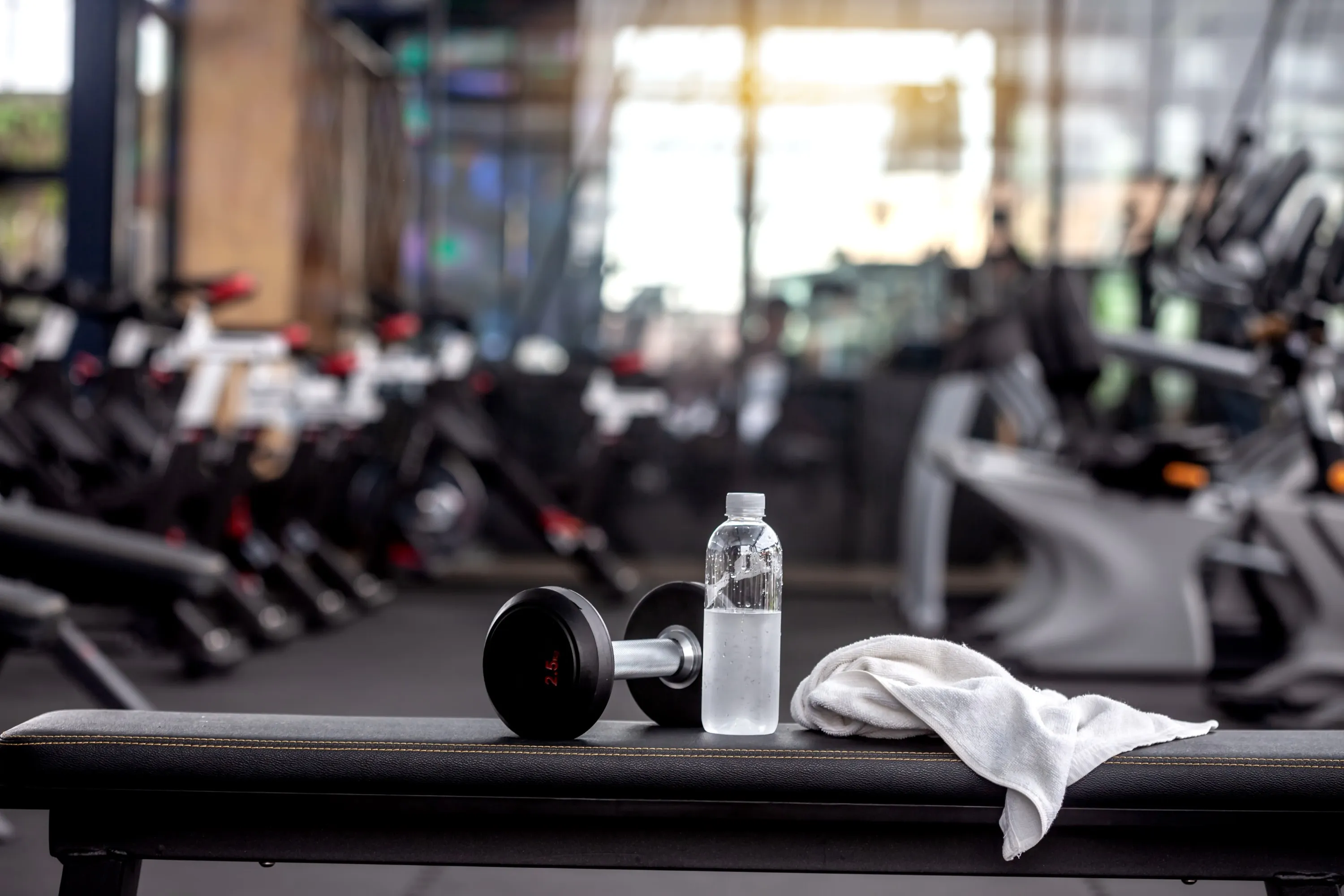 6. Invest in equipment
A gym is only as good as its equipment, and what you need will depend on the type of workouts you offer. A kickboxing gym, for example, will need punching bags, while a yoga studio may simply need mats and bricks. Fitness equipment can be bought or leased. You can also buy used gear but make sure to have it inspected and serviced to ensure it's in good working order.
You'll likely need some furnishings, too. For example, your studio may need a place for customers to sit while waiting for their class. You'll also want a registration area where customers sign up and check in. Don't forget the décor that enhances your branding. And you'll want to equip locker rooms where customers can change into their workout gear and store their items while they exercise.
7. Interview and hire staff
At first, you may be your business's only employee. As you grow, be ready to assemble a good team of trainers. Before you start interviewing candidates, write down the characteristics you want your employees to possess. Do you want someone who will follow the workouts you create, or do you want them to bring their ideas to your business? How many years of experience should they have? And what accreditations do they need? It's critical to vet each candidate to make sure they're qualified. Remember, your name and reputation are on the line, and if an employee isn't qualified, you put your business and your livelihood at risk.
As an employer, you want to create an engaging culture for your employees to keep them happy. Good trainers often create a following, which can be important for building and growing your business. You will provide your customers with a consistently positive experience by retaining your team. 
Looking to staff up quickly? Square Payroll offers easy onboarding tools to help get your employees set up and paid quickly.
8. Start marketing to build your clientele
Now it's time to get the word out about your business. According to a Square survey, 85% of consumers said they think it's important for a business to have a quality website. That number increases to 91% among Gen Z and millennials. 
Your site can be simple, with a home page that shares your offerings and an About page that shares your credentials. You can offer membership sign-ups. Or integrate appointment software that allows customers to register for classes or sign up for personal training. For example, Square Appointments enables you to set up bookings for clients with the ability to use Square Assistant for easy rescheduling via automated text message.
Also, build a social media presence for your business. Choose the platforms where your target market spends time, such as Facebook, Instagram, YouTube, or TikTok. Social media is part of your overall online presence and shouldn't be considered a replacement for a business website. Paid social media advertising can help generate leads. You can also investigate influencer marketing, offering free classes and merchandise to people in your area who can help promote your gym on social media. If marketing isn't your strength, you can hire a marketing agency to create and launch campaigns on various channels.
Another way to grow your business is to network and partner with complementary businesses. For example, you could work with a massage therapist or juice bar to cross-promote each other's goods and services. Provide promotional materials and consider offering a discount or special package.
Create a buzz by holding a grand opening. Entice people by offering a free session, then encourage them to join by providing a discount if they sign up during their trial class. Your happy customers can become your best marketing tool. Once you've established a clientele, encourage word-of-mouth marketing by offering a referral package. For example, if an existing customer refers a new customer, you can offer a percentage off of their monthly rate.
Getting customers in the door is the first step. You'll also need to create a retention strategy, especially during the early days of your business. It costs five times as much to acquire a new customer than it does to retain an existing one, according to Invesp. One way to keep customers connected and motivated is by regularly checking their fitness goals and results. You can track their progress and celebrate their wins. Also, focus on building relationships with customers. If they feel you care about their health, they'll be more likely to stay engaged.
Owning a gym can be a satisfying career choice. Not only will you see your vision and passion come to life, but you'll also be transforming people's lives by helping them take care of their health. When you take the time to do it right, you'll also invest in the health of your business, setting yourself up for success.