Consumers expect that they can interact with your business on their own terms, any time and any where. To meet your customers (or prospective customers) you need to have a few key things: social media profiles, review site profiles, a listed phone number or email. But key among the channels that people can use to contact you or learn about your business — a website.
Eighty-five percent of consumers said they think it's important for a business to have a quality website, according to our recent survey. And that number increases to 91 percent among Gen Z and millennials.
The survey — which asked 1,800 U.S. consumers how they discover, choose, and recommend businesses — also found that 44 percent of consumers said a website was very or extremely important in their decision to try a business.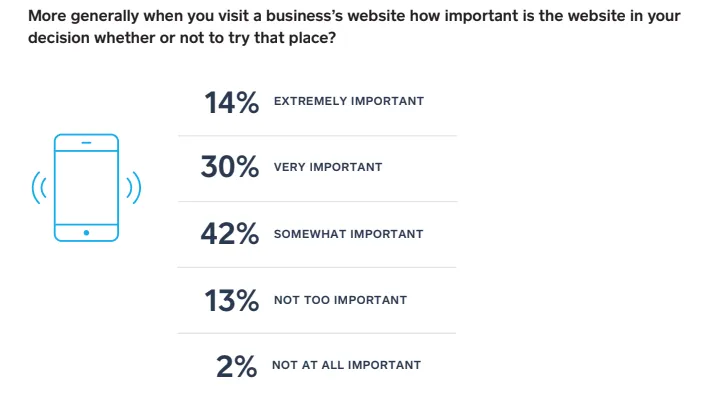 But what is a quality website? What should your website include to ensure that consumers give your business a shot?
The information on your website informs the utility it has for consumers, so the more detail you include, the greater chance consumers will have a good experience. This includes things like pricing information, menus of services or offerings, contact information, and images.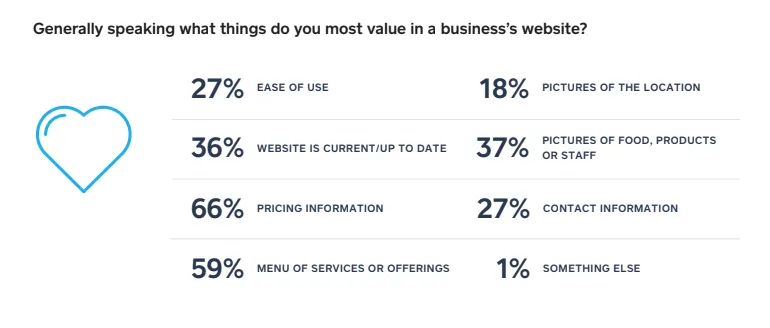 6 Tips for Creating a Useful Website
Here's what you can do right now to ensure that your website is working for you — and not against you:
Keep information current.
Keep everything updated, from service and menu offerings to pricing, contact information, hours of operation, and directions. Customers appreciate being kept in the loop, and it keeps incorrect information from floating around.
Put your best foot forward.
The site should be easy to navigate — 27 percent of respondents value ease of use. Visuals are also important. It's not necessary to have professional pictures of everything on your menu, or every nook and cranny of your space, but it is important to include some well-lit, composed shots of your space and offerings.
Include appointments (where applicable).
Forty percent of respondents said it was very or extremely important that salons provide the ability to make an appointment online (an additional 28 percent said it was somewhat important). Integrating an online booking system ensures you're meeting customers' needs and makes your life easier. It can even help grow your business.
Optimize for mobile.
Consumers spend over five hours a day on their phones, so a website built for mobile browsing is crucial. Whatever platform you use, make sure it works as well on mobile devices as it does on desktops.
Implement some SEO.
SEO (search engine optimization) ensures your website is at the top of the page when potential customers search for your business. Learn some tips from Square's own SEO expert.
Link your social media.
A social media presence is an important aspect of your online strategy. Be sure your website links to your business's Facebook, Twitter, and Instagram accounts so site visitors can keep up with your social content. (Advance your social media strategy with these tips from Square's expert.)
A website is crucial for any business, but for some it can open up a whole new stream of revenue. If you're looking to upgrade or start an eCommerce site, Square App Marketplace offers a number of options to seamlessly integrate your online presence with your brick-and-mortar space.
Not sure what platform you should use? Learn more about how to choose the best platform for your eCommerce business.
---
Related Content
2018's Best eCommerce Website Designs
How to Take Your Omnichannel Strategy to the Next Level
7 Questions to Ask Before You Open an Online Store