Christina Ha, who co-owns New York's famed Macaron Parlour with her husband, Simon, has never been one for convention. The bakery, with locations in the East Village and the Upper West Side, serves out-there but must-try macaron flavors like Candy-Bacon with Maple Cream Cheese and Cheetos.
This past December, Christina decided to take things in another unexpected direction. Together with her business partner, Emilie Legrand, she opened New York's first cat cafe, Meow Parlour.
Cat cafes are very popular in Japan. There are also a handful across the United States. But what sets Meow Parlour apart is that you can compliment your cat QT with macarons.
The cafe is located across the street from a new, third bakery location, Meow Parlour Patisserie, which delivers macarons to cat cafe guests. It's clearly a winning combination — Meow Parlor is now booked out months in advance.
We caught up with Christina to see how everything is going a few months in, and what exactly it takes to run a cat cafe.
Square: How did you decide to start a cat cafe?
Ha: It all started with a cat named Mr. Socks. There was a terrible heat wave in 2013, and Simon and I kept seeing this cat who looked like he was melting. He had obviously been abandoned, so I decided to take him in. I'd never had a cat, so I started asking Emilie (who was one of my first kitchen employees at Macaron Parlour) a lot of questions on how to take care of them (she has a few cats). Then the topic of cat cafes came up — she'd just gotten back from visiting one in Japan. I thought — why couldn't we do that here? I couldn't get the idea out of my head. Then a storefront across the street opened up and I thought, we have to do this.
What did Simon think about all of this?
He thought I was insane. But I wrote a 15-page business plan with projections to show him I was serious. I knew we weren't going to be millionaires, but the place would pay for itself, especially with the macarons as a revenue stream.
What sort of considerations go into opening a cat cafe?
We talked a ton with the Department of Health. But since the cat cafe isn't technically a food establishment, and it's a different company at a different address than the Macaron Parlour, there was no issue at all.
How did you decide how to set it all up?
The crazy thing is that I'd never been to a cat cafe before I decided to open one. But Emilie had been to one in Japan and also one in Paris. We drew on insights from those places, as well as our experience in running restaurants.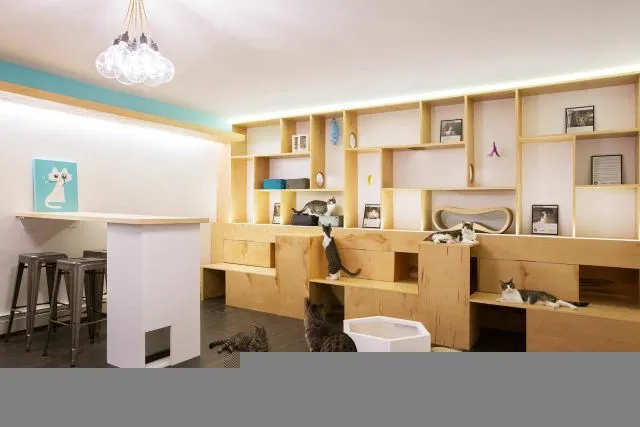 What's different about Meow Parlour?
A lot of cafes set a limit on how much time you can spend there. We didn't want to do that. I thought: What if it's the worst day of your life? You can't be, like, this is the worst day of my life and I can only stay for an hour at this place. So we came up with a system where you can stay for up to five hours.
We also wanted to work with a cat adoption agency. We didn't want the cats to just live at the cafe and make money off of them. We wanted to give them the chance to go home with people they bond with. So we started working with KittyKind, a cat rescue agency, to find cats to bring in for adoption. KittyKind picks out the cats for us, and they stay at the Meow Parlour until they're placed in a foster home.
How many cats do you have in the space?
We have 11 right now. Capacity is 14, and we have a minimum of eight cats in there at a time. Thirteen cats have been adopted since we opened in mid-December.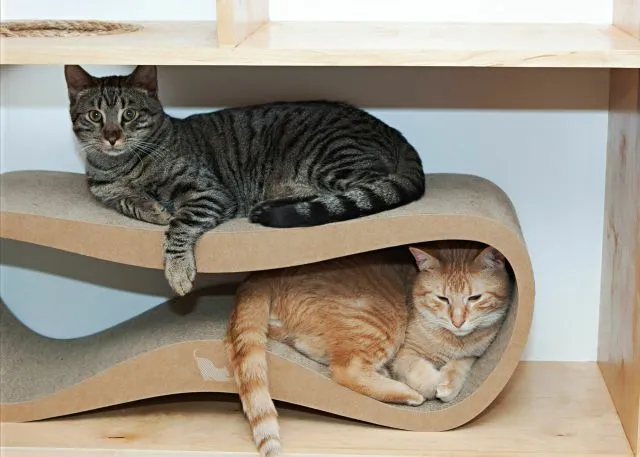 Do you have a lot of repeat clients?
Yeah, people get to know the cats. They come back and are like, oh how is this one doing? Or has that one been adopted?
What's your typical clientele?
People assume that we get crazy cat ladies. A lot of our clients tend to be young professionals in their thirties, who just happen to love cats. We also have a lot of families who come in. I wish that the term "cat lady" would go away. People associate it with some sort of spinster. Why should it be embarrassing to love cats? Also, some of the craziest cat ladies I've met are men. And I've also met some pretty hard-core dog ladies.
How do you handle reservations?
We take reservations through our website — we want the process to be as democratic as possible. We open up the system for reservations two months in advance of that day. By the time I check it at night, we're all booked up.
How do people spend their time in the cafe?
Some people come in to play with the cats, and other people just come in to hang out and do work or read.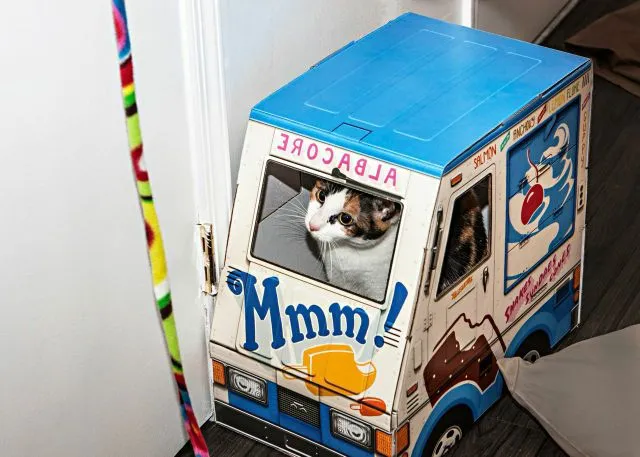 I imagine it's also therapeutic for some people.
We opened December 15, which was right around finals at NYU. A lot of students came in after they were done with their tests. They were like, this is the best thing ever to do after all that stress. Who wants to get drunk when you could pet cats?
How do you run things between Meow Parlour and Macaron Parlour?
The storefront across the street serves as our waiting room for Meow Parlour. But instead of being round, the macaroons there are cat shaped. People go crazy for them.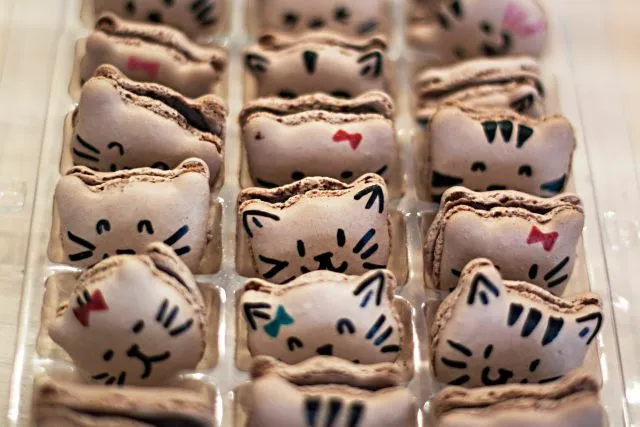 Can you order macarons when you're hanging out at Meow Parlour?
Yes, we have a delivery system. You order it on Square Point of Sale and then it gets delivered from the cafe to Meow Parlour.
How else does Square help you run your business?
We use Square's point of sale for the whole thing. We have a super complex delivery system. People purchase macarons or coffee on Square, and then we write in all the customer details. We print it all out, and then deliver the items fresh to the customer at Meow Parlour. We also love all the Square reporting. Emilie has since moved out to California — and looks at the sales reports at the end of every day. And when I'm working in the kitchen at Macaron Parlour, I have an iPad next to me so I can constantly monitor our sales. For example, if we should have had 40 people come in and it looks like only 20, I send a message to Meow Parlour and tell them to accept more walk-ins. I use it all the time to keep track of what's happening in the stores without having to be there.
How's business going?
Very well. But our success metric is if cats are getting adopted. The moment the first cat was adopted, Emilie and I were like, we made it.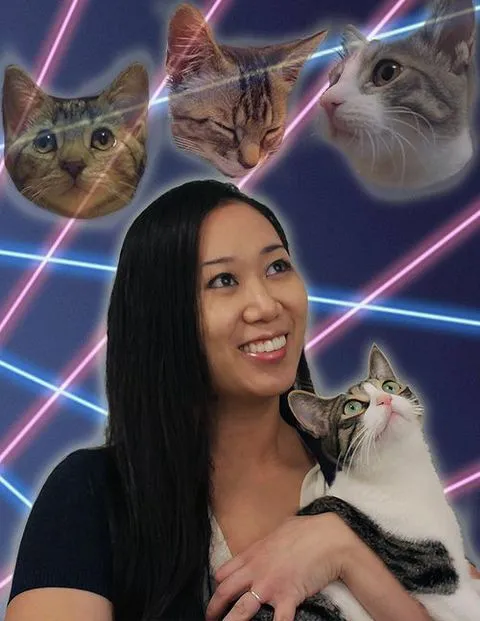 Learn how Square Point of Sale can help you run any type of business (including cat cafes).
Photos courtesy of Ethan Covey, Christa Hamilton, and Christina Ha